10 Vine Vera Ingredients Proven to Reduce the Look of Skin Aging
Posted on December 30, 2022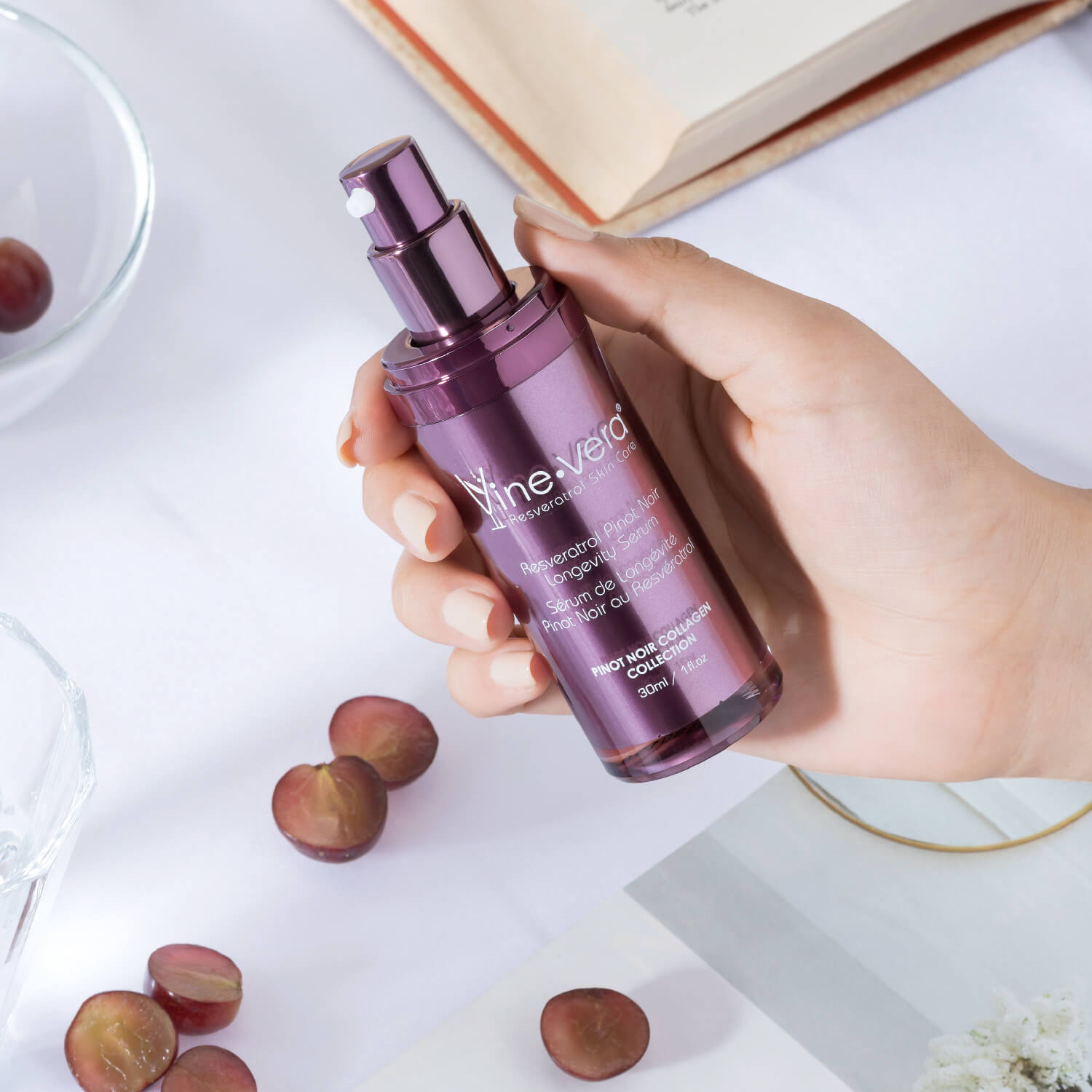 While many skincare products are marketed as being capable of reducing the appearance of aging skin, a quick glance at their ingredients will tell you that there's absolutely no chance of this happening.
This is what sets Vine Vera apart from so many of the other brands out there. Not only are Vine Vera ingredients always exemplary in quality, but they're also science-backed and proven to work like magic when it comes to improving the complexion.
If you've been looking for skincare products that will quickly and effectively reduce the visible signs of aging on your skin while giving your complexion a radiant glow, Vine Vera ingredients will definitely not disappoint. Read on to learn more about 10 of these skincare superstars.
1. Resveratrol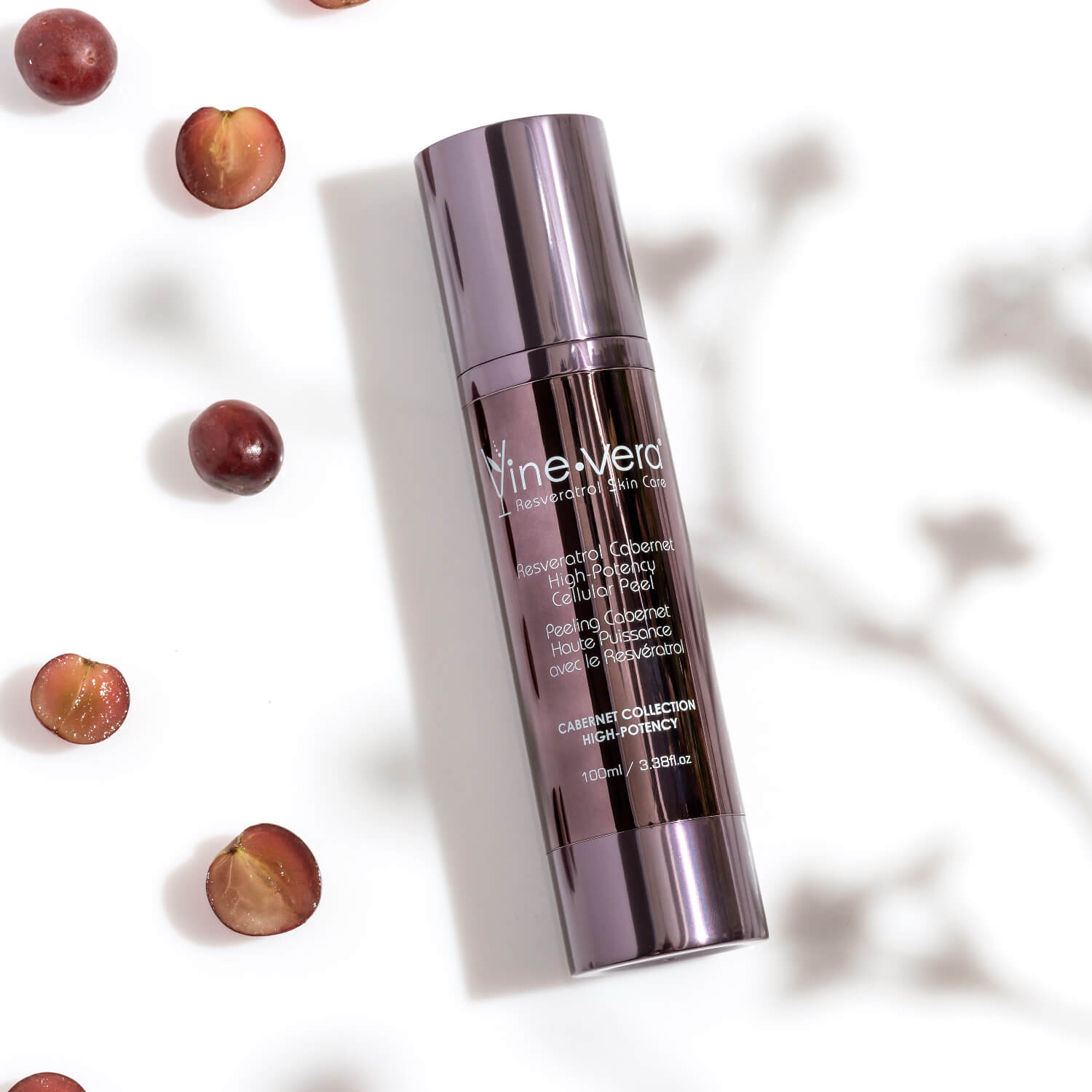 Resveratrol is the signature ingredient here at Vine Vera. You'll find it in each and every one of our skincare products.
Why? Because it's a super powerful antioxidant that has been proven to significantly reduce the appearance of wrinkles and elasticity after 12 weeks of regular use.
Resveratrol also helps to minimize the look of dark spots and hyperpigmentation on the skin. This is another common skin concern that arises with age, since UV damage adds up over time, resulting in discoloration.
Other studies also point to how resveratrol is capable of soothing the appearance of redness and calming the feel of inflammation. It can even help with a dry and rough complexion too by improving how soft, supple, and hydrated the skin feels.
As you can see, this antioxidant, which is derived from the skin of red grapes, is quite the multitasker. It's one of the Vine Vera ingredients that every skin type can benefit from. Treat yourself to whichever Vine Vera product catches your eye and your skin will quickly start to reap the many benefits that resveratrol has to offer.
2. Green Tea Extract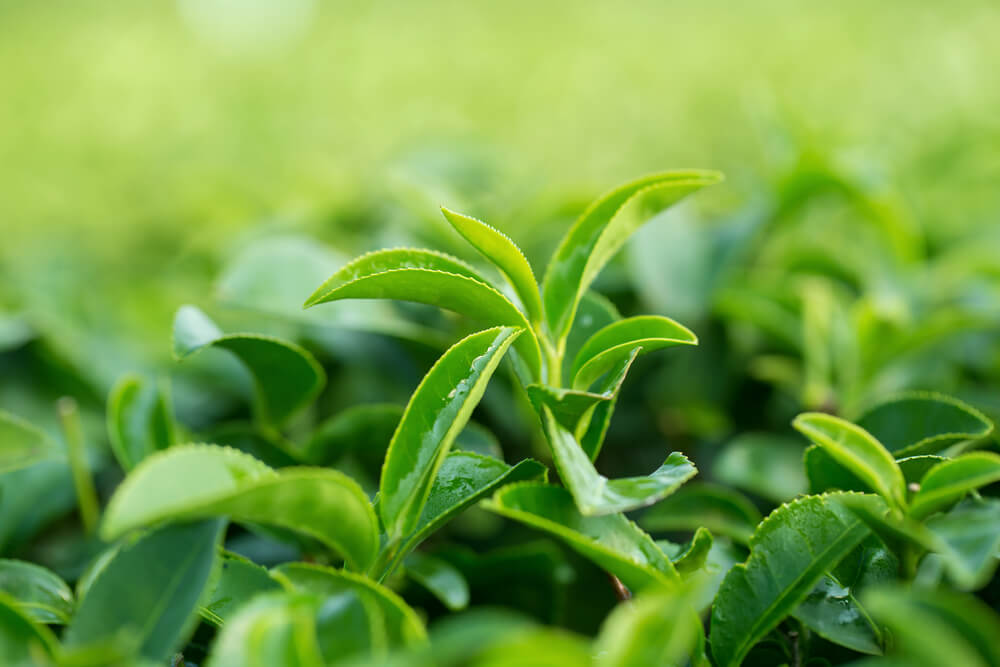 Thanks to how they're usually loaded with antioxidants, most natural extracts tend to be great at reducing the visible signs of skin aging. However, out of all of the botanicals out there, green tea is consistently proven to be one of the best.
Green tea extract contains a number of polyphenols. One of its major ones is known as EGCG, and this is what's primarily responsible for how green tea can help the skin to look younger.
Not only do studies prove how green tea extract can improve the appearance of elasticity while diminishing the look of wrinkles, but they also confirm that the botanical can help to diminish the visibility of UV damage.
One area of the face that's highly exposed to sun damage is the skin around the eyes. The skin here is thinner and more delicate than the skin on the rest of the face. This means that UV rays cause deeper and more noticeable marks of damage in the eye area.
To encourage younger-looking skin around the eyes, we created the Vine Vera Resveratrol Age Defying Eye Serum. In addition to green tea extract, this formula is also brimming with several other potent Vine Vera ingredients. Resveratrol makes an appearance, as do peptides, vitamins, and a number of other botanicals.
Use this eye serum daily and you'll soon notice your eye area looking firmer, smoother, and more youthful.
3. Acetyl Hexapeptide-8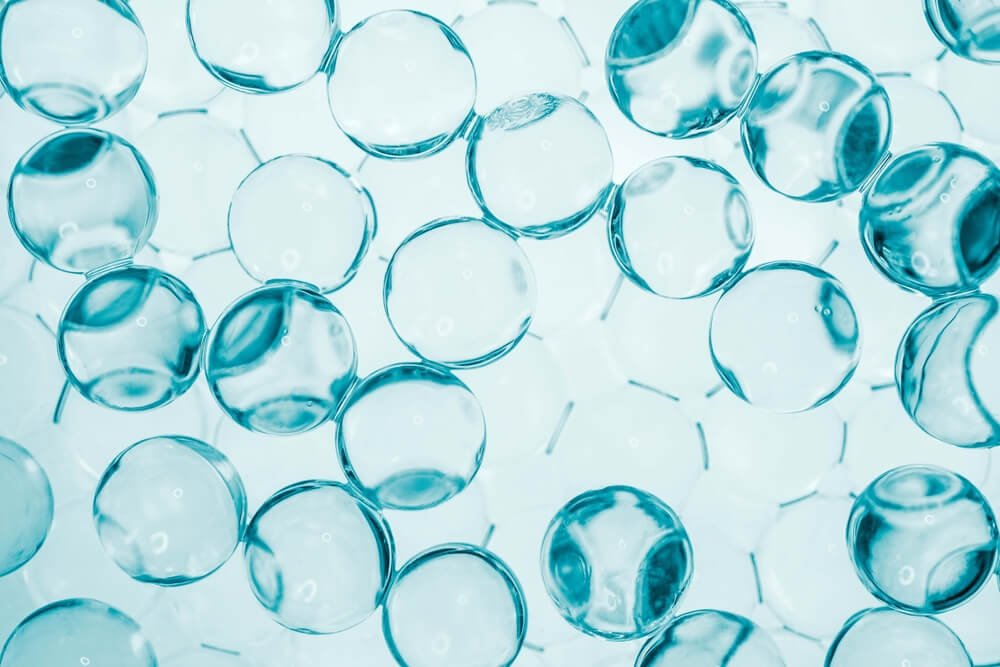 You'll find a variety of different peptides in Vine Vera products. However, one of our favorites for reducing the appearance of aging skin is acetyl hexapeptide-8.
Just like other peptides, acetyl hexapeptide-8 helps to moisturize the skin. It leaves the skin feeling supported, enabling your skin cells to look and feel their best.
However, this peptide also has an extra-special quality to it…
Apply it to your skin and it gets to work immediately to smooth the complexion. It's capable of pretty much instantly diminishing the look of fine lines and wrinkles.
To make the most of these fast-acting effects, we added acetyl hexapeptide-8 to our Resveratrol Chianti Age Correcting Serum. This powerful product quickly fades the visibility of fine lines and wrinkles, leaving the face looking smoother and tighter.
In addition to acetyl hexapeptide-8, you'll also notice other exquisite Vine Vera ingredients in this formula. From apple and rose stem cell extracts to sodium hyaluronate and vitamin A, some of skincare's most raved-about ingredients can be found in this blend.
4. Aloe Vera Extract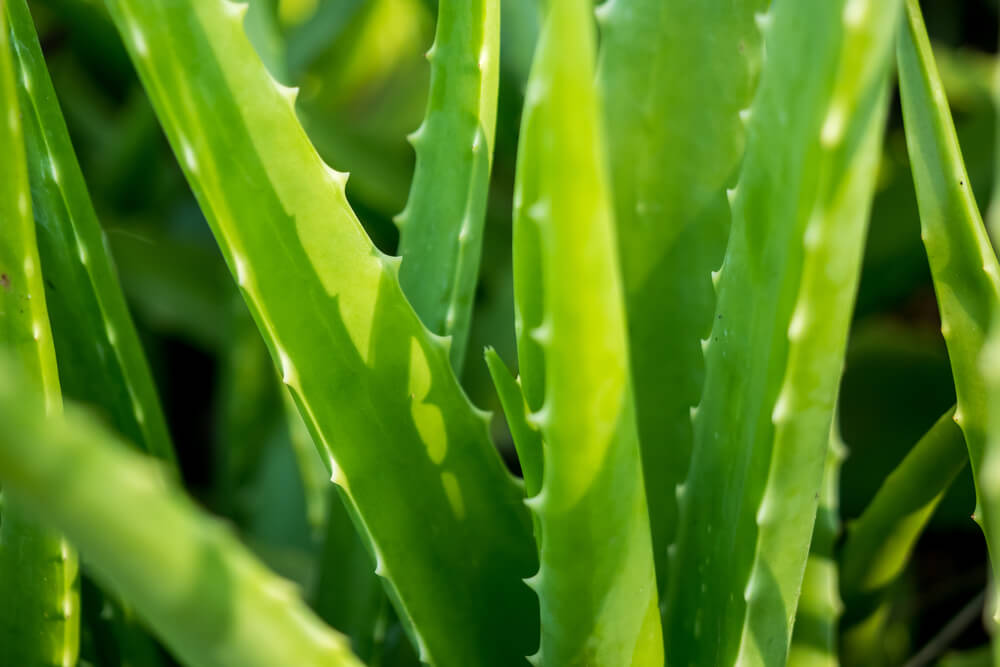 While some of the Vine Vera ingredients that we're featuring may be new to you, chances are that you're familiar with aloe vera extract. It's a classic that's commonly used to soothe the feeling of irritated and inflamed skin. You probably know it as a go-to for sunburns.
However, in addition to its ability to calm the feeling of inflammation, it's also great at combating the appearance of skin aging. It's bursting with a long list of bioactive compounds and enzymes. Each of these contributes to healthy-looking skin in its own way.
Another benefit offered by aloe vera is hydration. This botanical is fantastic for improving the skin's moisture content. This leaves skin cells looking plumper, softer, and fuller. Dryness and roughness are common complaints that accompany the skin aging process, but aloe vera extract can help with the visibility of both.
If you'd like to add this ingredient to your skincare routine, turn your attention to the Resveratrol Pinot Noir Phyto-Silk Mask. In addition to aloe vera, this formula is also packed with several other skin-loving botanicals. Chokeberry, acai berry, noni, maqui, and bilberry are just a few of the other extracts you'll find in this formula. It also contains vitamins, resveratrol, and several moisturizing ingredients.
5. Sodium Hyaluronate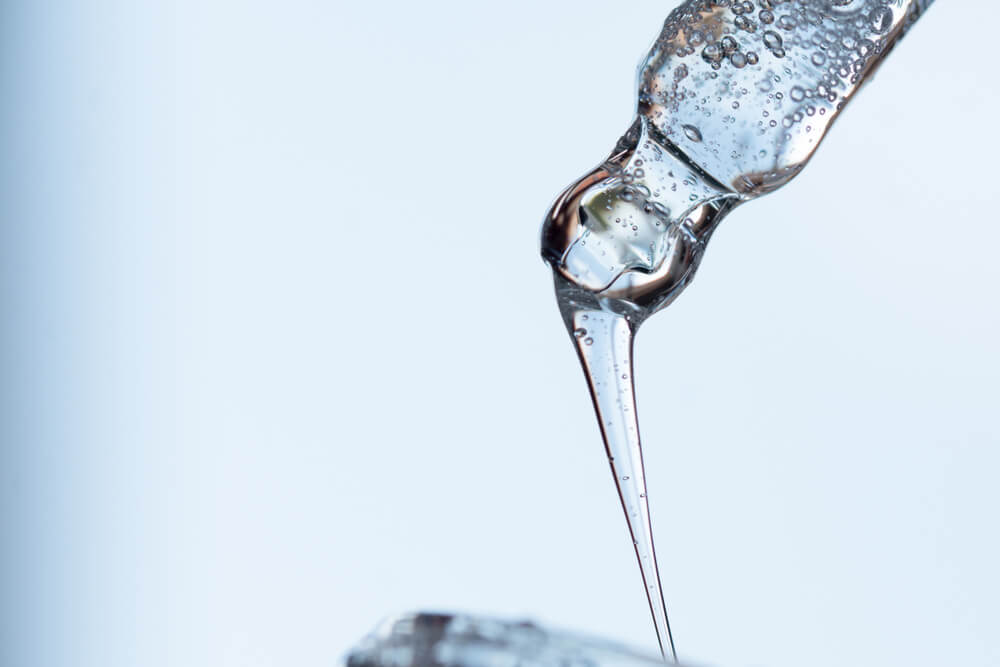 Once the hydrating abilities of hyaluronic acid became common knowledge, this ingredient quickly became a cult favorite. However, the downside to hyaluronic acid is that it has quite a large molecular size. So, while it's great for hydrating the surface of the skin, it isn't able to penetrate into the skin's layers.
Enter, sodium hyaluronate; the salt form of hyaluronic acid. This derivative has a much smaller molecular size, enabling it to work much better when it comes to hydrating and plumping up the complexion. Its moisture-binding properties give the skin a soft and supple finish, along with a radiant glow.
Sodium hyaluronate is another one of our favorite Vine Vera ingredients. As a result, you'll find it in quite a few of our products.
If you've never used sodium hyaluronate on your skin before, we'd recommend trying the Vine Vera Resveratrol Cabernet 60-Second Eye Solution. This solution has been designed to diminish the look of aging around the eyes. It targets smile lines, crow's feet, and under-eye wrinkles to give your eye area a firmer and smoother appearance.
6. Hydrolyzed Coral Seaweed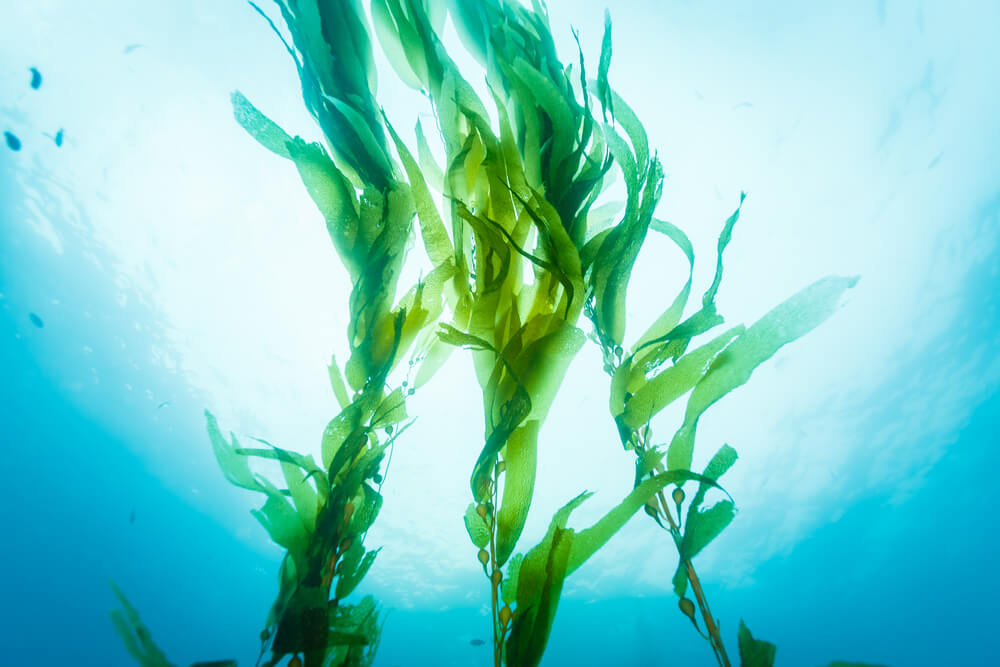 There is plenty of research out there that proves how beneficial seaweed extracts can be in skincare. Not only does this marine-derived ingredient reduce the appearance of wrinkle depth, but it also gives the skin a bouncier and more elastic finish.
The downside to seaweed in its whole form is that the skin struggles to properly absorb and make use of it. This is where the hydrolyzation process comes in. Once hydrolyzed, the skin is able to put seaweed to work in a way that it wouldn't have previously been able to do. In addition to helping to reduce the look of skin aging, hydrolyzed seaweed also contributes to improved hydration, leaving the skin looking beautifully radiant.
You can give this ingredient a try for yourself with the Resveratrol Malbec DNA Magnetic Mask. Designed for mature skin, this mask has been formulated to improve the tone and texture of the complexion. It smoothes, softens, and moisturizes the feel of the skin, leaving it looking decades younger.
7. Vitamin C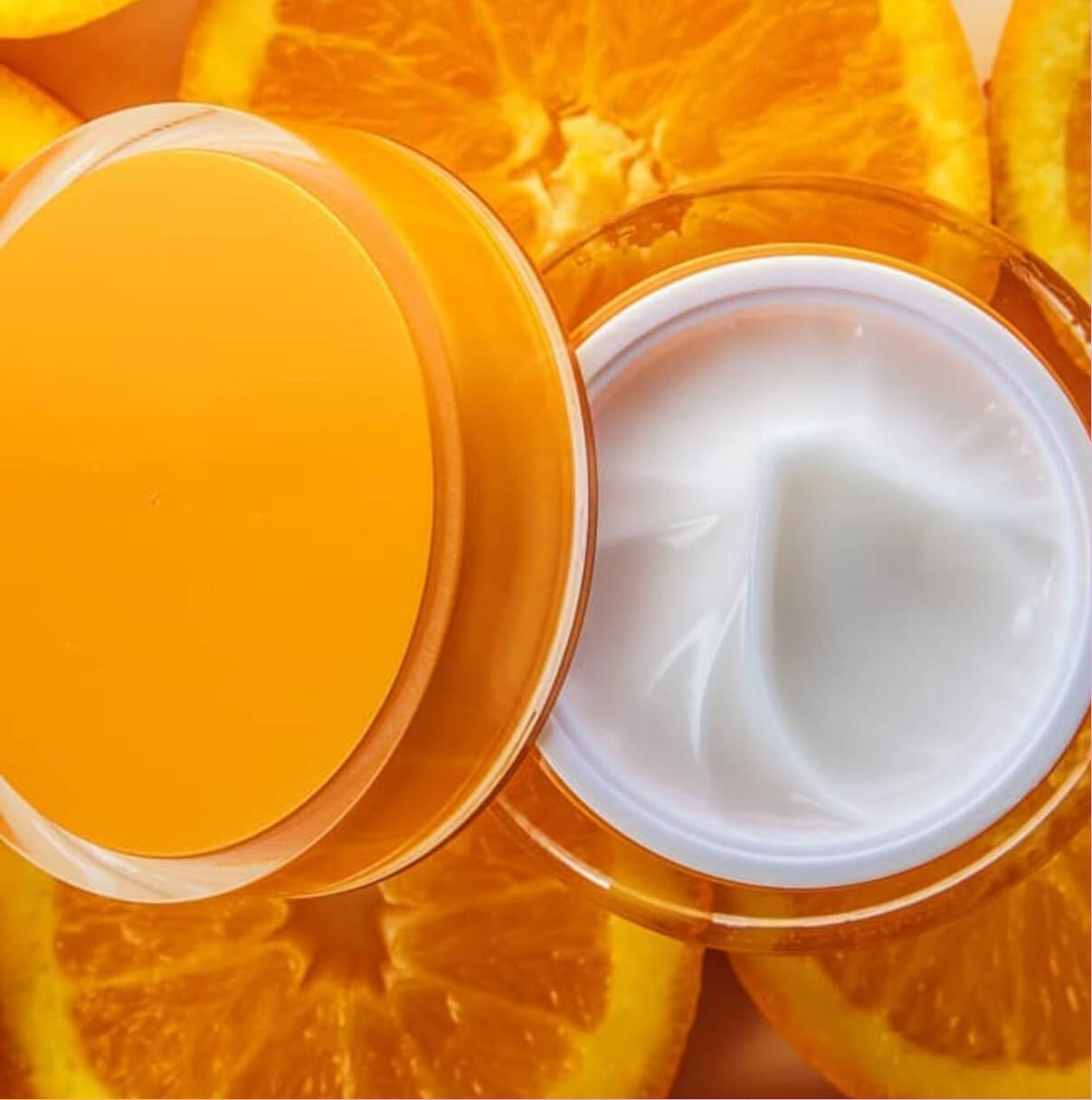 Vitamin C is an ingredient that we all know and love. It's no secret that vitamin C is a superstar when it comes to skincare. It's famed for how it brightens and tightens the complexion. It can reduce the look of dark spots, tackle the appearance of wrinkles, and give the skin a newfound radiance.
What makes things complicated is the fact that there are so many vitamin C derivatives out there. Some, such as ascorbic acid, are known for being extremely potent. Others, such as tetrahexyldecyl ascorbate, are gentler yet still very effective.
To fully encompass all of the different forms of vitamin C, we created the Vine Vera Vitamin C Collection. Each of the products in this collection contain at least one form of vitamin C, although several offer two.
If you've been thinking about treating yourself to a new vitamin C product, then this collection is a great starting point. Either pick one product to try out or, for best results, add the entire collection to your skincare routine.
8. Hemp Seed Oil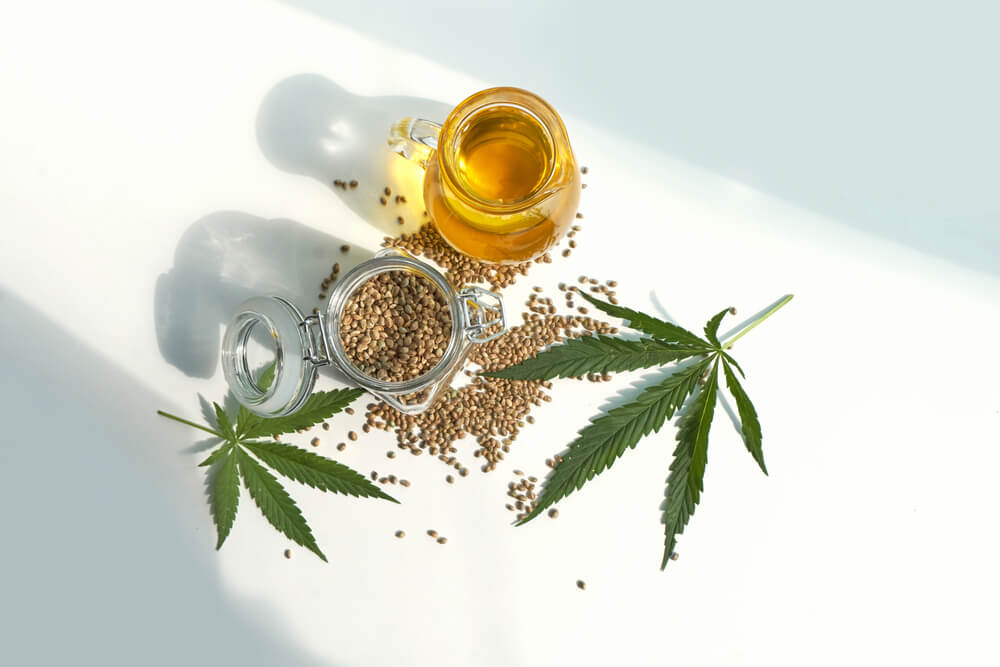 The cannabis plant is known for its many wonderful medicinal properties. However, it's a very useful botanical when it comes to skincare too.
There are a few different ways in which the cannabis plant can be incorporated into skincare products. When it comes to Vine Vera ingredients, we chose to use hemp seed oil. Unlike CBD extract, hemp seed oil contains very little THC. Instead, it's revered for its intense moisturizing abilities.
Since the skin thins out and dries out with age, mature skin always needs extra moisture. Hemp seed oil provides this, along with an array of other vitamins and antioxidants.
The magnetic face mask that we featured earlier has been formulated with hemp seed oil. It also contains a variety of other plant oils, which give this formula its incredible moisturizing abilities.
9. Kojic Acid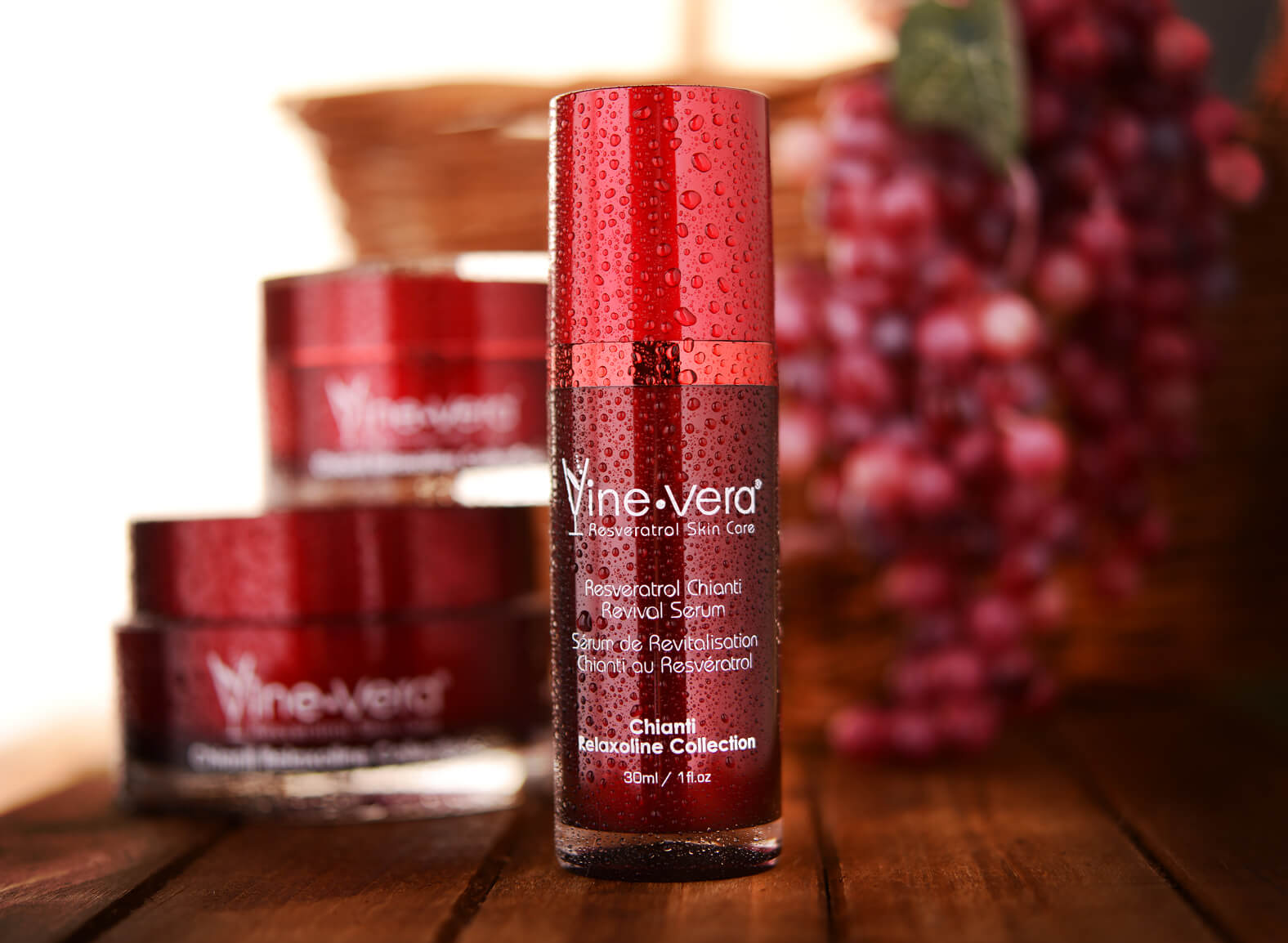 We've already mentioned a couple of Vine Vera ingredients that can help to lighten the look of dark spots. However, if your dark spots are particularly noticeable, then kojic acid is an ingredient well worth trying.
Derived from mushrooms, this acid helps to fade the look of age spots and other forms of hyperpigmentation. It can even reduce the visibility of freckles!
Even better, kojic acid is very gentle on the skin. Unlike some of the other ingredients out there that lighten the appearance, this one doesn't cause any irritating side effects. As a result, it can be safely used on all skin types.
If you'd like to add kojic acid to your routine, treat yourself to the Resveratrol Chianti Revival Serum. In addition to kojic acid, this ingredient also contains licorice root extract, another gentle botanical that reduces the look of discoloration. When combined with kojic acid, this duo will quickly leave your skin looking even, clear, and balanced.
10. Mandelic Acid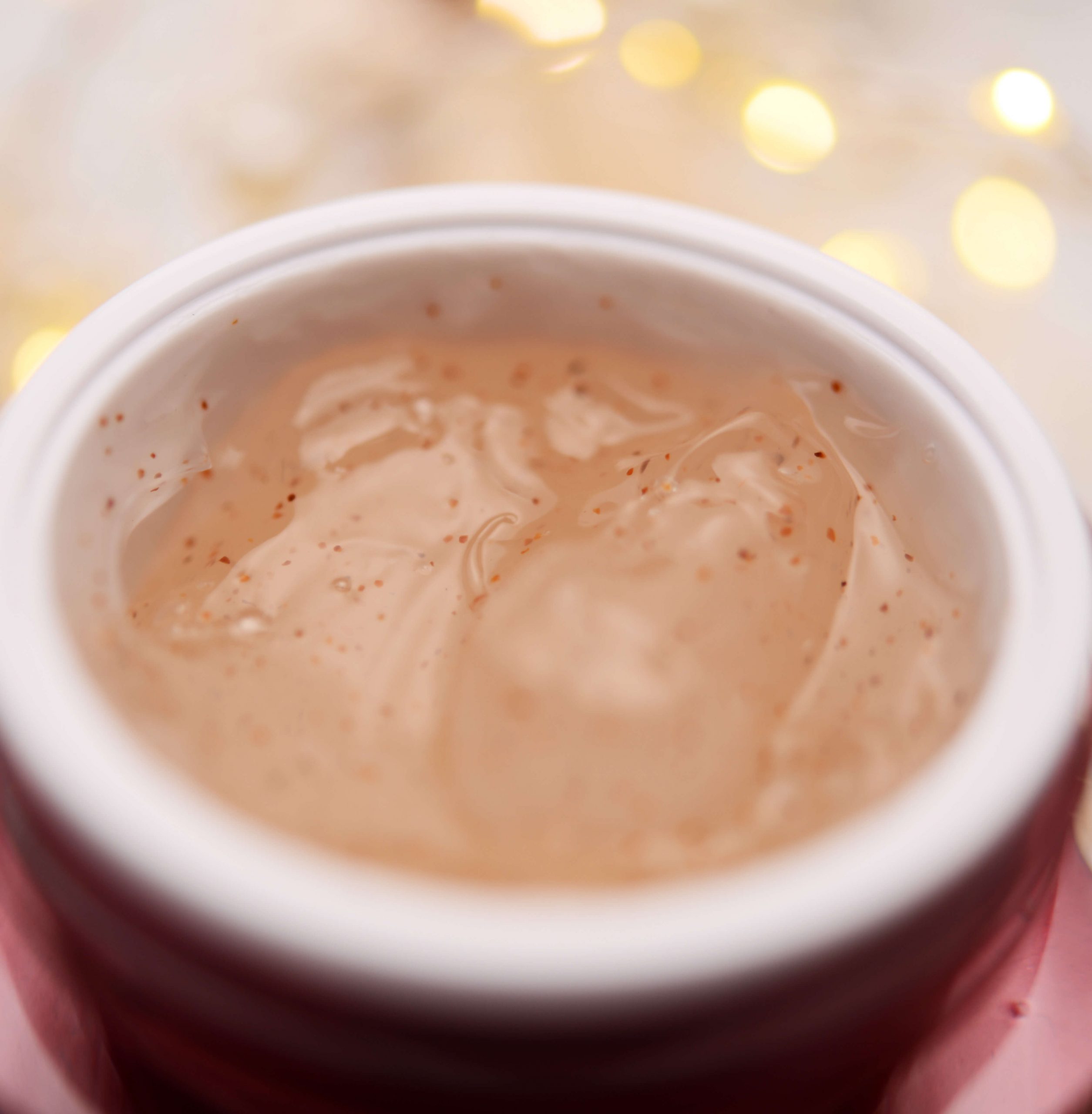 The world of chemical exfoliants can seem confusing at first. There are so many different alpha-hydroxy acids out there that it can be difficult to decipher which would be best for your skin. Choose the wrong one and you could end up dealing with skin that feels raw and irritated.
That's why mandelic acid is one of our favorite Vine Vera ingredients for exfoliation. Derived from almonds, this AHA is extremely gentle. It has a large molecular size, which is why it doesn't irritate the skin. Instead, it gently removes dead skin cells to reveal a glowing radiance.
You'll find mandelic acid in our Resveratrol Vitamin C Peeling. Combined with bamboo powder to offer mild physical exfoliation, this facial peel will rid your skin of rough and dry skin cells to leave it looking smoother, brighter, and younger.
Which Vine Vera Ingredients Do You Plan on Trying?
As you can see, there are so many potent ingredients to be found in Vine Vera products. No matter which formula you purchase, you're guaranteed to be receiving high-quality, carefully-curated ingredients that will do your complexion the world of good.
To browse more of our superstar skincare products, click here to take a look at our bestsellers.