When Should You Start Using an Eye Serum?
Posted on June 15, 2022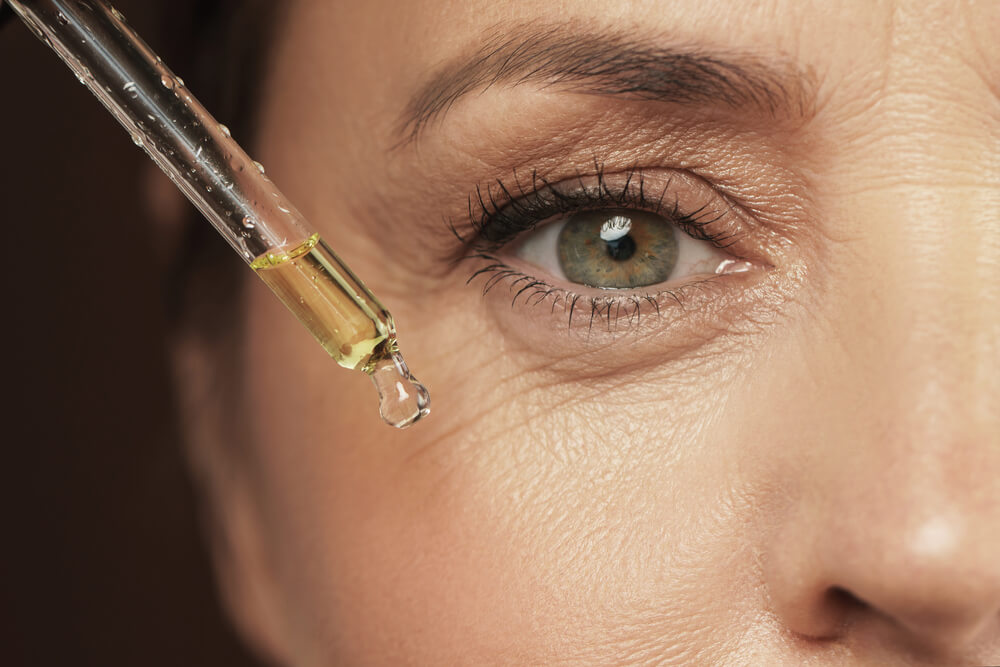 When wrinkles start to show on the skin, they commonly first develop as crinkles on the forehead or as smile lines near your mouth. These areas are where women tend to be extra watchful when they get older. But people seem to forget that the skin around our eyes can form deep lines over time as well.
Years of smiling, squinting, and even frowning can affect the sides of your eyes. Over time, lines called "crow's feet" can show up, adding even more wrinkles to your aging complexion.
So, you must elevate your eye care regimen to keep your skin looking youthful. And there's no better way to do that than to start consistently using an eye serum.
But what is an eye serum for anyway? And more importantly, when should you start using one? Vine Vera is here to answer all your questions about that today. 
What Happens to the Skin Around Your Eyes as You Age?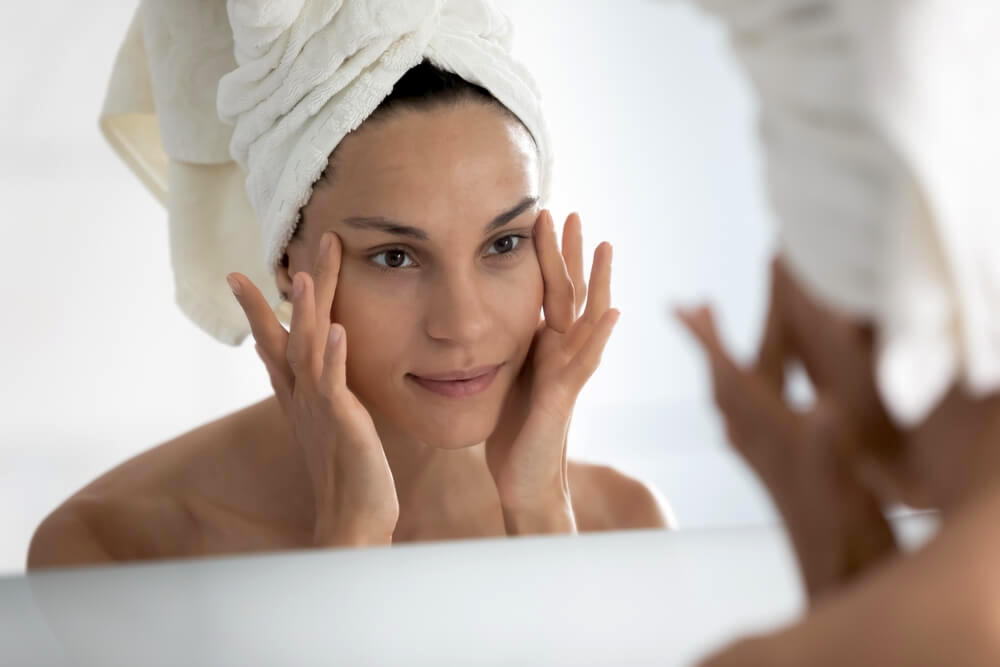 Aging skin is a part of getting older. It starts with makeup settling more frequently in your smile lines, and then one day, you'll notice wrinkles on your forehead and cheeks. But later on, you'll start noticing pesky lines near your eyes, too.
The skin under and around your eyes is naturally thinner than that of the rest of your face. Unlike the skin on your cheeks and forehead, there isn't a lot of subcutaneous fat and muscle in that area. This makes it a lot easier for skin to cave in as it ages.
Collagen production near your eyes isn't as active either. So, the skin around your eyes is more vulnerable to feeling dehydrated and looser as you age, which can lead to wrinkles and fine lines. These wrinkles on the sides of your eyes are more commonly known as "crow's feet."
Crow's feet are those curved lines that show up beside your eyes when you smile, frown, or move your face muscles in different ways. As you get older, your skin loses more elasticity, so it becomes more likely to develop crow's feet when you make all kinds of facial expressions.
Some reasons why you could develop wrinkles (aside from aging) include UV damage from the sun, high stress levels, a lack of sleep, smoking cigarettes, and an imbalanced diet.
Other issues with the skin around the eyes as you age include discoloration and darker under-eyes, as well as puffiness in that area.
The Skin Around Your Eyes Needs Special Treatment
People like to slather on potent moisturizers all over their faces to prevent wrinkles from developing. But your eyes need something special — a product designed specifically to help the extra-delicate skin around it. Something like an eye serum.
In the skincare world, a serum is a lightweight liquid packed with potent ingredients to feed to your skin. It's generally thicker than a toner, but way more weightless than a moisturizer.
Eye serum in particular is formulated with ingredients that hydrate the skin and help diminish the look of wrinkles and fine lines, giving you a more youthful-looking complexion. Some eye serum formulations might even improve the look of eye bags and dark under-eyes, as well as stubborn puffiness.
Because eye serums are lighter in consistency, they can penetrate the skin faster. And since the skin around your eyes is generally thinner, it drinks up the vitamins and other ingredients in the serum even more!
An eye cream, on the other hand, is a lot heavier. This might not be the best way to pamper your eye skin during the summer, especially if you have naturally oily skin. Eye serums are the way to go when you want to get hydration without that heavy, greasy feeling on your under-eye skin.
The Burning Question: When Should One Start Using Eye Serum Regularly?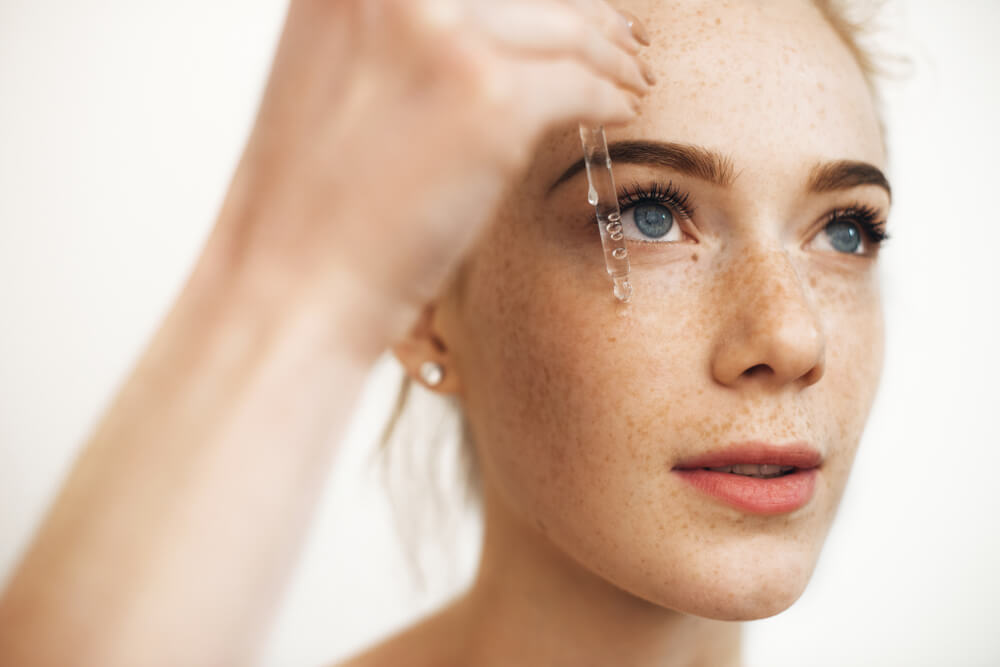 And now to answer the question you came here to ask: when is the best time to use an eye serum? Is it when you hit a certain age? Or should you wait until you actually have crow's feet on the sides of your eyes when you smile?
The simple answer is that while there's no set time to start using an eye serum, it's best to incorporate one into your skincare routine as early as you can. Like retinol, you'll probably want to start using it in your mid-twenties.
Some people don't think to use an eye serum or other similar products until they start seeing the visible signs of skin aging in their complexion. But it's best to think about these skincare products as a preventative measure, not a cure.
Don't wait until you have stubborn lines and wrinkles already. If you start using an eye serum earlier in life, it's possible for you to delay the appearance of crow's feet. So, if you ask us at Vine Vera, we'll tell you that the best time to start using an eye serum is today.
If you're quite young — say, in your early twenties — using an eye serum will be a lot better than using an eye cream. Eye creams are thick and rich, which means they're more likely to cause breakouts. If you have oily skin or are dealing with young adult acne, lightweight eye serums will be more appropriate.
Not sure what kind of eye serum to get? Let's take a look at which of the serums in the Vine Vera collections will be best for you depending on your eye skin concerns.
The Best Eye Serum for Reducing the Appearance of Wrinkles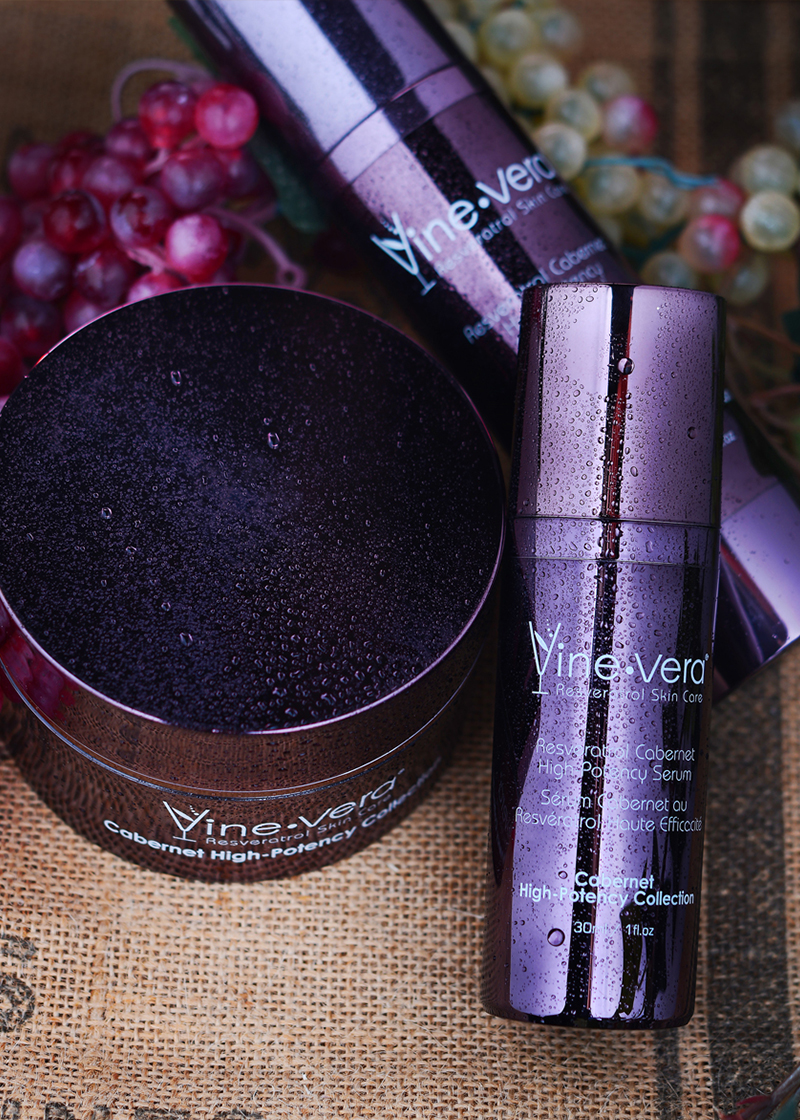 If your main concern when it comes to the skin around your eyes is the appearance of wrinkles and saggy skin, you might enjoy the Vine Vera Resveratrol Cabernet High-Potency Eye Serum. It's filled to the brim with cult-favorite ingredients, like allantoin, peptides, vitamin C, and resveratrol — our signature ingredient!
This eye serum is great for minimizing the appearance of wrinkles around your eyes. It also makes the skin in that area look a lot smoother and firmer, as if it was volumized.
The formula also contains some hydrating ingredients, such as glycerin, goldenseal extracts, sage, and more. It also has hyaluronic acid, which is well-known to improve the appearance of crow's feet.
The Best Eye Serum for Exhausted Under-Eye Skin That Needs Waking Up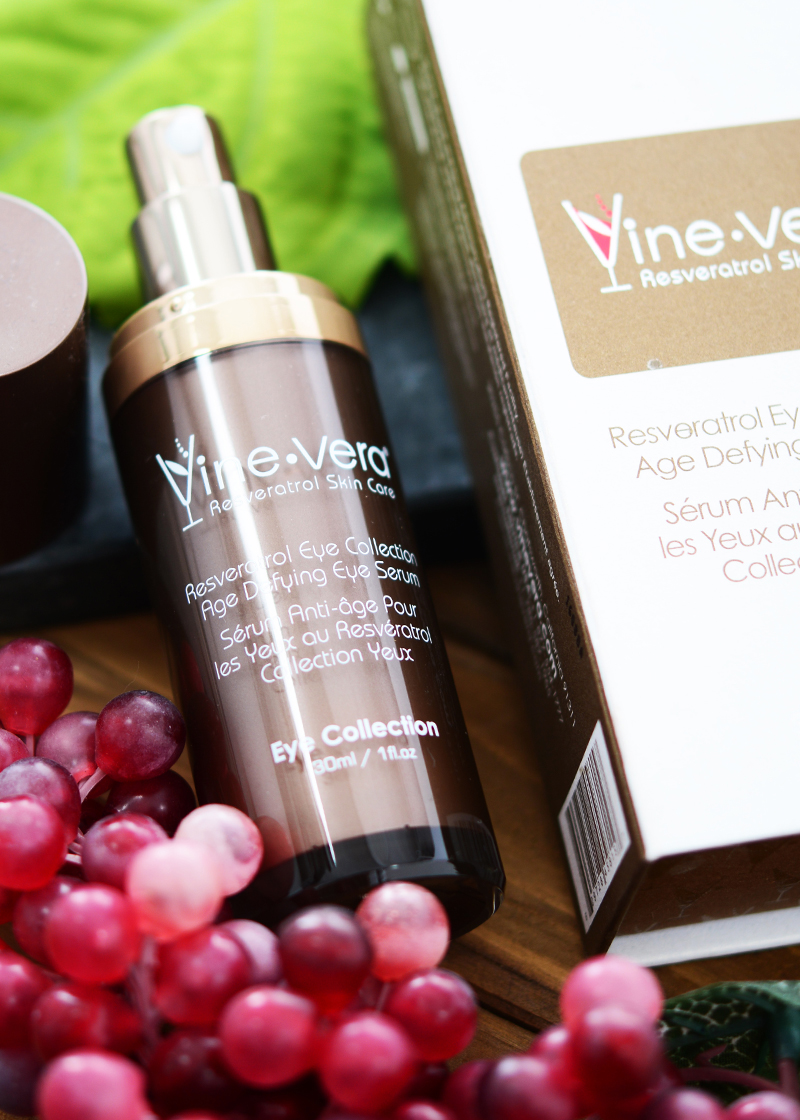 But wrinkles and the loss of firmness aren't the only issues that concern the skin near your eyes. For others, skin aging shows up in the form of darker-looking under-eyes, or lids that appear extra puffy.
If you need help waking up and revitalizing the appearance of the tired, dull-looking skin around your eyes, you'll love the Vine Vera Resveratrol Eye Collection Age Defying Eye Serum. It has resveratrol to help make your skin look smoother, but it also has other ingredients to help brighten the appearance of your skin.
One of the key ingredients in this eye serum is vitamin C. This powerhouse vitamin is known for brightening the look of the skin and concealing the look of dark circles under the eyes, especially on the lower lids.
If you're suffering from this type of visible discoloration (or even a few pesky age spots) near your eyes, you'll want vitamin C in whatever eye serum you use. It can help give your eyes a more radiant, wide-awake finish with an even-looking tone.
And if your main issue is the appearance of puffiness, you'll enjoy the green tea component of this eye serum. It can help soothe the visibility of puffy skin around the eyes, making it look calm and more awake.
This serum in particular has a lightweight and non-greasy texture. If you have oily skin or want something very weightless during the hot summer months, this eye serum will be excellent for you.
Other Ways to Vamp Up Your Eye Care Routine
Aside from eye serum, there are tons of other products you should incorporate into your routine to further protect and rejuvenate the look and feel of the skin around your eyes.
Right after using an eye serum, it would be good to lock in all the hydrating goodness you just applied with an eye cream. The Vine Vera Resveratrol Cabernet High-Potency Contour Eye Firming is one that we always recommend.
This eye cream contains ingredients like soybean oil and coconut extracts. They help replenish the feel of dry, tired under-eyes with much-needed moisture. These emollients can also make the skin look and feel dewier and smoother. The cream also leaves your eye area brighter in appearance the more you use it.
Another way to care for your eye area is by protecting it from the sun. UV damage is one of the most common culprits of premature skin aging, and consequently, the development of wrinkles and age spots near your eyes. So, wearing sunscreen every day is a must to prevent the onset of crow's feet.
The Vine Vera Resveratrol Cabernet Replenishing Moisture Cream SPF 30 is a moisturizer and sunscreen in one. It contains vitamin A, aloe vera extract, and green tea to help minimize the appearance of pesky wrinkles too.
As this cream adds a look of radiance and smoothness to your skin, it also adds a layer of sun protection through actives like octinoxate, homosalate, oxybenzone, and many others.
When applying this cream to your face in the morning, make sure you also gently pat it on the skin around your eyes. That way, you can run freely outdoors and enjoy the sunshine without worrying about the appearance of crow's feet starting to form on your skin.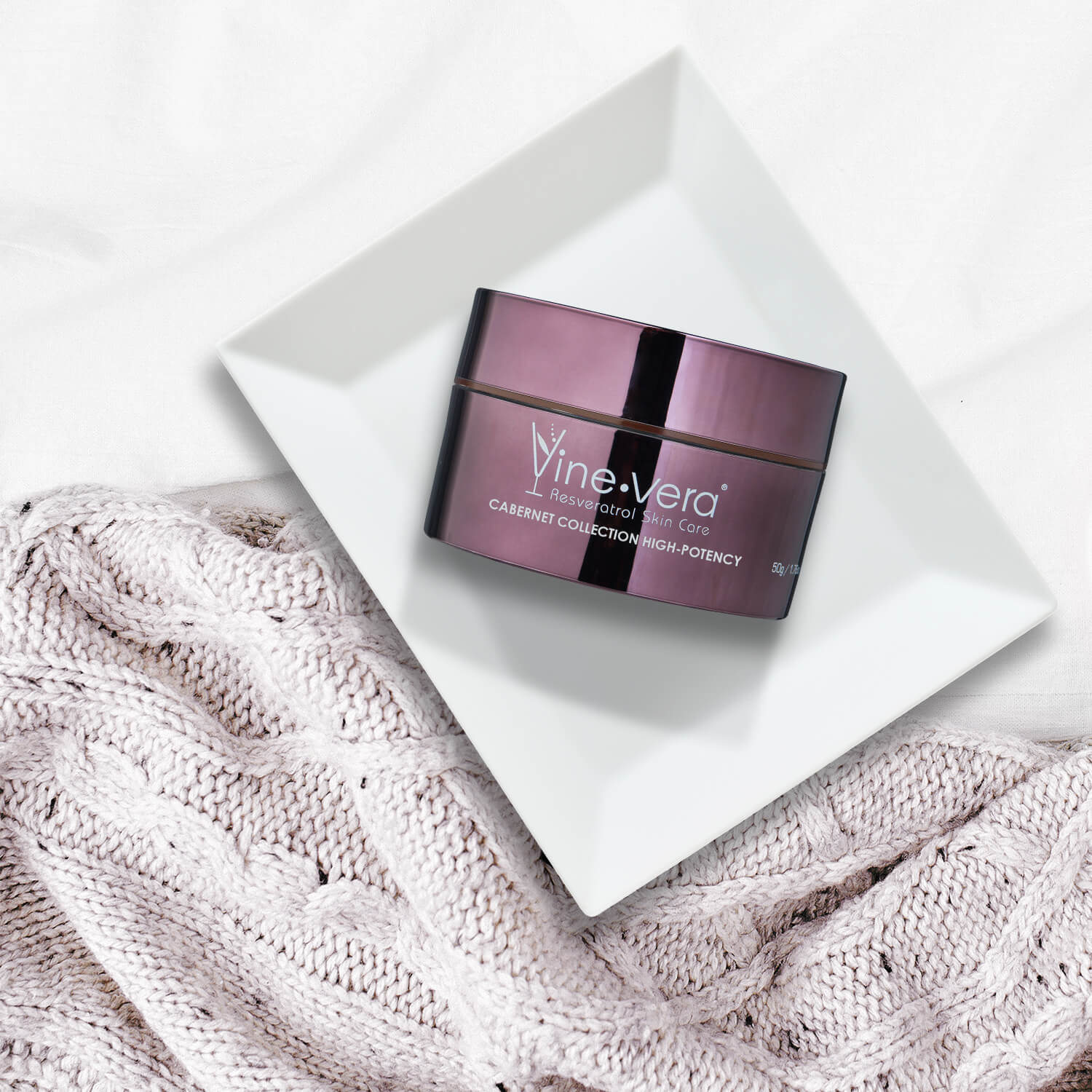 Lifestyle Habits to Change if You Want Healthier Skin Around Your Eyes
Alongside starting using an eye serum as soon as you can, you should also be aware of lifestyle changes you can make to keep your eye area looking smooth and youthful. Here are a few of them to keep top of mind:
Get a solid amount of sleep every night. Don't let long nights of work get the better of your eyes. Make sure you sleep around eight hours per day to avoid dark circles under your eyes. However, don't overdo it either. Sleeping for much longer than eight hours can give you eye puffiness when you wake up.
Avoid eye strain. While it's unavoidable to look at a screen all day while working on your laptop, make sure you give your eyes some time to rest throughout the day. Limit your scrolling on social media when it's unnecessary. Instead, wander outdoors on your break and look at open spaces.
Cut down on your smoking. If you have a habit of smoking cigarettes, you might want to cut back a bit. Smoking has been linked to skin aging, which may be the cause of developing crow's feet and wrinkles near your mouth at an early age.
Drink more water. Hydration is beneficial for any skin type and concern, but it will help the most with aging skin prone to wrinkles. By keeping your body hydrated, you can also make your skin look plump, dewy, and wrinkle-free for longer.
Conclusion
The cold, harsh truth is this — no matter what you do, you'll likely still develop wrinkles in your lifetime, some of which will be around your eye area.
Although getting them is inevitable, there are still ways to at least diminish and lessen the appearance of these stark lines. One of these ways is with a high-quality eye serum. Make sure that it contains active ingredients that can help keep the appearance of wrinkles, darkening, and puffiness at bay for a radiant, wide-awake look.
What's awesome about using an eye serum is that there aren't any set rules about when you should start using one. The earlier, the better. 
Don't forget some of the other steps that you can take to help keep the skin around your eyes looking youthful and smooth, like using an eye cream and SPF. Make sure that you stay on top of your beauty sleep, water intake, and smoking as well to keep your eye skin younger-looking for longer.
Now that we've covered the eyes, what about the rest of your face? To treat your skin to some new exquisite formulas, browse Vine Vera's bestsellers here.