Relieving Dry Skin: 7 Tips That Actually Work
Posted on March 15, 2022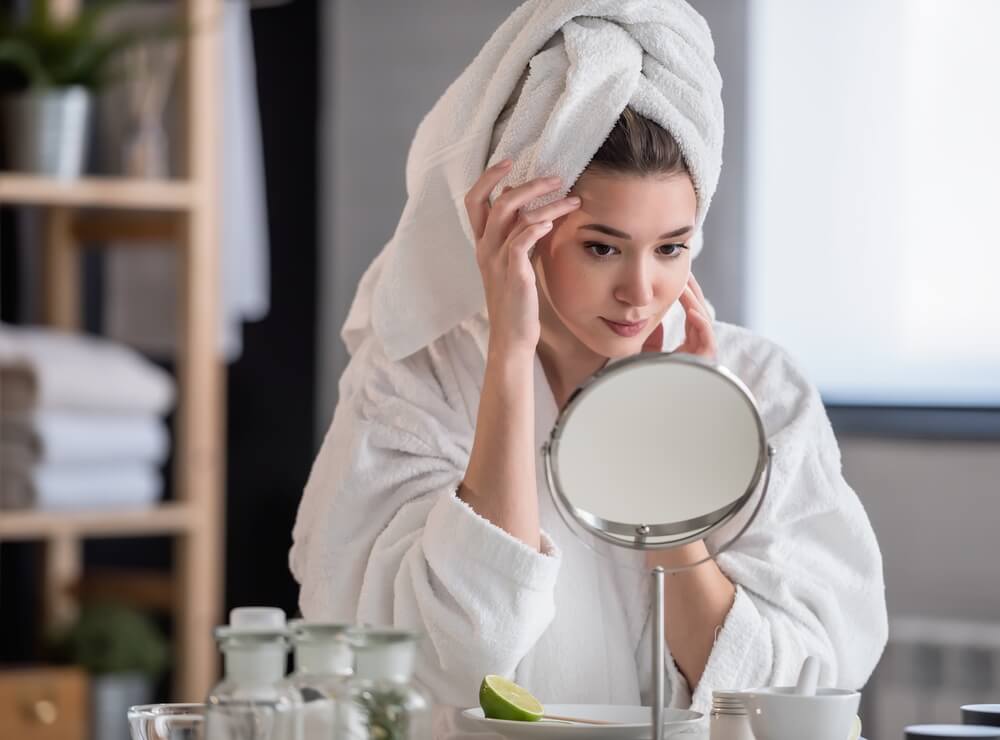 There's no denying how frustrating dry skin can be. It's a tricky one to deal with – make the wrong move and instead of relieving dry skin, you'll end up making the problem worse.
Here at Vine Vera, we understand the difficulties that come with dry skin. Not only do we have several products designed to finally clear the feel of dryness away for good, but we're also in-the-know when it comes to quick hacks and effective tips for relieving dry skin as quickly as possible.
Want to know more? Read on to find out what you need to do to finally be able to say goodbye to the feeling of dry skin.
Cleanse Once a Day in the Evenings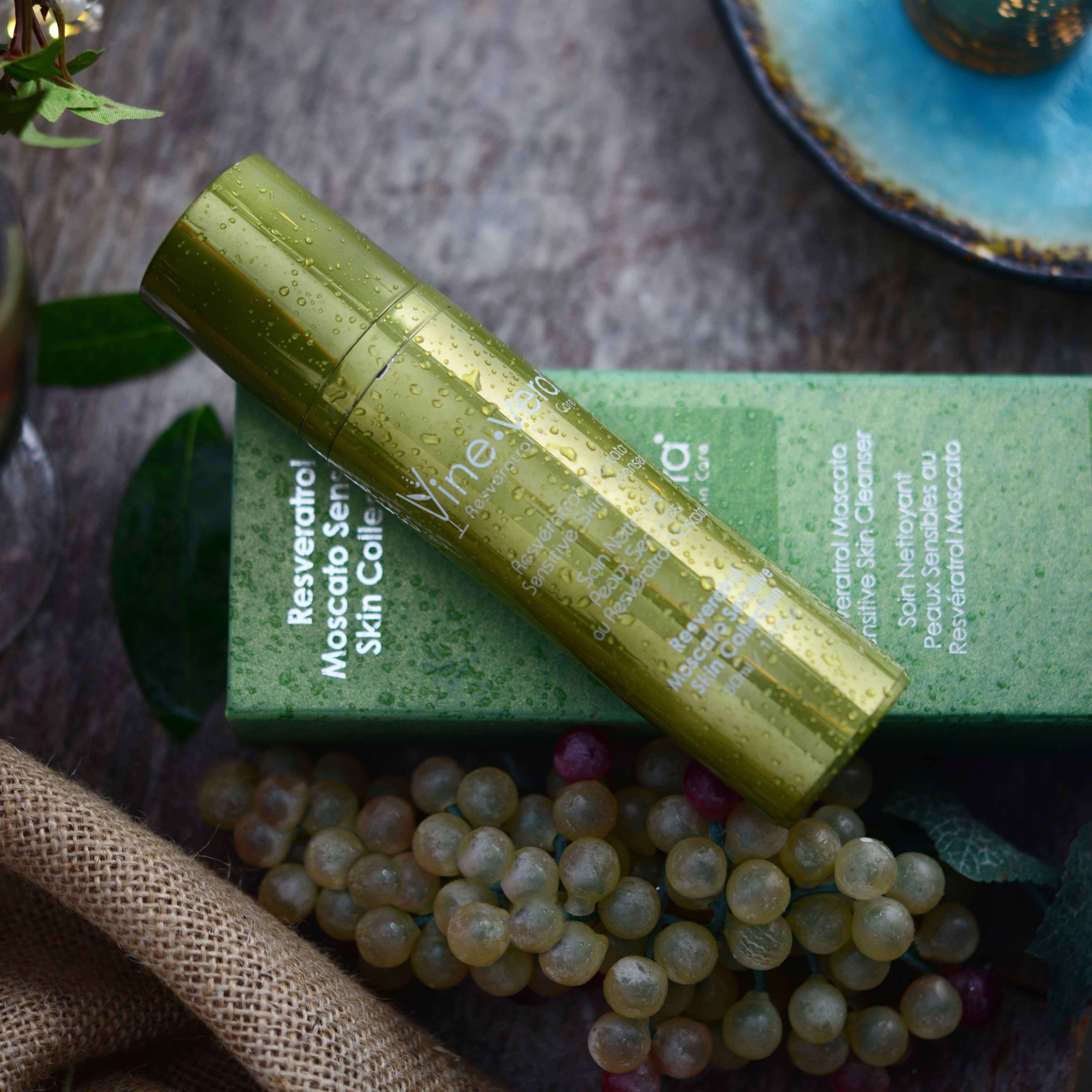 Cleansing is a must for a few different reasons. Not only will it help with getting rid of dry skin cells that are sitting on the surface of your skin, but it'll also clear away any dirt, impurities, and bacteria from your pores. This then allows the rest of your skincare products to properly penetrate into your skin, giving it the hydration it desperately needs.
However, don't go overboard when it comes to cleansing. Cleansers, by nature, are designed to clear away excess oil from the skin. However, these oils are vital for keeping your skin moisturized and hydrated. If you have dry skin, you'll want to preserve these as much as possible.
So, always use a gentle cleanser. A formula that'll focus on dirt and bacteria, while leaving your lipid layer as intact as possible. For this, we'd recommend the Vine Vera Moscato Sensitive Skin Cleanser. Its cleansing agents are derived from coconuts rather than chemicals, and it's packed with a number of botanical extracts and antioxidants, from green tea and olive fruit to resveratrol.
Why should you only cleanse in the evenings?
Because this allows you to clear away all of the impurities that have built up over the course of the day. Sleep on a clean pillowcase and your face should still be relatively clean come morning, so all it should need is a splash of water followed by your AM skincare routine.
Exfoliate…But Not Too Much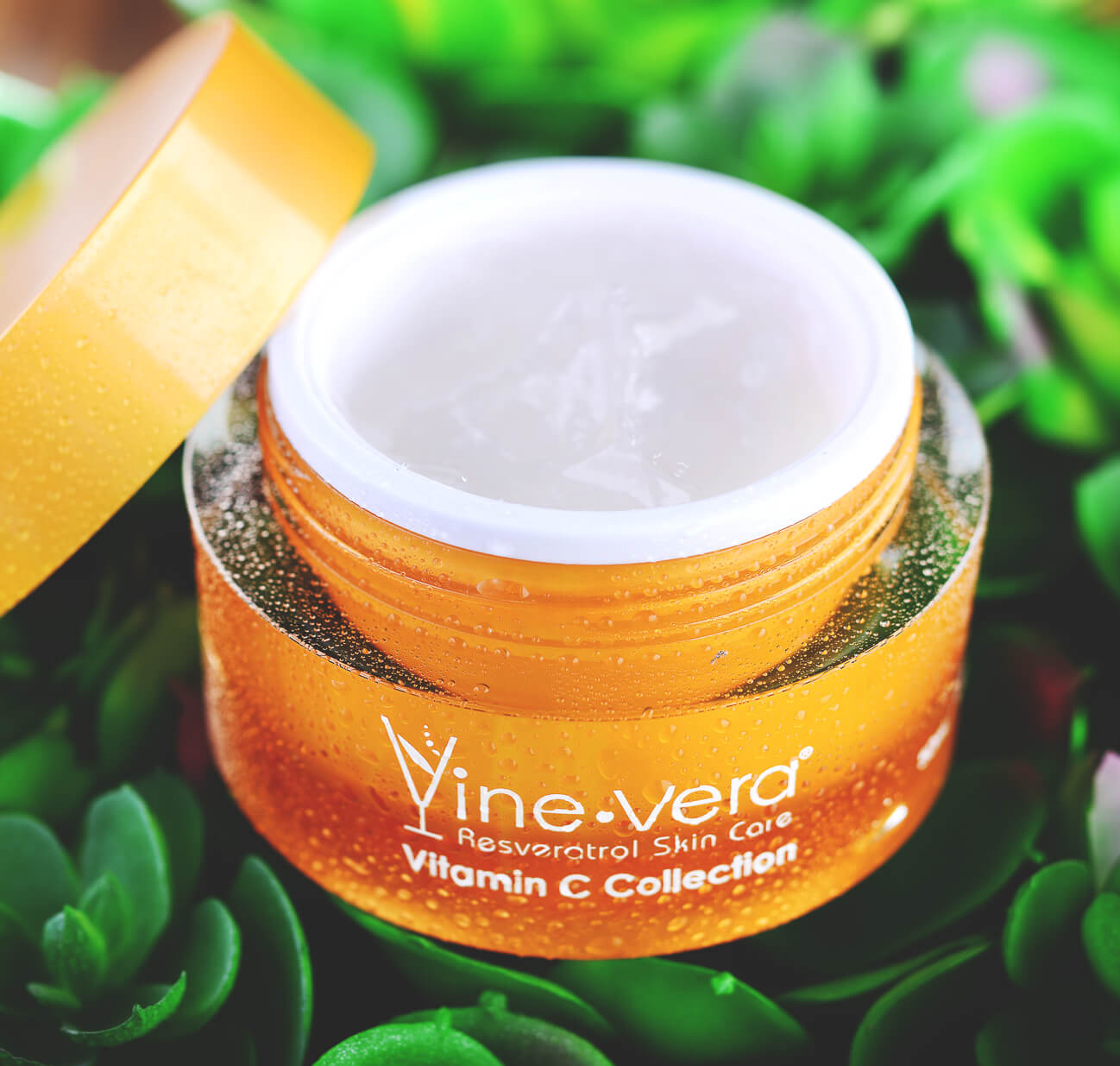 There's nothing quite like the instant gratification provided by exfoliation. Watching all of those flakes fall off and knowing that you're quite literally getting rid of dry skin, albeit temporarily, is so satisfying.
However, over-exfoliation is a very real problem. This happens when you severely damage your skin's protective barrier by exfoliating too much. As a result, your skin will struggle even more to retain moisture, something that it's already having a tough time with (hence your dry skin). It can take months for over-exfoliated skin to heal, which is why it's best avoided to begin with.
So, how often should you exfoliate?
We would recommend exfoliating dry skin no more than once or twice a week. Make sure that you're using a gentle exfoliant too. Our top choice would be the Vine Vera Resveratrol Vitamin C Peeling.
As you can tell from its name, it has two star ingredients; resveratrol and vitamin C. They work well on their own, but they're even better when combined, making this the ideal pair for relieving dry skin.
What makes this formula even better is that it combines physical and chemical exfoliation, bringing you the best of both worlds. You'll enjoy the gentle peeling nature of mandelic acid, along with the very mild abrasive properties of bamboo powder. Together, they'll remove all of those dry, flaky skin cells to reveal skin that looks fresh, soft, and hydrated.
Apply Moisturizer to Damp, Instead of Dry, Skin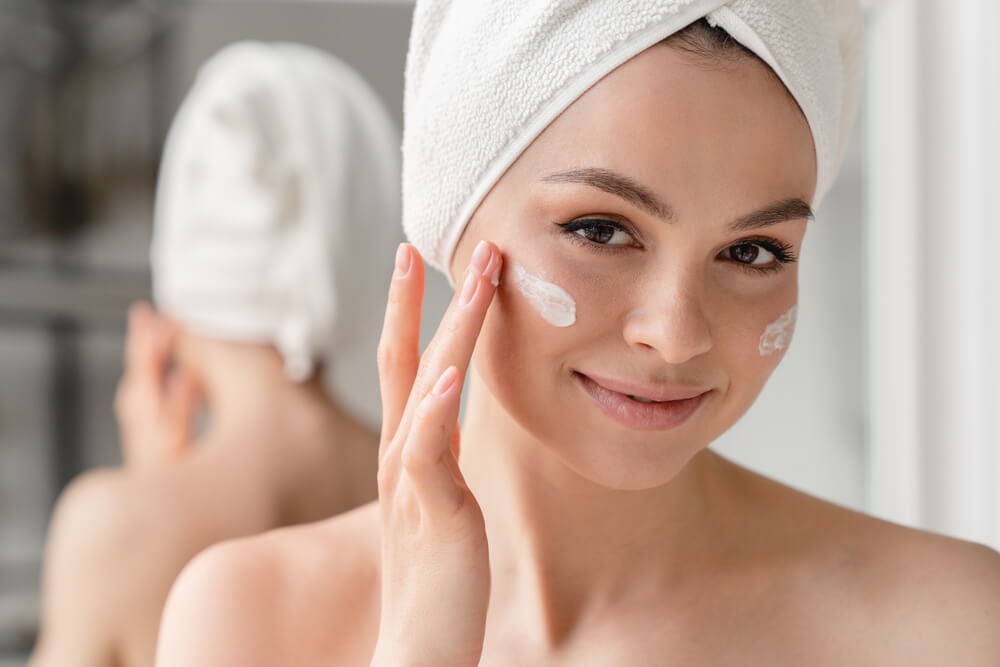 This is a skincare tip that we absolutely love and swear by. It's an easy one to try for yourself and you'll notice the benefits straight away. Let us explain…
Most people believe that a moisturizer's main job is to literally add moisture into the skin. This is true, but only to an extent.
Instead, where a moisturizer really shines is in how it forms a protective seal over the surface of the skin. This prevents a process called transepidermal water loss (TEWL). In other words, when moisture from your skin evaporates into the air. If you have dry skin, then this means that you have a faster rate of TEWL than what would be ideal.
However, in addition to preventing moisture from evaporating away from the skin, the extra layer created by a moisturizer also traps in anything that lies beneath it. This includes your serum, your toner, your essence, and any extra water molecules that happen to be sitting on your skin. So, if your skin is damp, instead of dry, when you moisturize it, your moisturizer will have more water molecules to lock in, meaning extra moisture for your skin!
The result? A plumper and dewier glow, which you'll notice pretty much immediately.
For best results, use a moisturizer designed for dry skin. We would recommend our Resveratrol Cabernet High Potency Night Cream. It's rich and decadently creamy, perfect for relieving dry skin.
Add Sodium Hyaluronate to Your Skincare Routine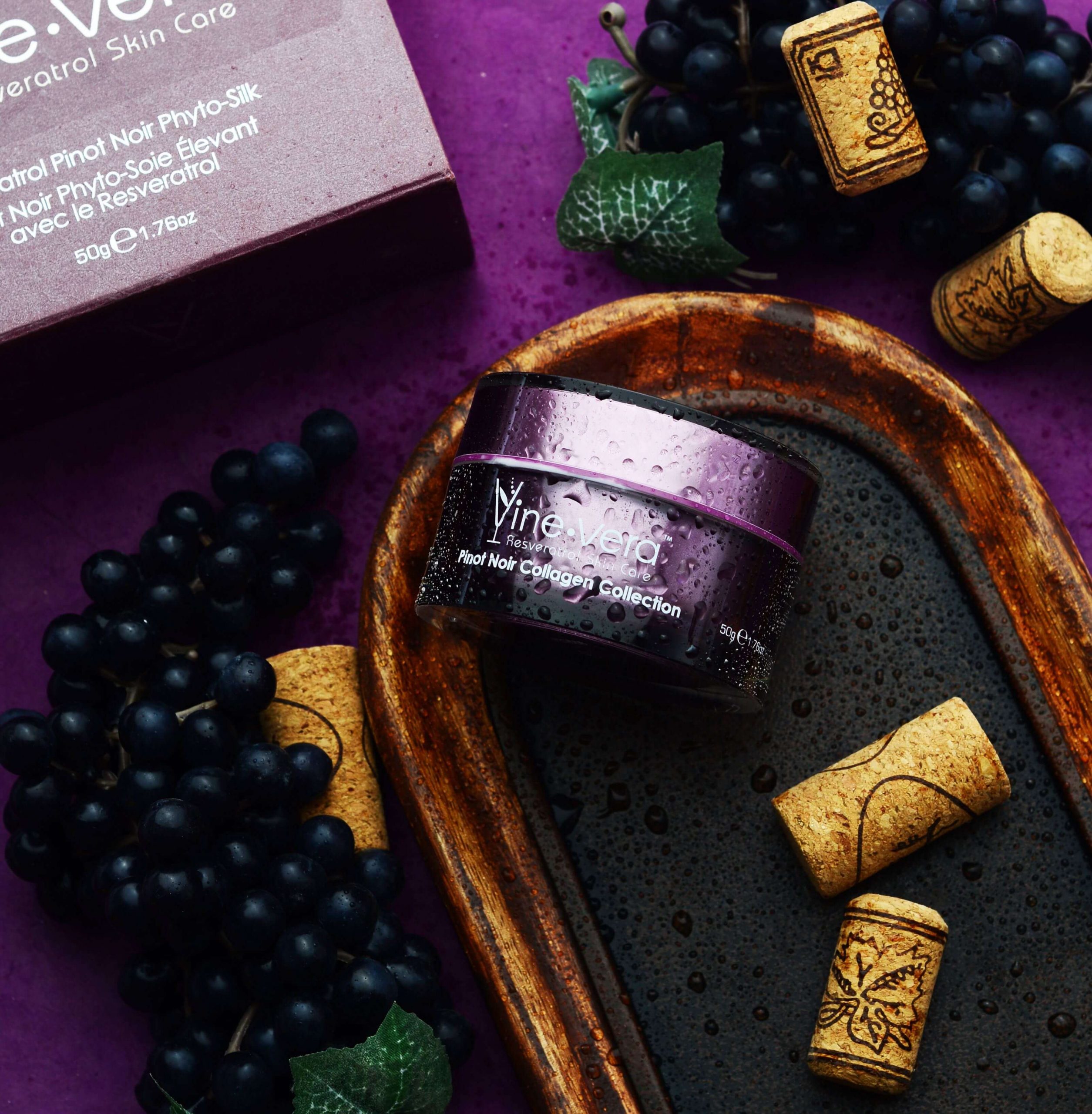 You've probably already heard everyone raving about hyaluronic acid. Chances are that it's already in your skincare routine. However, if not, then this is definitely an ingredient that you need to try for getting rid of dry skin.
Hyaluronic acid is a humectant. This means that it has moisture-binding properties.
So, where does sodium hyaluronate come into this?
Sodium hyaluronate is the salt form of hyaluronic acid. Basically, they do the same thing, with the main difference being that sodium hyaluronate is made up of much smaller molecules. Therefore, while hyaluronic acid is better for hydrating the outer layers of your skin, sodium hyaluronate will penetrate deeper, bringing hydration to the skin cells that really need it the most.
Wondering which sodium hyaluronate product to invest in?
Here at Vine Vera, we have several. It's one of our favorite ingredients, so you won't have a problem finding a formula you love that contains it. We would recommend starting with the Resveratrol Pinot Noir Phyto-Silk. This silky solution is almost like a thick serum. In addition to sodium hyaluronate, it contains a number of other rich compounds, from algae extract and glycerin to chamomile extract and soluble collagen.
Use a Hydrating Mask Once a Week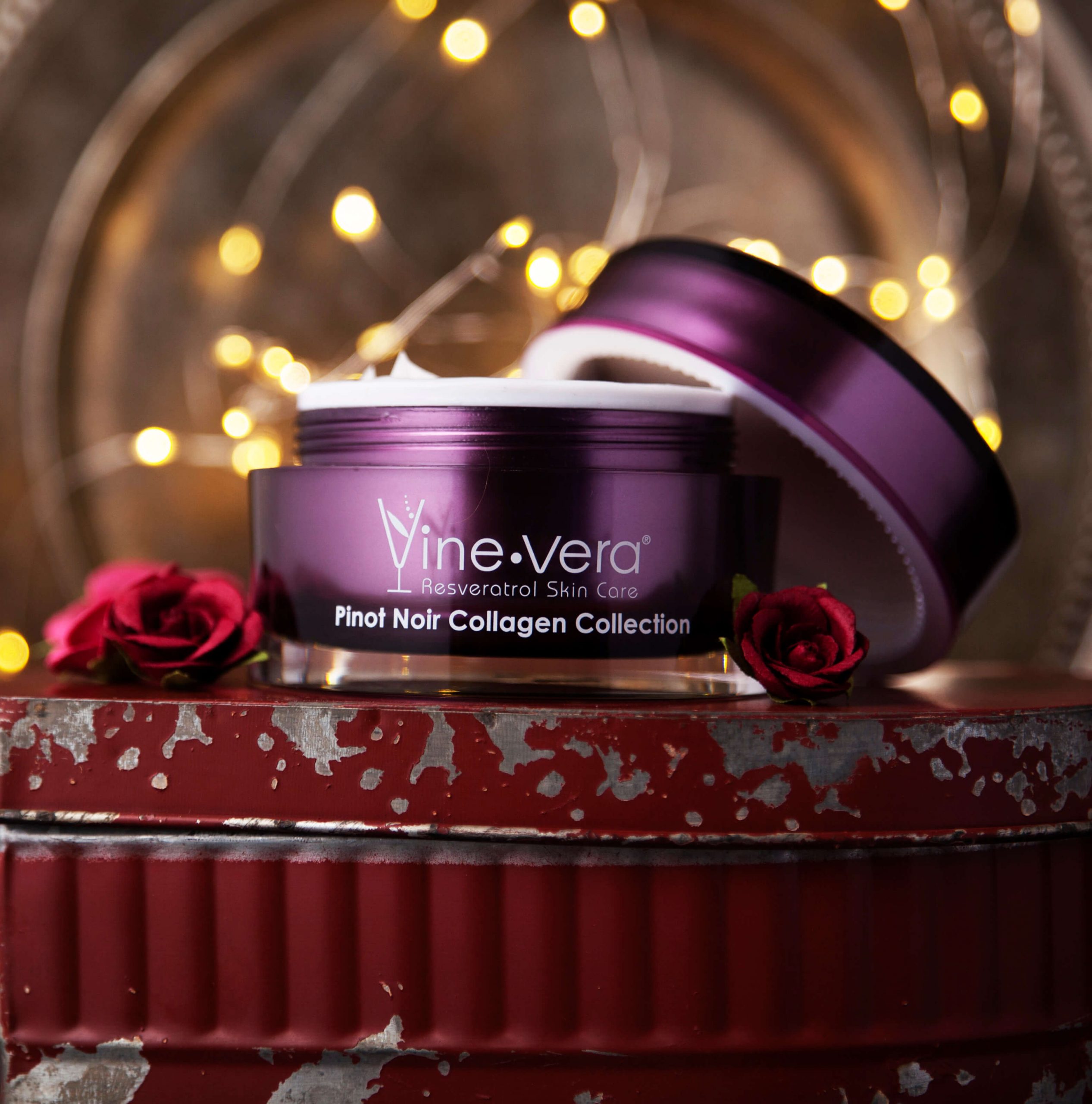 So, how can a product that you only use once a week help you with getting rid of dry skin?
This is a question that we often hear in relation to face masks, but here's the answer. Face masks are designed to be super-concentrated. They contain potent doses of active ingredients. Use them too often and you'll irritate your skin, but use them just the right amount and they'll work wonders.
At least, that's the theory behind it.
The problem with many of the face masks today is that they're nothing special. They don't contain potent active ingredients and therefore don't make much of a long-term difference to dry skin, hence the sceptism.
Well, Vine Vera is here to change your mind with the Resveratrol Pinot Noir Phyto-Silk Mask. This is a unique leave-on mask that's absolutely ideal for dry skin. Why? Because it's jam-packed with multiple moisture-binding compounds. In addition to the sodium hyaluronate that we mentioned earlier, this formula also contains a number of fruit extracts, including aloe, acai, pomegranate, bilberry, chokeberry, and goji. You'll also find vitamins, peptides, and many other humectants, making it no surprise that it instantly softens the appearance of dry patches.
Even better, it's so much fun to use! Apply the mask onto cleansed skin and rub it in. The creamy formula turns into liquid droplets that your skin will quickly drink up. You'll immediately feel softer, smoother, and beautifully refreshed.
But remember, no matter how much you love the results, don't use it more than once a week!
Use a Deep Treatment Mask Once a Month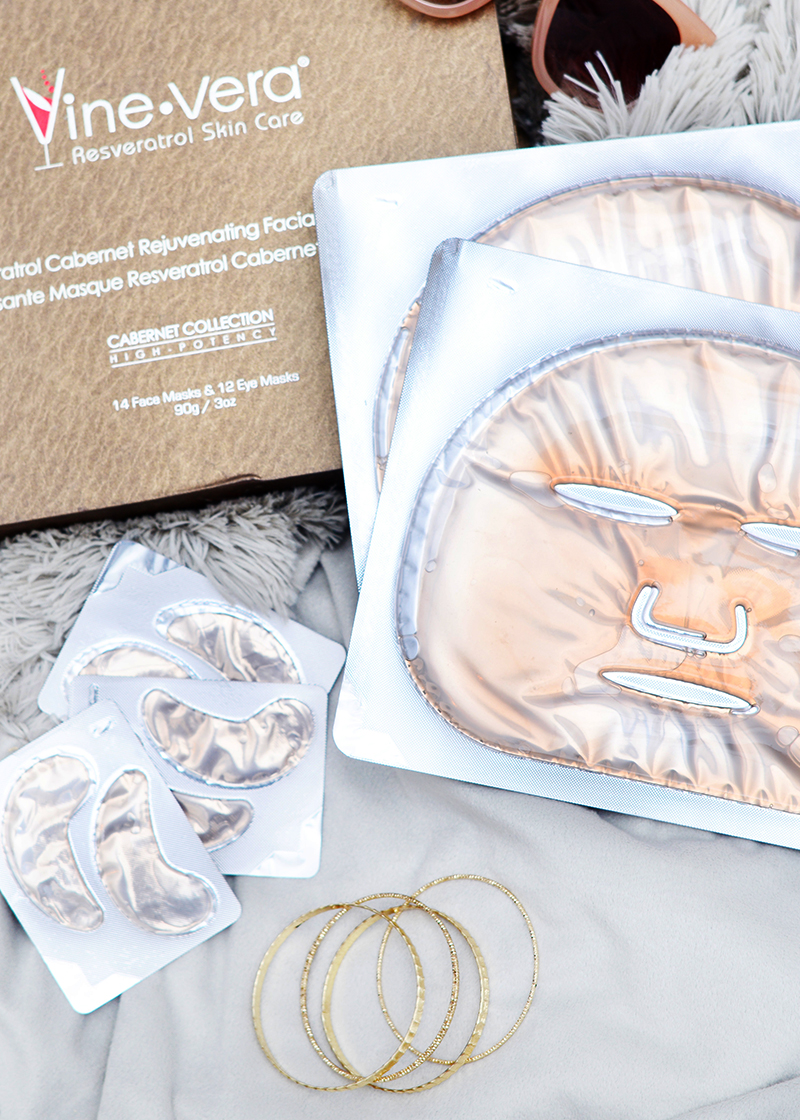 Now that you've found the perfect weekly face mask to use, turn your attention to the Cabernet Rejuvenation Facial and Eye Masks. These hydrogel masks have been soaked in a concentrated solution designed to relieve dry skin while reducing the appearance of fine lines and wrinkles. Unlike the weekly mask we just featured, this one doesn't contain a long list of ingredients. Instead, it's made with just a few, but it offers these in large amounts.
To start with, humectants, which we touched upon earlier. You'll find hyaluronic acid in this mask, along with glycerol and sea algae extracts. However, it's also packed with a number of other vitamins and minerals that will leave dry skin feeling soft and hydrated.
You'll also find allantoin and chitosan in this mask. 
Finally, let's talk resveratrol. This is the star ingredient in all Vine Vera products because it's such a multi-tasker. It helps with just about every skin concern, including dryness. Studies have found resveratrol to have a hydrating effect on the skin. In fact, it can even help to treat the look of dryness brought on by eczema and psoriasis.
As you can see, this monthly mask is a must-have in your fight against skin that feels dry.
Take Regular Oatmeal Baths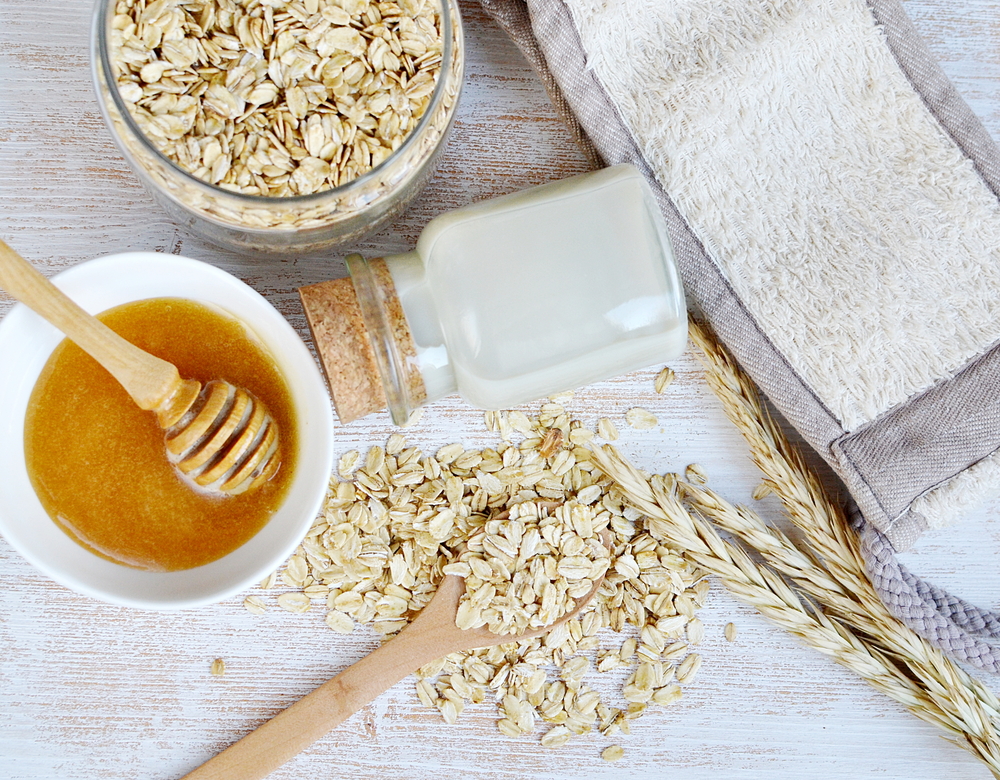 If you've got dry skin on your face, then chances are that you're dealing with the issue on your body too.
One of our best tips for dealing with this is to indulge in regular oatmeal baths. Several studies have found oatmeal to be extremely beneficial in relieving dry skin. 
For a bath, colloidal oatmeal is what you need. This is oatmeal that has been ground up, enabling it to better treat your skin.
However, once you've had your soak, don't stop there when it comes to treating the dry skin on your body. Instead, give your body a once-over with the Intensive Shea Body Butter from Vine Vera. This buttery blend feels incredibly rich when you scoop some out of the jar, but it melts away into the skin in seconds. It doesn't feel greasy – instead, it leaves the skin looking soft, supple, and bouncy.
Don't have a bath but still want to benefit from the goodness of oats?
Treat yourself to the Resveratrol Cabernet High Potency Night Cream. It contains hydrolyzed oat protein, which is a water-soluble liquid that has been made from oats.
Summary
We won't lie – relieving dry skin is never easy. It takes commitment and dedication, as well as a few special skincare products. However, by knowing which formulas to use and how best to use them, you're already halfway there. Keep it up and your dry skin will soon be a thing of the past!