Can Resveratrol Really Reverse Skin Aging?
Posted on June 9, 2021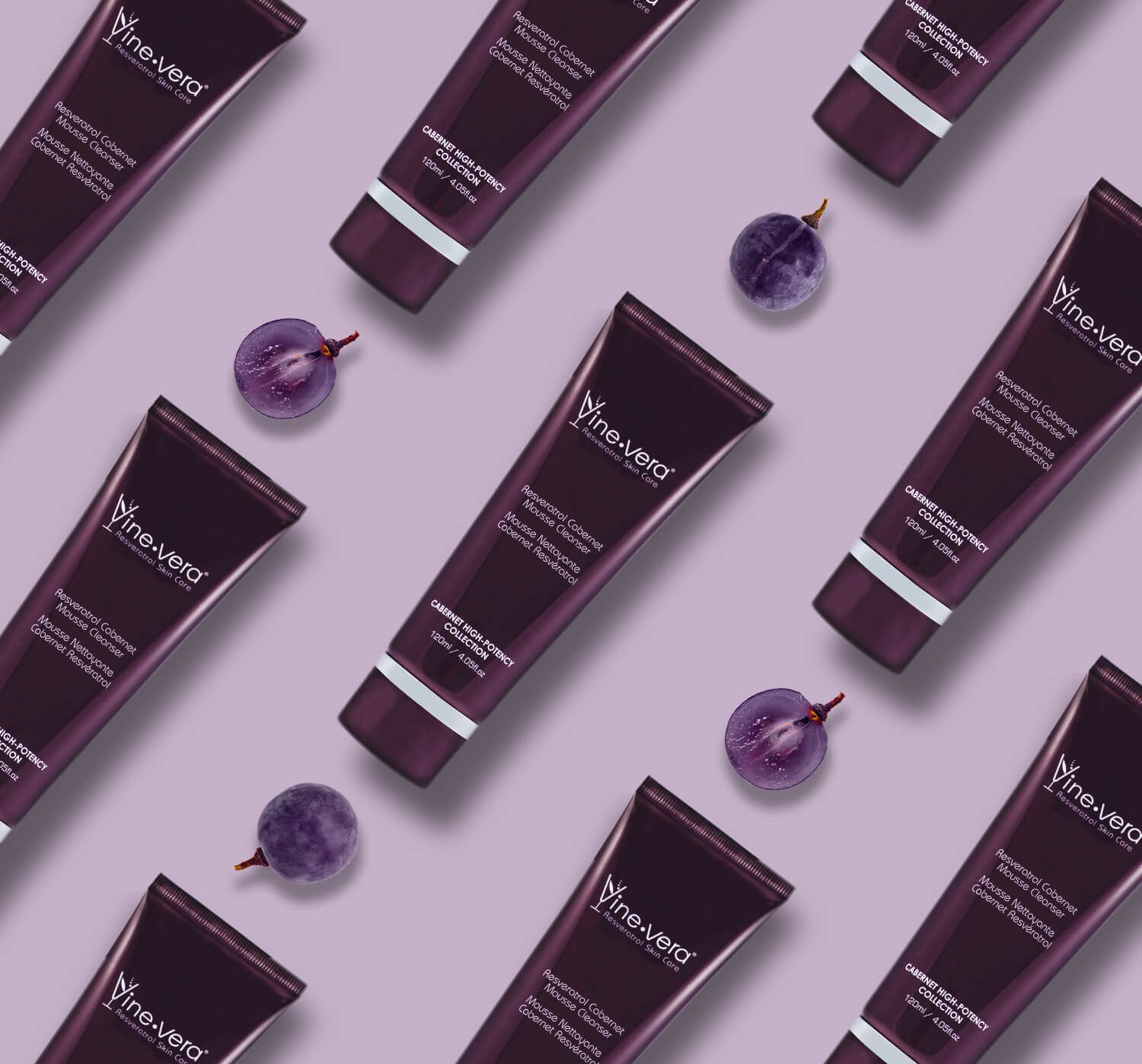 What if we told you that Vine Vera has found the magical ingredient that can reverse the signs of aging?
Resveratrol, a chemical compound found in the skins and peels of grapes and berries, and even red wine might be your best bet in keeping those pesky wrinkles and crow's feet at bay.
What is Resveratrol?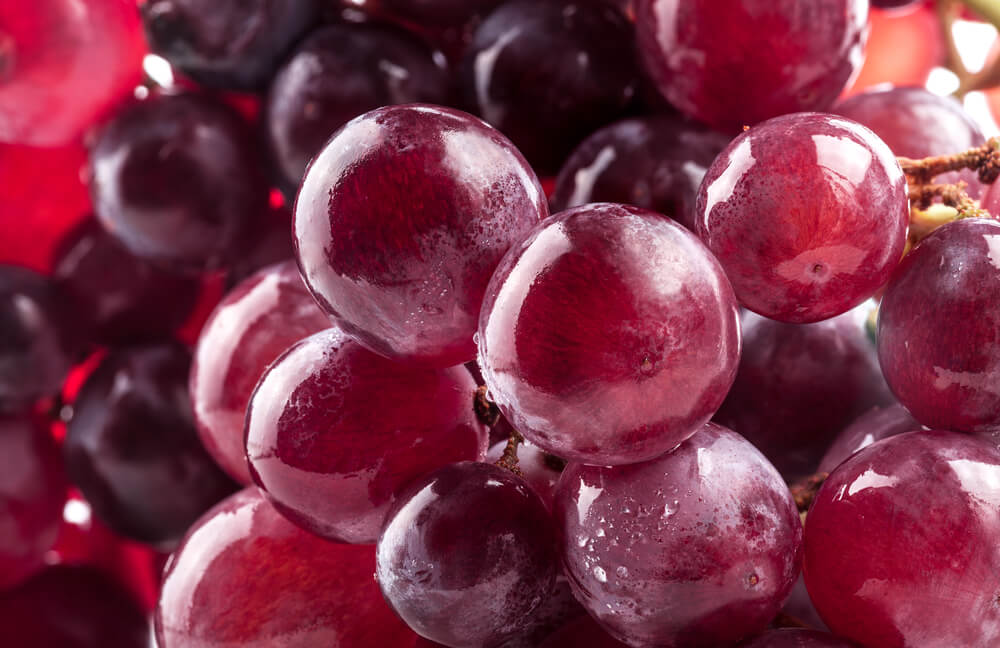 It's not as simple as downing a bottle of merlot with your dinner; resveratrol is a polyphenol, a type of chemical compound with antioxidant properties that protect cells from harm, limiting cellular aging.
Resveratrol is also an effective topical antioxidant.
By supplementing your body with power-packed antioxidants, you can reverse the damage produced by the aging process, UV exposure, pollution, and poor lifestyle habits like smoking.
Resveratrol-infused skincare makes an excellent addition to your nightly skin-restoring routine because our skin rejuvenates itself when we sleep.
That's why Vine Vera, a skincare brand committed to delivering products that will transform your skin, offers the very best of resveratrol-based skincare that you can add to your facial regimen.
Vine Vera resveratrol skincare boasts a potent cocktail of effective ingredients to help you achieve that glowing, youthful complexion you have been vying for.
Why Resveratrol?
Resveratrol has been shown in multiple studies to help reduce damage to blood vessels, decrease blood clotting, lower cholesterol, and prevent heart disease and stroke.
However, what's intriguing is that research has also shown that this is an effective anti-aging agent as well.
So, how does resveratrol affect your skin, and why do dermatologists love this ingredient?
There are numerous health benefits of resveratrol for the skin. Generally, it can help protect the skin's surface when applied topically. A few other advantages of resveratrol include:
Anti-aging

Reduces redness

Skin hydration
Anti-Aging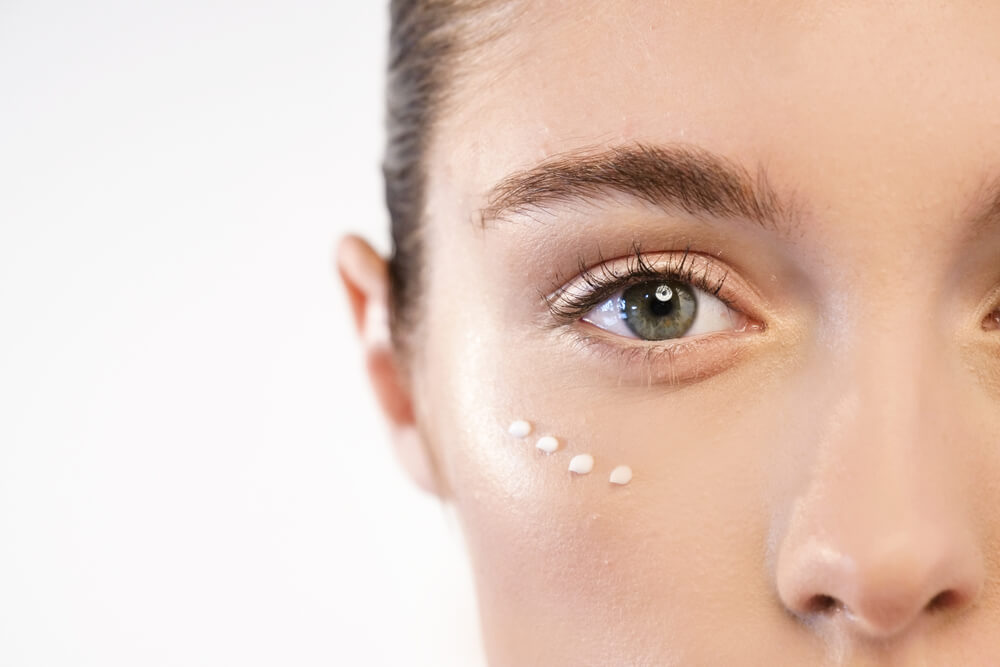 The leading cause of aging is ultraviolet (UV) damage to the skin, so using skincare that contains resveratrol can improve your skin's natural barriers, helping your skin look and feel more youthful.
Dermatologist Ava Shamban describes resveratrol as a compound that interacts with some metal ions to prevent the formation of free radicals.
This compound can interrupt negative environmental influences and protect the skin from UV damage because resveratrol works on a cellular level to fight the skin aging process.
Resveratrol improves cellular function and collagen synthesis while preventing the metal ions from making the collagen or fibroblasts deteriorate.
That's why with the long-term usage of Vine Vera resveratrol skincare, you can be sure that you'll achieve those #SkinGoals in no time!
Reduces Redness
Skin redness might be a sign of skin irritation, making it essential to incorporate skincare with calming ingredients into your routine.
Packed with micronutrients, resveratrol has anti-inflammatory properties that can soothe signs of irritation and redness.
Studies have demonstrated that resveratrol has anti-inflammatory, antibacterial, and antifungal properties that help calm down the skin. This decreases skin aging and keeps the skin infection-free.
Dubbed as the 'longevity molecule', it also improves the overall radiance of your skin.
Banking on this skin-loving ingredient, Vine Vera resveratrol skincare can do wonders for your complexion.
Additionally, resveratrol's anti-microbial properties can inhibit the growth of the bacteria that causes acne. It complements the usage of benzoyl peroxide on the skin.
Skin Hydration
Resveratrol has been shown to maintain your skin's moisture content, hydrate your skin, and reduce dryness.
Keeping your skin hydrated is a crucial part of skincare.
Why? Because a lack of moisture weakens the skin's lipid barrier. This makes it easier for irritants and microbes to penetrate.
Besides combatting dullness, having well-moisturized skin can help improve your skin's elasticity, reduce oil production, and get that radiant complexion you've always wanted.
Vine Vera Resveratrol Skincare
A brand that stands firmly behind its cruelty-free policy, Vine Vera uses resveratrol in every product, on top of other beneficial ingredients, to give your skin that extra boost.
Our products use only the best and most luxurious ingredients to diminish any signs of aging while combatting oxidative stress and free radicals at the same time.
Vine Vera resveratrol skincare products are worth the splurge. From eye care to serums, face masks, and exfoliators, you'll find the perfect treatment your skin needs!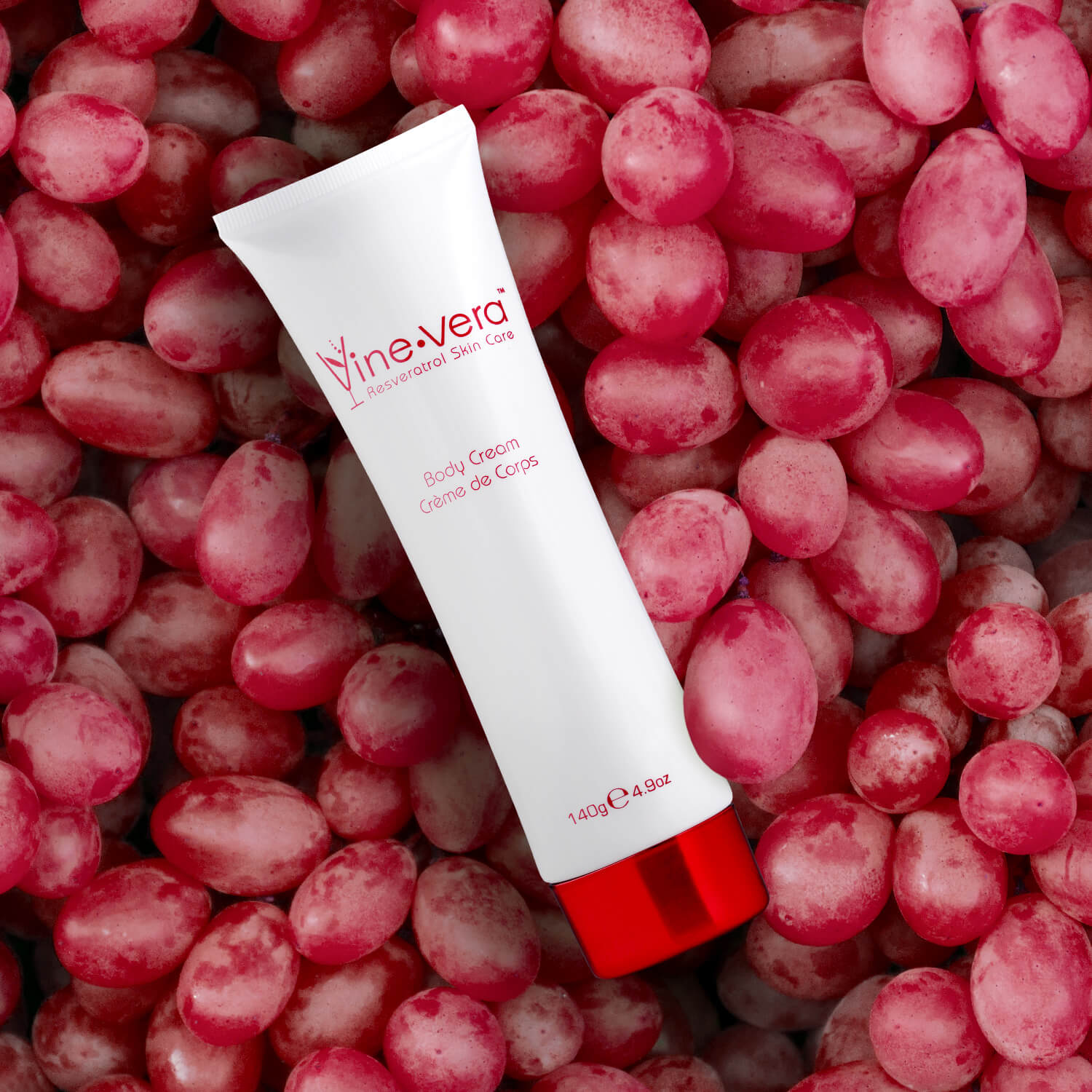 Vine Vera's Body Cream makes skin radiance very easy to achieve. This deeply moisturizing, soothing formula is chock-full of humectants that'll leave your skin feeling soft to the touch.
The main ingredient in this body cream is glycerin, a humectant. Glycerin attracts water from the air and deeper layers of your skin to your skin surface.
Studies have also proved that glycerin is 'the most effective humectant' because of its ability to trap moisture.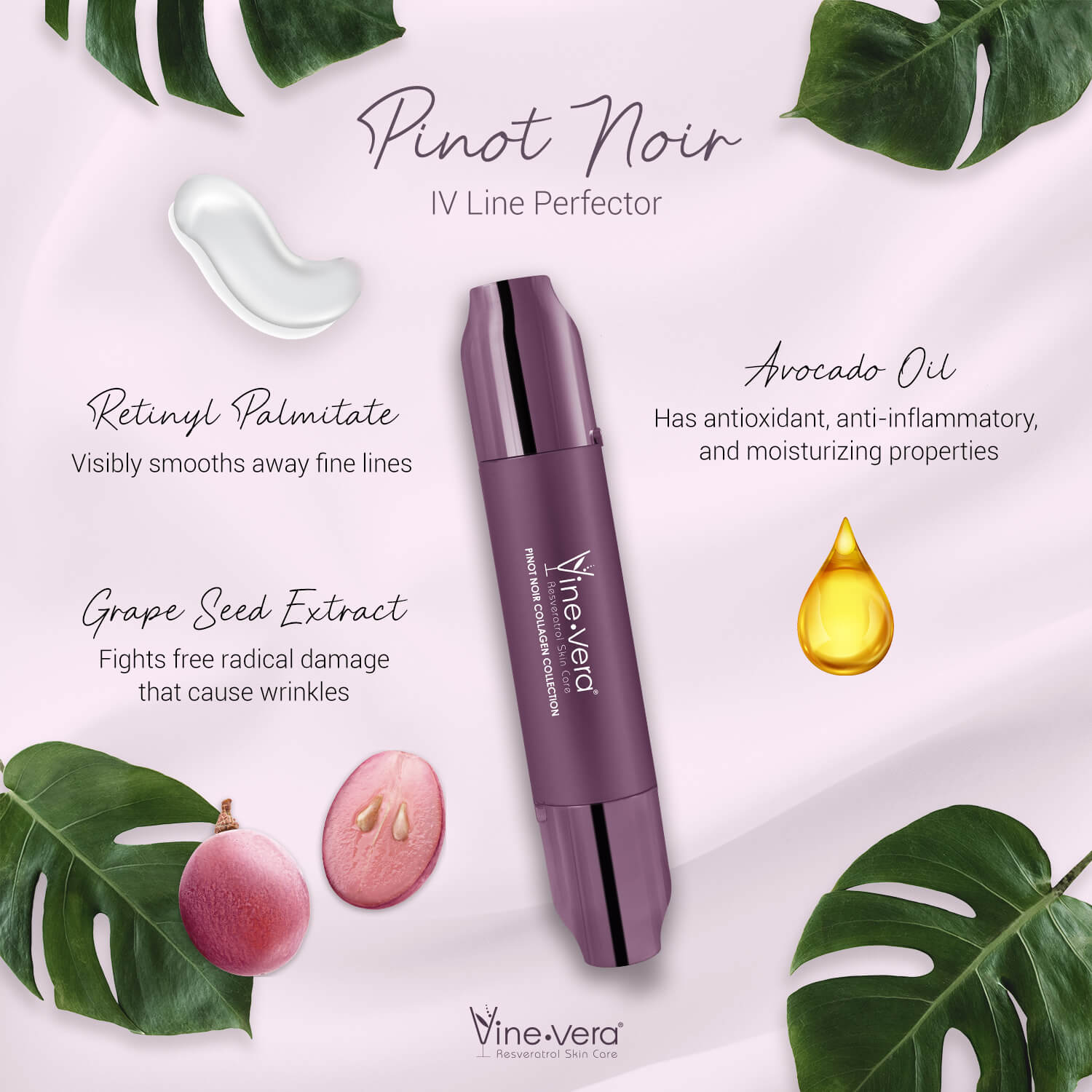 Enriched with the goodness from the vine, this Vine Vera resveratrol skincare product from the Pinot Noir Collection works to rejuvenate your skin from within gently.
A solution that instantly minimizes the look of fine lines and wrinkles, it contains two noteworthy ingredients that pack a punch – DMAE (Dimethylaminoethanol Tartrate) and Acetyl Hexapeptide-8.
DMAE is a powerful active ingredient that is very effective at skin firming and tightening and skin aging. Our brains naturally produce it, and it's also found in certain fish, such as sardines, anchovies, and salmon.
Argireline, also known as acetyl hexapeptide-8, is a peptide used in skincare products to lessen the appearance of wrinkles caused by frequent facial expressions. It inhibits the signals sent from the brain to the muscles, preventing muscle contractions. This, in turn, limits the formation of wrinkles.
This product contains a potent cocktail of ingredients that immediately smooths away the visibility of facial expression lines.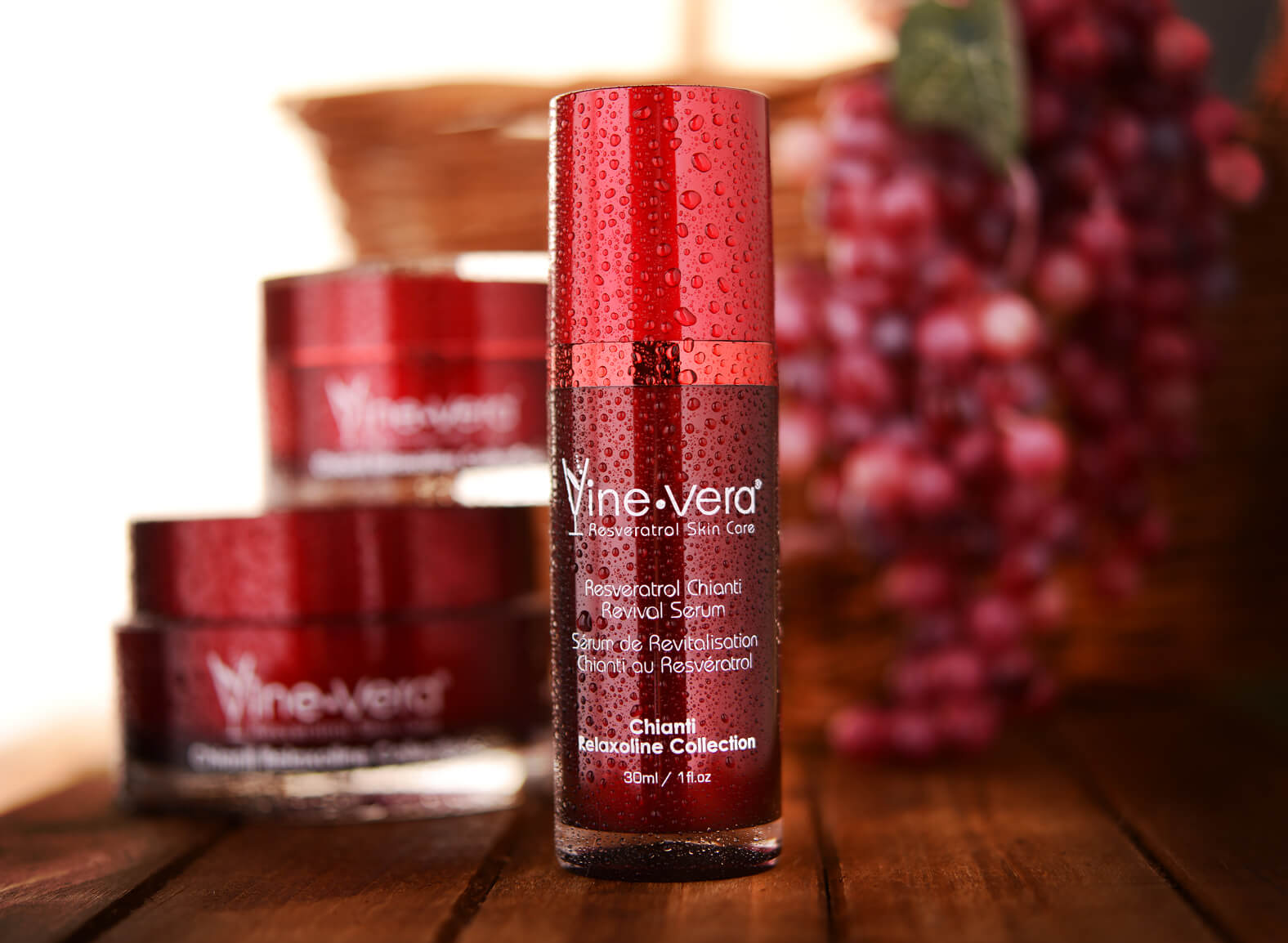 Named after the ruby red wine, this Vine Vera resveratrol skin care product is an anti-aging serum that will make a massive difference in your routine.
Powerful antioxidants and wrinkle reducers in the form of Resveratrol Ferment extract, ascorbic acid (vitamin C), palmitoyl tripeptide-1, and Sodium Hyaluronate work together to create this effective formula that will effectively diminish the appearance of wrinkles.
Peptides are an anti-aging game-changer. They consist of a chain of amino acids. Your skin uses peptides to build protein fibers, giving your skin structure, firmness, and elasticity. 
There are several peptides out there, but each will fall into one of three general groups: signal peptides, carrier peptides, and inhibitors of nerve signals.
Signal peptides, like palmitoyl tripeptide-1, serve as messenger molecules that carry a signal to cells, which ultimately increase collagen synthesis and, thus, skin firmness.
On top of that, ascorbic acid, or vitamin C, is a skincare game-changer. Touted as one of the best anti-aging ingredients out there, vitamin C has a myriad of benefits.
The main form of vitamin C used in skincare, magnesium ascorbyl phosphate, has been found to have a hydrating effect on the skin. It helps skin retain moisture by reducing transepidermal water loss.
It can even help combat hyperpigmentation and evens out skin tone.
Your skin will feel softer, more radiant, and refreshed with the Resveratrol Chianti Revival Serum.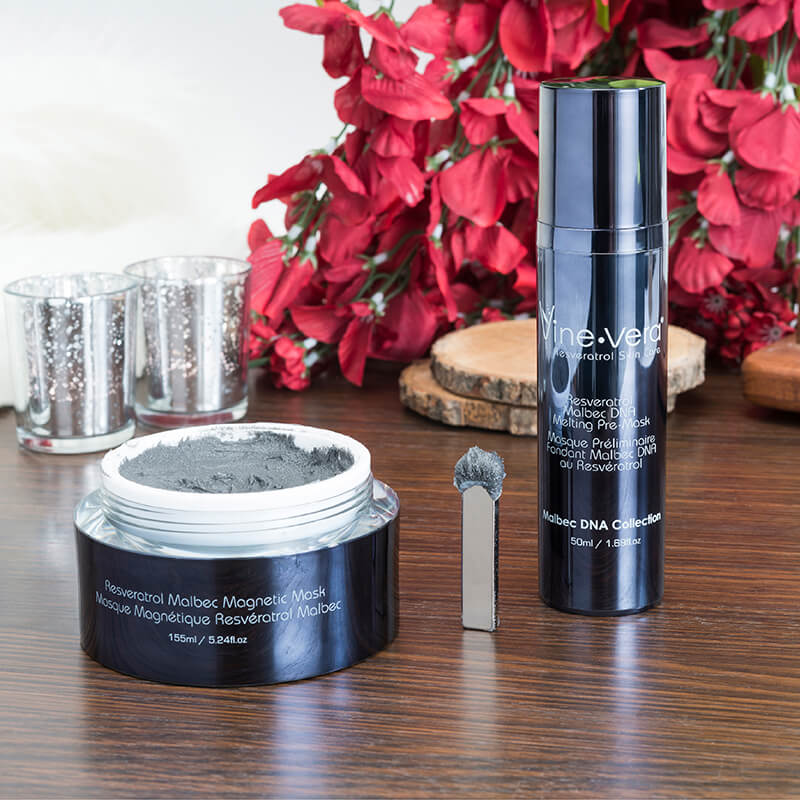 This Vine Vera resveratrol skincare product helps your skin prepare for the Vine Vera facial mask selection.
It's a unique pre-mask that's formulated with Sweet Almond Oil, vitamins, and Resveratrol. When applied to the skin, this treatment melts into a silky oil that becomes a clarifying foam.
Sweet Almond Oil contains vitamin A, vitamin E, Omega-3 fatty acids, and zinc, making it a great combination of ingredients to ward off signs of aging.
Vitamin A is used in the form of retinol. It can jumpstart the production of new skin cells and lessen the visible appearance of fine lines.
Besides that, Vitamin E and Omega-3 fatty acids are nutrients that can help with ultraviolet damage from the sun.
When taken orally, zinc is essential in treating acne and facial scars and promoting healing.
Massage this groundbreaking product onto your dry skin in a circular motion. Once the gel has liquefied into an oil, apply water to activate the foam.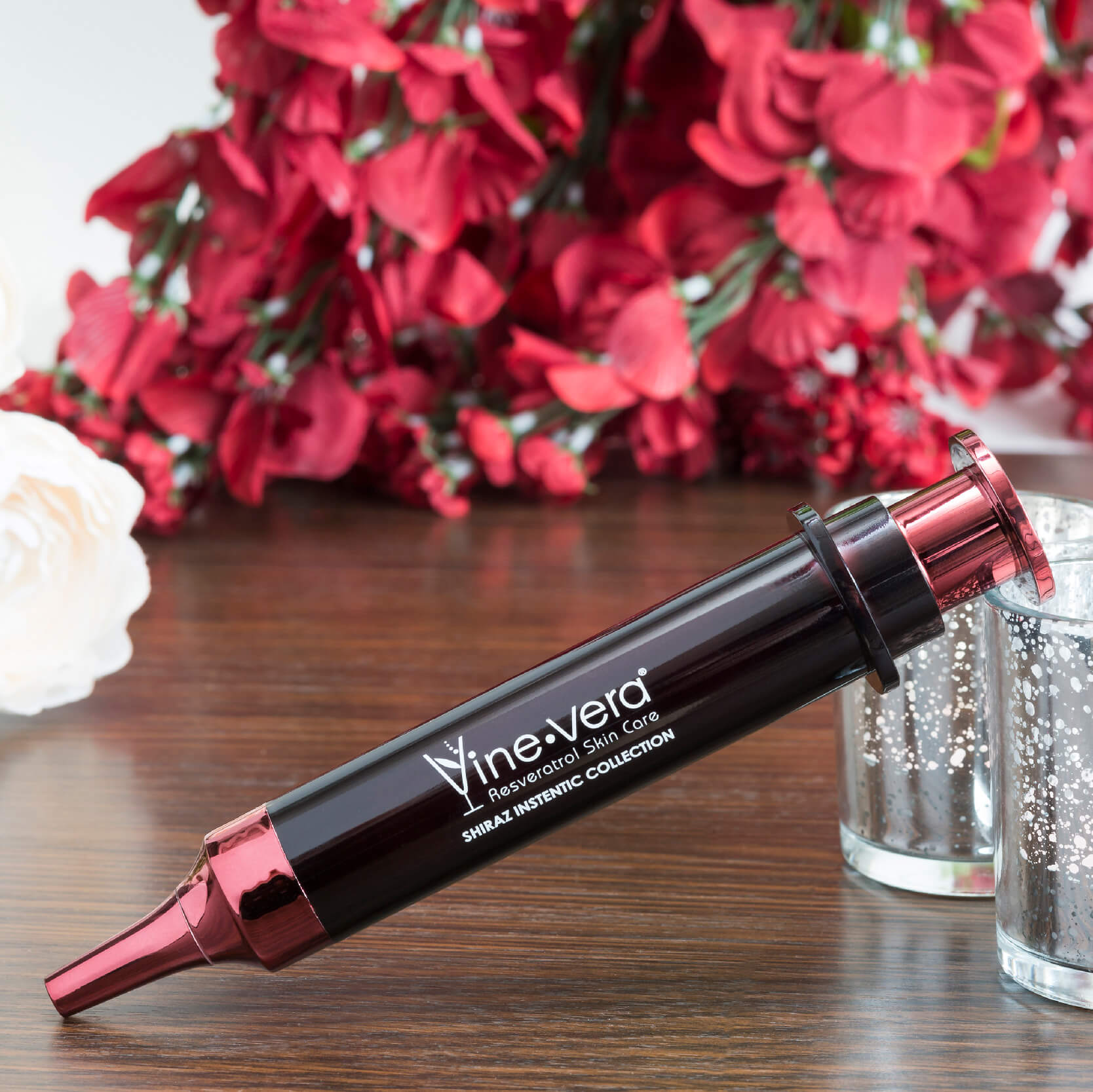 Packed with powerful ingredients like Resveratrol Ferment extract, vitamin E (Tocopheryl Acetate) derivative, Hyaluronic Acid, and Avocado Oil, this innovative formulation reduces the appearance of deep wrinkles.
Avocado oil is an excellent moisturizer and protects skin from UV damage while also stimulating collagen production and successfully healing wounds.
An independent scientific study found that when used on a wound, linoleic acid, oleic acid, and other monounsaturated fatty acids in avocado oil work faster to speed up the healing process.
While the product is designed to look like a syringe, fret not! There's no actual needle; it just provides the appearance of injectable cosmetics that gives your skin that taut, youthful look.
You can rest assured that the non-surgical syringe is painless and does not need to penetrate the skin. Instead, it delivers the serum to fine lines and wrinkles to apply the product.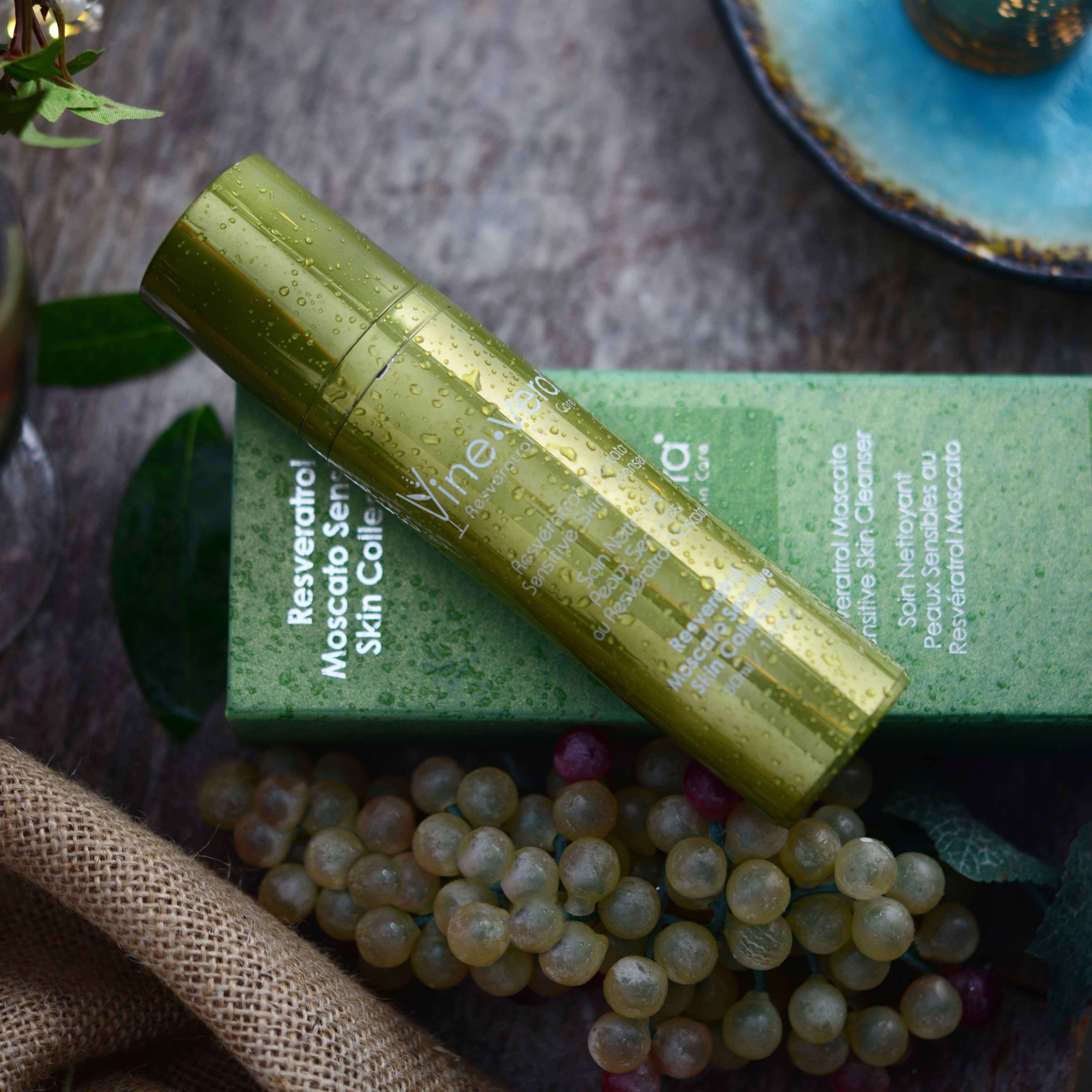 Have you got sensitive skin?
Here's a cleanser that we've designed just for you…
Formulated to reduce irritation on sensitive skin, the product's texture is light and gel-like, allowing it to be applied easily.
Enriched with olive oil, it could help protect you from DNA-damaging ultraviolet radiation.
Compared to other types of fats and oils that humans usually eat, this type of fat has a very high concentration of squalene. Squalene is what adds extra antioxidant strength to olive oil.
Using a soap made with olive oil may help you get rid of acne because it has antimicrobial properties that prevent the bacteria that cause acne from multiplying.
Olive oil is also beneficial for the skin because it is hydrating and moisturizing.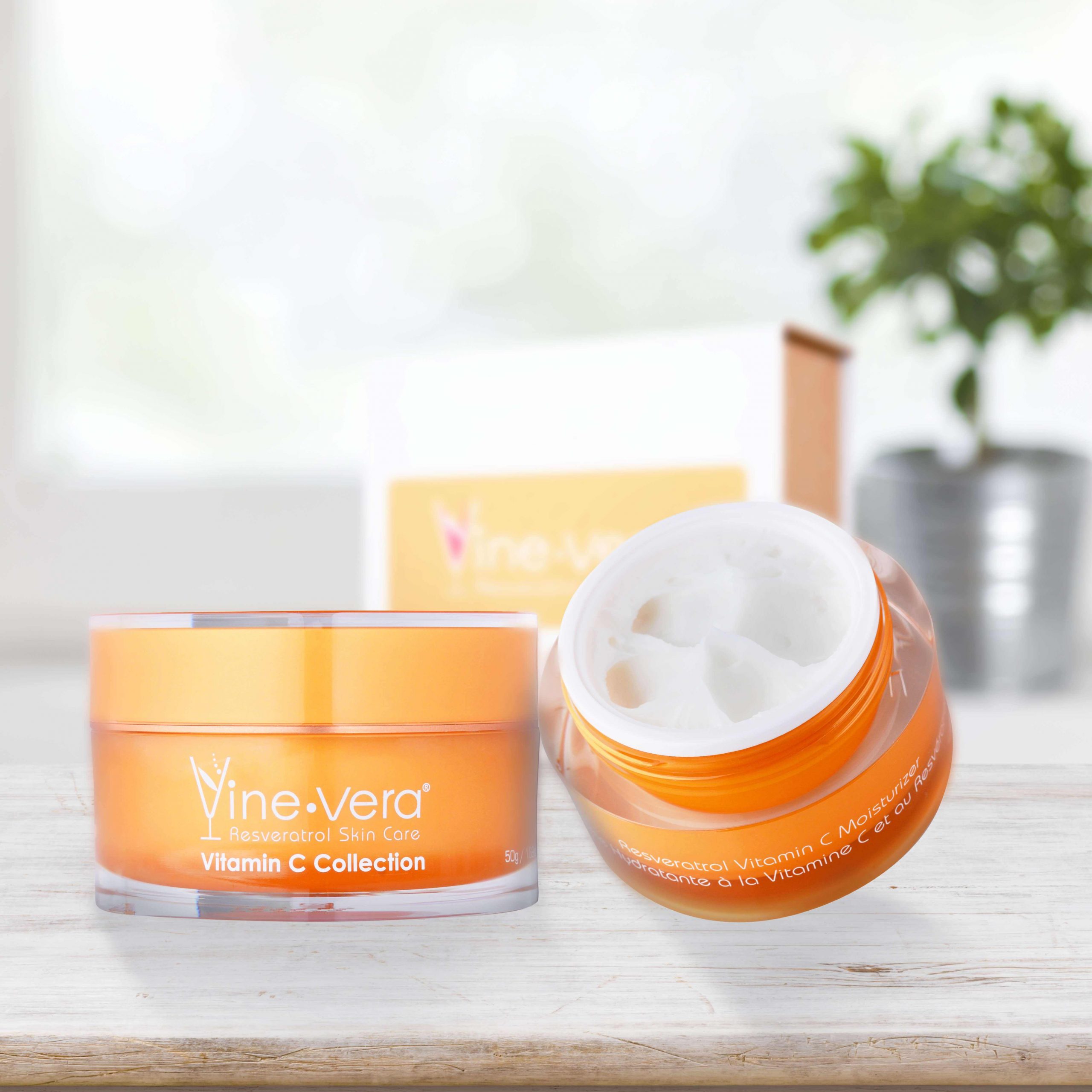 Combining two superhero ingredients, vitamin C and resveratrol, this potent Vine Vera resveratrol skincare product is fortified with Pro-Vitamin B5. This combination results in a beautifully nourishing and hydrating moisturizer.
Also known as Pantothenic acid or pantothenate, Vitamin B5 is a water-soluble vitamin that holds a lot of promise. 
One study has found that vitamin B5 promotes healthy skin and aids in the wound-healing process.
Research showed that supplementing with vitamin B5 helped with acne on the face, reducing the number of blemishes.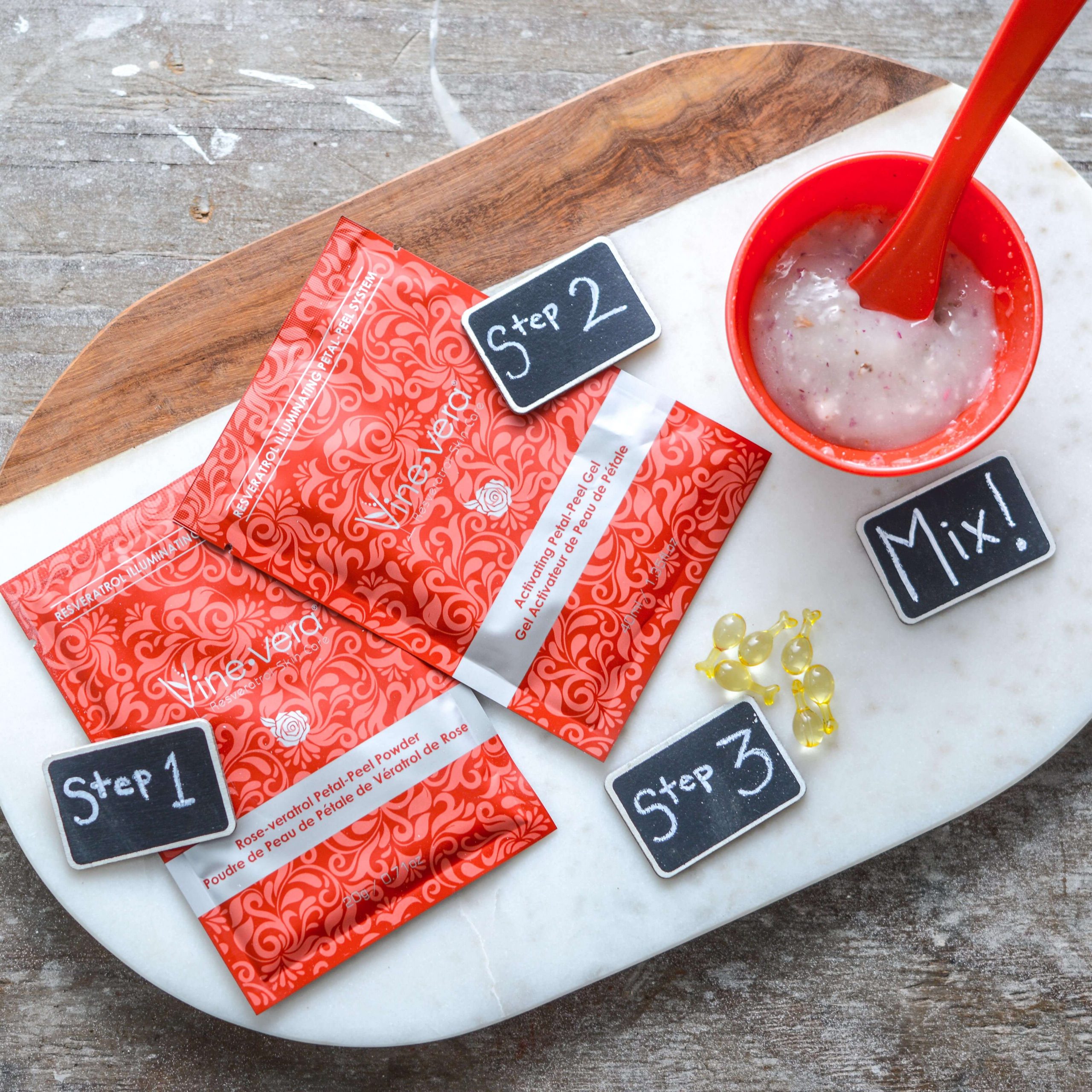 Not only do roses smell great, but they also have anti-inflammatory properties and are high in vitamin C, which helps stimulate collagen synthesis.
The Resveratrol Zinfandel Illuminating Petal Peel System consists of:
Rose-veratrol Petal-Peel Powder

Activating Petal-Peel Gel

Correcting Petal-Peel Capsules
This one-of-a-kind set can enhance your complexion's appearance, making you look fairer and radiant.
The Vine Vera resveratrol skincare system contains diatomite, collagen, and rosebud powder, which are especially beneficial for getting rid of discoloration and dull skin.
Diatomite, or diatomaceous earth, is a type of powder resulting from fossilized algae found in water. Since it's abrasive yet gentle, it effectively removes dead skin cells.
Collagen, found in the Rose-veratrol Petal-Peel Powder, is also an extremely beneficial ingredient.
Applying collagen topically has also shown positive effects on the skin, reducing the appearance of fine lines and wrinkles.
The Correcting Petal-Peel Capsules also contain evening primrose oil. This botanical has many healing properties because of its gamma-linoleic acid content.
All in all, Vine Vera resveratrol skincare is the best investment you can make for your skin. You'll find high-quality ingredients, capable of truly transforming your complexion, in each one of our products. 
Reset your skin and bring back its youthful firmness and glow with Vine Vera resveratrol skincare today!