Treat Yourself & Your Skin With These 10 Indulgent Products
Posted on February 15, 2022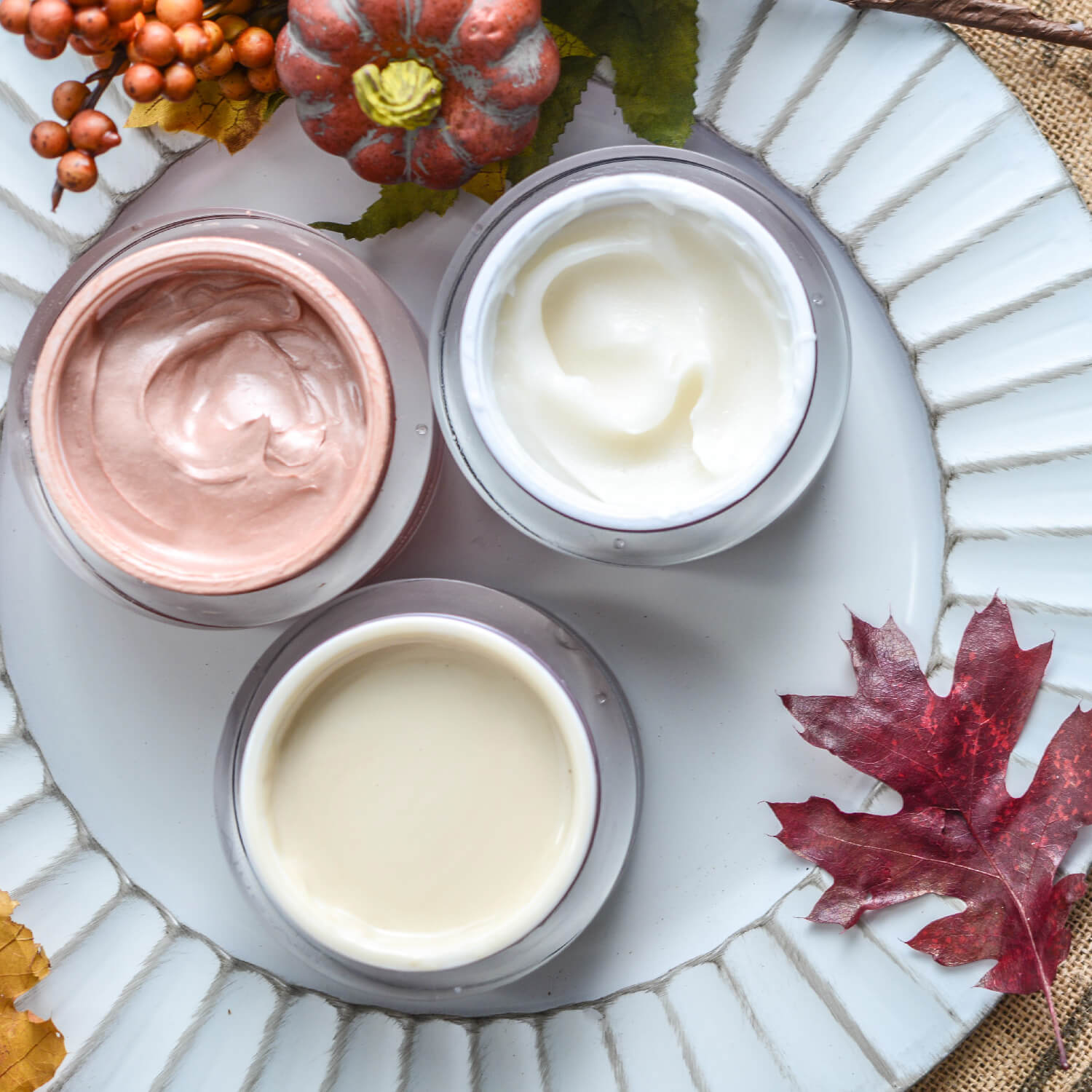 No matter what may be going on in your life, it's always important to take some time out to really pamper and treat yourself to something special. You'll feel appreciated, loved, and motivated to take on whatever else life may throw at you. In these trying times, self love has become more crucial than ever.
When it comes to how to treat yourself, the options are endless. You could go all out by taking a week off work and planning a getaway. Alternatively, keep things low-key and buy yourself something special, such as an indulgent new skincare product. The added benefit to this is that, in addition to leaving you feeling relaxed and rejuvenated, the right skincare product could also transform the look of your complexion to leave you with the skin of your dreams.
Where to start searching? Right here at Vine Vera. We've gathered together ten top products that will not only allow you to treat yourself, but to treat your skin too.
The Photonix-2 Jade Eye Wand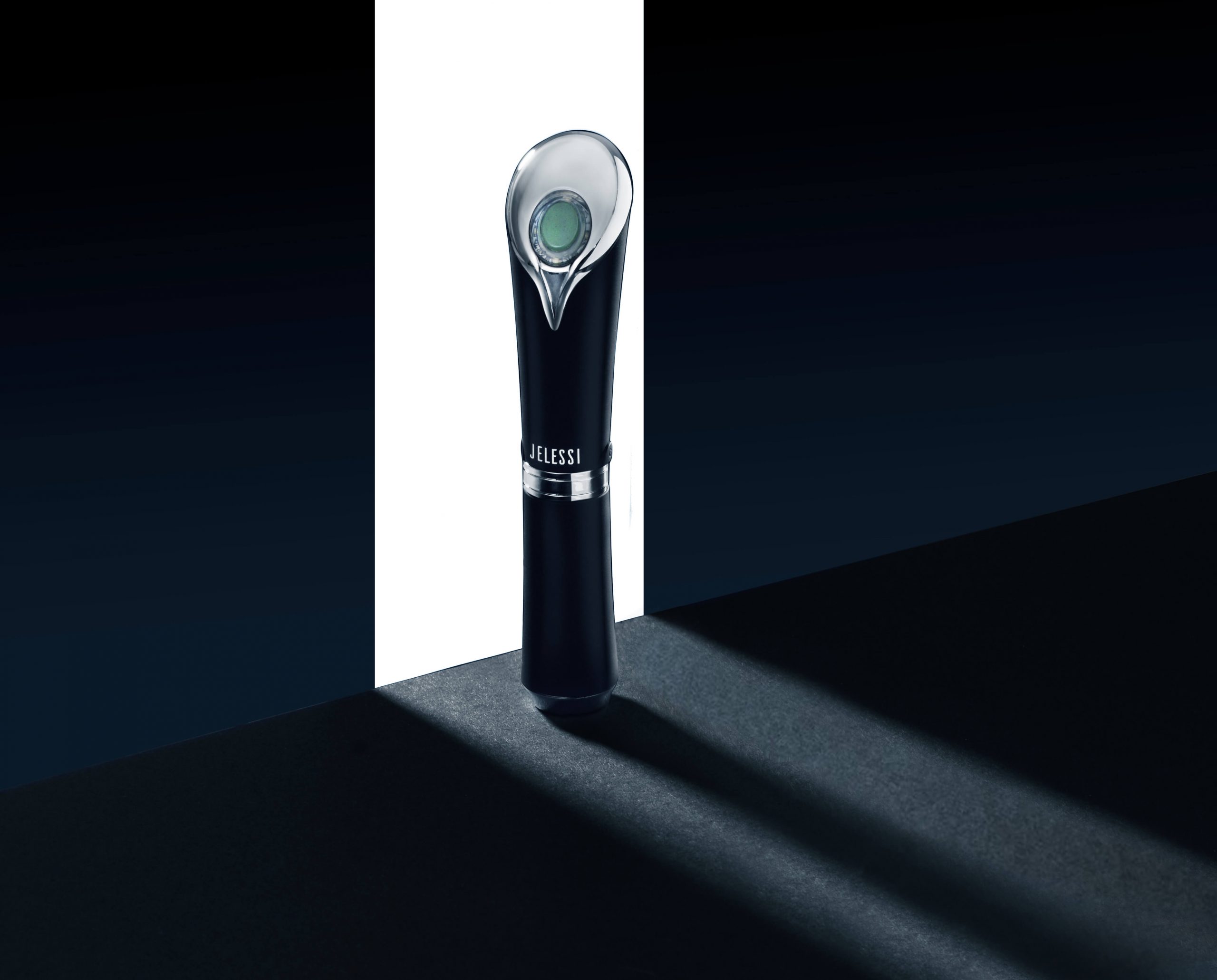 Let's start with our favorite high-tech solution to the appearance of puffiness, dark shadows, and wrinkles around the eyes – the Photonix-2 Jade Eye Wand. If skincare devices are new to you, then this is a great way to treat yourself and your skin.
How does it work?
This handheld device makes use of LED lights. It offers two modes. The first is Blue Relief Mode, which, as you've probably guessed, uses blue LED lights. This mode is all about detoxifying and brightening the look and feel skin. Then, you've got Magnetic Heat Lifting Mode. This one uses red LED lights to diminish the look of aging skin, including the appearance of wrinkles. 
This is a device that just about everyone would benefit from. Ideally, you'd use it regularly to start with. However, once you've started stimulating those vital processes in your skin, you can cut back and use the device occasionally for maintenance.
The Resveratrol Cabernet 60 Second Eye Solution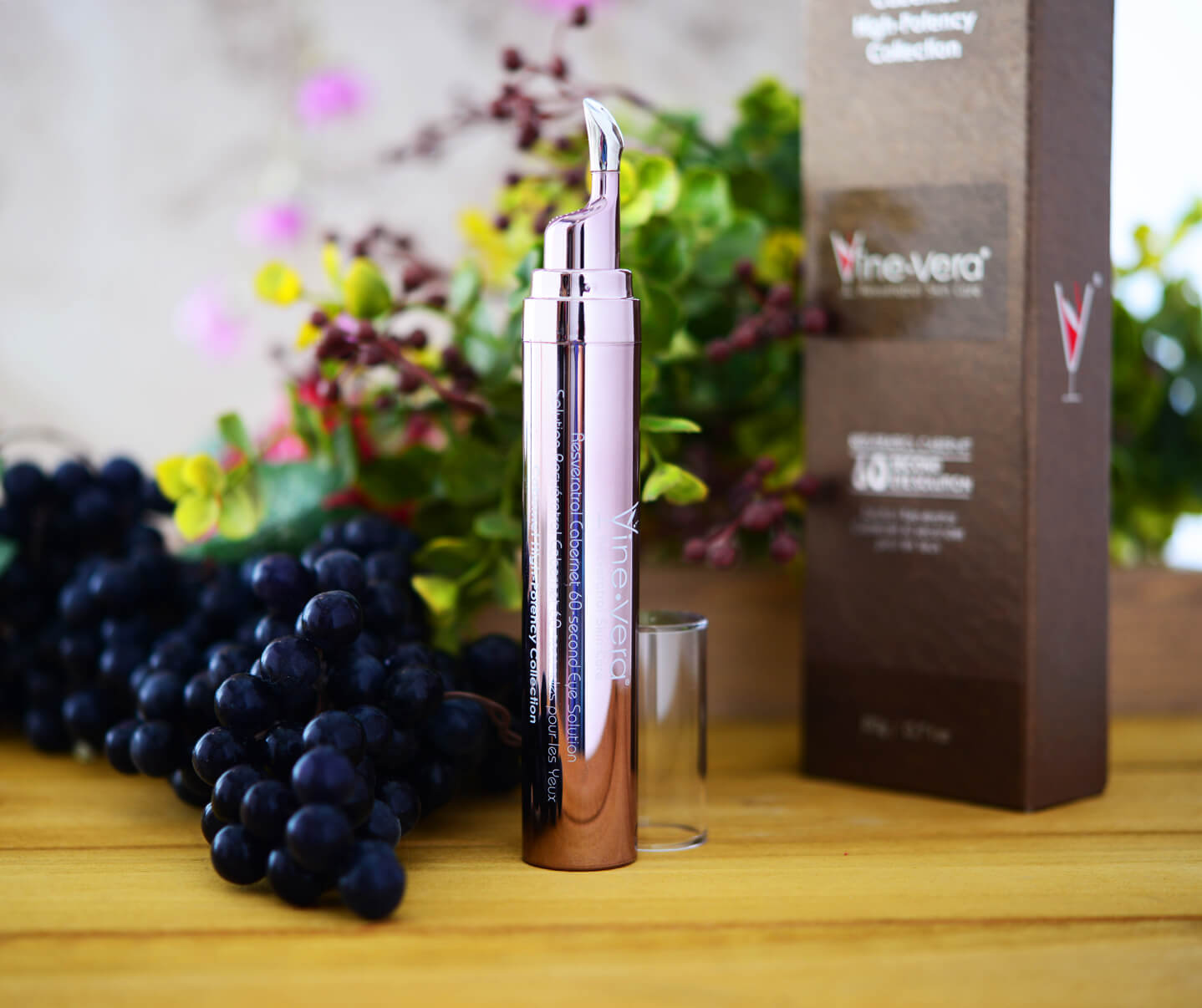 If eye wrinkles have been getting you down, treat yourself to the Resveratrol Cabernet 60 Second Eye Solution. That's right – this formula works in just 60 seconds!
You'll really love your skin once you see the effects of this magical serum. Its fast-acting performance is all down to its special ingredient blend. In this clever little applicator, you'll find resveratrol, acetyl hexapeptide-8, and sodium hyaluronate. Together, they plump away the look fine lines, smooth out the appearance of deep wrinkles, and give the skin a youthful finish.
Wondering how you'd use it?
It may look complicated, but it's easy, we promise! Just press down on the applicator to dispense a small amount of product. You can then run the applicator directly underneath and around your eye area to spread the product around. This way, none of those potent actives are wasted by being absorbed by your fingertips!
The Resveratrol Zinfandel Illuminating Petal Peel System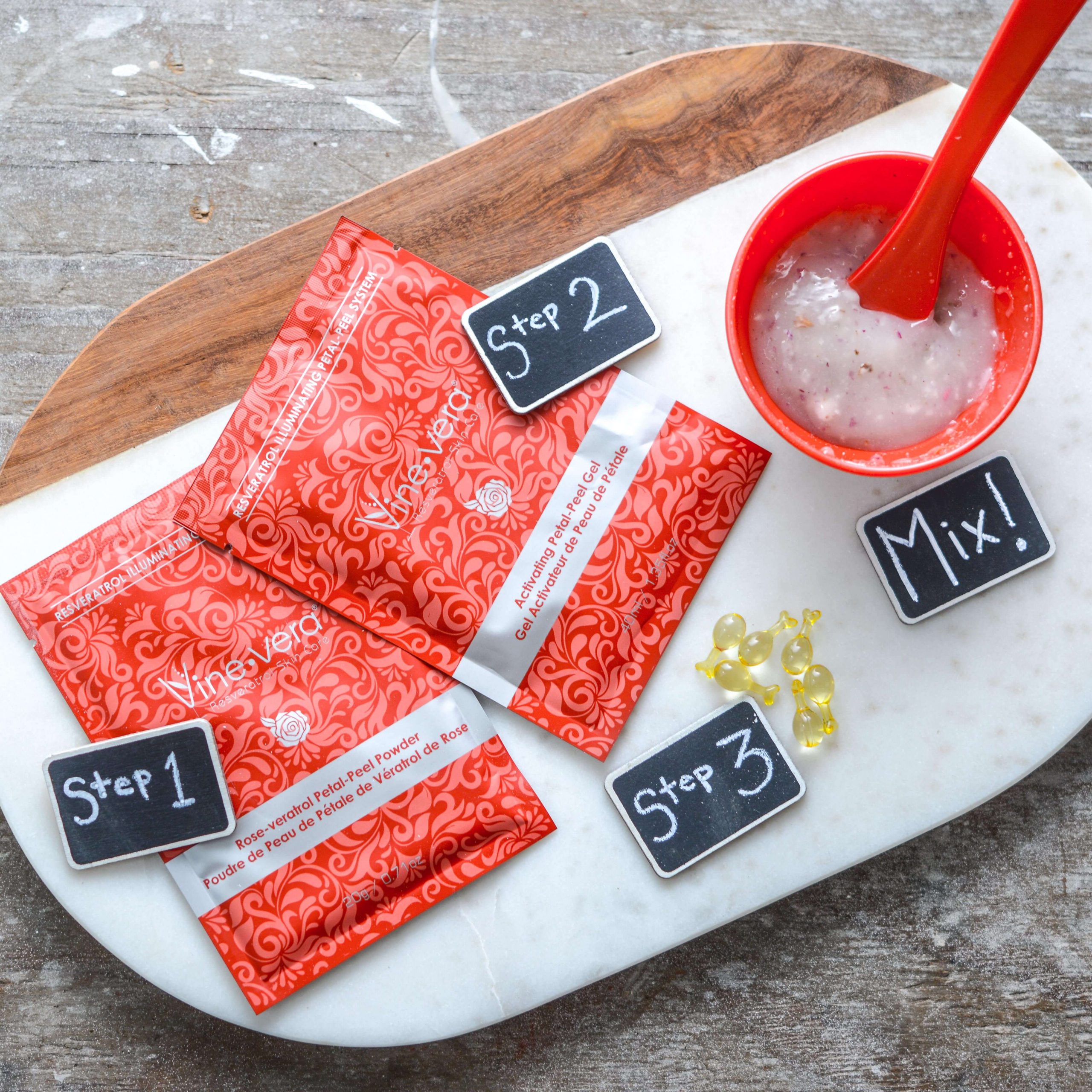 This product may seem a little intimidating at first, but hear us out – it really is such a great way to treat yourself.
The Resveratrol Zinfandel Illuminating Petal Peel System is a one-of-a-kind face mask. It consists of three separate ingredient blends that you'll need to mix together; a powder, a gel, and capsules. Combined, they form a paste, which you apply to your face like a face mask. Once the mask solidifies, which usually takes about 20 minutes, gently peel it off.
Why all the hassle with having to mix it yourself? It's not because we're lazy! Instead, it allows us to give you an exceptionally powerful combination of ingredients. When pre-mixed, they deactivate and destabilize each other. However, mix them at the last minute and they'll retain their potency.
The results?
Skin that looks noticeably brighter, smoother, and more radiant. You'll love your skin like never before!
The Resveratrol Malbec DNA Magnetic Mask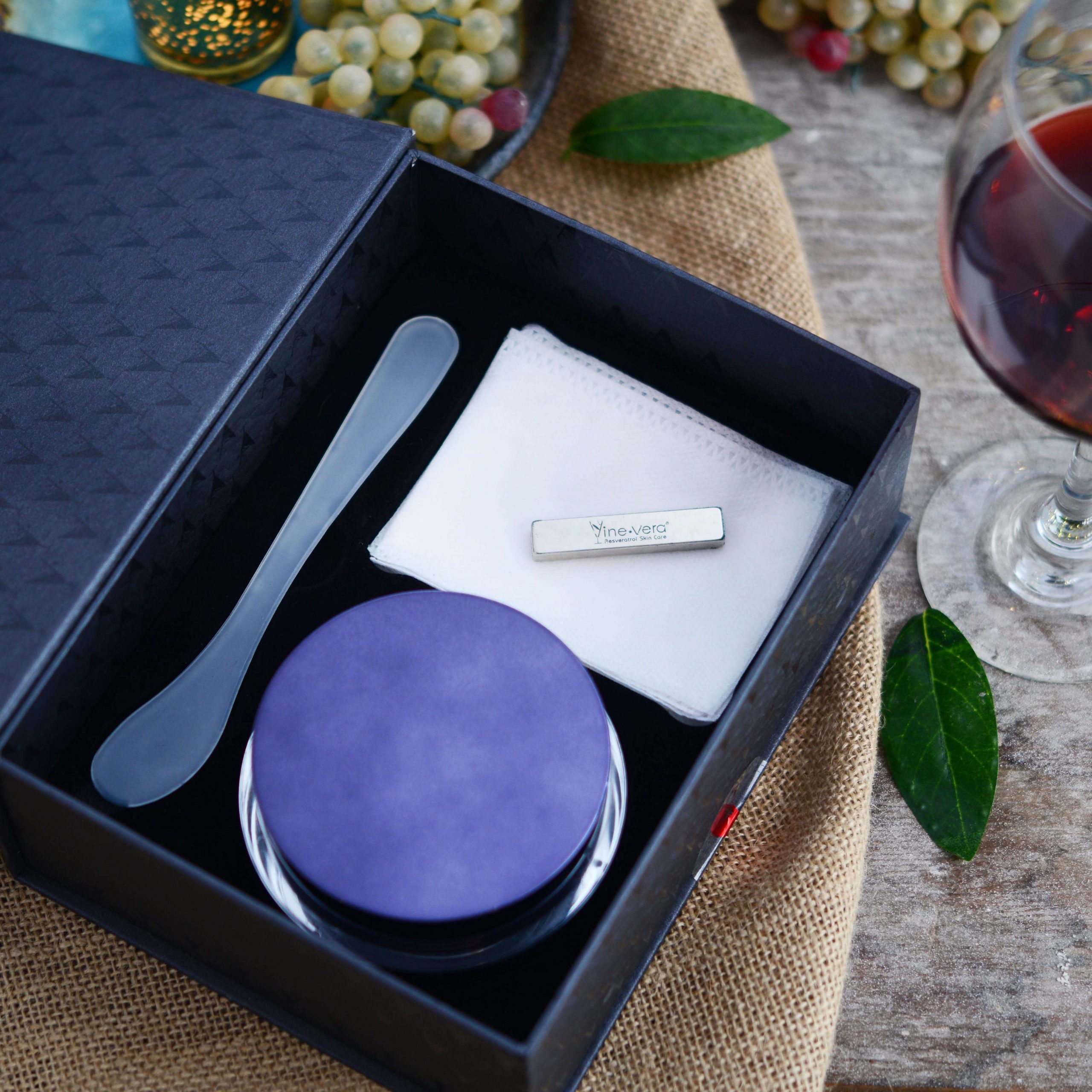 Here's another face mask with a difference – the Resveratrol Malbec DNA Magnetic Mask. If you've never tried a magnetic mask before, then this will be such a fab way to treat yourself.
Let's start by talking ingredients. There are some real superstars in this jar, from a peptide blend to resveratrol to diamond powder to botanical oils. However, what really stands out is its delivery method.
You apply the mask to your skin and then leave it to soak in for 15 minutes or so. Then, take the magnet that comes with the mask and hover it over your face. This will lift the mask off, while leaving all of those ingredients we just talked about behind on your skin. You can then rub them into your skin to absorb even more goodness.
We recommend using this mask weekly for best results. It won't be long before you notice that your skin starts to look younger. Fine lines and wrinkles will be less visible, as will dark spots and other forms of hyperpigmentation. What's not to love?!
The Resveratrol Chianti Thermic Mask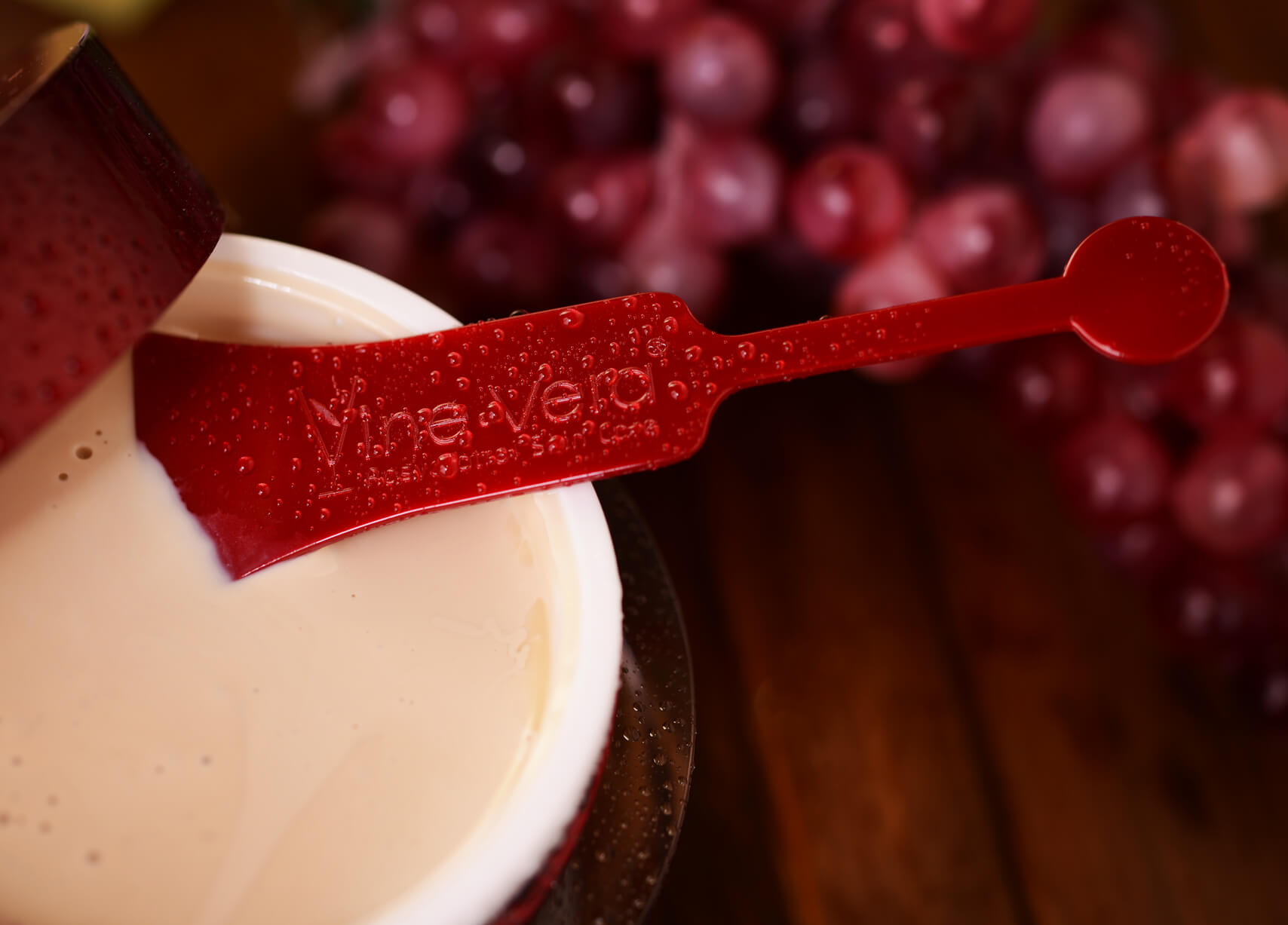 We know, we know – we've already talked about two face masks, but we couldn't resist mentioning this one too. Again, our Resveratrol Chianti Thermic Mask is unlike most of the other face masks out there.
How?
Because of its unique self-heating formula. As you massage this mask into your skin, it gently heats up. Don't worry, it doesn't get uncomfortable! Instead, it's a mild, relaxing heat that's ideal for when you want to treat yourself.
What's the point of a self-heating mask?
For starters, as mentioned, it's ultra-relaxing. It's a great way to practice some self love! However, it does also have its skincare benefits. The heat softens the feel of your pore openings, which therefore allows more of the mask's ingredients to enter into your skin.
And trust us, these are ingredients that you definitely want to encourage in! This mask contains a variety of potent plant extracts combined with vitamins A, C, and E. This mask is a true multi-tasker that you'll no doubt instantly love!
The Vine Vera Manicure Set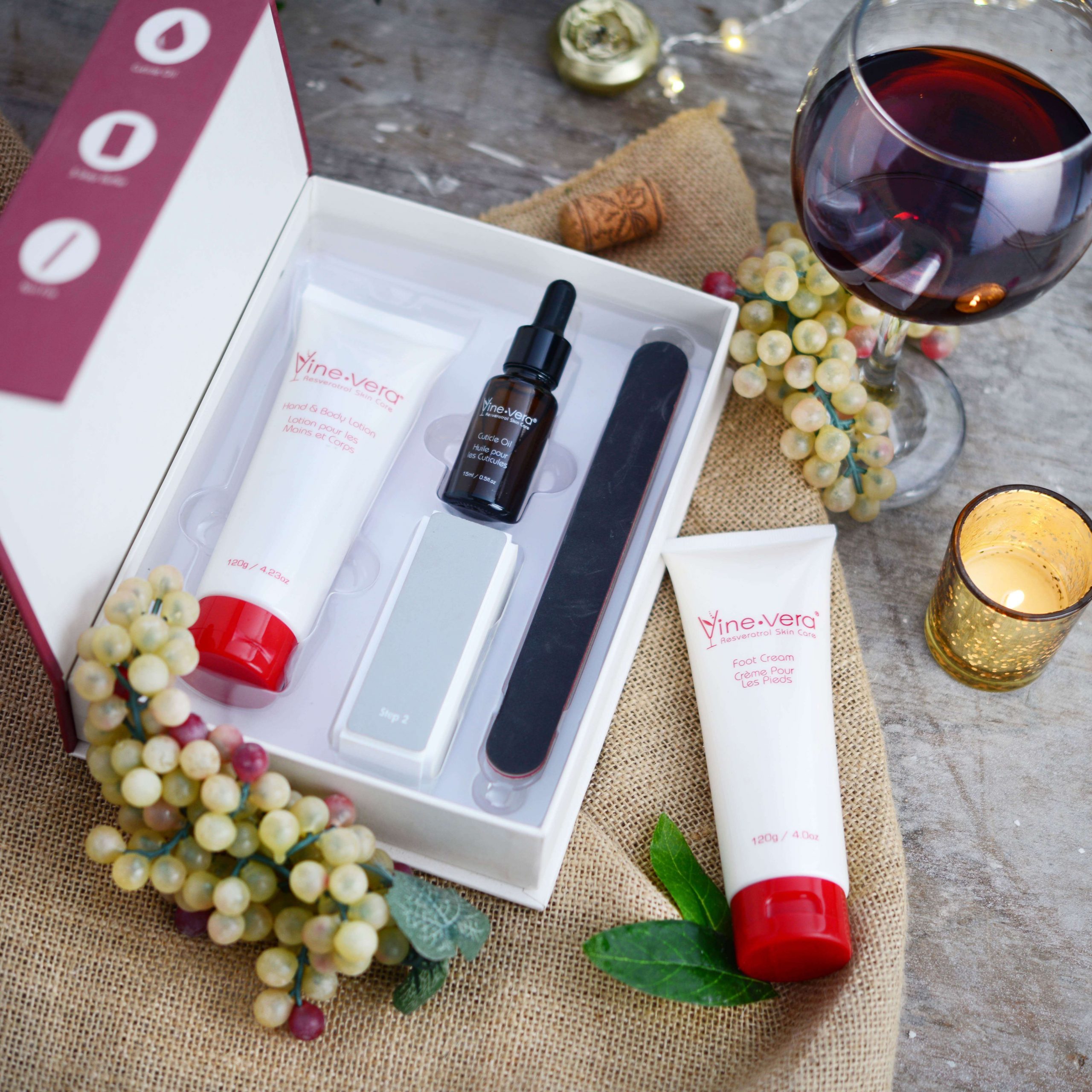 Ok, so this one is more about your nails rather than your skin, but it's a must-have for when you want to indulge and treat yourself. The Vine Vera Manicure Set is ideal for those of you with busy schedules who don't have the time for salon visits. There's no need to miss out – treat yourself to a mani and pedi from the comfort of your own home!
In this kit, you'll find a nail file, a three-step buffer, a cuticle oil, and a lotion. We provide full instructions on how to use the kit, so, even if you've never practiced self love with a mani pedi before, you'll know exactly what needs to be done!
Our advice? Put together a full at-home spa sesh, featuring this kit, of course! You can also add in soothing music, healthy snacks (or a cheeky glass of champagne), scented candles, and a scattering of other skincare and self love products to really make the evening feel special.
The Chianti Skin Restoring Capsules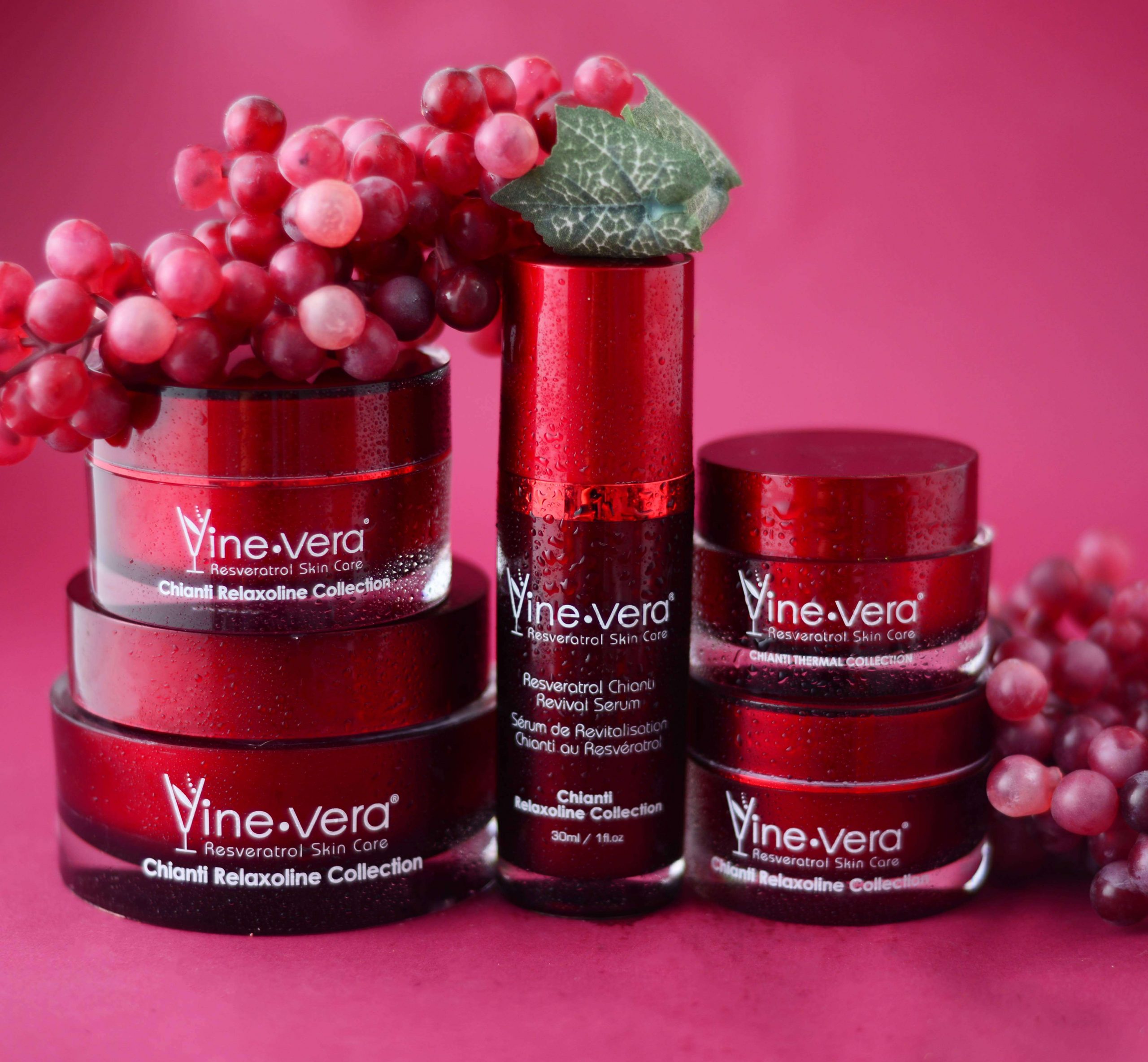 Here at Vine Vera, we love serums. And there's no denying that pump dispensers are often the most convenient form of packaging when it comes to using that serum each night.
However, there are certain ingredient combinations that don't do too well in a pump dispenser. Why? Because even the tiniest amount of air could destabilize them.
Of course, we didn't want you to miss out on those high-performance formulas. So, we created our Chianti Skin Restoring Capsules. You'll find this product in our Chianti Collection. This is an encapsulated serum, meaning that each capsule contains one application. Thanks to how each dose is individually wrapped, the serum retains maximum potency, which your skin will really benefit from.
How? Well, use this serum weekly and, after a few weeks, take a closer look at your fine lines and wrinkles. Chances are that a closer look will be what's needed, since they won't be quite so noticeable anymore!
The Vine Vera Facial Stimulator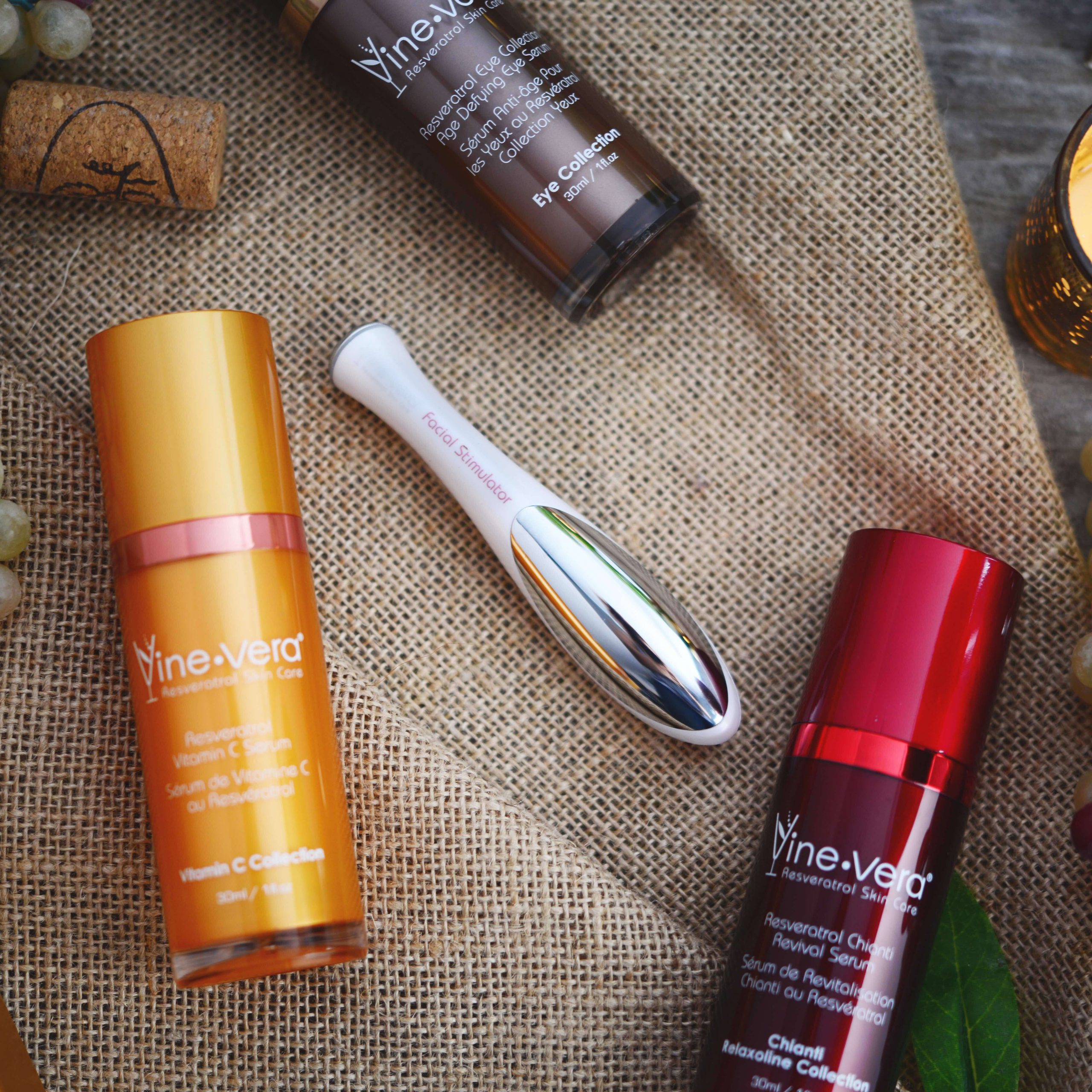 Here's another skincare device for you, although it's not quite as high-tech as the one we featured earlier. Our Facial Stimulator is designed to do a couple of things.
Firstly, it relieves the feeling of tension and stress around the head. As a result, facial muscles relax, which smooths away the look of lines and wrinkles. Secondly, this clever little device also helps to increase the absorption of skincare products. So, if you want to treat yourself by amplifying your skincare routine and relieving stress at the same time, this is the device to buy.
How do you actually use it? You'll need one AAA battery. Then, apply a serum or moisturizer to your skin (after cleansing, of course), and hold the device against your skin to massage the product in. Trust us – it feels amazing!
The Resveratrol Vitamin C Lip Balm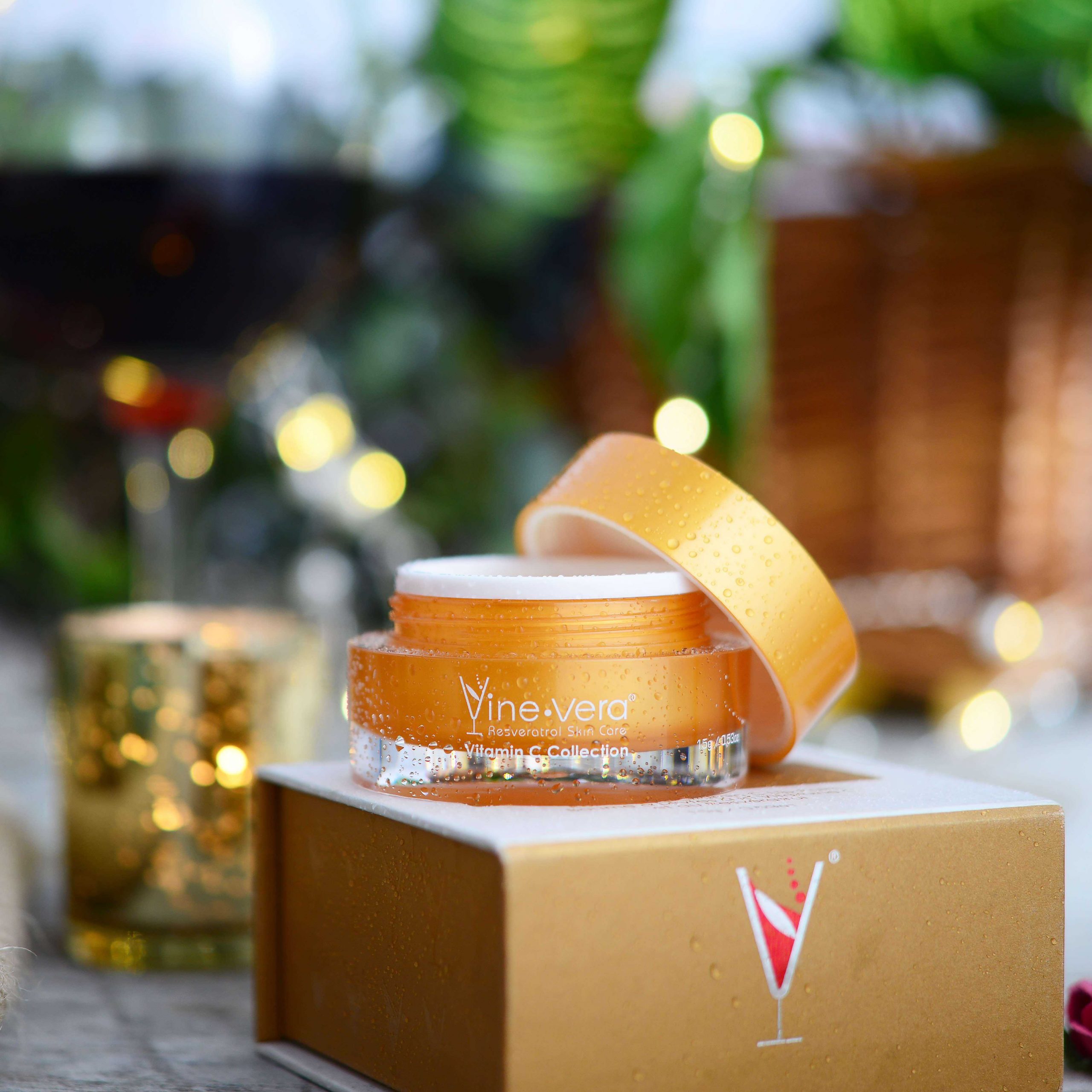 This may seem like a strange product to put on this list, but let us explain. For the majority of people, lip balm is an afterthought. It isn't a product that they put much effort into, meaning that they often end up with drugstore lip balms that only do the bare minimum when it comes to protecting the lips.
So, to treat yourself and perfect the look of that pout at the same time, take a look at the Vine Vera Resveratrol Vitamin C Lip Balm. This formula has received just as much love and care as the skincare products we create. You'll notice this immediately when you take a look at its ingredient list.
From mimosa flower wax to avocado oil to cupuacu seed butter, there is such a long list of natural ingredients in this velvety balm. Of course, it has also been infused with vitamin C. This superstar will help to brighten and plump up the appearance of your pretty pout.
Summary
It's so important to take the time to regularly treat yourself. Granted, this can be difficult when you have so many other demands to meet, but these products should make things a little easier. After all, when you feel excited by a skincare product, you'll definitely make the time to use it regularly.
Check out more resveratrol-infused skincare from Vine Vera here.