4 Resveratrol Benefits That Could Transform Your Appearance
Posted on June 30, 2022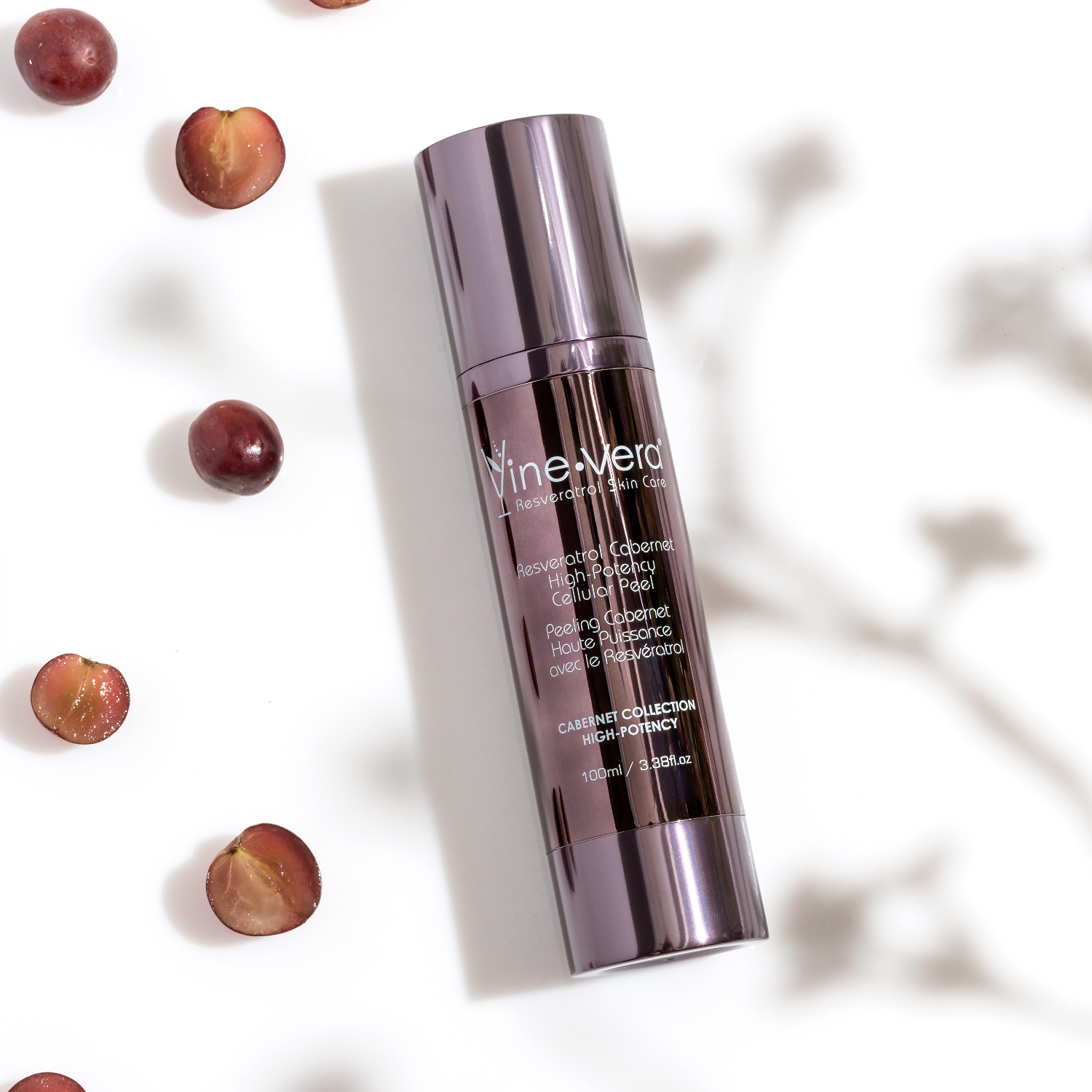 It's easy to feel guilty when you've eaten a little too much dark chocolate, or because you went a bit overboard at your last wine night with the girls. But we'll let you in on a little secret…
Those specific guilty pleasures are rich in a skincare ingredient that's a goldmine for benefits that can transform your skin's appearance. That ingredient is called resveratrol.
Resveratrol is Vine Vera's pride and joy. It's our powerhouse ingredient you'll find infused in most, if not all, of our skincare products. We love it because there are so many resveratrol benefits that your skin will enjoy, from getting rid of the visibility of pesky wrinkles to making your skin look more radiant.
Not familiar with resveratrol and all the wonderful things it can do for your skin? We've got you! Here are four resveratrol benefits we know you'll love. We'll also be sharing some of our bestselling resveratrol-infused products that can help you experience them for yourself.
What is Resveratrol, and Why the Fuss About it in the Skincare World?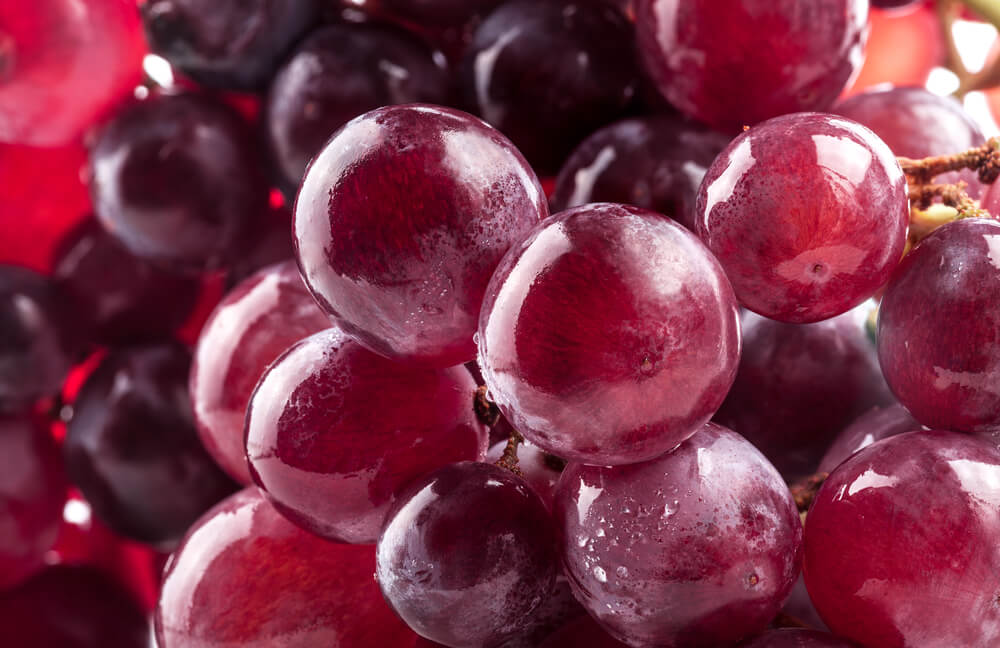 Before we get into the many resveratrol benefits our products have to offer, let us give you a 411 on what resveratrol is in the first place. This plant compound is a natural antioxidant that you can find in many foods. The most concentrated sources include dark chocolate, peanuts, berries, and grapes (yes, that means wine too!).
In the medical world, resveratrol's antioxidant properties are useful for addressing cardiovascular disease and neurological illnesses. But it's also a powerful ingredient that's infused in formulations like moisturizing creams and serums in the skincare realm.
Although it's not as popular as cult favorites like vitamin C or niacinamide, it's a trendy ingredient that is catching on with skincare lovers around the world. This is because it's useful for addressing the visibility of multiple specific skin concerns. These include the appearance of aging, dryness, and sensitivity. On the other hand, many other ingredients only target one or two concerns.
At Vine Vera, we love to help people transform how their skin looks and feels, and we do it with resveratrol as our star ingredient.
We concoct formulas with resveratrol and the rest of our powerhouse ingredients — like hyaluronic acid, collagen, shea butter, and more — to give you effective skincare that can target multiple skin problems simultaneously.
But why do we believe in this unique ingredient so much? Here are four resveratrol benefits we will always rave about. Check them out — there's likely to be something in store for your skin type!
1. It Minimizes the Appearance of Fine Lines and Wrinkles As You Get Older
The older you get, the more you'll start to notice wrinkles and fine lines creeping into your once smooth and flawless complexion. This is because mature skin becomes thinner over time and loses the collagen it needs to keep the skin taut and voluminous. The result? Pesky lines around your eyes and mouth.
Before you know it, you'll be Googling how to reduce the appearance of aging skin. The search for ways to get rid of wrinkles will lead you to the same old solutions — botox, medicinal herbs, changing smoking and drinking habits, slathering your skin with coconut oil, etc. 
But one of our fave ways to help minimize the visible signs of aging on the skin is by incorporating resveratrol into your beauty regimen.
One of the biggest resveratrol benefits is that it can significantly minimize the look of harsh, deep wrinkles and fine lines on aging skin. It also improves how firm the skin feels, making it look like it has fewer folds and crinkles in areas you wish to appear smooth and tight.
Regularly using resveratrol-infused products can help reduce the look of wrinkles if you have mature skin. Luckily, a huge majority of our products at Vine Vera are designed specifically for that. This means that shopping for products to eliminate the look of lines and wrinkles will never be a problem.
Eliminate the Look of Harsh Lines with Resveratrol Products that Turn Back Time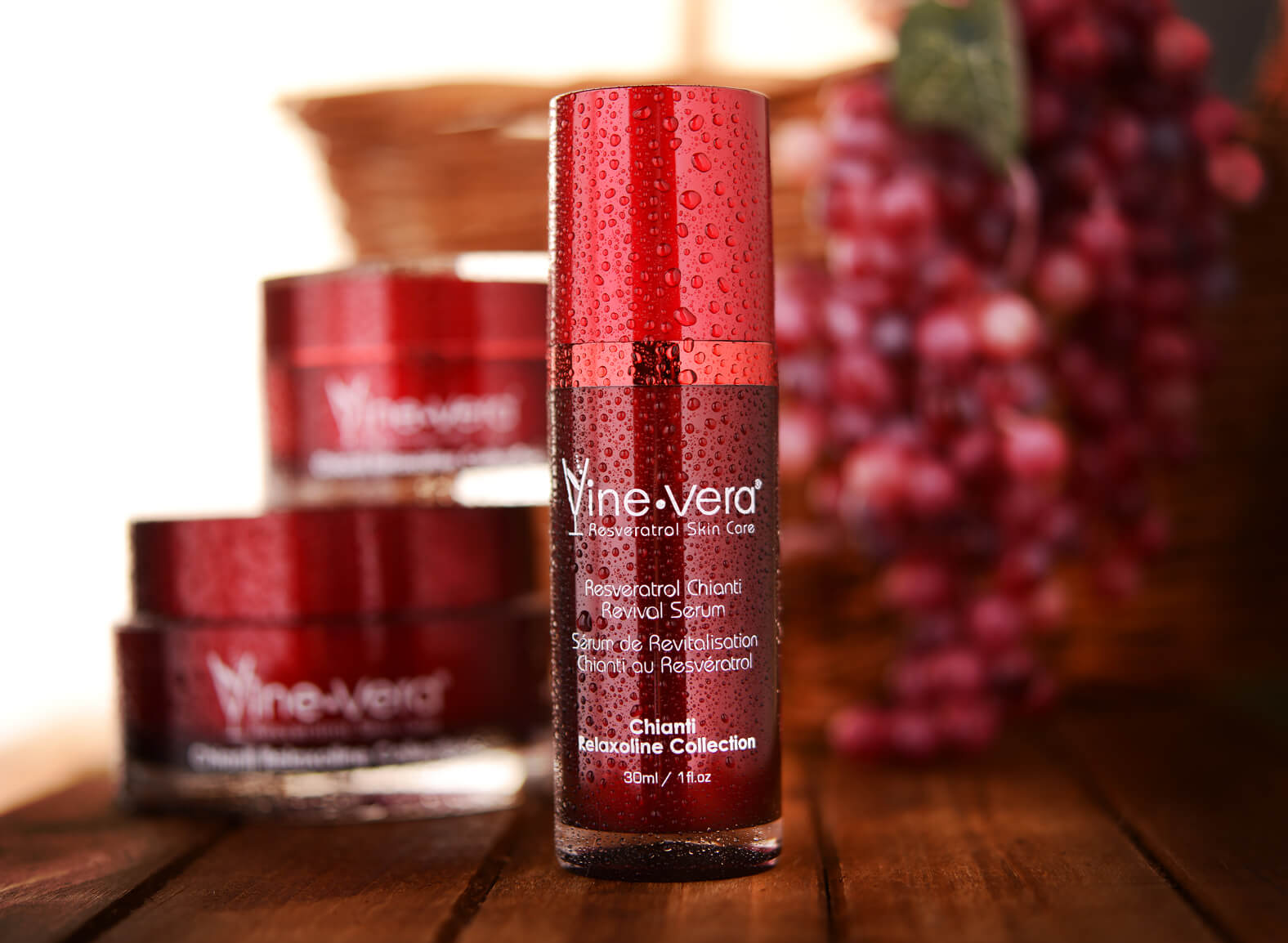 Serums are fantastic for dealing with the signs of aging. They're potent and packed with ingredients like resveratrol to help diminish the appearance of fine lines and wrinkles when you need them gone. The Resveratrol Chianti Revival Serum is a prime example of this.
This serum is formulated with resveratrol and vitamin C, both known to smoothen the look of the skin when it's getting a bit loose and wrinkly over time. It also has sodium hyaluronate, a humectant that improves the look of fine lines on the skin.
Aside from these, the serum also has peptides, collagen, green tea extracts, hydrolyzed elastin, and seaweed — all of which are very helpful in the fight against the appearance of wrinkles and other visible signs of skin aging.
And you can't forget about the eyes! Resveratrol benefits not just the visibility of wrinkles in your forehead and mouth area, but the crow's feet near your eyes as well. For that, we recommend the Resveratrol Eye Collection Age Defying Eye Serum.
This eye serum has a silky, lightweight consistency that glides onto the lids and under-eyes to reduce the look of wrinkles there. It's made with green tea, sodium hyaluronate, vitamin C, calendula, aloe, and other refreshing, skin-loving ingredients.
Of course, it's important to lock in all that hydration with a moisturizer. For keeping the look of wrinkles at bay, we love the Resveratrol Shiraz Instentic Facelift.
This non-greasy moisturizer is filled to the brim with ingredients that can lessen the look of wrinkles on mature skin and make it feel tauter. It contains DMAE, resveratrol, vitamin A, collagen, and even caffeine to make your skin look awake and youthful.
2. It Hydrates the Skin, Making it Look Plump and Dewy All Day
Second on our list of resveratrol benefits is one that people are drawn to during the wintertime — moisturization. Those with naturally dry skin know the perils of keeping stubborn skin hydrated. Many of us even experience flaking and dry patches because of how intense the dryness is.
Luckily, resveratrol is here to save the day. Although it's not a humectant or a rich, thick oil by any means, it's still super effective at improving the hydration levels in your skin. This leaves your skin feeling soft and smooth and looking plump and healthily dewy.
Plus, moisturizing the skin properly also helps prevent visible wrinkles from appearing on the skin. So, feeding your skin hydration is another way resveratrol promotes a younger-looking complexion.
Although the crème de la crème of Vine Vera is in skincare that targets the visibility of skin aging, we also have plenty of products in our roster that aims to rejuvenate the look of tired skin through moisture infusion. Check them out below.
Add a Radiant Glow to Your Complexion with These Moisturizing Steps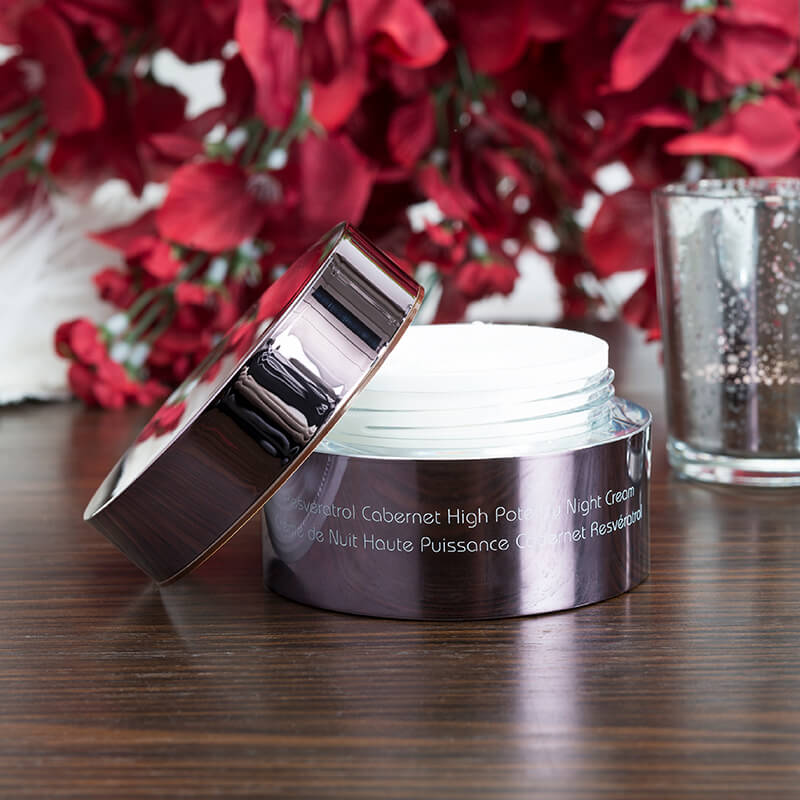 Nighttime is the best time to moisturize your skin. Sleeping gives your skin the time it needs to absorb all the exquisite oils and compounds that make it feel smoother and softer. So each night, slather on the Resveratrol Cabernet High Potency Night Cream.
This night cream replenishes the skin with the moisture it's thirsty for after a long day. It's made with aloe, seaweed extracts, fatty alcohols, and niacinamide to hydrate the skin well for a silky, conditioned finish. Try to massage it down your neck too, to keep that area feeling nice and soft.
Once a week, replace your nightly moisturizer with something more intensive, like a face mask. The Resveratrol Pinot Noir Phyto-Silk Mask is one that we find incredibly hydrating.
This leave-on face mask is amazing at making your face feel super smooth when you wake up the next day. It's infused with aloe vera and fruit extracts from the likes of acai, goji, mangosteen, and chokeberry. Together, these ultra-hydrating botanicals leave the skin looking super soft and glowy.
Applying it to your skin is quite a unique experience. Massage the mask into your skin and wait until you feel the cream "burst" into little droplets of water. Don't wash it off. It's the most refreshing feeling ever!
3. It Helps Soothe the Skin to Lessen the Look of Redness and Inflammation
A niche skin problem many people don't know how to handle is inflammation. When the skin is inflamed (from things like sunburn, eczema flare-ups, and the like), the skin looks red. It can even be itchy or painful. The goal is to soothe that feeling of irritation in the skin as soon as possible. Resveratrol can help with that.
One of the resveratrol benefits many people don't quite know is that it helps calm the feeling of itchy, irritated skin. Resveratrol helps diminish the appearance of the facial redness that might occur in sensitive skin, making it feel and look healthy again.
So, if you have super sensitive skin or struggle with delicate conditions like psoriasis and eczema, resveratrol might be something you'll enjoy. With just a few resveratrol products in your arsenal, you can get rid of visible redness during flare-ups on extra-sensitive days.
Make Your Skin Feel and Look Calmer with Our Moscato Collection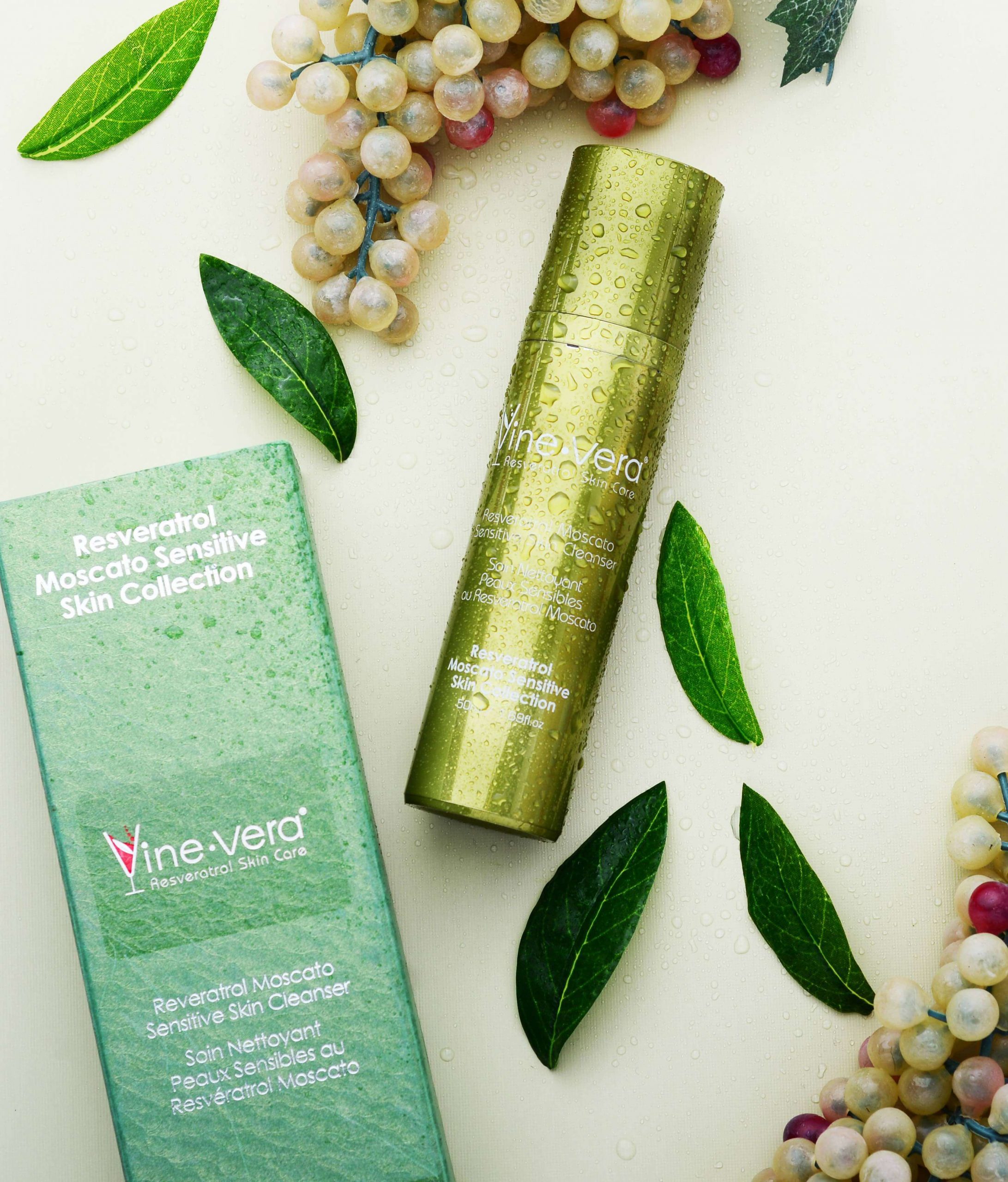 Products from our Moscato Collection are designed for sensitive skin types that need extra care and gentleness. Today, we'll be sharing the two we love most.
The Resveratrol Moscato Sensitive Skin Cleanser has a gel formula that isn't as harsh and stripping as other foam cleansers. It is infused with ingredients like resveratrol, camellia extracts, and olive oil. These relax and hydrate the skin, helping the feeling of irritation and itchiness die down.
Meanwhile, the Resveratrol Moscato Sensitive Skin Cream is an excellent everyday moisturizer for sensitive skin. It contains shea butter, glycerin, allantoin, and dimethicone to soothe the visibility of the skin's red, itchy flare-ups. These ingredients also help to soften the skin, making it feel silky smooth and touchable.
4. It Leaves the Skin Looking Brighter by Diminishing the Visibility of Dark Spots
The last of the resveratrol benefits we'd like to discuss has to do with blemishes that never seem to go away. Tired of those spots that take months to fade after a pimple dies out? You're going to want to read on.
Resveratrol is awesome for reducing the look of stubborn dark spots on the face. This leaves your skin looking brighter and more even in tone. This is a dream for those who constantly struggle with hyperpigmentation and acne scars.
Resveratrol works effectively for brightening the appearance of the skin on its own. But when it's paired with other hardworking ingredients that fade the look of dark spots on the face, it's even more efficacious. That's why we decided that resveratrol should be combined with one of our favorites: vitamin C.
Even Out Your Skin Tone's Appearance with Resveratrol and Vitamin C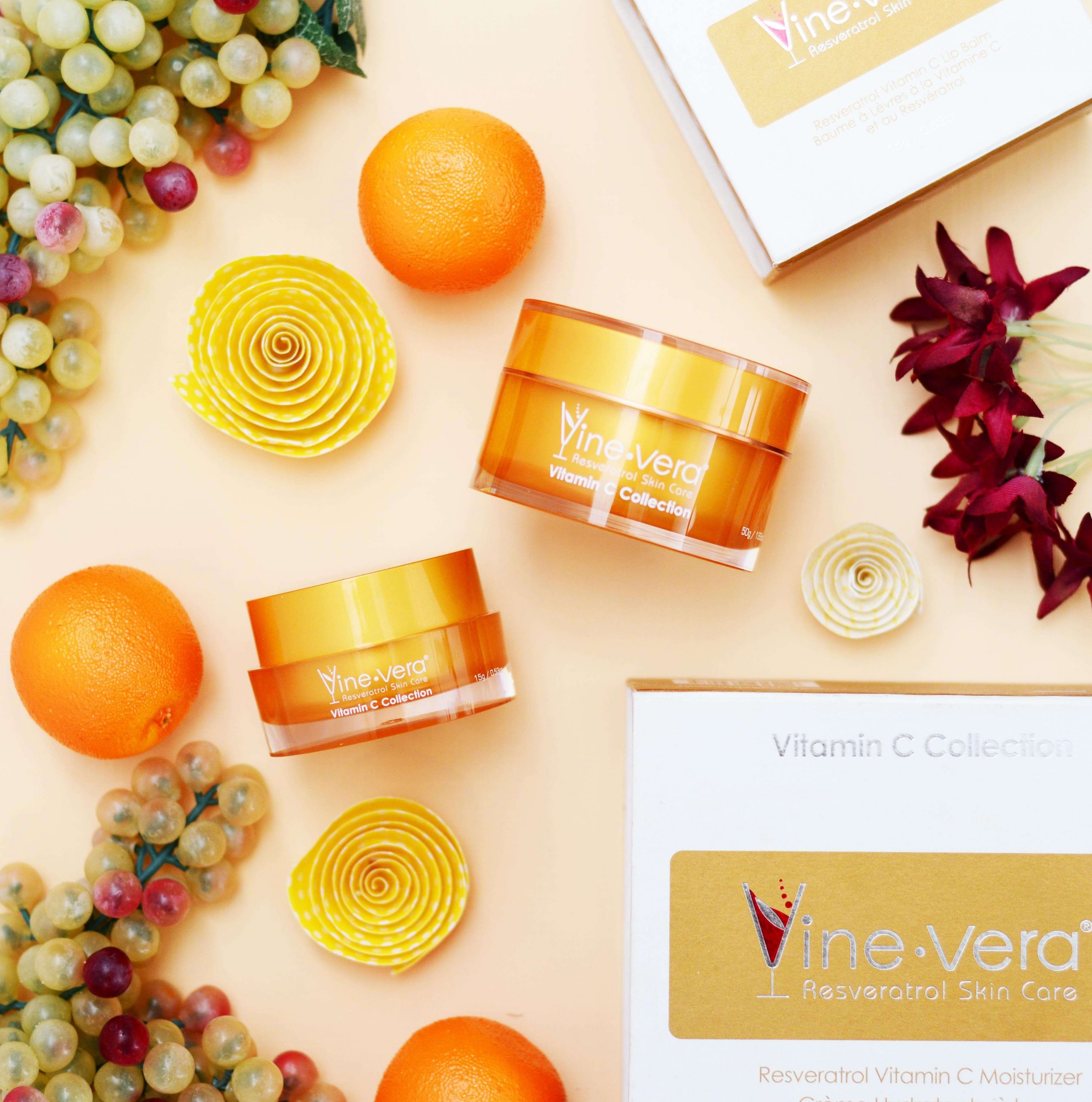 To elevate the prowess of resveratrol in brightening the appearance of the skin, we love to formulate it in conjunction with vitamin C. In fact, we have an entire collection of vitamin C products.
Vitamin C is a popular ingredient in skincare because of its ability to fade the look of dark spots on the skin. It makes the skin look glowy and way more radiant because of that.
The Resveratrol Vitamin C Serum is a must for dull skin with stubborn dark spots. It's made with a blend of other essential vitamins known to make the skin look more radiant and even-toned, like vitamin A. Most vitamin C serums are quite strong and overbearing, but this one is gentle enough for daily use.
On days when your skin feels a bit more clogged than usual, you can also enjoy the Resveratrol Vitamin C Peeling. This exfoliating peel is made with vitamins A and C. It also contains bamboo powder to slough away the dirt and debris that makes your skin look dull.
Conclusion
Resveratrol may not be the most well-known skincare ingredient out there, but its steady rise in popularity is more than merited. It offers so many advantages for multiple skin types, from dehydrated skin to dull-looking complexions with noticeable dark spots.
The plethora of resveratrol benefits makes it an awesome go-to for emergencies like visible redness from inflammation or avid dryness due to changes in the seasons. It's also a must for mature skin. This is especially the case when you're starting to notice more lines and wrinkles appearing on your skin.
If you haven't tried resveratrol-infused skincare yet, take this as a sign to do so as soon as you can! Try out any of the bestselling products we've listed above to reap the four huge benefits of resveratrol. Your skin will thank you!
To browse more resveratrol-infused Vine Vera products, click here.