Resveratrol Skin Care: Benefits & Best Products
Posted on April 30, 2022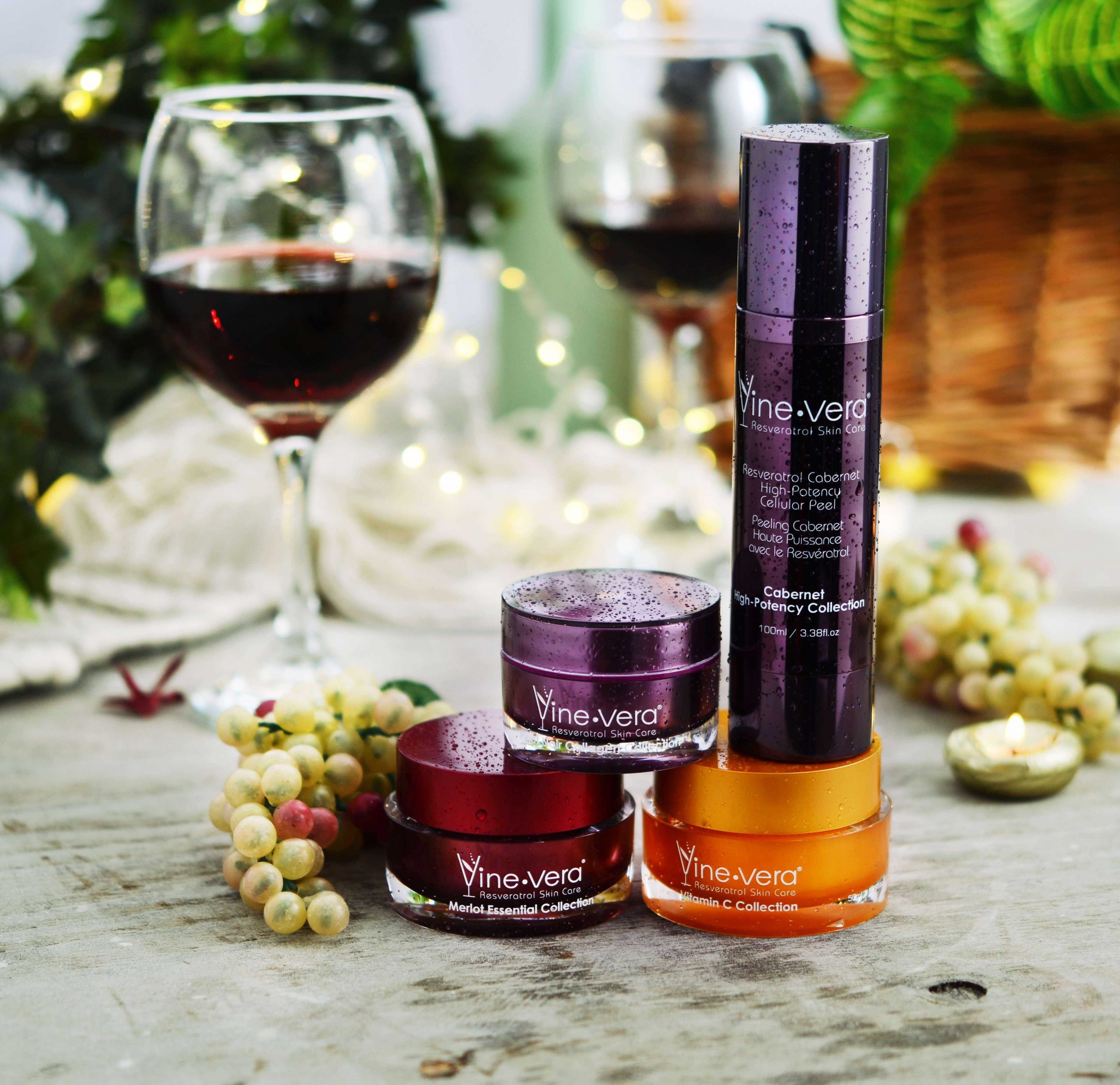 There is no shortage of options in the world of skincare. With thousands of products being released each year, picking and choosing the ones worthy of a spot in your routine can prove to be a challenge. However, beyond the Instagram-worthy branding and celebrity advertisements, skin care products are only as good as the ingredients they contain.
Here at Vine Vera, effective ingredients are central to our product lines. However, at the core of every Vine Vera skin care innovation is one key ingredient: resveratrol. Here, we break down the benefits of resveratrol skin care, as well as some of our best resveratrol-infused products.
What is Resveratrol?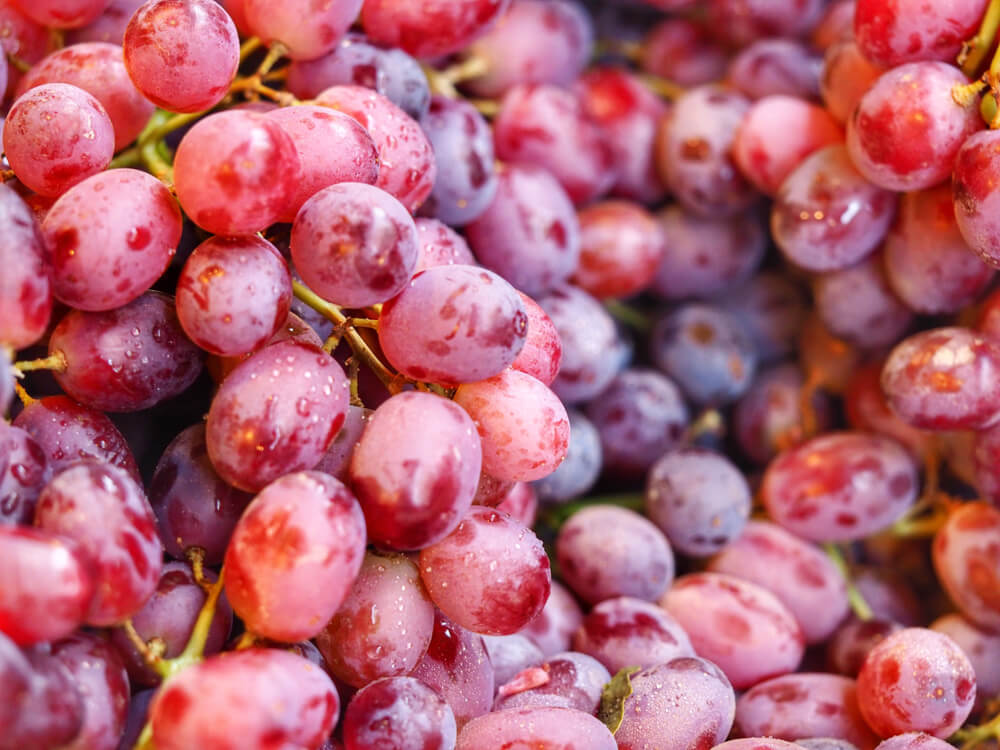 Even if this is the first you've heard of resveratrol, chances are you've already had some exposure to the ingredient. Found in the skin of grapes and berries, resveratrol has been gaining popularity as a skincare ingredient due to its various benefits.
But before we get into resveratrol's full list of benefits, let us first break down the complexities of the ingredient.
Resveratrol is a plant compound that is available in a variety of forms, from skin serums to supplementary powders. Because it is found in fruits, nuts, and even in your regular glass of red wine, resveratrol can technically be ingested via these foods. However, rather than chugging your way through several bottles of Merlot at a time, topically applying wine-inspired resveratrol skin care is a much more efficient way of reaping its benefits. 
Benefits of Resveratrol Skin Care
At Vine Vera, resveratrol is central to our formulations. The reason why lies in the ingredient's extensive list of beneficial properties.
The benefits of resveratrol skin care include:
Alleviating the Feeling of Dryness and Dehydration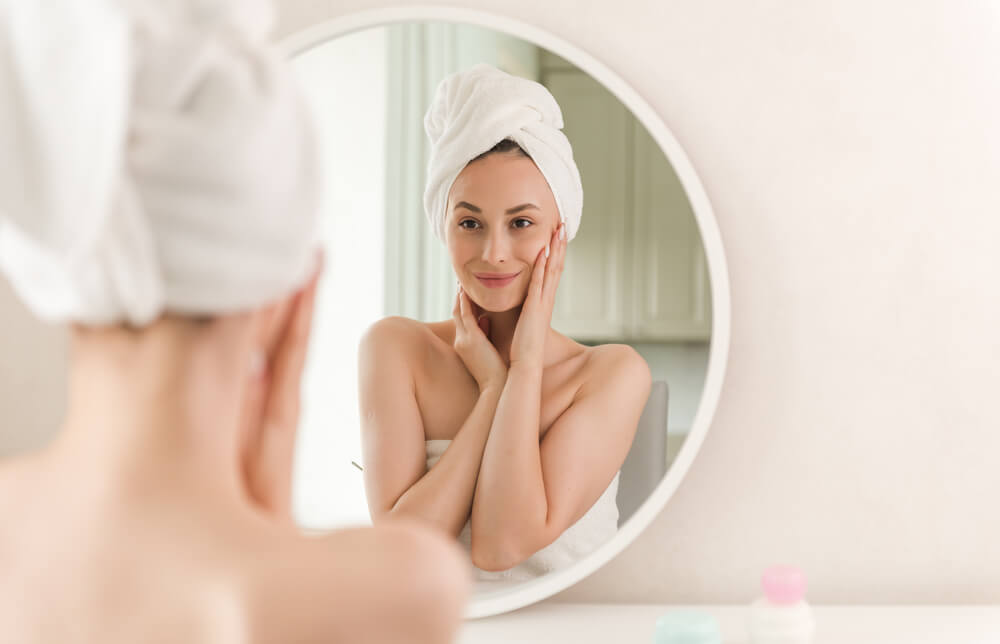 Dryness and dehydration are both common skin concerns, each with its fair share of symptoms. However, despite being two completely different issues, these terms are often used interchangeably. 
Here's the difference:
Dryness pertains to a skin type that experiences a lack of moisture or oil. Those who have this skin type do not produce enough sebum, often resulting in the following:
Flaking

Redness

Itching or irritation 

Uneven skin texture
Dehydration, on the other hand, is a skin condition that results from a lack of water. Telltale signs of skin dehydration include:
While dryness and dehydration are two separate matters, resveratrol can help address some of the visible symptoms that come with both. As proven by a study conducted in 2012, resveratrol skin care helps alleviate the feeling of dryness by moisturizing and softening the feel of the skin. This results in a brighter and healthier-looking complexion. 
Smoothing the Feel of Skin Texture
A common skin concern, an uneven-feeling texture can be caused by a variety of triggers including skin cell build-up, sun damage, external stressors, or even a poor diet. Genetics and excessively harsh products can also contribute to an uneven skin texture. Regardless of skin type or age, this is a skin concern that many are susceptible to.
However, the same study from 2012 reveals that resveratrol can smooth the look and feel of the skin. This not only makes the skin feel more supple to the touch but gives off a visibly refreshed look. 
Contributing to Radiant-Looking Skin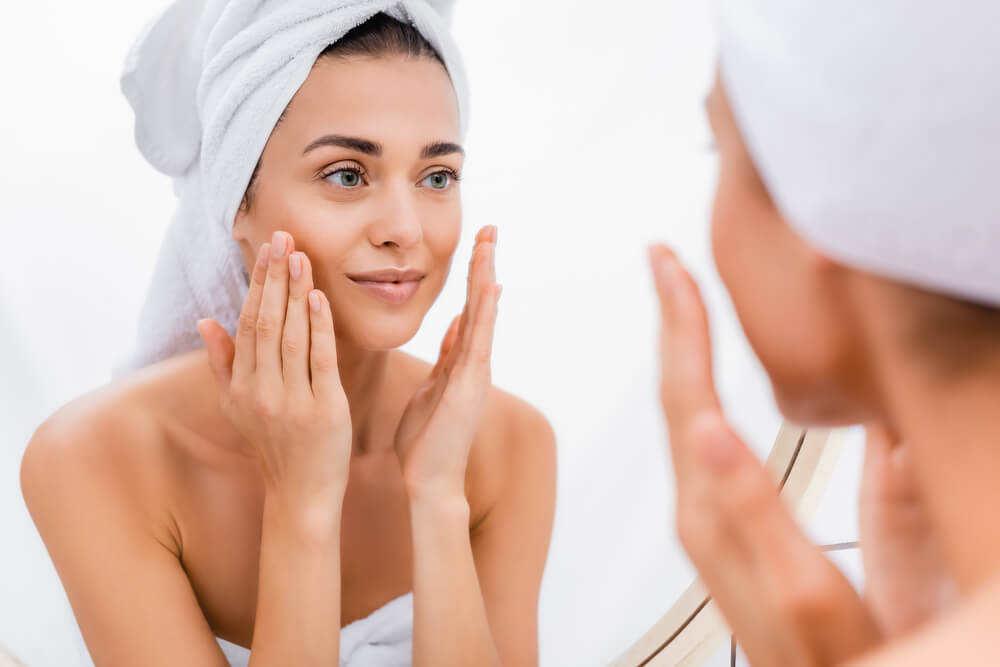 Radiance is the blanket term for plump, youthful, and healthy-looking skin. It is often attributed to that bright, lit-from-within glow that comes from skin that is well cared for.
As a multitasking ingredient that moisturizes, revitalizes and refreshes the feel of the skin, consistent use of resveratrol skin care can help contribute to the appearance of overall radiance. 
Minimizing the Appearance of Aging
Let us set the record straight: aging is an inevitable process. Aging will show through one way or another, and unlike we are often taught, there is no need to fear the passing of time. However, there are a few ways to prevent the visible signs of aging from manifesting earlier than expected. Using resveratrol skin care is one such method.
Because of its unique composition, resveratrol can make the skin look firmer and more toned, reducing the appearance of fine lines, wrinkles, and sagging. It also alleviates the appearance of puffiness and dullness, both of which are common signs of skin aging.
The Best Resveratrol Skin Care Products
Resveratrol skin care can be a game-changer, but like any new addition to your regimen, it can be a little daunting to bite the bullet. If you aren't sure where to start with your resveratrol skin care journey, you've come to the right place.
Here at Vine Vera, resveratrol is the common thread that binds our skin care products together. With a variety of formulations across several collections, we have resveratrol skin care products for every skin type and skin concern.
Below, discover a complete resveratrol skin care routine featuring some of Vine Vera's best sellers:
Cleanser: Resveratrol Cabernet Mousse Cleanser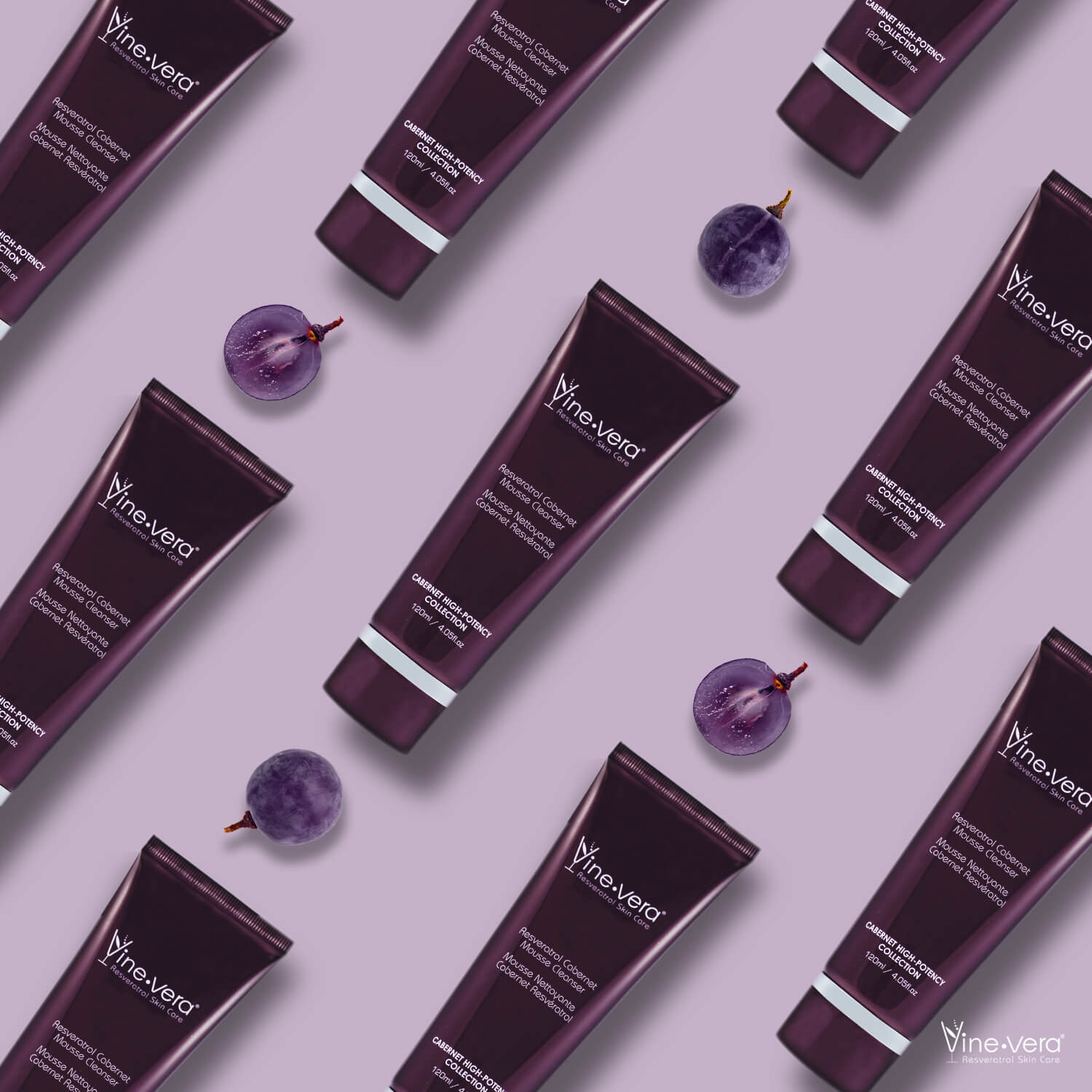 The importance of cleanser formulations is a rather hotly debated topic in the world of skin care. After all, cleansers do not stay on the face throughout the day or overnight like other skin care steps do. Oftentimes, cleansers are used for only a minute or two, only to be washed clean off the face.
Why, then, should a cleanser's ingredients matter? And how does resveratrol fit into the picture?
Those who reside on the extremes of the skin spectrum would know. For instance, those with extremely oily skin would know that without a good cleanser, their skin may not feel thoroughly refreshed after rinsing. Those with dry skin may also have experiences with cleansers that have left their skin feeling tight or uncomfortable. This is a sign of an overly harsh cleanser stripping the skin of its necessary oils.
The Vine Vera Resveratrol Cabernet Mousse Cleanser is a great in-between for all skin types. Richer than gel and foam cleansers, the mousse-like consistency contributes to how soft and supple the skin feels. Despite being more substantial than other cleanser formulas, the Resveratrol Cabernet Mousse Cleanser feels lightweight, leaving the skin looking rejuvenated post-cleanse.
Kick-off your morning and evening skin care routines with the Resveratrol Cabernet Mousse Cleanser. Effectively remove dirt, debris, and makeup by massaging a small amount of product onto damp skin. Work the product into a rich lather and rinse off with cool water.
Toner: Resveratrol Cabernet Toner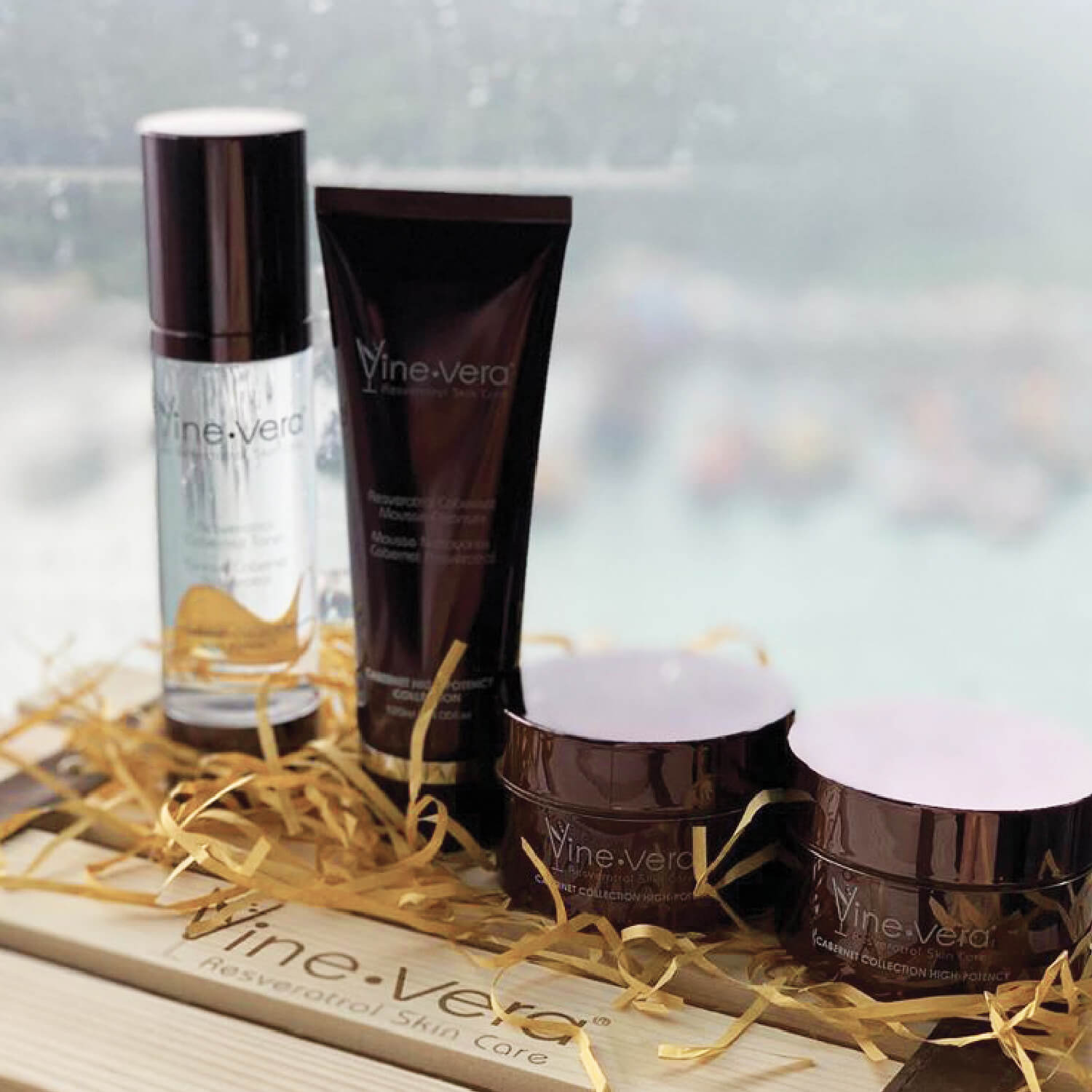 While a good cleanser can lessen the chances of that tight, uncomfortable feeling that can follow cleansing, following up with toner is just as important. Once upon a time, toners were alcohol-infused solutions that were used to dry out pimples and prevent breakouts. Today, toners no longer aggravate dryness or cause stinging sensations. Instead, most toners rebalance the look of the skin after cleansing, making it feel cool and refreshed.
Here at Vine Vera, our pick for your resveratrol skin care routine is the best-selling Resveratrol Cabernet Toner. Hitting two birds with one stone, this toner picks up any remaining dirt from the skin while simultaneously combatting the look and feel of dull tone and rough texture. Besides resveratrol, this toner contains moisturizing cucumber fruit extract and aloe vera leaf juice, both of which have been used throughout history for the skin.
Finish off your cleansing step with the Resveratrol Cabernet Toner. Dispense a few drops of the toner onto a cotton pad or your hands. Pat the toner into the skin until absorbed.
Exfoliator: Resveratrol Vitamin C Peeling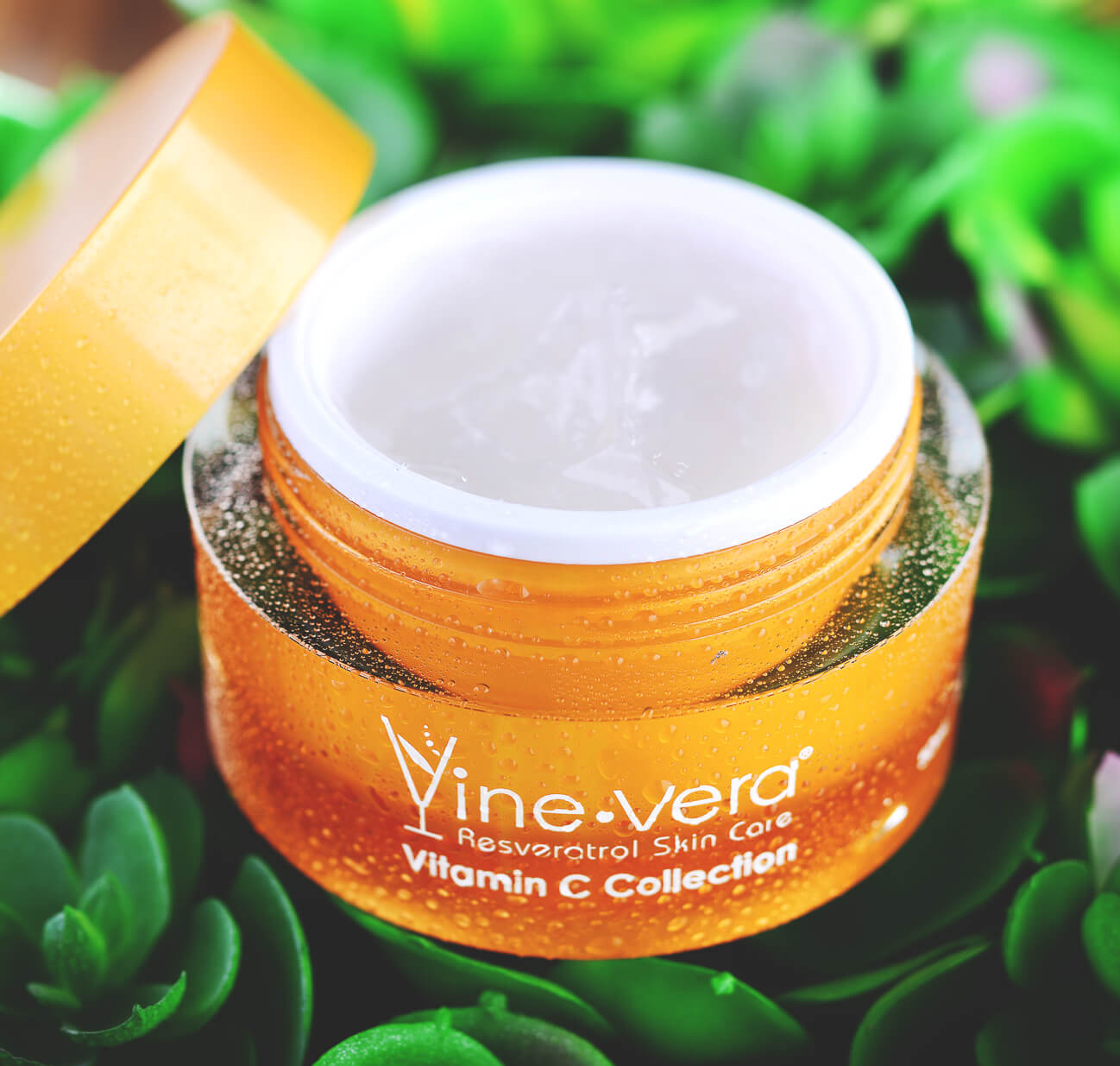 There are a variety of exfoliators out in the market today. Some of them are physical exfoliators, which contain potentially harsh particles that are manually rubbed against the skin. Today, chemical exfoliants are much more popular. Rather than potentially abrasive ingredients, these products contain a blend of acids that help remove the top layer of the skin without too much mechanical stress.
Vine Vera's Resveratrol Vitamin C Peeling is one example of a chemical exfoliant. A lightweight peeling solution, this product sloughs off the outermost layer of dead skin to reveal a more radiant-looking complexion.
This product also contains a blend of resveratrol and vitamin C, which are regarded as something of a power couple in the skincare industry. While both of these ingredients can make the skin appear brighter and minimize the appearance of the signs of aging, they are even more powerful together. 
To exfoliate with the Resveratrol Vitamin C Peeling, use a skin care spatula to pick up a quarter-sized amount of product onto your palm. Massage it into the face in circular motions, taking care to avoid the eye area. Rinse off with cool water. Repeat up to twice a week.
Serum: Resveratrol Chianti Revival Serum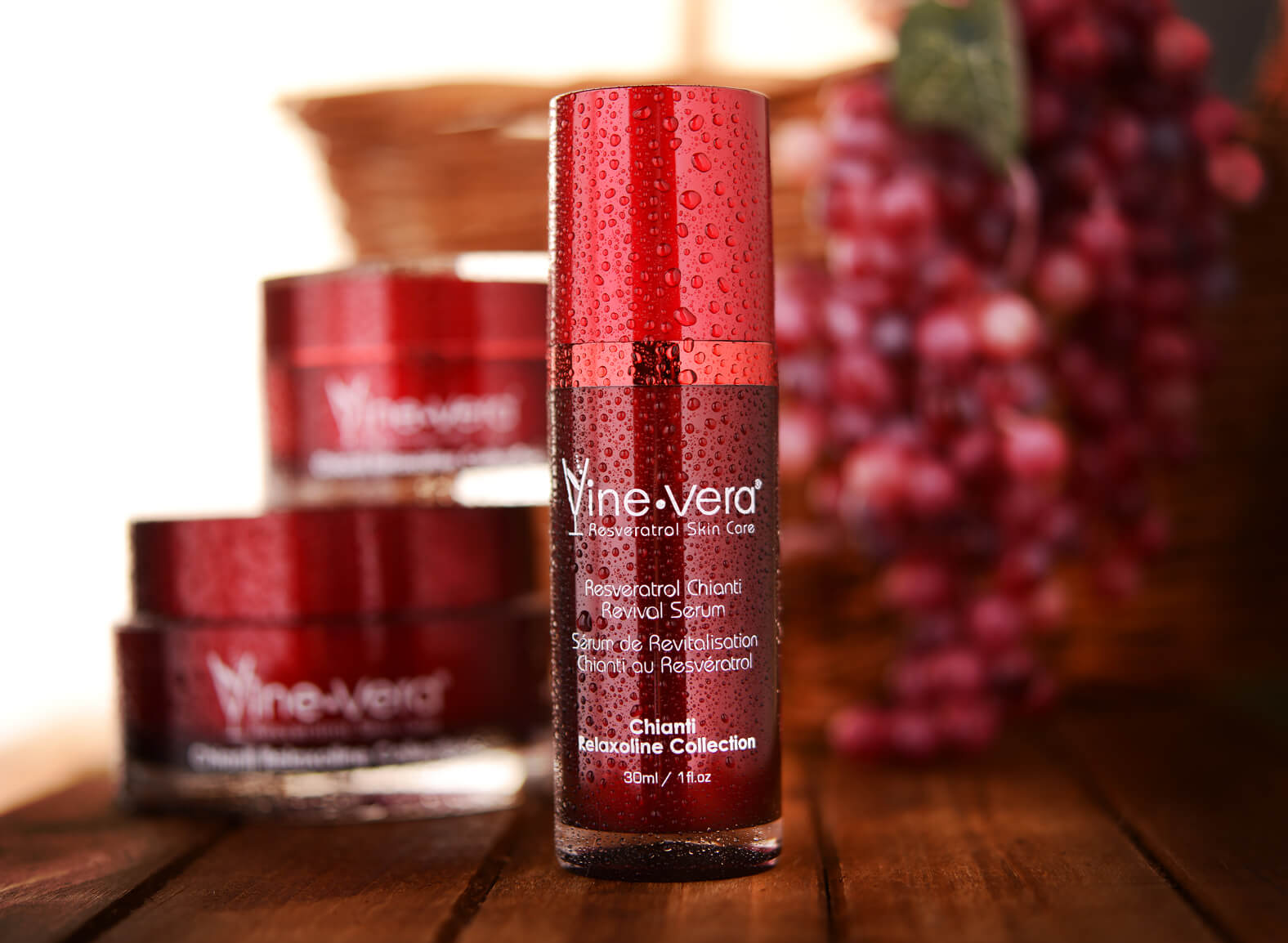 A powerful multitasking step, the Resveratrol Chianti Revival Serum from Vine Vera smooths and relieves the feeling of dry skin upon application. Fortified with resveratrol ferment extract to reduce the appearance of aging, vitamin C to combat the look of dullness, and sodium hyaluronate to soften the feel of the skin, the Resveratrol Chianti Revival Serum targets the most prominent visible concerns associated with aging. 
To use, dispense a generous amount of the  Resveratrol Chianti Revival Serum onto your palms. Pat the product into the face and decolletage, paying extra attention to areas prone to dryness or fine lines.
AM Moisturizer: Resveratrol Cabernet High Potency Moisture Day Cream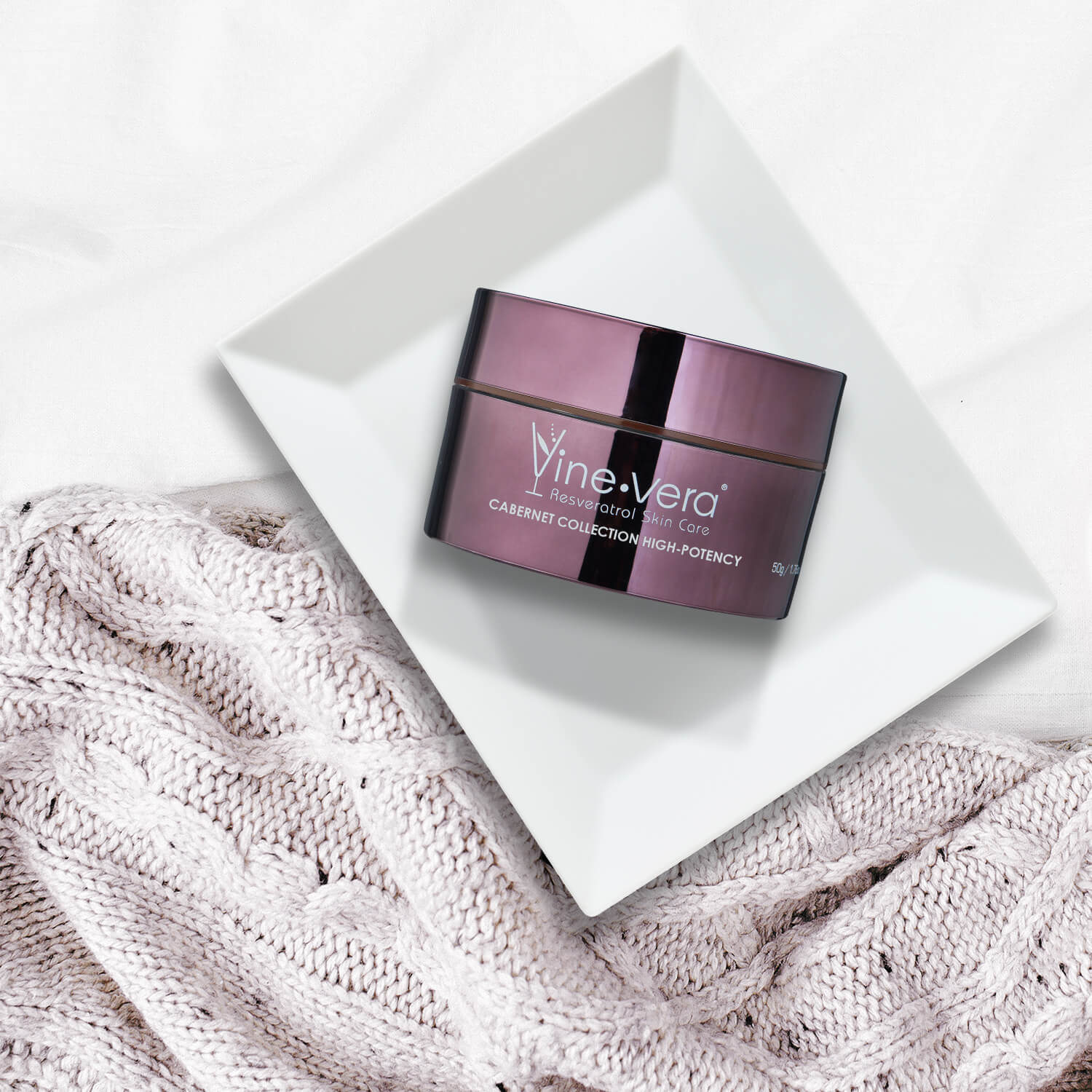 While it is not necessary to have separate moisturizers for your day and night routines, having a dedicated moisturizer for the daytime poses quite a few benefits. Some of these include:
Lightweight feeling

Non-greasy texture due to a less dense consistency

Layers smoothly over skincare and under sunscreen
Having separate moisturizers can also benefit those who struggle with acne or have oily skin. Because AM moisturizers tend to be lighter, they can keep the skin feeling soft all day long without causing excess shine.
Those with dry skin would also benefit from day creams, as these tend to be richer and more potent than other gel and lotion moisturizers.
The Resveratrol Cabernet High Potency Moisture Day Cream is a great example of a day cream that can help oily and dry skin types — as well as normal, combination, and sensitive skin. Formulated with resveratrol, vitamin E, and shea butter, this product targets the look of uneven skin texture, dryness, and visible signs of aging. Shea butter, in particular, is a common ingredient in moisturizers and hair conditioners because of its effectiveness as an emollient. It makes the skin feel smooth and supple, effectively reducing the discomfort that comes with dryness and flaking. 
Keep the skin moisturized all day by applying a liberal amount of the Resveratrol Cabernet High Potency Moisture Day Cream onto the face and neck.
PM Moisturizer: Resveratrol Cabernet High Potency Night Cream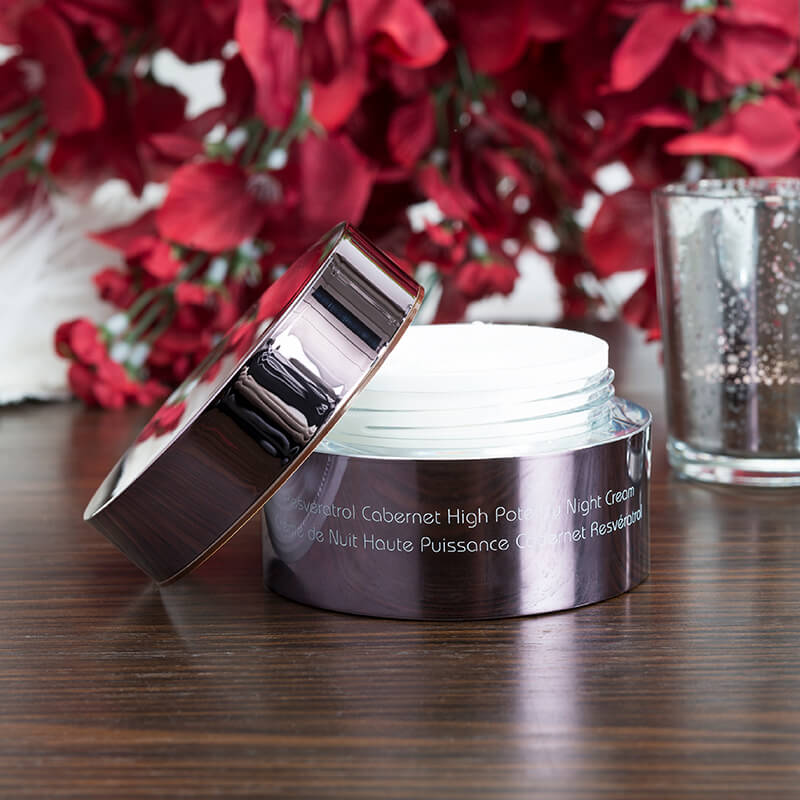 While the skin is exposed to environmental threats outside, it is not completely safe indoors either. The skin can lose moisture throughout the evening, especially during the colder and drier seasons. While a regular moisturizer may suffice, a dedicated night cream may be a good solution for those who wake up with dry, tight skin.
Our answer at Vine Vera: the Resveratrol Cabernet High Potency Night Cream. A complement to the day cream above, this moisturizer relieves the feeling of dryness and revitalizes the look of the skin. Apart from Vine Vera's signature resveratrol, this night cream contains a trio of star ingredients:
Retinyl Palmitate, otherwise known as Vitamin A. As an exfoliator, this ingredient reveals

brighter and younger-looking skin

.

Green Tea Extract, which minimizes the appearance of shiny, excessively oily skin.

Coral Seaweed Extract, which simultaneously exfoliates the skin and relieves the feeling of dryness. As this ingredient is rich in Vitamin C, it can also

make the skin appear brighter and more youthful

.
Wake up to skin that looks smoother, softer, and refreshed in the morning with the Resveratrol Cabernet High Potency Night Cream. To use, simply dispense a coin-sized amount of product onto the face and neck after applying your toner and serum. Massage into the skin until fully absorbed.
Sunscreen: Resveratrol Cabernet Replenishing Moisture Cream SPF 30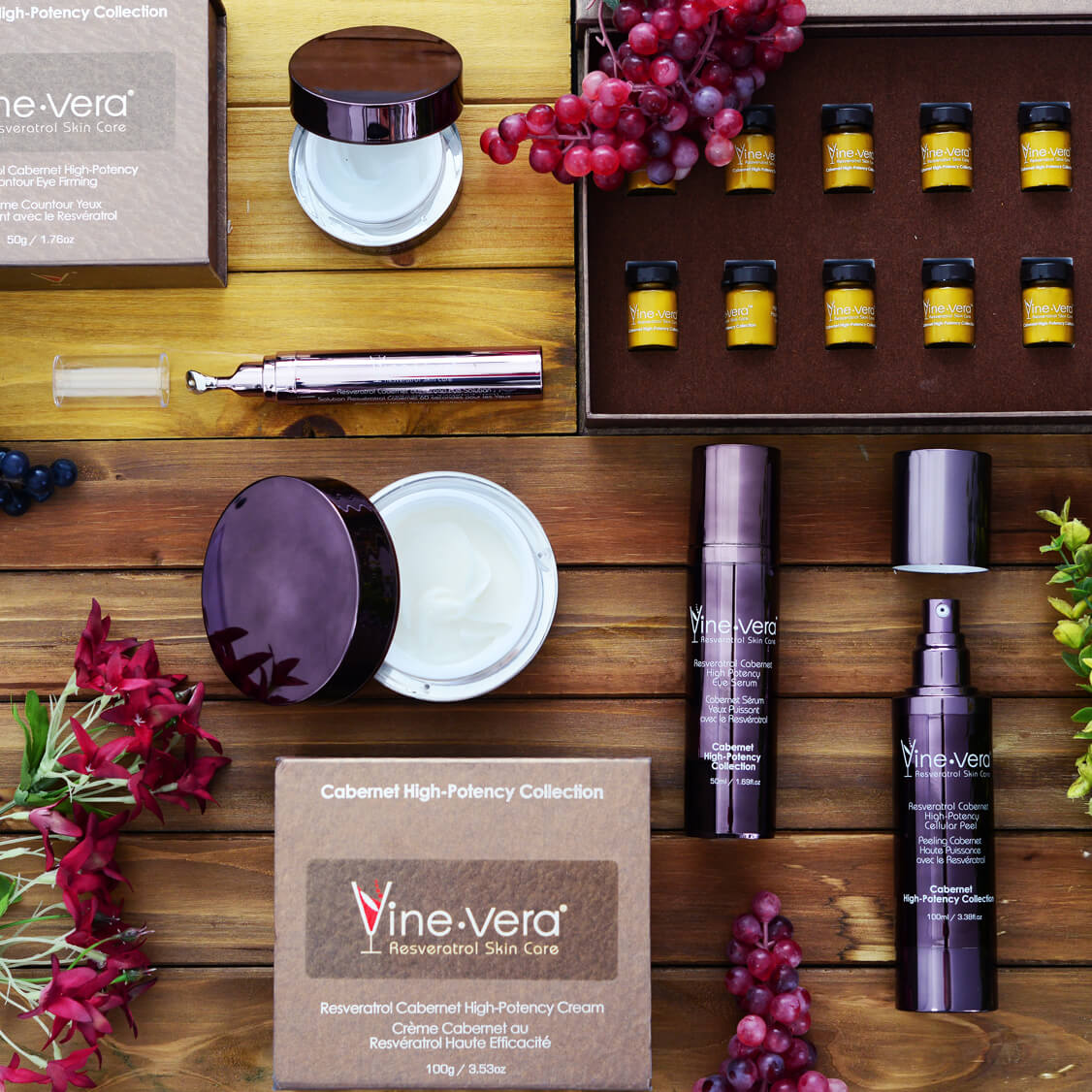 Finish off your resveratrol skin care routine with a layer of protection. The Resveratrol Cabernet Replenishing Moisture Cream is a great candidate for the job. With an SPF rating of 30, this sunscreen protects the skin against UV damage, minimizing the chances of getting visible age spots.
Despite reinforcing the feel of the skin, the Resveratrol Cabernet Replenishing Moisture Cream SPF 30 maintains a light, non-greasy consistency. This means pill-free application and easy layering over moisturizer and below makeup. To apply, simply dispense two fingers' worth of sunscreen onto your hands and massage it into the skin until fully blended. Make sure to wait at least 15 minutes before exposing the skin to the sun.
Here at Vine Vera, resveratrol and its scientifically proven benefits are the core of every best-selling formulation. Discover more of our resveratrol skin care products here.