How Does Vine Vera's 60 Second Eye Solution Work?
Posted on September 15, 2022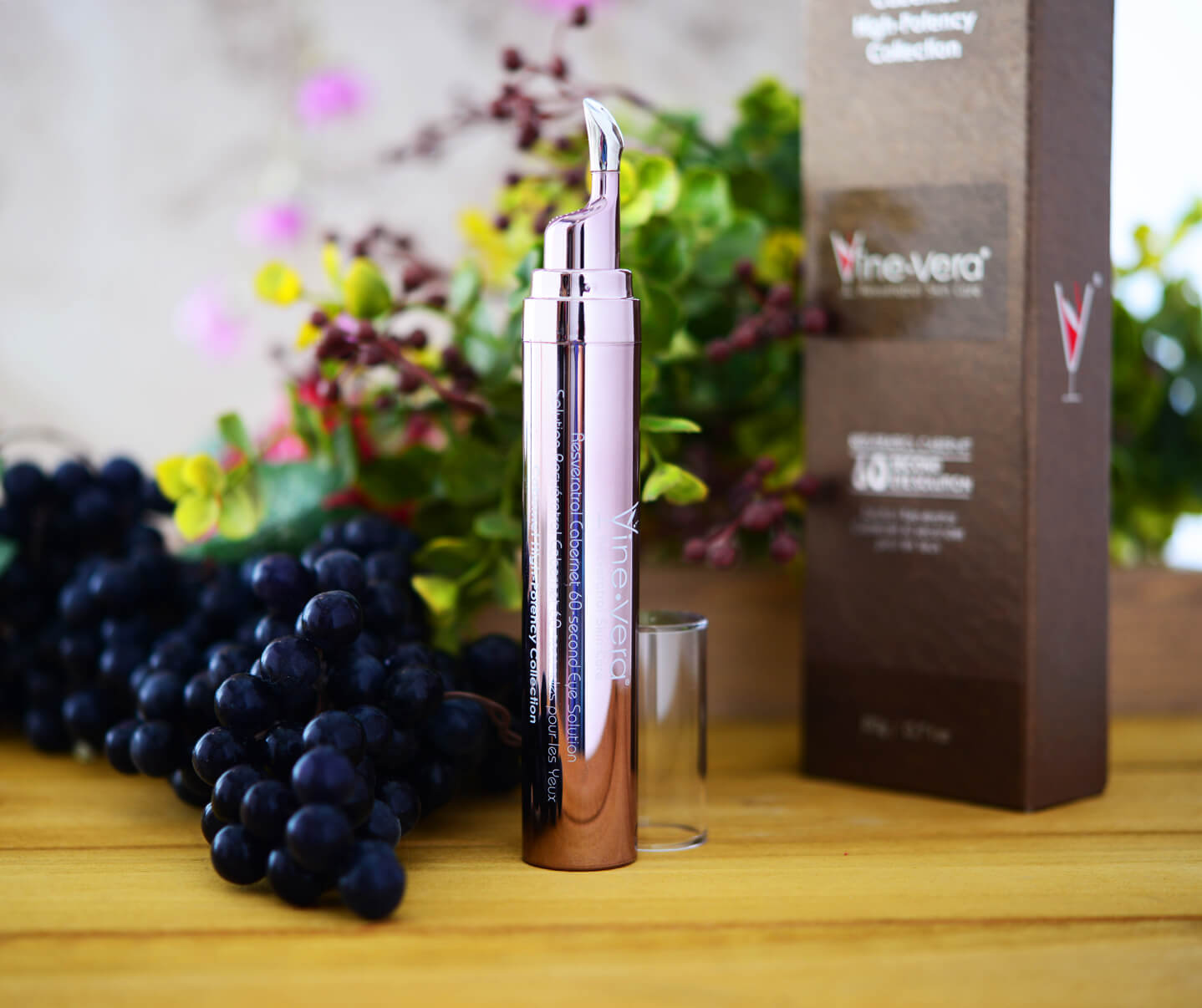 Fine lines, deep crow's feet, puffiness, under-eye bags…these are all natural side effects of the skin aging process, but this doesn't mean that we want to see them appear on our face.
Fortunately, with Vine Vera's 60 Second Eye Solution, you don't have to. Read on as Vine Vera explains exactly what this innovative product is, how it works, and the results that you can expect to see from each application.
What is Vine Vera's Resveratrol Cabernet 60 Second Eye Solution?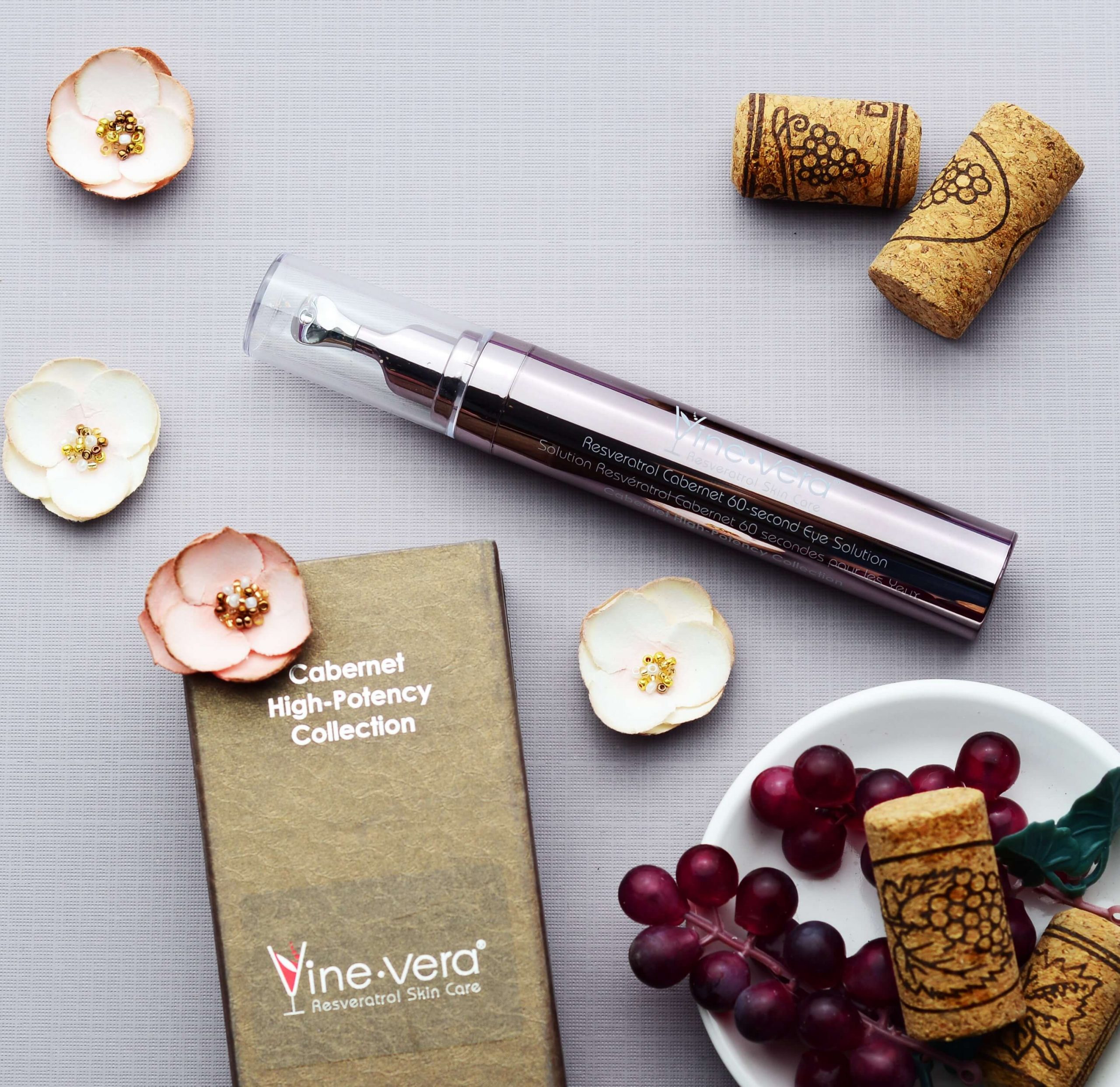 The Resveratrol Cabernet 60 Second Eye Solution from Vine Vera is an exquisite concentrated serum that has been designed specifically for the eye area.
The skin around the eyes is much thinner and more delicate than the skin on the rest of the face. It also contains fewer sebaceous glands, which are the glands that produce the sebum that keeps your skin moisturized. This makes it prone to dryness.
The fact that the eye area is pretty much always in motion from the facial expressions that you make doesn't help either. This causes the thin skin here to crease and wrinkle much faster than the skin anywhere else on the face.
To counter the appearance of all of these skin concerns, a specialized formula is needed, and that's where the 60 Second Eye Solution comes in.
It's a silky smooth serum that is used topically. The applicator may look a little confusing at first, but don't worry – it's easy to use and we'll explain exactly how to do this later on!
What Does the 60 Second Eye Solution do?
The main purpose of the 60 Second Eye Solution is to diminish the appearance of fine lines and wrinkles around the eyes. However, it also helps to brighten and plump up the eye area, reducing the visibility of puffiness and eye bags.
As you can tell from its name, this product aims to transform your appearance in just 60 seconds.
Wondering if this is really possible?
There are plenty of online reviews that attest to its efficacy, which all comes down to its superior ingredient blend. Want to know more? Read on…
How Does the 60 Second Eye Solution Work?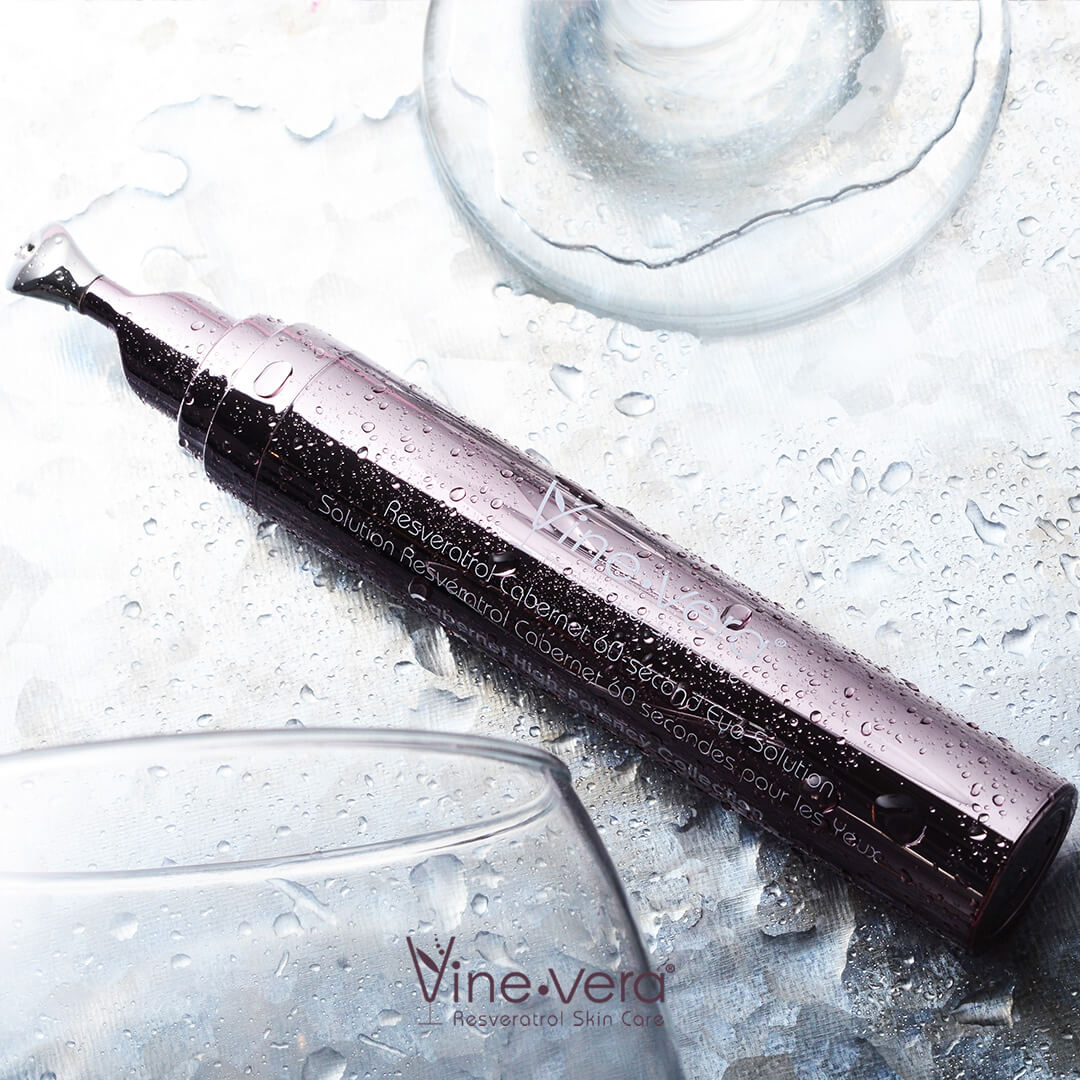 If you'd like to understand how the 60 Second Eye Solution is capable of smoothing away the visibility of fine lines and wrinkles in just one minute, you'll need to take a closer look at its ingredient list:
Acetyl Hexapeptide-8
Acetyl hexapeptide-8 is a peptide that works in a very special way. It's able to pretty much immediately reduce the appearance of expression lines, which eye wrinkles usually are.
It's also a great ingredient for preventing the appearance of new wrinkles from forming. This is how the 60 Second Eye Solution is able to keep the skin looking so smooth and youthful.
Sodium Hyaluronate
You're probably familiar with sodium hyaluronate – it's a skincare superstar. The salt form of hyaluronic acid, sodium hyaluronate is loved for its smaller molecular size. This enables it to really plump up the look of the skin in no time at all, which smoothens away the visibility of wrinkles.
This is a fantastic ingredient for all skin types to use. Not only will it leave your skin looking firmer and brighter, but your skin will also feel more hydrated. As mentioned, the skin around the eyes often struggles with this, meaning that a little bit of sodium hyaluronate will feel like a godsend.
Mica
Mica is a natural mineral that's milled into a very fine powder. Apply it to the skin and it gives the complexion an instant glow.
Thanks to its light-reflecting particles, mica is able to instantly brighten up the appearance while leaving it looking smoother.
Resveratrol
And now for Vine Vera's signature ingredient; resveratrol. This antioxidant, which is derived from the skin of red grapes, can be found in all Vine Vera products.
Why?
Because resveratrol is outstanding at reducing the look of damaged skin. Be this damage caused by UV rays, aging, or anything else, resveratrol will quickly have your skin looking and feeling so much healthier.
What Do Reviews Say About the 60 Second Eye Solution?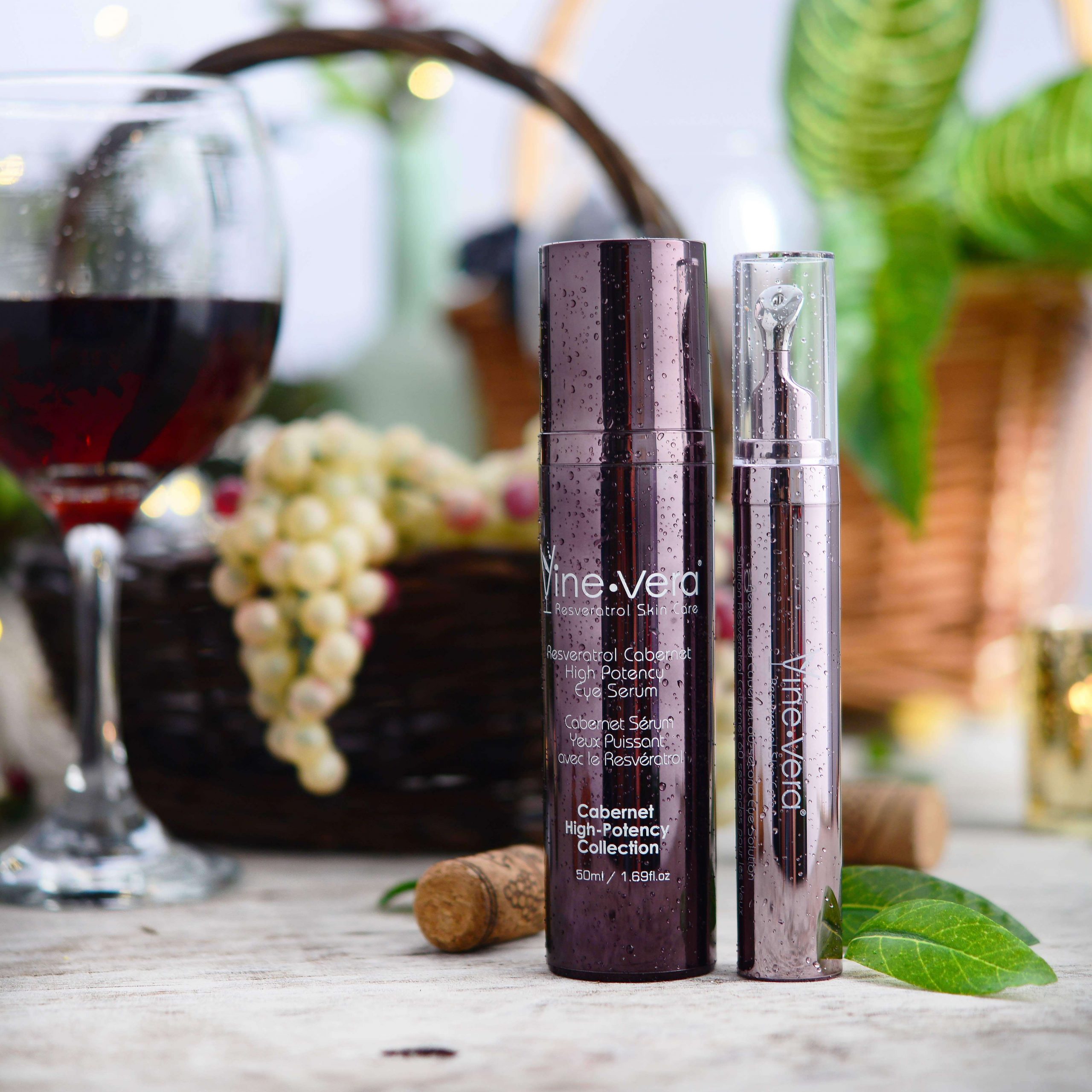 Before buying any new skincare product, it's always prudent to check reviews. And, in the case of the 60 Second Eye Solution, they're all very positive.
People love how this product gets to work so quickly and efficiently. They appreciate how they can pretty much see the formula working right in front of their eyes, and there's a noticeable difference after the product has been applied to one eye.
Although it may be a bit of an investment for some, those who have committed to this product are very glad they did so!
How to Use the Vine Vera Resveratrol Cabernet 60 Second Eye Solution
If you would like to gain maximum benefits from the 60 Second Eye Solution, here's how to put together a routine that perfectly complements the formula:
Start by Cleansing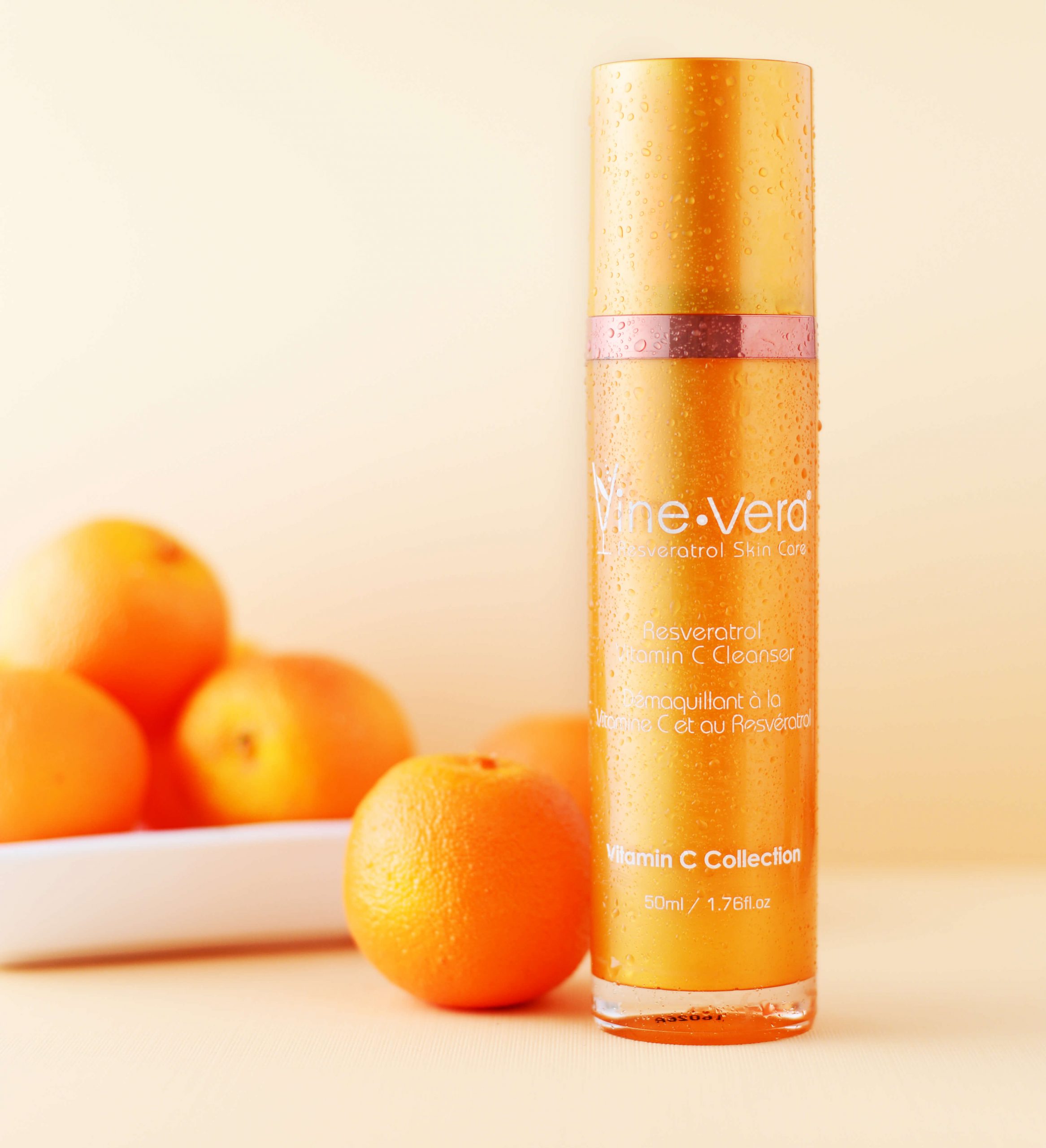 The very first step before using any type of skincare product is to cleanse your skin. If you don't do this, then the surface of your skin will be cluttered with dirt, debris, oil, dead skin cells, and a number of other impurities. This will block skincare products from properly penetrating into your skin, which will render them useless.
So, to ensure that your skin is ready to reap the rewards of the 60 Second Eye Solution, give it a cleanse with the Vine Vera Resveratrol Vitamin C Cleanser.
This cleanser is a great product to use before the 60 Second Eye Solution because both focus on brightening and tightening the look of the skin. Infused with resveratrol and ascorbic acid, the purest form of vitamin C, plus vitamin A, vitamin E, and a long list of botanical extracts, your skin will feel deeply refreshed and ready to soak up the goodness of any products you apply next.
Follow up With a Toner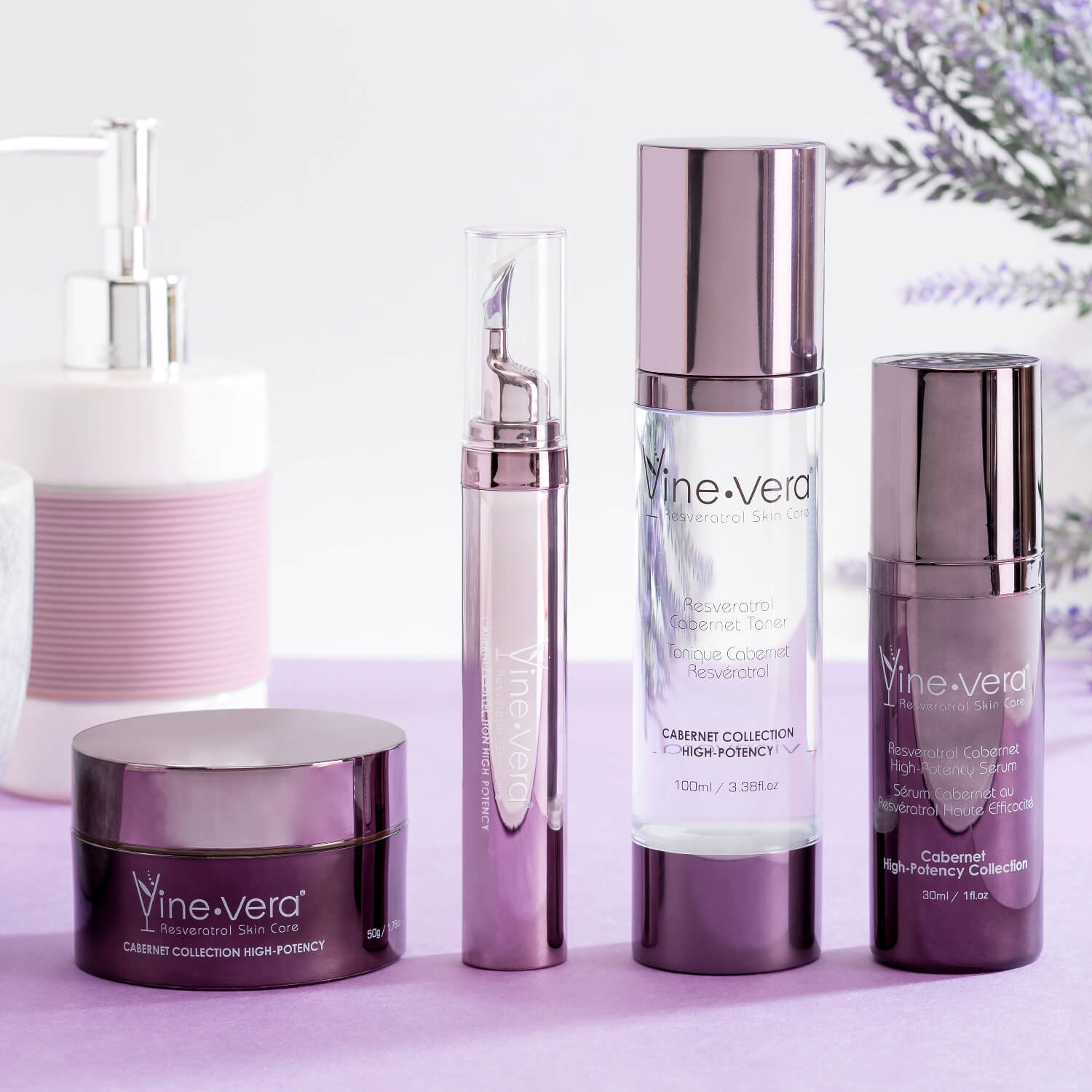 Next up, toning. Although not essential in the way that cleansing is, a good toner can really elevate your skincare routine.
How?
It's basically an extra cleansing/preparation step. It'll remove any debris that your cleanser has left behind (or any cleanser residue that you've left behind), while also leaving your skin feeling balanced and fortified.
The right toner will also hydrate your skin, replenishing any moisture that was lost through cleansing.
Wondering where you can find the right toner?
Right here! Meet Vine Vera's Resveratrol Cabernet Toner. Not only will it do all of the above, but it's loaded with aloe vera juice and cucumber extract to leave your skin feeling soothed while reducing the appearance of redness and inflammation.
Apply the 60 Second Eye Solution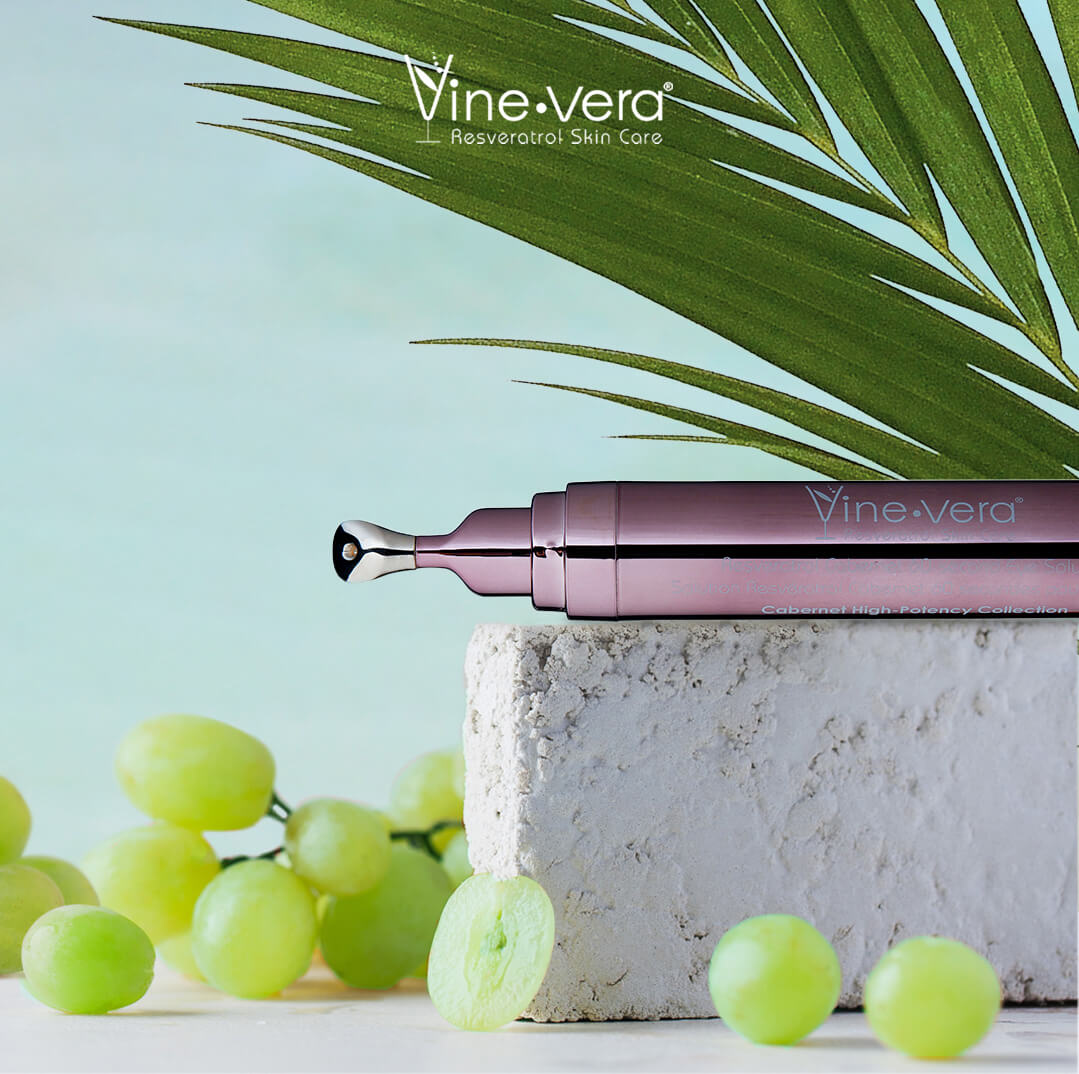 It's now time to apply the Resveratrol Cabernet 60 Second Eye Solution.
To do so, remove the transparent cap from the tip of the applicator. Then, gently press down at the top of the applicator to release a small amount of product. Sweep the applicator back and forth around your eye area to spread the product. Then, use the applicator to lightly tap the distributed serum into your skin.
Once you're done, wipe the tip of the applicator to remove any excess product. Then, replace the cap and store the product somewhere dark, cool, and dry. This will help to retain its potency and prolong its shelf life.
Layer on a Moisturizer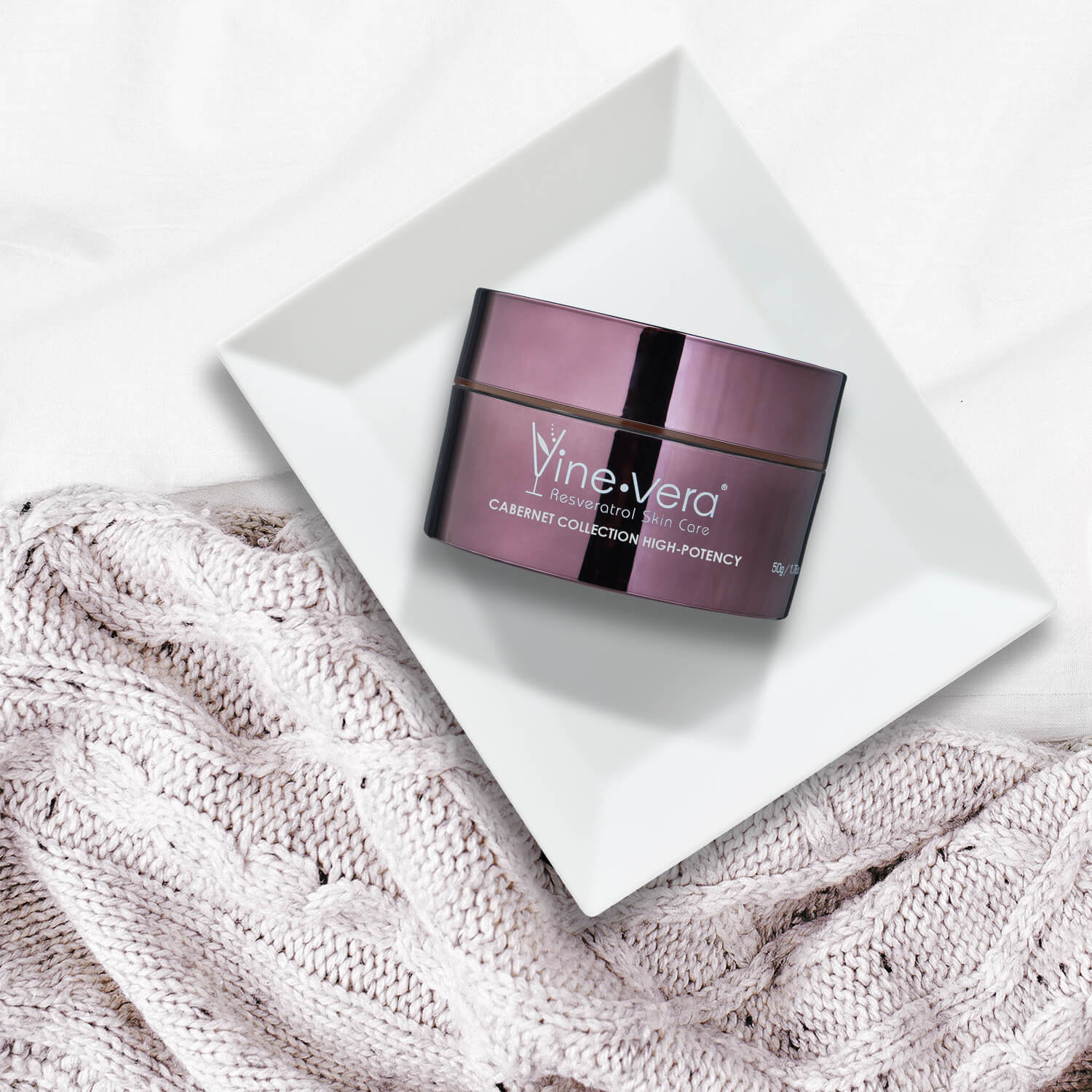 Now that you're done with your eye area, what about the rest of your face?
A good moisturizer is the perfect way to round up any skincare routine. And here at Vine Vera, we have plenty to choose from.
If you'd like to keep resveratrol and vitamin C as the stars of your skincare routine, then go with our Resveratrol Vitamin C Moisturizer. In addition to vitamin C, it also contains several other vitamins and botanical extracts. It's a great supporting act to the 60 Second Eye Solution.
Of course, if you go with the Vitamin C Moisturizer, you'll still need to apply a sunscreen over the top before you step out of the house. Get around this by massaging on some of the Resveratrol Cabernet Replenishing Moisture Cream SPF 30 instead. This Vine Vera moisturizer doubles up as a sunscreen that offers broad-spectrum SPF 30 protection, making it suitable for most skin types.
Like all other Vine Vera products, this sunscreen moisturizer contains resveratrol, along with a whole host of other skin-loving compounds.
On the other hand, if you're following this routine at night, then give the Resveratrol Cabernet High Potency Night Cream a try. This velvety blend will keep your skin feeling deeply moisturized while you sleep. Slather this onto your face before you hit the sack and you'll wake up to skin that looks and feels soft, supple, and radiant.
How Often Should You Use the 60 Second Eye Solution?
We recommend using the 60 Second Eye Solution once a week.
While you could also just save it for special occasions, long-term use of the ingredients within, especially when it comes to the resveratrol, will help to tighten and firm up the look of your eye area in the long run.
Is the Vine Vera 60 Second Eye Solution Worth Adding to Your Routine?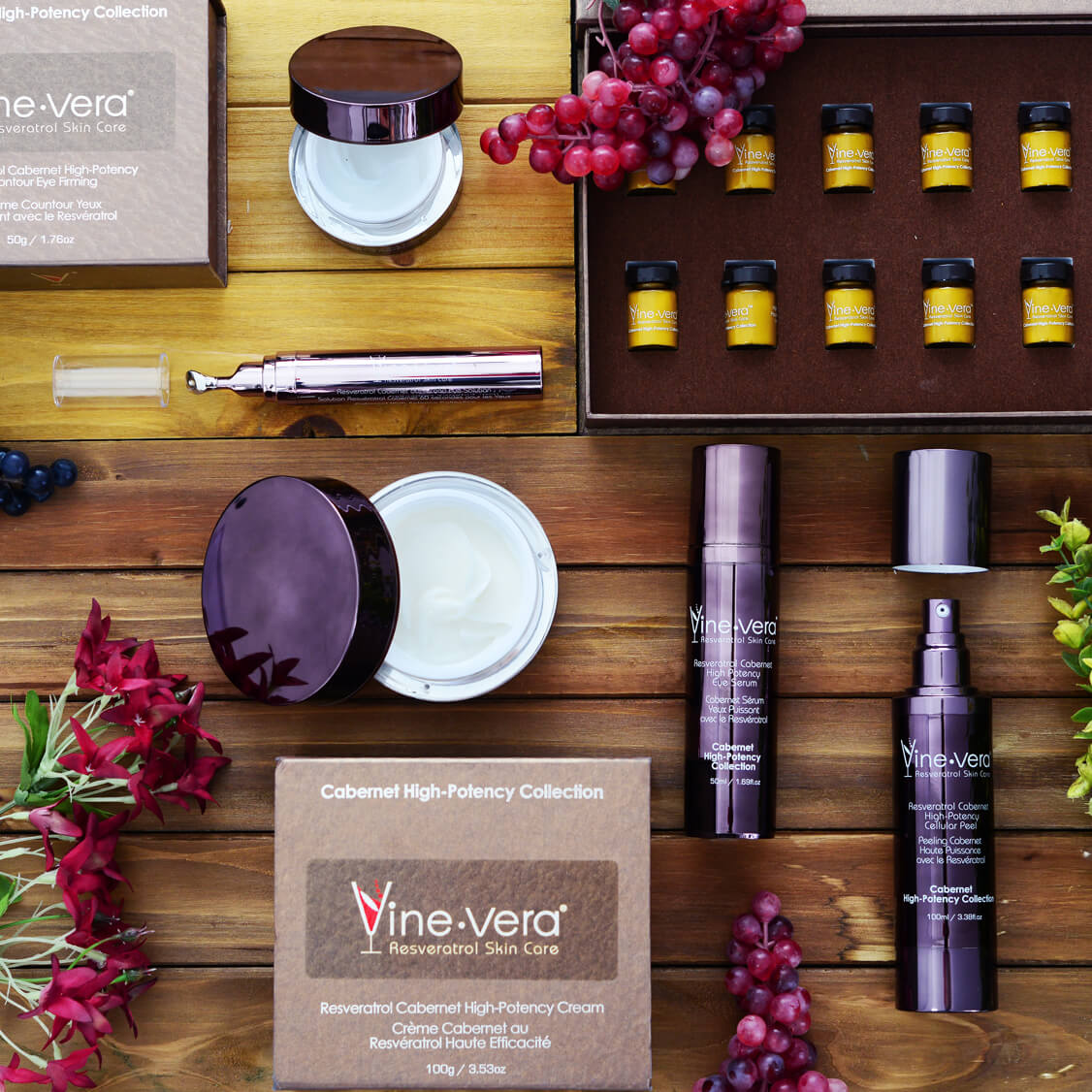 While we would love to proclaim that the 60 Second Eye Solution is a product that everybody needs, this isn't quite the case. While it will help to prevent the appearance of wrinkles, its main focus is on reducing the visibility of existing lines and wrinkles.
So, if you don't already have fine lines or wrinkles making an appearance around your eyes, then you may be better off with a more general eye cream, such as the Resveratrol Cabernet High Potency Contour Eye Firming.
However, if you do already have visible lines and wrinkles spidering their way around your eyes, then the 60 Second Eye Solution is definitely worth investing in. There aren't many products out there that can instantly diminish the look of eye creases. That is exactly why this one has been so popular.
Summary
With its minimal ingredient list and fast-acting formula, it's easy to see why the Vine Vera Resveratrol Cabernet 60 Second Eye Solution is such a hit. If you've been looking for a way to regain the appearance of the smooth, firm, and plump eye area that you enjoyed in your youth, then this product won't disappoint.
To check out more of Vine Vera's resveratrol-infused bestsellers, click here.