Your Favorite Blog of 2022: Resveratrol and Vitamin C: The Skincare Power Couple Worth Knowing About
Posted on January 15, 2023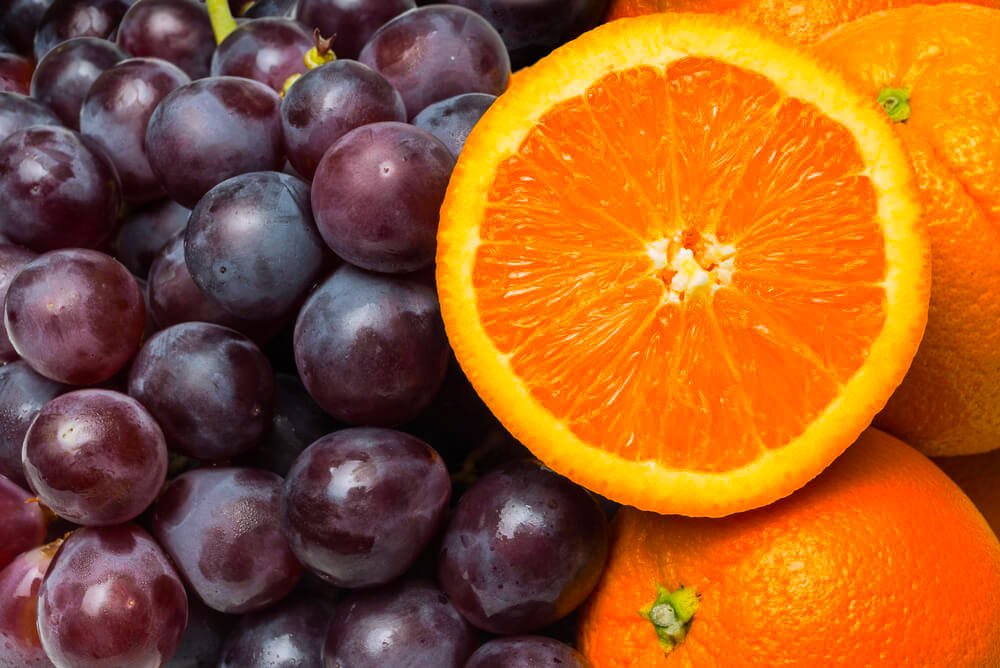 We often hear about power couples reigning in the worlds of music and entertainment, but the skincare realm has its fair share of superstar pairings, too. There's Vitamin C and Vitamin E, Salicylic Acid and Niacinamide, Retinol and Hyaluronic Acid — the list goes on. 
However, there's one skincare power couple that arguably deserves more attention. Armed with the ability to combat the visibility of aging and reduce the appearance of dark spots, this is one powerhouse of a partnership…
Today, Vine Vera will be sharing everything you need to know about Resveratrol and Vitamin C. 
What is Resveratrol?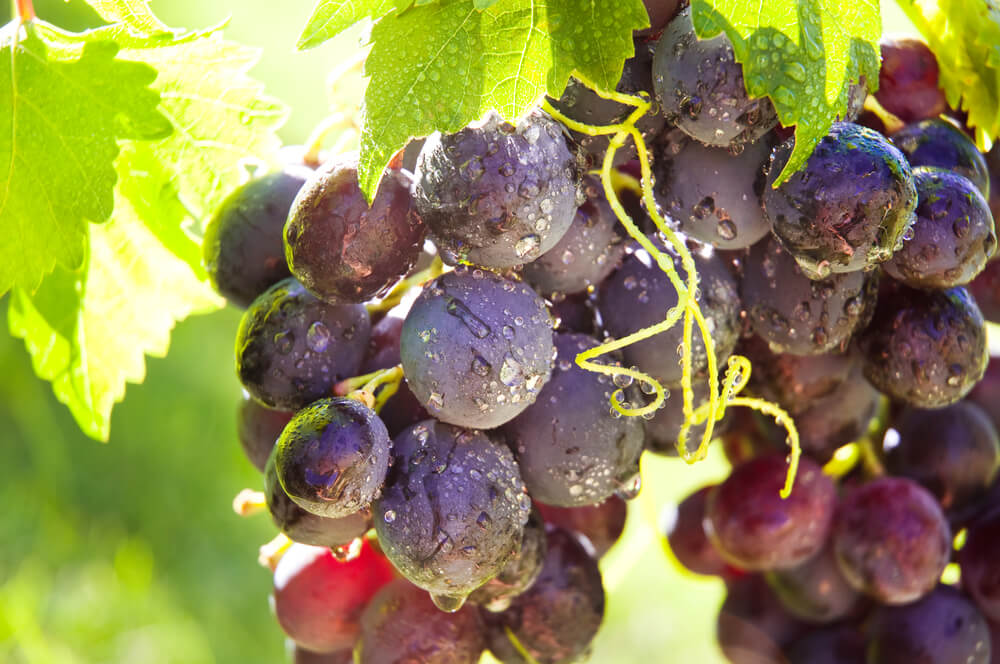 If you've been searching for a reason to drink all the red wine your heart desires, Resveratrol might just be the answer you seek. An antioxidant derived from the skin and seed of red grapes, Resveratrol is a skincare powerhouse.
Despite its potential benefits, Resveratrol is still relatively difficult to come by in the skincare world. However, at Vine Vera, this supercharged ingredient is front and center. Harnessing the multiple benefits of Resveratrol, Vine Vera includes it as a staple across all of our product lines. 
What About Vitamin C?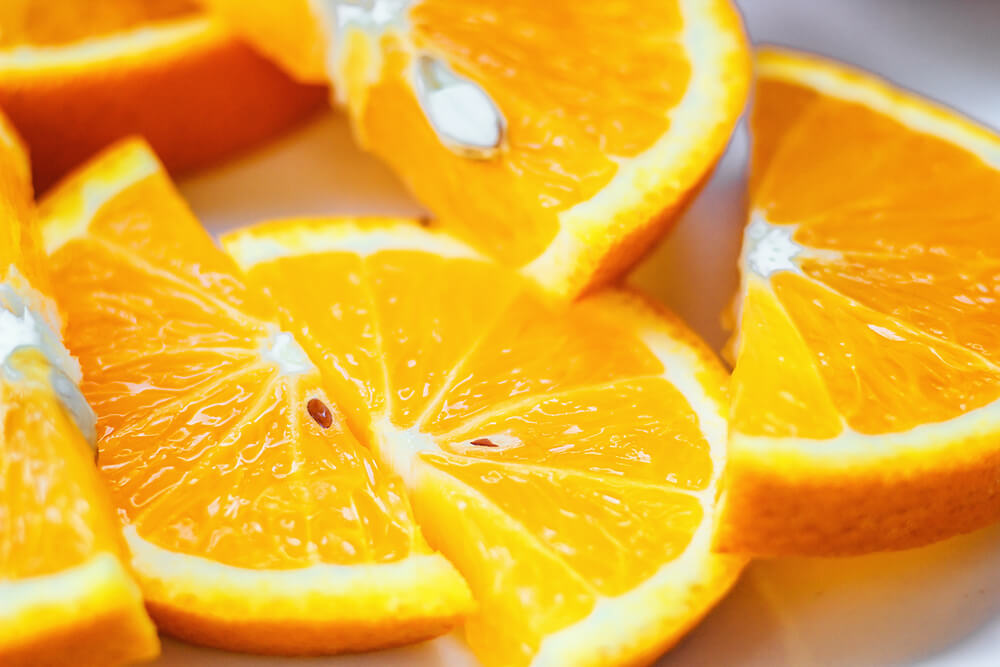 The other half of this skincare power couple is formed by Vitamin C or Ascorbic Acid.
A popular ingredient across cleansers, toners, and serums, Vitamin C is recognized primarily for how it brightens the look of the skin.
Resveratrol and Vitamin C: The Ultimate Skincare Power Couple
The idea that two is better than one rings true as far as Resveratrol and Vitamin C are concerned. While both have earned their merits as skin-loving ingredients individually, thanks to their shared strengths and synergistic properties, they are even better together.
Vine Vera Resveratrol Vitamin C Collection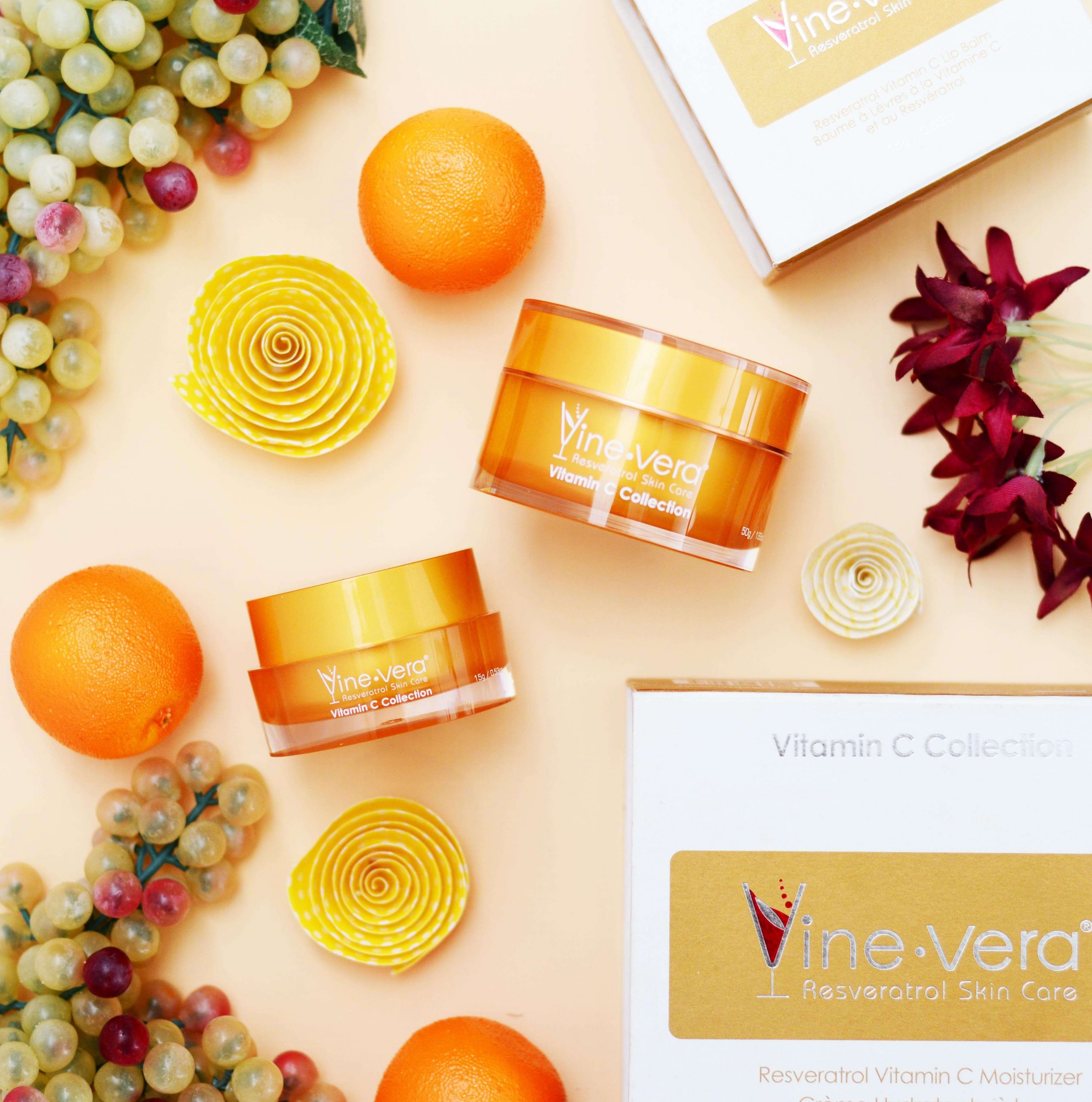 So, how do your combine two powerful ingredients into your skincare routine?
Vine Vera makes it simple. Taking the guesswork out of your regimen, Vine Vera combines the benefits of both these ingredients in our Resveratrol Vitamin C collection. Here's a breakdown of the five products in the line — and why each deserves to be a permanent fixture in your daily routine.
Resveratrol Vitamin C Cleanser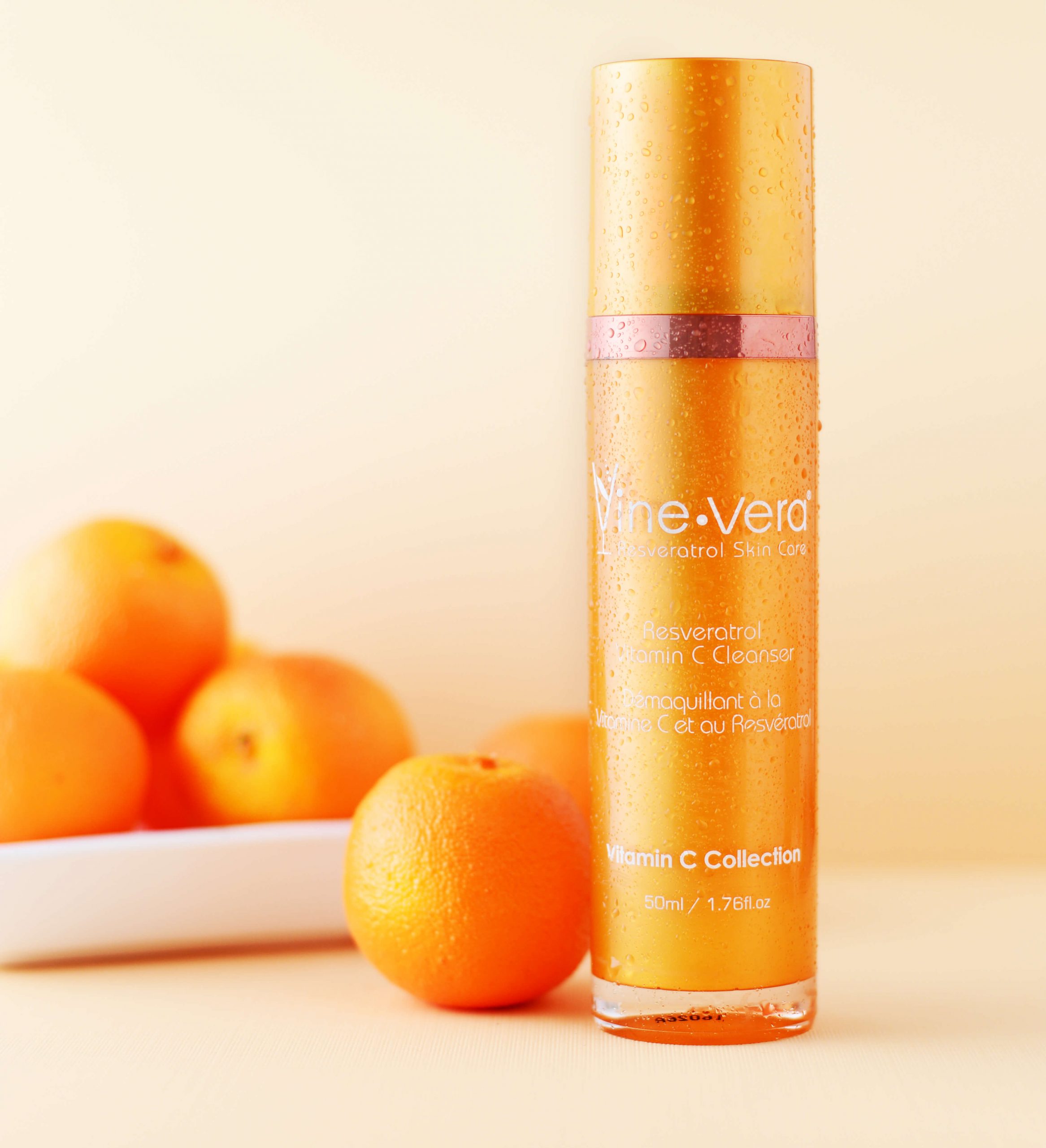 A mildly formulated cleanser suitable for every skin type, Vine Vera's Resveratrol Vitamin C Cleanser is one of the best-selling products of the line. With a lightweight yet potent formula, this cleanser is ideal for the warmer months or as a nightcap after a long day.
Besides Resveratrol and Vitamin C, this cleanser also contains several other ingredients that help improve the appearance of the skin. Some noteworthy ingredients in the formulation are:
Vitamin A or Retinyl Palmitate. A gentler alternative to Retinol, Retinyl Palmitate is the least irritating of all retinoids

Aloe Barbadensis Leaf Extract. Otherwise known as Aloe Vera Leaf Extract, this ingredient moisturizes and soothes the feel of the skin

Calendula Officinalis Flower Extract.

Another botanical ingredient, this flower extract reduces the look of redness and inflammation

Lactic Acid.

Gentler than other AHAs, Lactic Acid provides light exfoliation 
To use, pump a small amount of product and massage into damp skin in a circular motion. Rinse off with warm water. For optimal results, use twice daily.
Resveratrol Vitamin C Peeling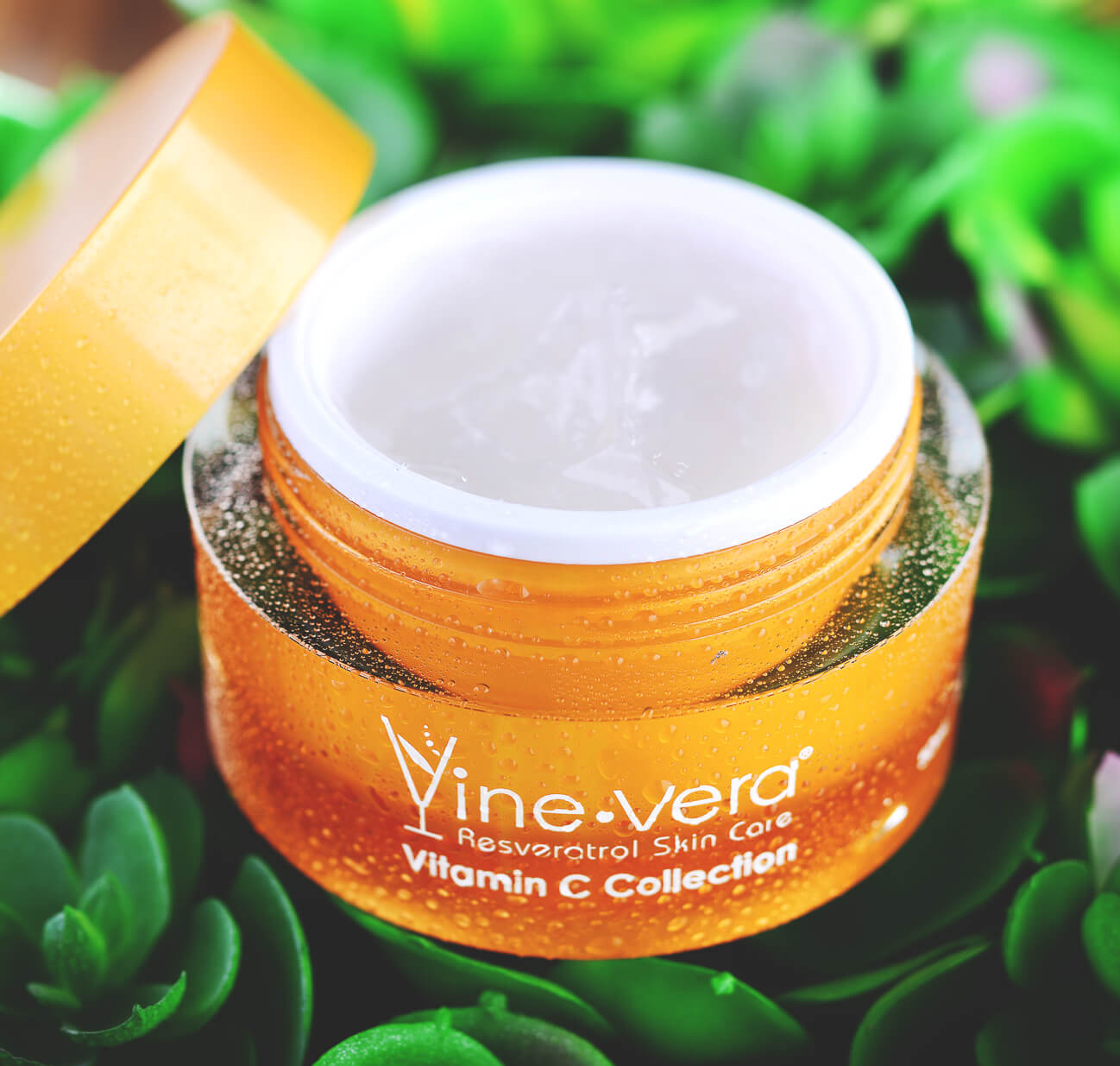 Take your routine beyond basic cleansing with regular exfoliation. 
The skin naturally sheds dead skin to welcome new skin cells every 30 days. Exfoliating weekly helps the skin unveil a newer, more radiant layer, and also gives way to a brighter-looking tone and better product absorption.
With Mandelic Acid as its primary chemical exfoliator, Vine Vera's Resveratrol Vitamin C Peeling is a great way to incorporate exfoliation into your weekly regimen. Gentler than Glycolic Acid, a common choice for exfoliators, Mandelic Acid gently sloughs off dead cells.
Also included in the formulation is Bamboo Extract Powder. This serves as a physical exfoliator. To prevent abrasions and microtears, this ingredient is ground to a delicate texture, milled just finely enough to do the job effectively.
While the Mandelic Acid and Bamboo Extract Powder diminish the dead cells, Resveratrol and Vitamin C brighten the look of the skin.
To include the Resveratrol Vitamin C Peeling in your skincare rotation, apply a quarter-sized amount of product to the face. Massage in a circular motion, making sure to avoid the eye area. Rinse off with cool water. Use once to twice per week for best results.
Resveratrol Vitamin C Serum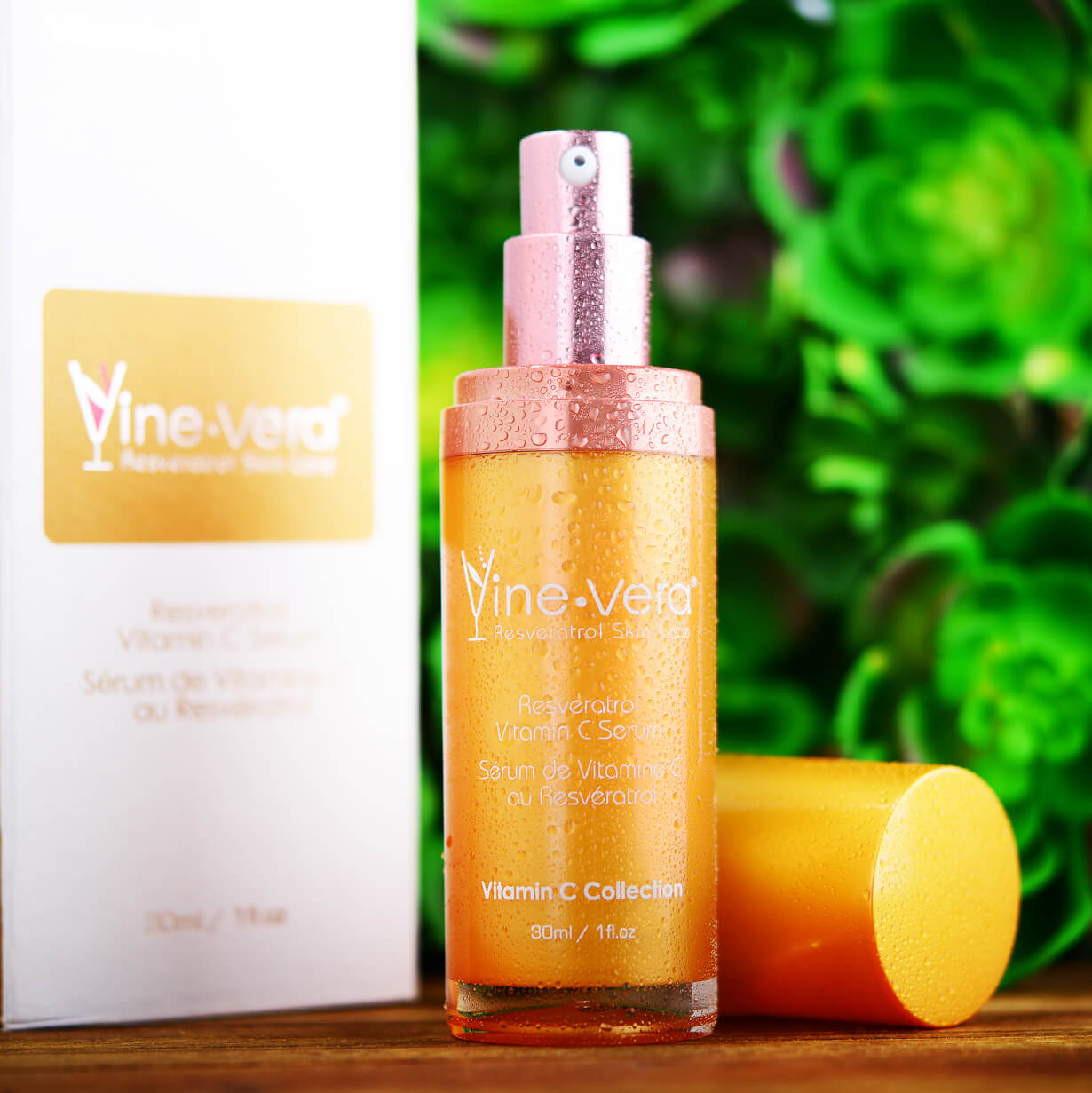 Another popular pick from the Resveratrol Vitamin C collection is the line's signature serum. Unlike the other products from this collection, the Resveratrol Vitamin C Serum utilizes another form of Ascorbic Acid: Tetrahexyldecyl Ascorbate.
Here's what makes Tetrahexyldecyl Ascorbate a remarkable alternative to run-of-the-mill Vitamin C:
As a Vitamin C derivative, Tetrahexyldecyl Ascorbate is more stable than Vitamin C. This means that it remains effective and performs as intended, even with changes in moisture, pressure, and temperature. This is a conundrum that formulators often find trouble solving with Vitamin C.

Tetrahexyldecyl Ascorbate is oil-soluble. It outperforms the ability of Vitamin C to penetrate the deeper layers of the skin.

Besides being more stable and oil-soluble, Tetrahexyldecyl Ascorbate is still able to do what Vitamin C does: brighten and tighten the look of the skin.
All these benefits from Resveratrol and this powerful Vitamin C derivative are enveloped in a lightweight, silky serum.
To use, apply a few pumps of serum to clean skin in the morning and evening.
Resveratrol Vitamin C Moisturizer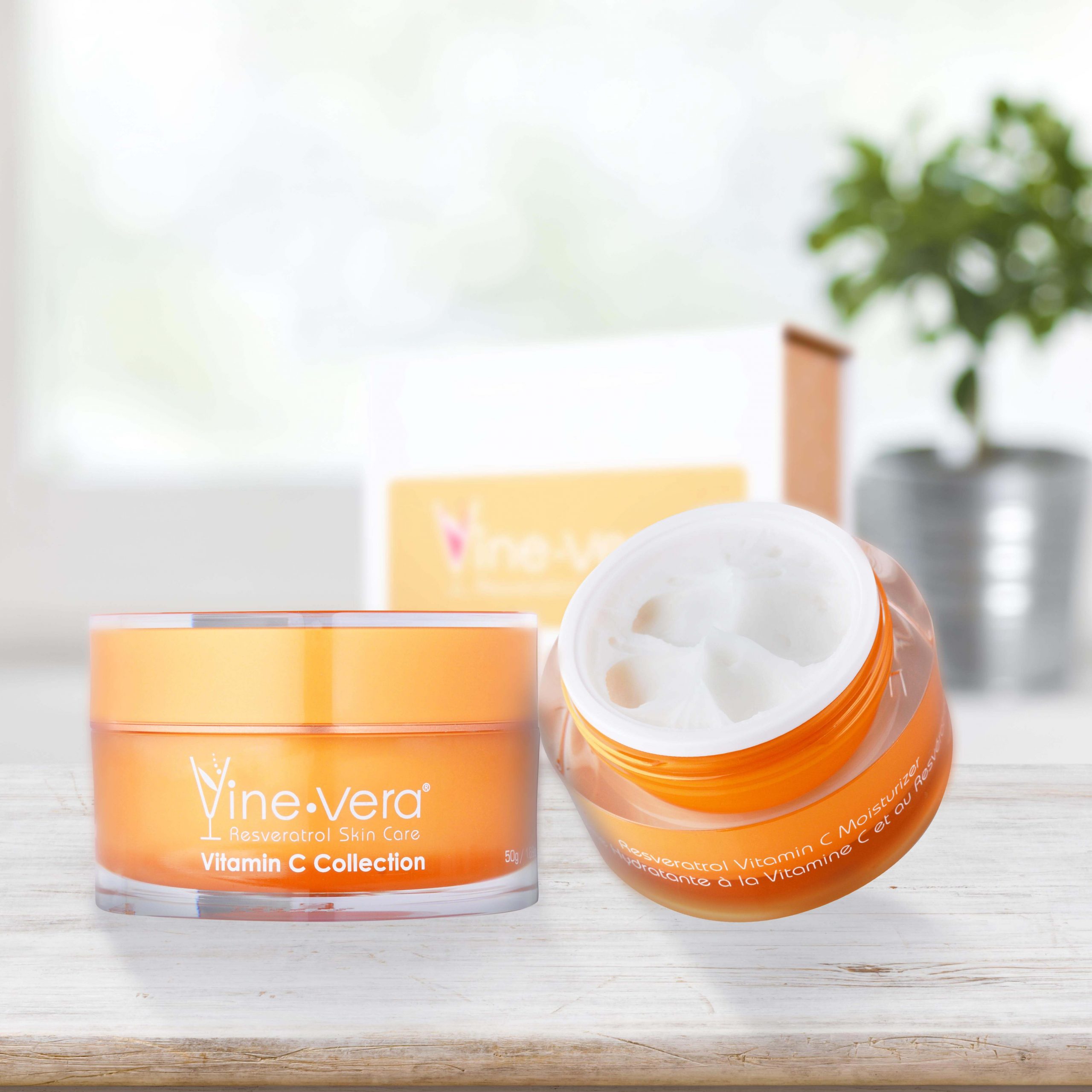 No matter your skin type, a good moisturizer should remain a non-negotiable in your skincare routine. Unlike the balms, treatments, and skin essences that can be added and removed from your rotation as you please, an effective moisturizer is essential to keeping the skin's oils in check. Yes, even when your skin type is oily or acne-prone.
Regulating your skin's moisture levels has plenty to do with choosing the right moisturizer. Those with dry skin would benefit from a thick, lipid-heavy formula. Meanwhile, those with oily skin should opt for thinner and lighter solutions.
Vine Vera's Resveratrol Vitamin C Moisturizer falls right in between. With a vitamin-rich formula that doesn't set sebum production into overdrive, it makes a great match for every skin type on the spectrum.
In addition to Resveratrol and Vitamin C, this moisturizer also contains Pro-Vitamin B5. Otherwise known as Panthenol, this vitamin aids in reducing the feeling of inflammation.
To include the Resveratrol Vitamin C Moisturizer in your routine, apply an even layer of the product onto your face and neck as a follow-up to your serum. Use twice daily.
Resveratrol Vitamin C Lip Balm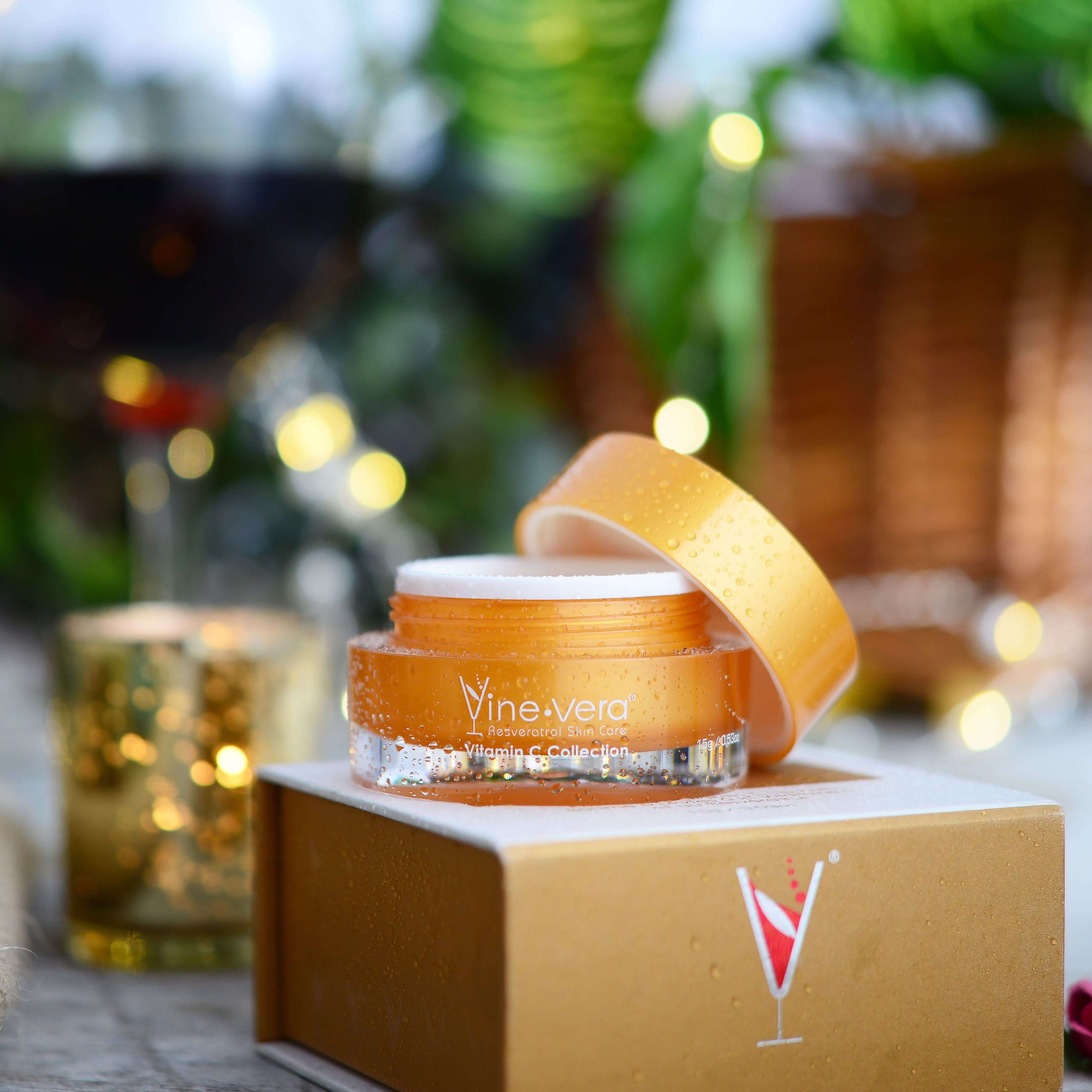 Last but not least, a lip balm rounds out Vine Vera's Resveratrol Vitamin C line. Proof that powerful formulations can come in small packages, the Resveratrol Vitamin C Lip Balm includes an assortment of noteworthy ingredients:
Shea Butter. A multitasking ingredient with an impressive list of benefits, Shea Butter is one of the most effective moisturizers you'll find. It plumps up the look of the skin
Avocado Oil. As it turns out, Avocado Oil is just as versatile as the fruit it is extracted from. It's great for keeping skin feeling hydrated
Beeswax. Commonly found in lip and skin balms,

Beeswax gives skin a soft feeling
With Resveratrol and Vitamin C completing the rich formulation, the Resveratrol Vitamin C Lip Balm keeps your lips free of the appearance of chaps, cracks, and all sorts of external damage.
Get the best of both worlds. Enjoy the benefits of Resveratrol combined with Vitamin C, and the synergistic abilities of both ingredients in your routine.
Ready to make the switch? Include both Resveratrol and Vitamin C in your daily skincare routine with Vine Vera's five-step Resveratrol Vitamin C line. Shop the collection online here, or further upgrade the experience with the Jelessi Torché V2+ Amber Light.