What Does Vitamin C Serum Do For Your Face?
Posted on March 15, 2023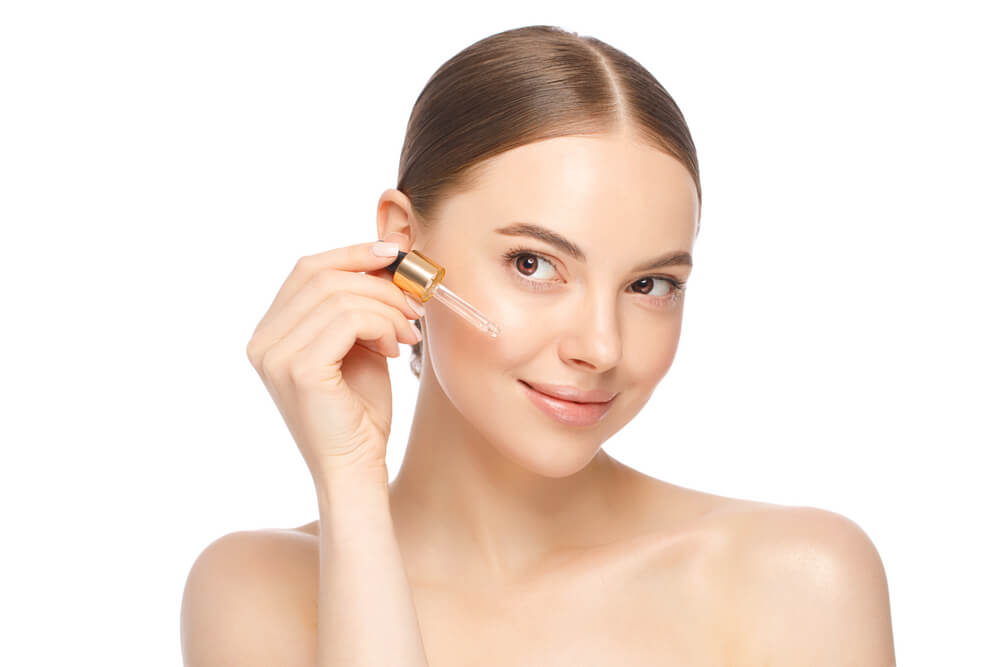 Wondering whether to add a vitamin C serum to your skincare routine? 
Usually, when deciding whether or not your skin needs a new ingredient, there are a few different factors to consider, including your skin type and the various skin concerns you're dealing with. However, when it comes to using a vitamin C serum for face care, the benefits that it can provide are so varied that it'll most likely boost your complexion in numerous ways, no matter what your skin may be going through.
What exactly does a vitamin C Serum do for the face? Vine Vera is about to explain!
The Benefits of Using a Vitamin C Serum for Face Care
First things first – vitamin C is a fantastic ingredient for every skin type. It has an amazing safety profile that confirms how tolerable it is, even when used for extended periods of time. It doesn't matter whether your skin is dry, oily, sensitive, or mature. Vitamin C will be able to make your skin look and feel so much better.
Let's take a closer look at the different ways in which it does this:
It Fades the Visibility of Hyperpigmentation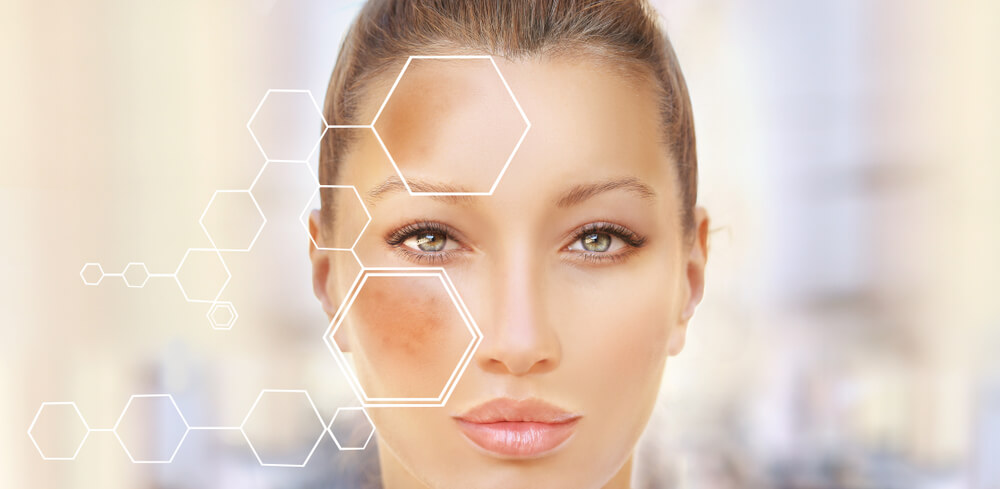 The skin produces a pigment called melanin, which gives the skin its color. The more melanin that you have in your skin, the darker your skin color will be. 
Usually, melanin production and dispersal is even and consistent. This means that all parts of the skin receive the same amount of pigment, keeping everything the same color. However, certain factors, such as sun exposure, can trigger the over-production of melanin. When this happens, there's simply too much melanin in the skin for it to be spread evenly. This results in the pigment clustering up into small groups under various parts of your skin. This leads to those areas of skin looking darker in color, which is also referred to as hyperpigmentation.
However, start using a vitamin C serum for face care and you'll soon be able to enjoy a balanced and even complexion once again. Studies show that vitamin C is able to inhibit the appearance of excess melanin. It lightens the look of those darker patches on the skin, without affecting the tone of any 'normal' colored areas.
It Soothes the Look of Redness and Inflammation
It's not just hyperpigmentation that can make your skin look uneven. Inflammation and the associated redness that it causes can have this effect too.
Inflammation in the skin can be triggered by a range of different issues. From allergies to stress to underlying conditions, if your skin starts to look red and irritated, then chances are that inflammation is at play.
There are plenty of ingredients out there that can soothe the look of inflamed skin, and one of these is vitamin C. Due to its high antioxidant content, research shows that it can quickly calm the appearance of redness to even out the complexion. Combine this with how the ingredient also reduces the look of dark spots and it's easy to see how you could be rocking a flawless appearance pretty soon after starting to use a vitamin C serum for face care.
It Brightens the Complexion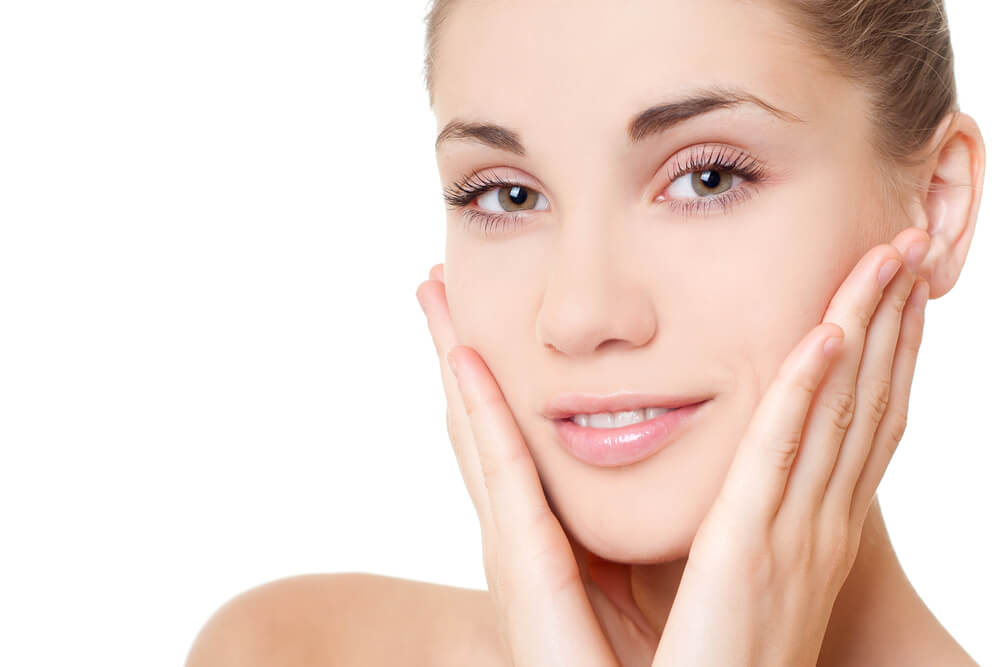 Even if you don't have noticeable dark spots or inflammation in your skin, vitamin C can still help to brighten your overall complexion. 
Dullness is a common skin concern that can occur for various reasons, be it aging, an unhealthy lifestyle, or anything else. Vitamin C is great for turning this around. When using a vitamin C serum for face care, the ingredient will target any parts of your skin that are looking dull and weary. It will give these areas a newfound radiance, leaving your skin looking brighter and beautifully luminescent.
It Reduces the Appearance of Skin Aging
Aging is inevitable. After all, there's no way to stop your skin from growing older as each day passes.
With that said, the visible signs of skin aging, including the appearance of fine lines, wrinkles, and sagging skin, can be held off to a certain extent. Use the right skincare products, such as a vitamin C serum for face, and you'll be able to retain your youthful glow for longer than you otherwise would have.
How? Because vitamin C is extremely effective at firming and tightening the complexion. Studies show its capabilities at lifting the look of sagging skin and smoothing the appearance of wrinkles. Whether you're battling with premature aging in your early 30s or you're in your 60s and are dealing with the visible effects of a life well lived, vitamin C can help to restore the youthful glow that you used to enjoy in your earlier years.
It Hydrates the Skin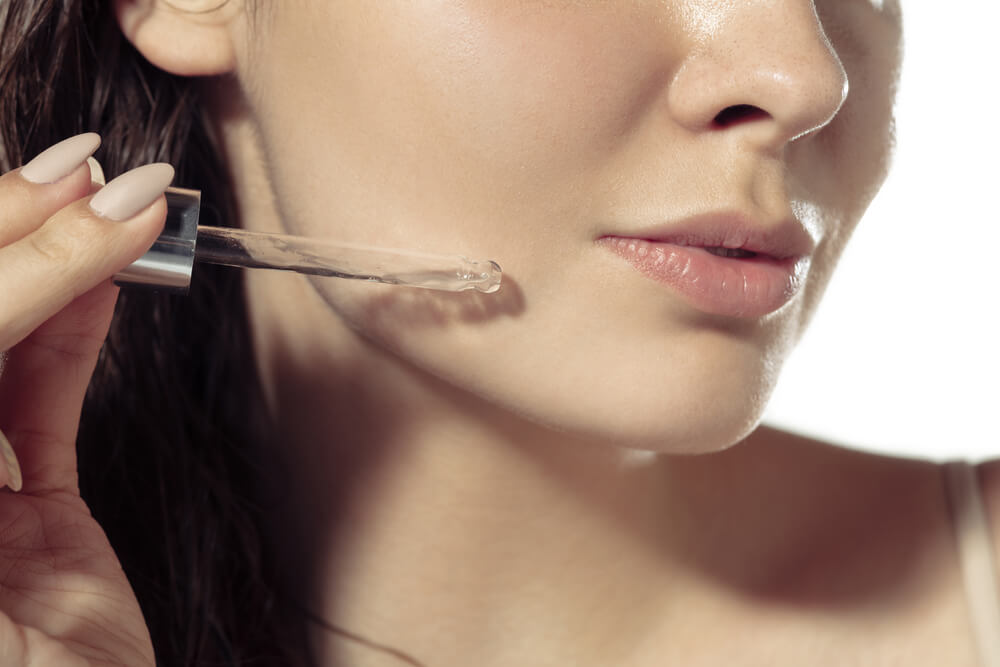 Hydration isn't usually the primary reason to start using a vitamin C serum for face care. This is simply because there are so many other hydrating ingredients out there. However, if you decide to use vitamin C for one of the other benefits mentioned above, improved hydration is an extra bonus that you can expect to experience.
Most hydrating skincare ingredients work by binding moisture to the skin. However, vitamin C is a little different. Instead of physically bringing water to your skin, the antioxidant works to strengthen the feel of the skin's protective barrier, it's also the most commonly used vitamin by estheticians. This then means that moisture isn't able to evaporate out of the skin as quickly as it usually does, a process known as transepidermal water loss (TEWL). With your skin barrier feeling thicker and more resilient, it retains more moisture, which keeps skin cells better hydrated. 
Studies back this up, confirming that the use of a vitamin C serum for face can help to significantly reduce transepidermal water loss. The result is skin that looks plump, dewy, and glowy.
It Diminishes the Look of Under-Eye Circles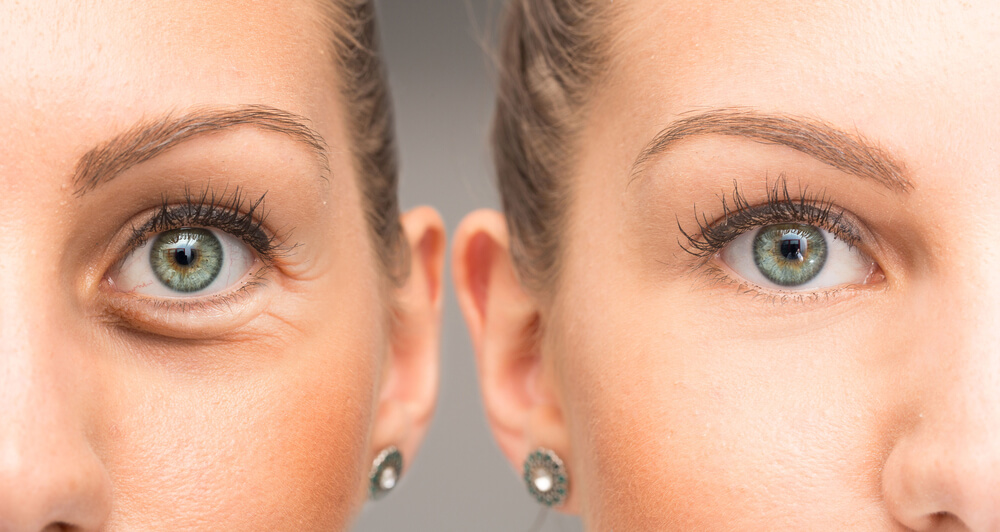 We've already talked about how vitamin C can help to fade the visibility of hyperpigmentation. However, dark circles and shadows under the eyes are usually treated a little differently. 
Sure, these can be caused by hyperpigmentation too. However, many of the ingredients used to tackle hyperpigmentation can often be too harsh for the eye area. The skin here is much thinner and more delicate than the skin on the rest of your face. This means that it can quickly start to feel irritated when exposed to overly potent skincare formulas.
So, while studies show that vitamin C is an effective way to reduce the look of periorbital dark circles, it's worth keeping in mind that a vitamin C serum for face may be too strong for your eye area. If you want to use the ingredient on the skin around your eyes, look for an eye-specific serum containing vitamin C. 
Where can you find a good formula? Keep reading…
Introducing Vine Vera's Resveratrol Vitamin C Serum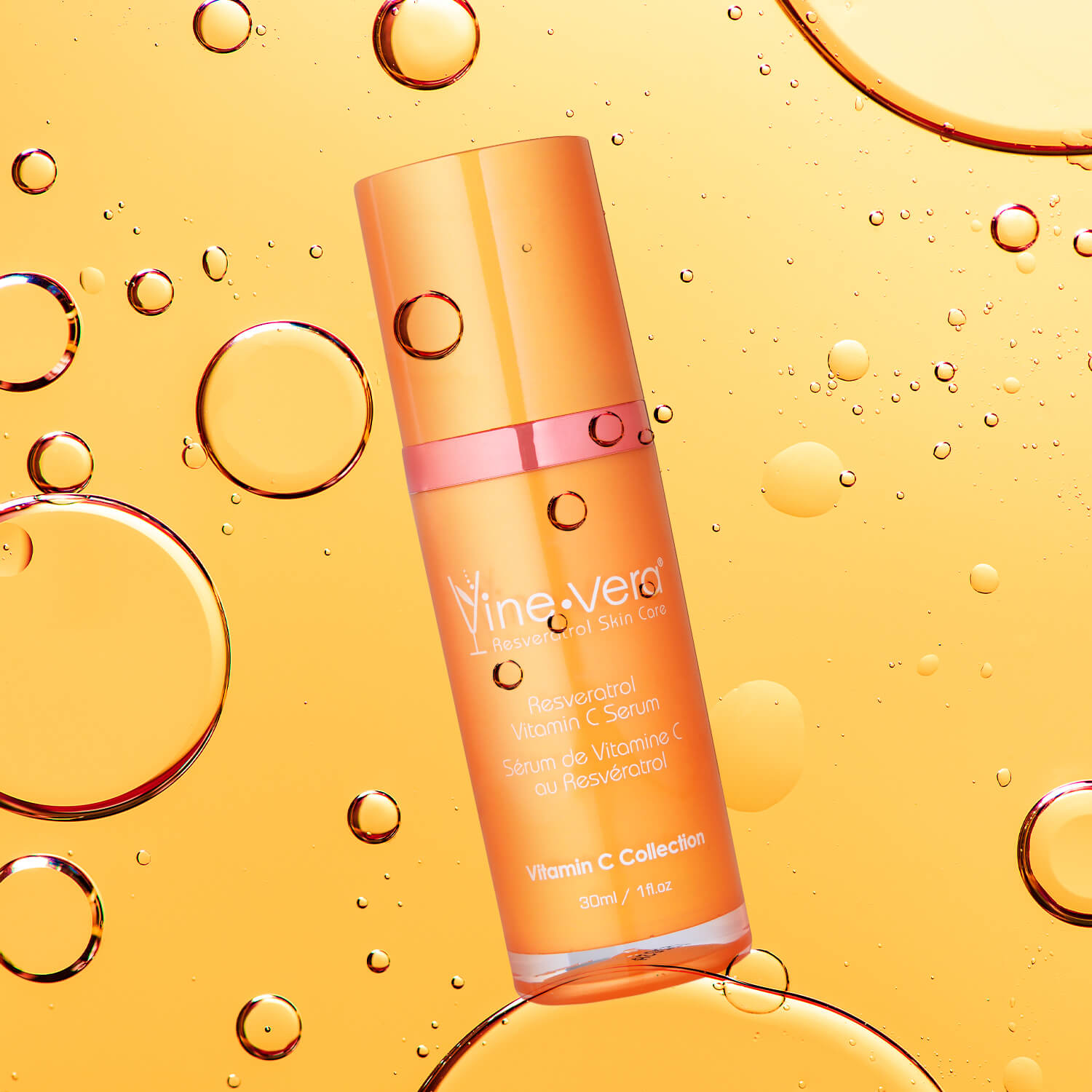 With so much hype surrounding vitamin C, it should come as no surprise that just about every skincare brand out there now has its very own version of a vitamin C serum for face care. Just like with all skincare products, some are far better than others. If you want to experience all of the benefits that we've shared above, then you'll need to use a vitamin C serum that contains high-quality forms of the ingredient. Ideally, it should be combined with other antioxidants to boost the efficacy of vitamin C.
That's where Vine Vera's Resveratrol Vitamin C Serum comes in. Silky in texture, this formula contains two forms of vitamin C. This already sets it apart from many of the other serums on the market. By utilizing two types of the ingredient, you're able to double up on the visible effects of the antioxidant. This means that you'll see all of the above-mentioned benefits so much sooner than if you used a serum with just one form of vitamin C.
Since vitamin C works best in conjunction with other antioxidants, we've also added vitamins A and E to this formula. These are combined with resveratrol. Derived from grapes, resveratrol is a highly potent compound that's loaded with complexion-boosting polyphenols. Just like vitamin C, this is another ingredient that can benefit all skin types. This is why we've chosen it as our signature ingredient – you'll find resveratrol in all Vine Vera skincare products.
The Resveratrol Eye Collection Age Defying Eye Serum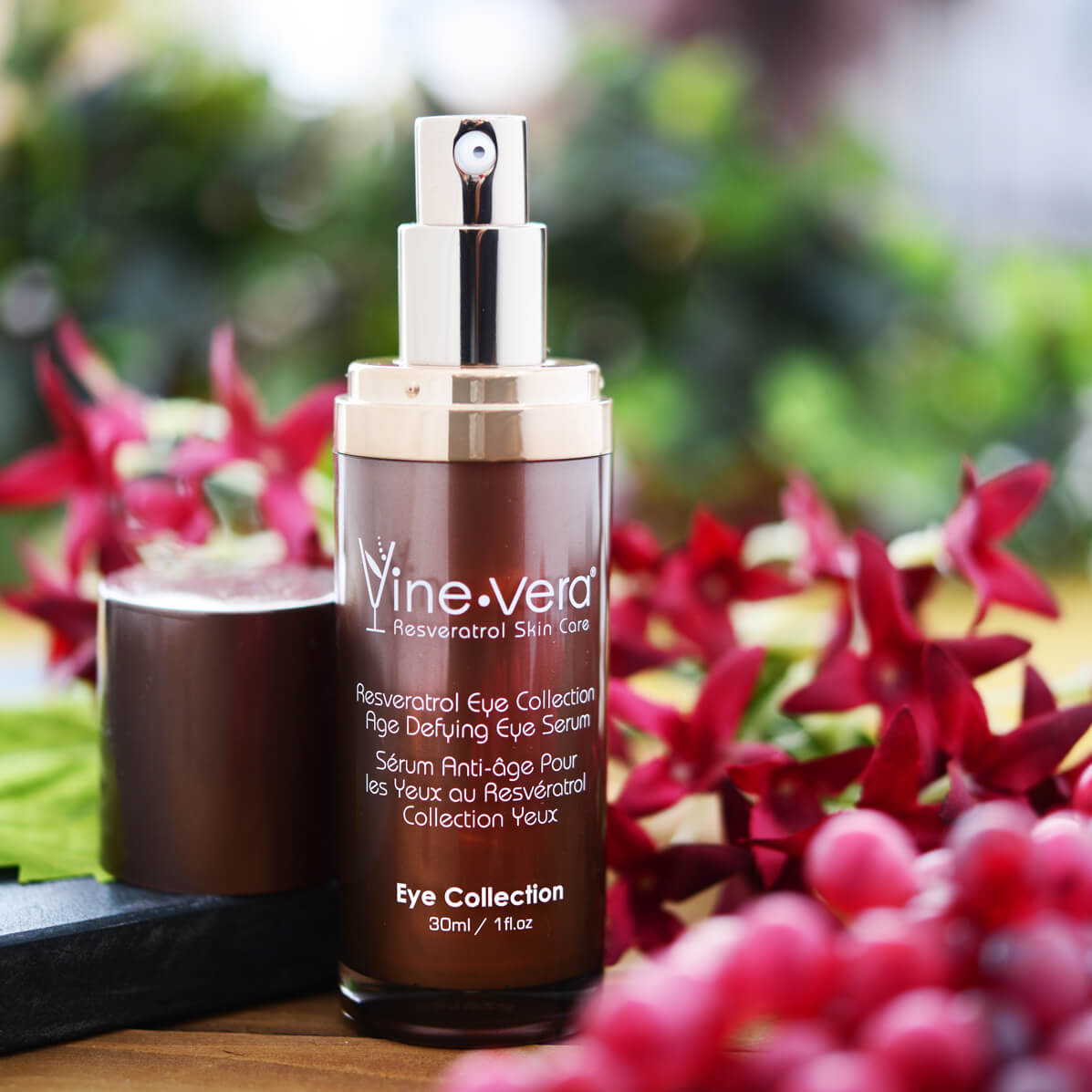 Earlier, we talked about how vitamin C can really benefit the delicate skin around the eyes. However, a vitamin C serum for face may not always be suitable for the eye area, which is why we created our Resveratrol Eye Collection Age Defying Eye Serum.
In addition to vitamin C, this formula is also loaded with multiple peptides. These help to moisturize and thicken the look of the skin. As a result, they will firm and plump up the appearance of your eye area. Sodium hyaluronate aids with this too, thanks to its moisture-binding properties.
There are numerous botanical extracts in our vitamin C eye serum as well. From licorice root extract to brighten the visibility of discoloration to calendula flower extract to soothe the look of puffiness, this eye serum is exactly what you need if you've been searching for a way to smooth, brighten, and firm up the look of your eye area.
What About Other Topical Products Containing Vitamin C?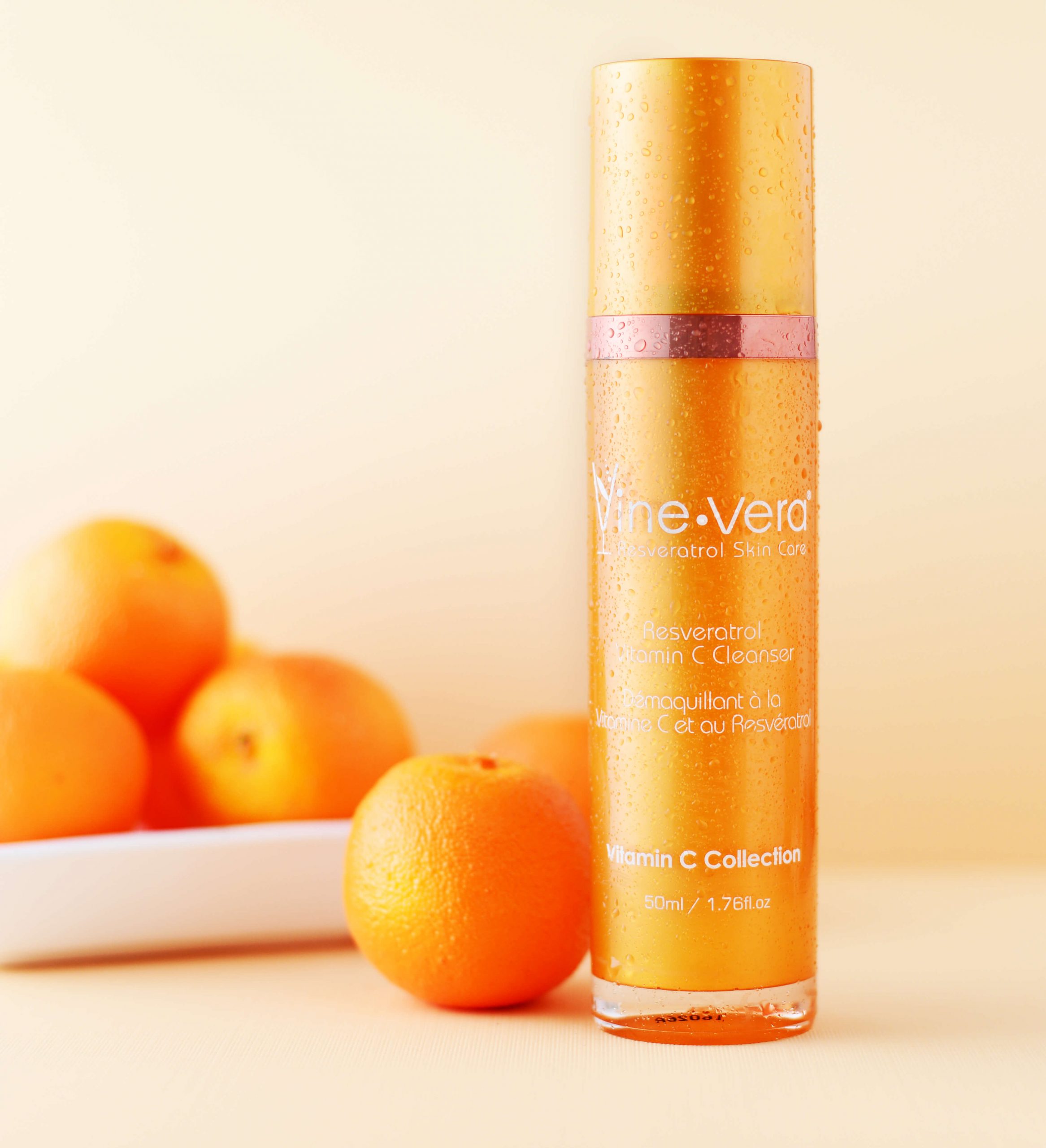 When it comes to pampering your skin with vitamin C, a serum should always be your go-to. Since serums are so lightweight, the skin can absorb them quickly and deeply. 
However, if you really want to maximize on the benefits that the ingredient can provide, it's worth adding vitamin C into multiple stages of your skincare routine. We've made this easy by creating an entire collection dedicated to the vitamin. 
Start your routine with the Vine Vera Resveratrol Vitamin C Cleanser. Having this antioxidant in your cleanser will leave your skin looking even brighter and more radiant after cleansing than it usually would. 
You can then follow this up with our Resveratrol Vitamin C Peeling. This exfoliating solution will clear away the dead skin cells that have built up on the surface of your skin. It will leave you with a much smoother and softer finish. 
Then, slather on your vitamin C serum for face before reaching for our Resveratrol Vitamin C Moisturizer. Not only does it contain vitamin C, but it also boasts several other vitamins and antioxidant-rich extracts. It's the perfect roundup to a vitamin C-focused skincare routine.
Summary
As you can see, using a vitamin C serum for face care comes with so many benefits. You'll likely start to see some visible improvements just a few days after introducing a vitamin C serum to your routine. However, be consistent with daily use and the results that you experience will only become even more impressive as the weeks go by.
Click here to browse more of Vine Vera's bestselling skincare products.