Daytime Versus Nighttime Moisturizer
Posted on February 28, 2023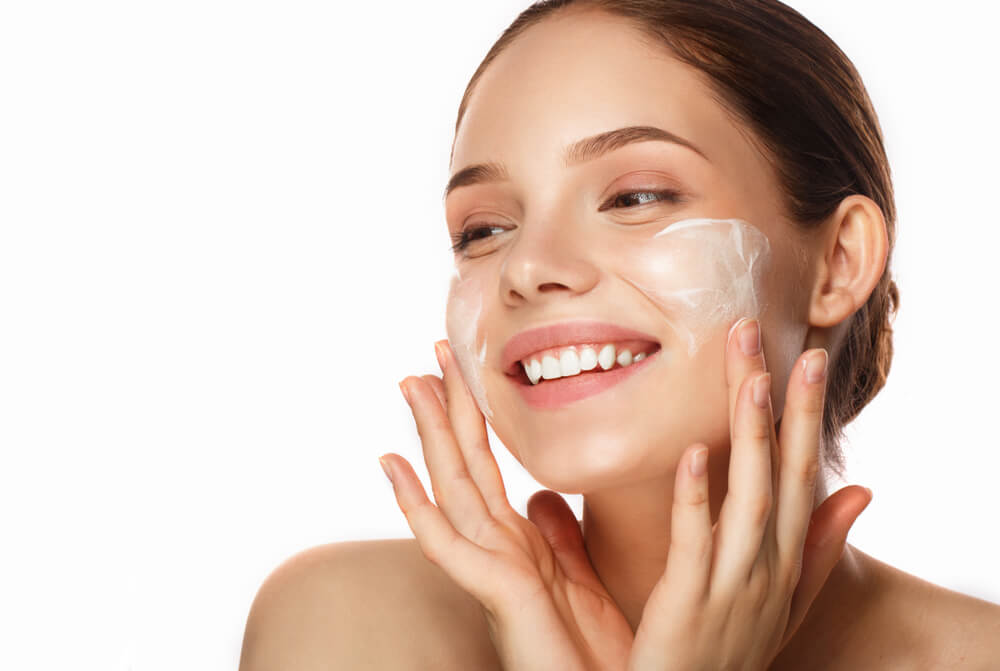 It goes without saying that keeping your skin moisturized is essential for maintaining a healthy complexion.
In fact, you probably already have a moisturizer that you regularly use. However, if you're applying the same formula both morning and night, then you could be doing your skin a disservice.
Read on as Vine Vera explains the difference between a daytime and a nighttime moisturizer, and why having one of each could be exactly what you need to get your skin's glow back.
The Skin's Circadian Rhythm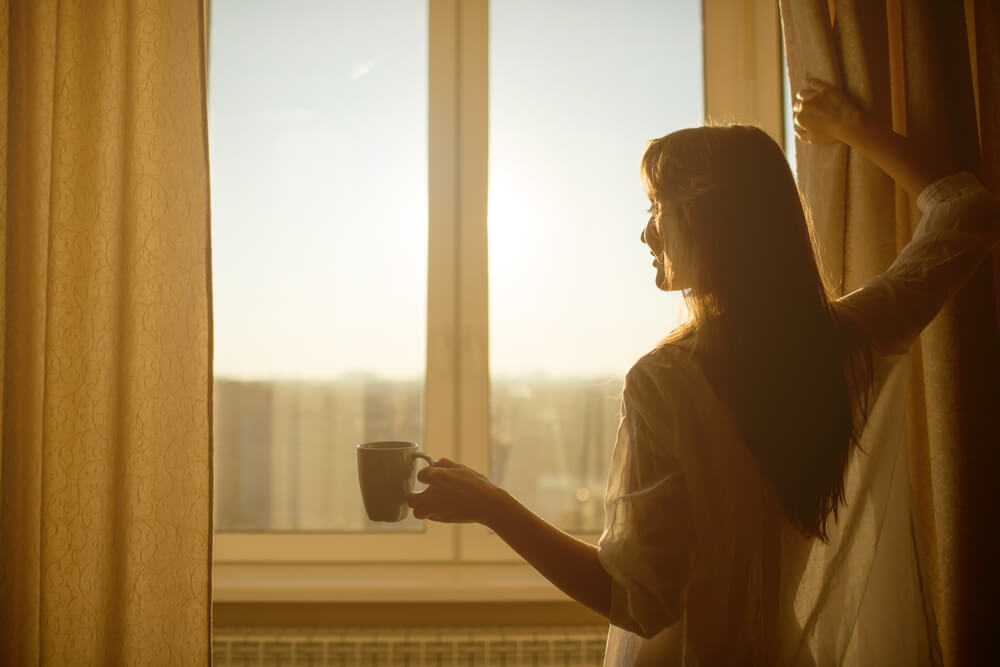 Your skin has its own circadian rhythm. This basically means that it has its own 24-hour biological clock that keeps it in balance. As a result, over the course of 24 hours, your skin goes through a variety of stages, with each stage affecting what your skin needs and how it reacts to different situations.
During the day, your skin has to deal with UV rays and other environmental aggressors, like pollutants. Your skin cells are conditioned to fight against these in order to keep themselves as protected as possible. In order to help them do this, sebum production naturally increases during the day since sebum contains skin-protecting antioxidants.
At around noon, sebum production peaks, after which it then starts to decline. By nighttime, it's at its lowest. This is also when your skin switches from protection mode to repair mode. While you sleep, protein production and skin cell regeneration take place. Both of these functions require high amounts of water, which is why your skin cells lose a significant amount of moisture overnight.
The skin can also feel hotter in temperature at night. It produces more cytokines, which are a protein associated with inflammation. This means that the skin can often be more sensitive and reactive in the evenings.
As you can see, a 24-hour time period will have your skin going through a number of different changes, and therein lies the primary difference between a daytime moisturizer versus a nighttime moisturizer. Day creams will be formulated to give the skin what it needs during the day, while night moisturizers are tailored to the skin's overnight needs. 
Let's take a closer look at what each product does:
What Does a Day Moisturizer Do?
As mentioned, the environment is your skin's biggest foe during the day. So, the main purpose of a day moisturizer is to keep your skin feeling protected against environmental harm. Some day creams will contain SPF to shield against UV rays. Others will be loaded with antioxidants that help to prevent the appearance of free radical damage.
Of course, with environmental stress comes inflammation. So, a good day moisturizer should also contain ingredients that can prevent and soothe the look and feel of irritated or inflamed skin.
On top of all of this, a daytime moisturizer also hydrates the skin. That said, it needs to do this in a lightweight way. You don't want it to feel too heavy on your skin while you go about your day. A good day moisturizer will be light and absorbable enough for you to be able to easily apply makeup over the top. Don't settle for less!
The Resveratrol Cabernet Replenishing Moisture Cream SPF 30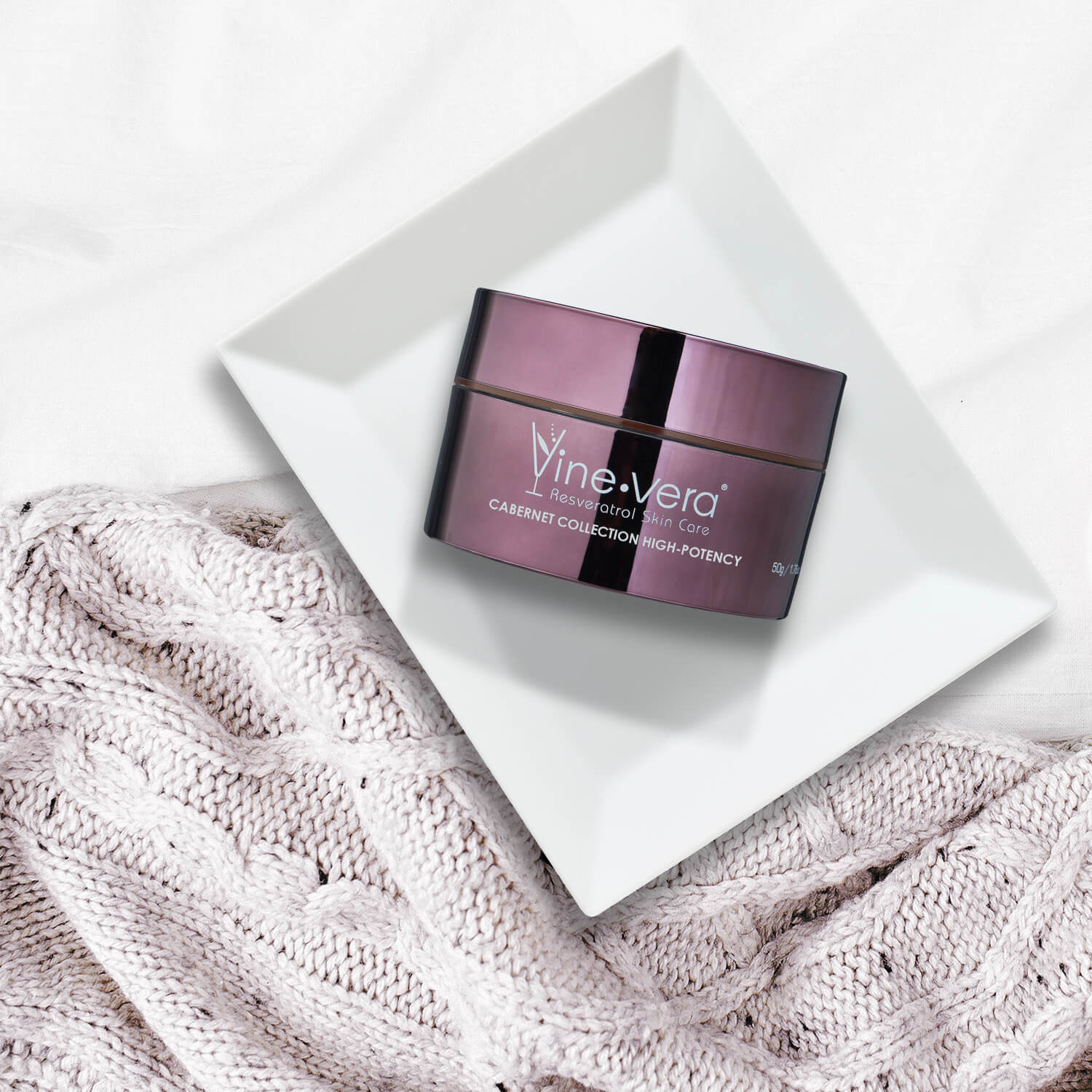 SPF is non-negotiable during the day. While you could always apply a dedicated sunscreen over the top of your day moisturizer, it can sometimes be more convenient to simply use a day cream that already contains SPF.
That's where Vine Vera's Resveratrol Cabernet Replenishing Moisture Cream SPF 30 comes in. In addition to protecting your skin from UV damage, this moisturizer also works to hydrate the skin while fading the appearance of dark spots.
Our SPF cream is packed with a number of antioxidants. Resveratrol, which is our signature ingredient at Vine Vera, is one of these, with research showing the ingredient to have extremely powerful antioxidant capabilities. 
Antioxidants work even harder when combined with other antioxidants. In our Resveratrol Cabernet Replenishing Moisture Cream SPF 30, these are provided by green tea extract, aloe vera leaf extract, and vitamins A and E.
The Resveratrol Cabernet High Potency Moisture Day Cream
If you already have a go-to sunscreen, then you need a day moisturizer that will layer well underneath that, which is why you'll love our Resveratrol Cabernet High Potency Moisture Day Cream. 
Just like our SPF moisturizer, this cream also contains resveratrol – you'll find the antioxidant in all of our products. However, this formula is infused with niacinamide too. Also known as vitamin B3, niacinamide not only acts as an antioxidant, but it can also help to develop a skin barrier that feels thicker and stronger. As a result, the skin then feels better supported when it comes to keeping itself protected from the environment.
You'll notice shea butter in this formula too. This natural ingredient is brimming with fatty acids that moisturize the skin. With shea butter in the blend, it's hardly surprising that this cream will keep your skin feeling soft and supple throughout the day.
The Resveratrol Chianti Morning Recovery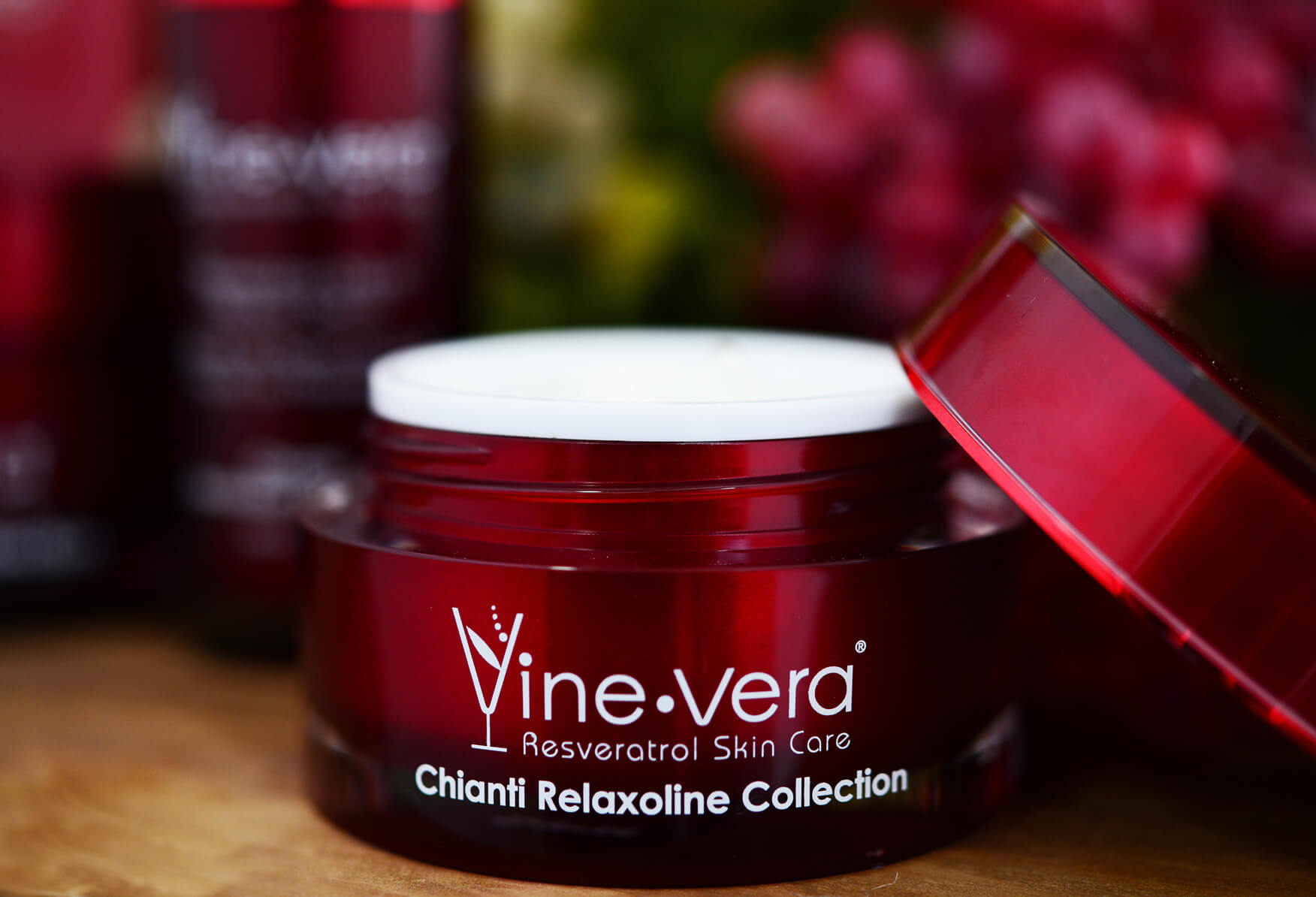 The Vine Vera Resveratrol Chianti Morning Recovery is all about giving your skin the antioxidants it needs to get through the day. Not only will you find resveratrol in this formula, but it also packs the antioxidants from green tea, aloe vera leaf, caffeine, and licorice root.
Those last two ingredients aren't often seen in a day moisturizer, but they're game-changers. Caffeine, which you'll often find in eye creams, perks up the look of the skin. This gives it a revived and rosy finish. Meanwhile, licorice root extract lightens the appearance of discoloration while brightening the complexion. It also soothes and calms the look of the skin.
In addition to containing plenty of antioxidants, this cream also keeps the skin feeling supported and fortified, thanks to the addition of peptides. These are vital for moisturizing the skin too – they leave the skin feeling touchably soft!
What Does a Night Moisturizer Do?
As mentioned, moisture loss is at an all-time high at night. However, in order to perform their reparative functions, your skin cells need as much moisture as possible. 
And that's why a night moisturizer is so essential. It'll give your skin this much-needed moisture, while also providing the other elements that your skin cells need to feel supported as they go about their nightly tasks.
Night creams usually contain ingredients that renew and restore the appearance. They'll also usually be slightly thicker in texture. After all, you won't be wearing a night cream under makeup, and having a richer consistency helps to trap more moisture in your skin while you sleep.
Of course, night creams don't need to contain SPF. However, they should definitely still be formulated with ingredients that soothe the feel of the skin, since this is when the skin is at its most sensitive.
Many night creams will also contain active ingredients that shouldn't be used during the day. For example, certain forms of vitamins A and C can lead to increased sun sensitivity. This means that they're better used in the evenings.
The Resveratrol Cabernet High Potency Night Cream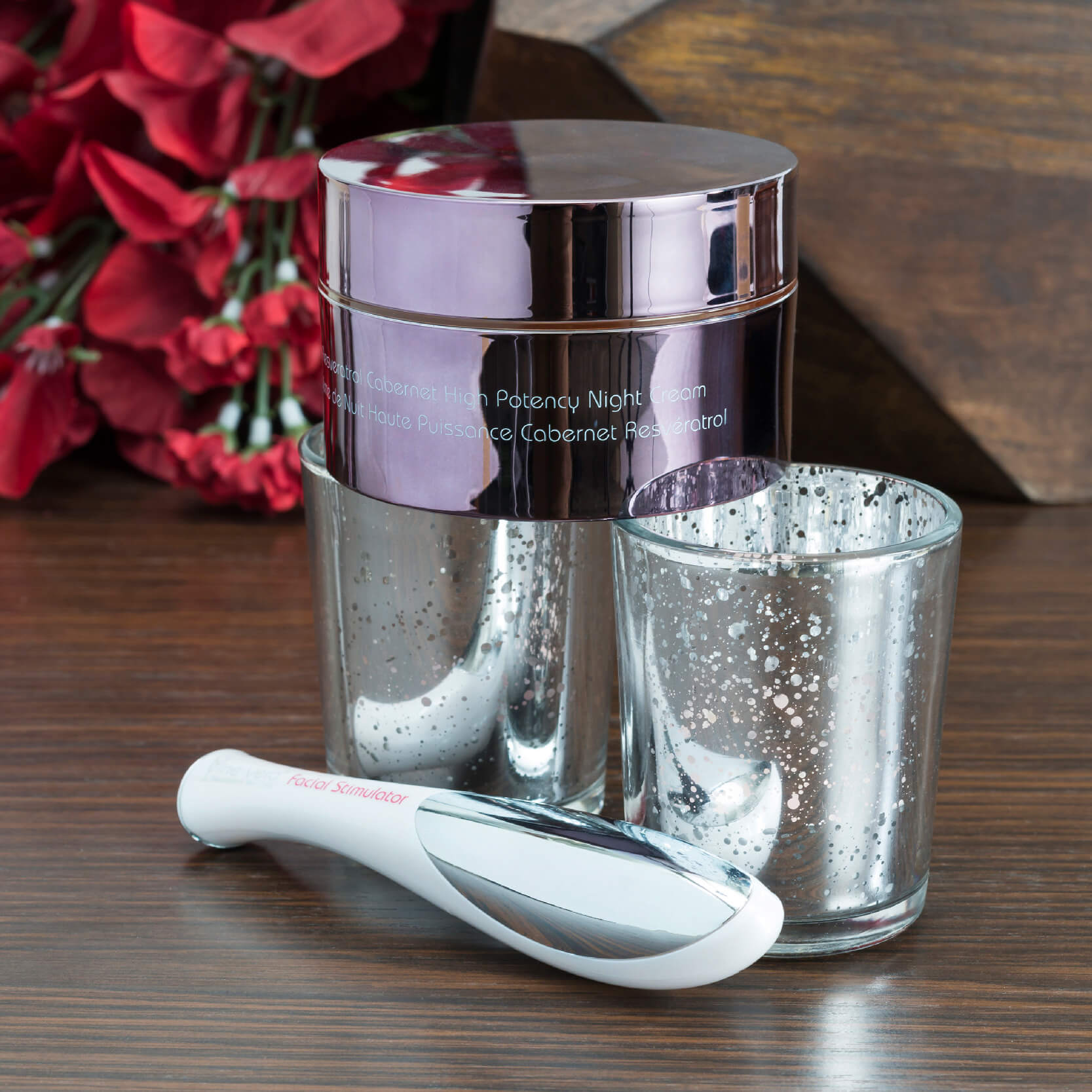 If you're looking for a night cream that will replenish and rejuvenate your complexion while you sleep, then the Resveratrol Cabernet High Potency Night Cream is what you need. 
Although this formula is quite lightweight in texture, it's packed with hydrating compounds, including glycerin and aloe vera leaf extract. These are humectants with moisture-binding properties, enabling them to give your skin a plumper and fuller finish. 
The vitamins in this moisturizer (A and B3) act as antioxidants too. They'll help to reduce the visibility of fine lines and wrinkles while also repairing the look of any free radical damage that has taken place over the course of the day.
And, like any good night cream, this moisturizer will leave your skin feeling relaxed and soothed too. From hydrolyzed oat protein to green tea leaf extract, this formula will ensure that you don't wake up with any redness or inflammation.
The Resveratrol Shiraz Instentic Face Lift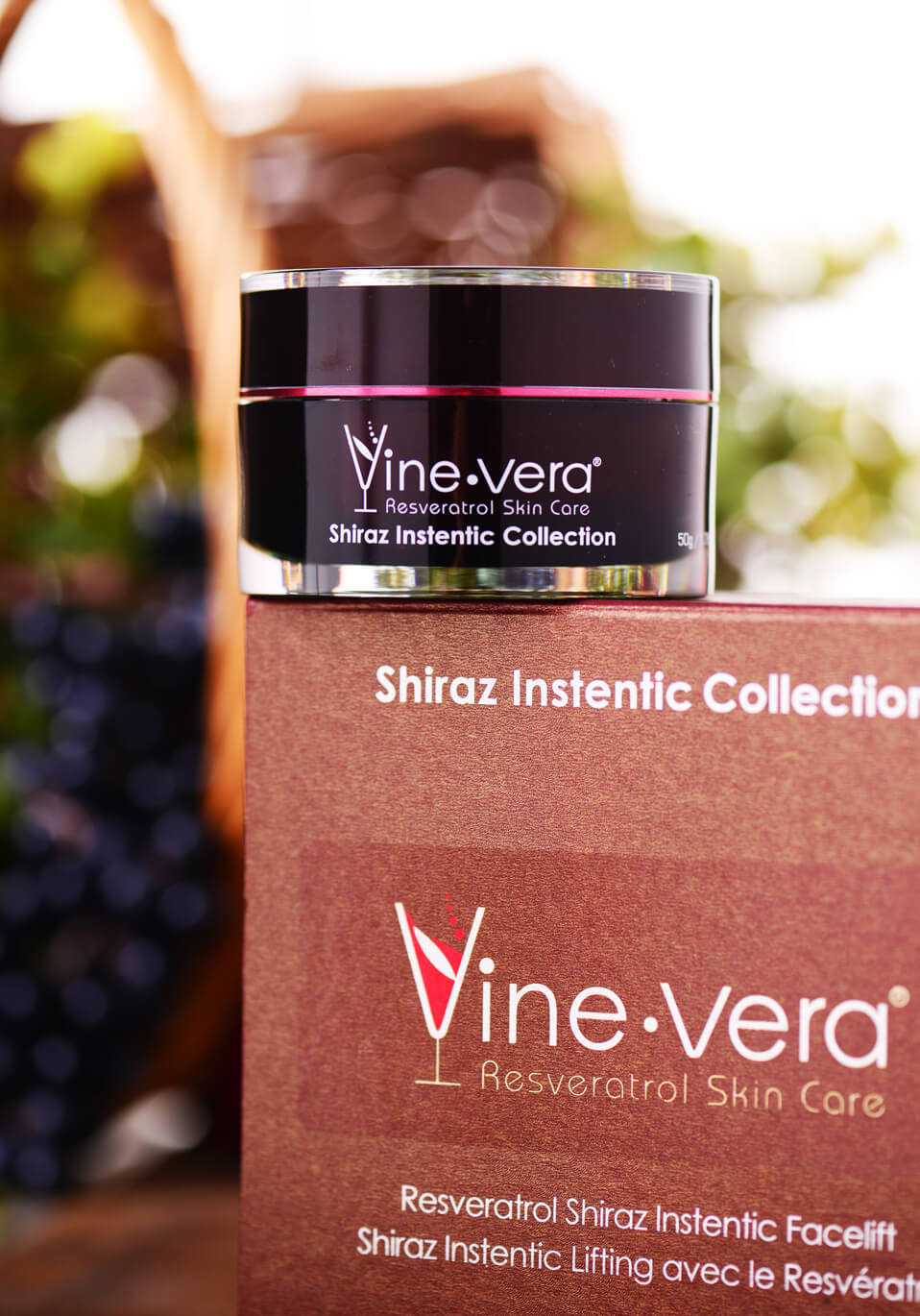 The Resveratrol Shiraz Instentic Face Lift is another moisturizer that works beautifully when used at night. This formula is all about tightening and firming the look of the skin. It's absolutely ideal for those who are battling the appearance of aging.
This cream's moisturizing capabilities come from a few different ingredients, including squalane, soybean oil, chitosan, and collagen. They'll leave your skin cells feeling deeply hydrated, enabling them to work efficiently while you snooze.
One ingredient that confuses some is caffeine. After all, why would you need caffeine at night? While it's true that a nightly dose of caffeine could be detrimental to your body, particularly your sleep quality, let's not forget that your skin cells don't go to sleep when you do. Instead, this is when they're at their busiest, meaning that a boost of caffeine would be very much appreciated!
This moisturizer has also been crafted to contain vitamins A, C, and E. When it comes to targeting the appearance of aging skin, this trifecta is what you need. It will deal with the issue from multiple angles, with regular use capable of giving you the younger-looking skin you've been dreaming of.
The Resveratrol Cabernet Travel Kit
Want to make life even more convenient? Treat yourself to the Resveratrol Cabernet Travel Kit. 
This product's unique packaging allows it to hold two separate moisturizers. The first is our Resveratrol Cabernet High Potency Moisture Day Cream. This sits alongside our Resveratrol Cabernet High Potency Night Cream.
We designed this duo primarily to make life more convenient when on the go. Whether you're traveling for a day, a week, or longer, this set will ensure that you always have a good day cream and night moisturizer to hand.
With that said, it's also the perfect way to give both of these Vine Vera products a try without having to purchase the full-sized versions. It won't be long before you're as obsessed with them as we are!
Summary
Many think that day creams and night creams are just gimmicks. After all, a moisturizer is a moisturizer, right?
Wrong. Now that you know more about your skin's circadian rhythm, it's easy to see why it requires different ingredients at various times of the day. By investing in separate day and night creams, you'll be able to meet those requirements with ease, ensuring that your skin looks and feels its very best.
Click here to browse more of Vine Vera's bestselling skin care products.