Is the Vine Vera Vitamin C Serum Worth the Hype?
Posted on January 30, 2023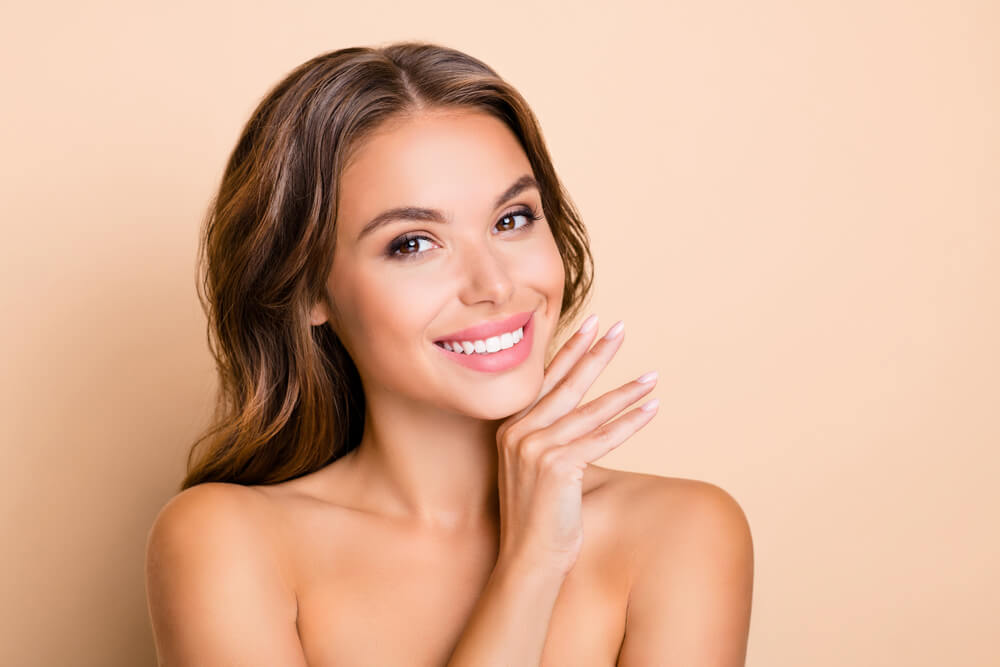 No matter your skin type or the skin concerns you may be dealing with, one product that everybody should have in their skincare arsenal is a good vitamin C serum. This product can singlehandedly take care of so many different visible concerns while giving the complexion a big boost.
With the demand for vitamin C rising so rapidly in recent years, just about every skincare brand now has its own version of a vitamin C serum. However, not all of them are worth your time, making it important to understand how to decipher the good from the bad.
If the Vine Vera Vitamin C Serum has caught your eye, then you've come to the right place. From beauty bloggers to social media influencers, everyone has been raving about this exquisite formula. However, what exactly makes the Vine Vera Vitamin C Serum so special? Is it really worth all of the hype? Keep reading as Vine Vera explains exactly how this product could transform your complexion.
What's in the Vine Vera Vitamin C Serum?
When purchasing a new vitamin C serum, one of the very first things that you should look for is the type of vitamin C that has been used in that formula.
Vitamin C is available in various forms. Each one penetrates the skin in a different way, meaning that each also offers up a different intensity of results.
Most vitamin C serums contain just one form of vitamin C. However, Vine Vera's Resveratrol Vitamin C Serum features two. 
The first is ascorbic acid, which is the purest form of the vitamin. It's known for being the most potent, with research showing that it also penetrates the skin more effectively than many of the other forms out there.
The ascorbic acid in this formula is accompanied by tetrahexyldecyl ascorbate. This is another form of vitamin C, this time famed for being highly stable and oil-soluble. Just like ascorbic acid, it's one of the most powerful forms of vitamin C available in skincare.
The fact that the Vine Vera Vitamin C Serum contains two forms of the antioxidant, rather than just one, enables you to double up on results.
While vitamin C works well on its own, antioxidants are always more effective when combined with other similar ingredients. This is why we've infused the formula with vitamins A and E too. When mixed with vitamin C, this multi-vitamin trio will enhance each other's visible effects.
You'll also notice resveratrol in our serum's ingredient list. This is Vine Vera's signature ingredient – you'll find it in all of our products. It's an incredibly powerful antioxidant that does so much for the skin (more on this next!). 
What Will the Vine Vera Vitamin C Serum Do For Your Skin?
You now know more about the ingredients that we've used in the Vine Vera Vitamin C Serum. However, how does this translate to your skin? Let's take a closer look at the benefits that you can expect to see after adding this serum to your skincare routine:
Reduces the Appearance of Fine Lines, Wrinkles, and Loose Skin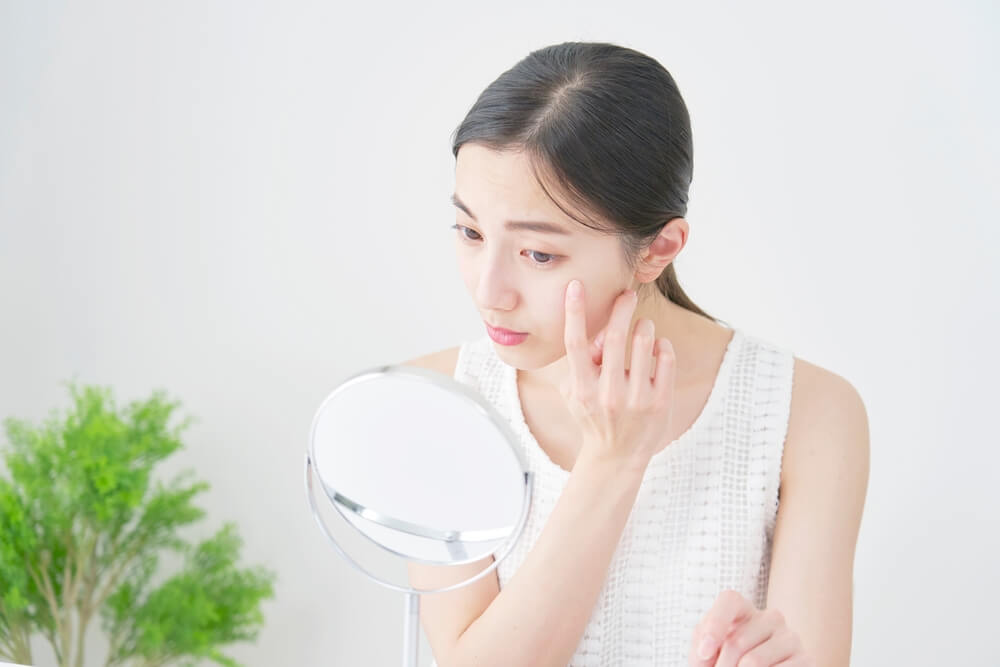 Vitamin C offers up a wide range of benefits, but one of the most revered is how it can reduce the appearance of fine lines and wrinkles. 
This is a very common skin concern as people start to age. It's caused by the natural decline in collagen and elastin production, which are the two proteins that give your skin its volume and firmness. As protein levels drop with age, the skin loses its tightness, resulting in the appearance of fine lines, wrinkles, and loose skin.
In fact, not only has vitamin C been proven to tighten the look of wrinkles and loose skin that have been caused by the aging process, but it also helps to diminish the look of creases that have formed due to other issues too. Whether this may be sun damage, weight loss, or anything else, vitamin C is more than capable of smoothing and firming your complexion to leave it looking bouncy and elastic.
Fades the Visibility of Dark Spots While Brightening Your Overall Appearance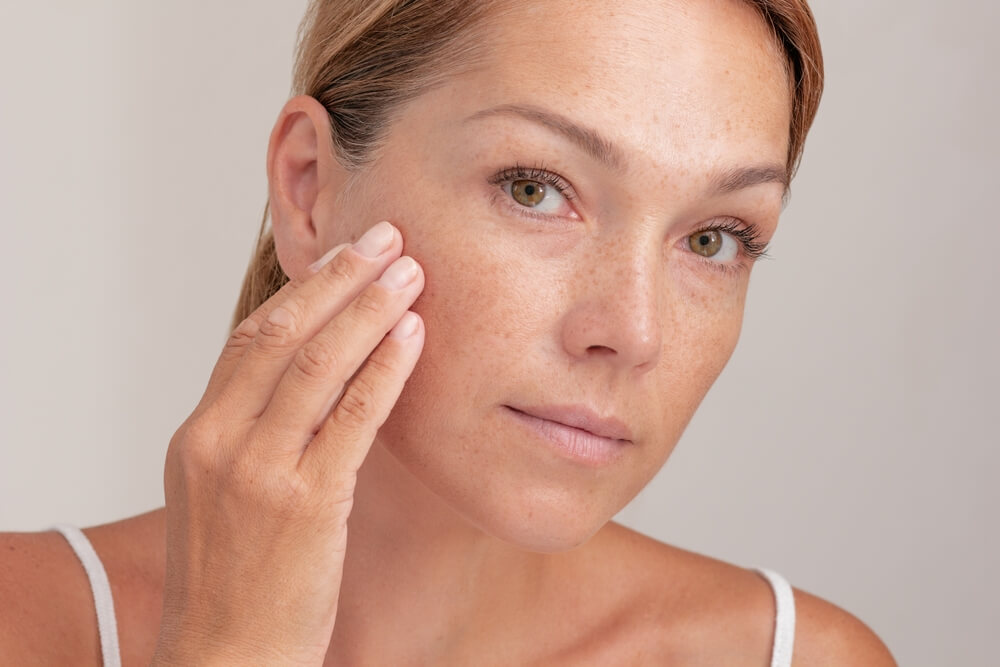 Hyperpigmentation can occur for a number of reasons. Be it sun damage, acne marks, melasma, or anything else, the discoloration that it causes leaves the skin looking patchy, uneven, and so much older.
To deal with this, many people turn to dark spot products containing harsh chemicals. However, if you have the Vine Vera Vitamin C Serum on your side, you'll be able to lighten the look of hyperpigmentation without any of the harmful side effects that other lightening ingredients bring.
Wondering if vitamin C lightens the look of regular-colored skin too? The answer is no. It simply targets the appearance of discolored skin. The rest of your complexion will remain the same color, although the regular use of vitamin C will definitely give it an illuminated glow.
Relieves the Feeling of Dry Skin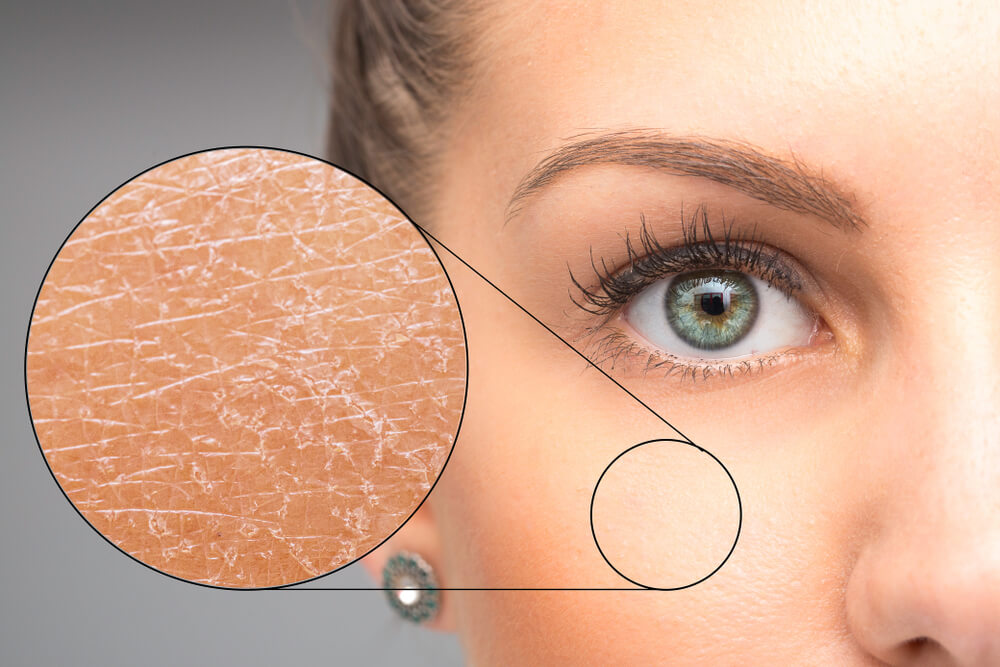 When trying to ease the look and feel of dry skin, people usually turn to hydrating humectants and rich emollients. These are definitely important for giving the skin a soft, supple, and moisturized finish. However, vitamin C is another ingredient worth adding to your skincare routine if you suffer from dryness.
Research shows that vitamin C can help to thicken and strengthen the feel of the skin's protective barrier. This barrier is responsible for preventing transepidermal water loss (TEWL), which is the rate at which your skin loses moisture to evaporation. The higher your rate of TEWL, the drier your skin will be. 
So, thanks to the way in which it leaves the skin barrier feeling enhanced and supported, vitamin C can really help to alleviate dry-looking skin.
It's also worth mentioning that the Vine Vera Vitamin C Serum contains wheat germ oil too. This plant oil has a high fatty acid content, making it extremely moisturizing. It also contains a number of vitamins and antioxidants that can replenish the look of dry skin. 
Soothes the Feeling of Inflammation and Irritation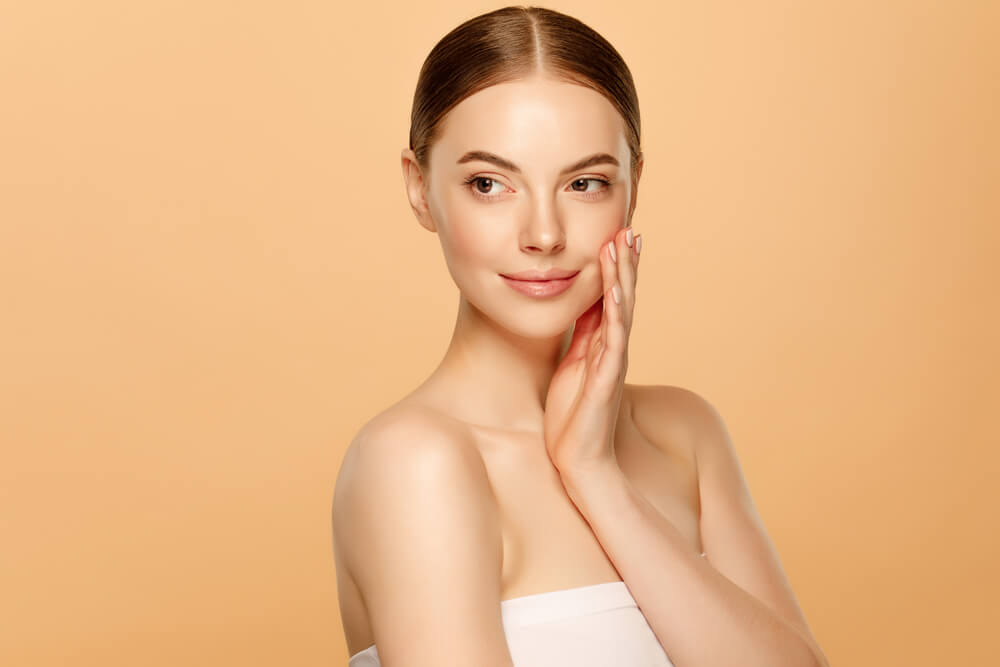 People with dry or irritated skin often avoid vitamin C, believing that it may exacerbate their sensitivities. However, this couldn't be further from the truth…
Studies show that vitamin C's antioxidant capacity enables it to soothe the appearance of inflammation. It can ease the visibility of puffiness and redness too, giving your skin an even-looking finish.
With the Vine Vera Vitamin C Serum containing two forms of the antioxidant, it'll get to work double time to leave your skin feeling calm and relaxed.
Does the Vine Vera Vitamin C Serum Really Work?
There's no denying that the Vine Vera Vitamin C Serum really talks the talk, but how well does it actually work in practice? 
The best way to find out more about that is by reading its reviews. People of all skin types highly rate this product. It's gentle and lightweight yet effectively brightens the look of dull skin, softens the feeling of dryness, rebalances how oily the skin feels, and reduces the visibility of aging.
People appreciate its subtle scent that isn't overpowering, along with the fact that it doesn't leave behind a sticky residue.
All in all, an amazing product that has more than proven its worth!
Adding the Vine Vera Vitamin C Serum to Your Skincare Routine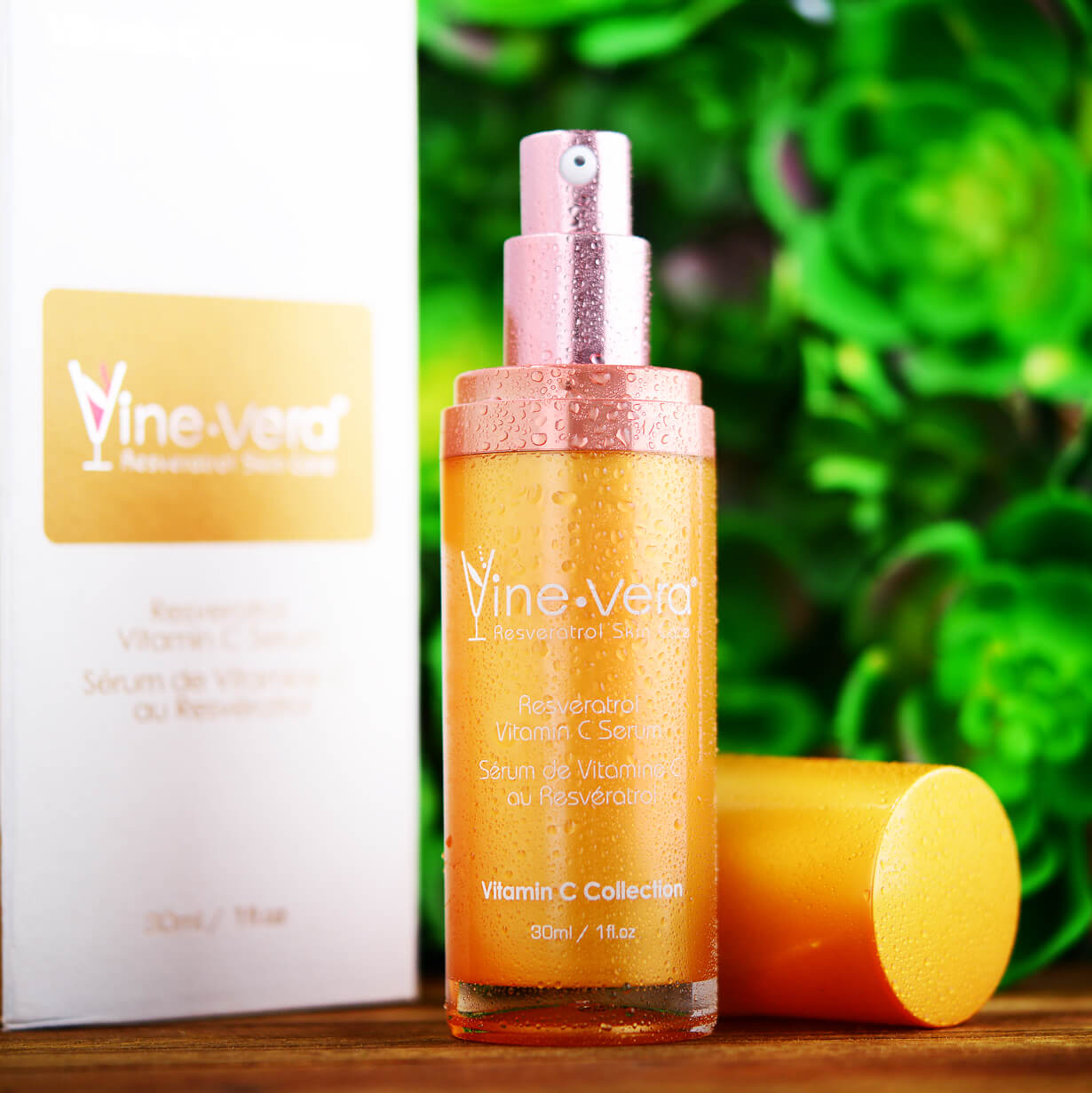 If you want to experience all of the benefits that we've discussed above, then you'll need to use the Vine Vera Vitamin C Serum in the right way.
This means that you'll first need to cleanse your skin. This will clear away all of the impurities on your skin's surface, enabling the vitamin C in the serum to get to work immediately. Our go-to cleanser of the moment is the Vine Vera Resveratrol Cabernet Mousse Cleanser. The formula contains amino acids to fortify the feel of the skin, along with niacinamide to moisturize and resveratrol for its antioxidant properties.
Once you're done cleansing, you can then go ahead and apply the Vine Vera Vitamin C Serum. While many serums come in transparent bottles with dropper-style applicators, ours is in an opaque bottle with a pump dispenser. This minimizes oxygen and light coming into contact with the serum. Both degrade vitamin C, rendering it less potent, so it's important that packaging protects a vitamin C serum as much as possible.
Pump dispensers also make a product so much easier to use. Simply press down a few times to release a small amount of the product onto your fingertips before spreading this over your face. Don't forget to also bring the serum down to your neck and chest, as the thin skin in both of these areas would benefit from some vitamin C too!
Once you're done applying your vitamin C serum, it's time to moisturize. A good moisturizer will lock in all of the vitamin C that you've just applied, preventing it from evaporating away.
Should You Use Vitamin C in the Morning or at Night?
Many recommend nightly use of vitamin C, purely because the ingredient can sometimes make the skin feel more sensitive to UV rays. However, if you're using SPF, which you should be doing every day, then this shouldn't be a problem.
For best results, we would recommend using the Vine Vera Vitamin C Serum twice a day – morning and night. Your skin's needs differ in the morning versus the evening, but vitamin C's multi-functional properties enable it to leave your skin feeling supported no matter the time of day.
Other Vitamin C-Infused Products From Vine Vera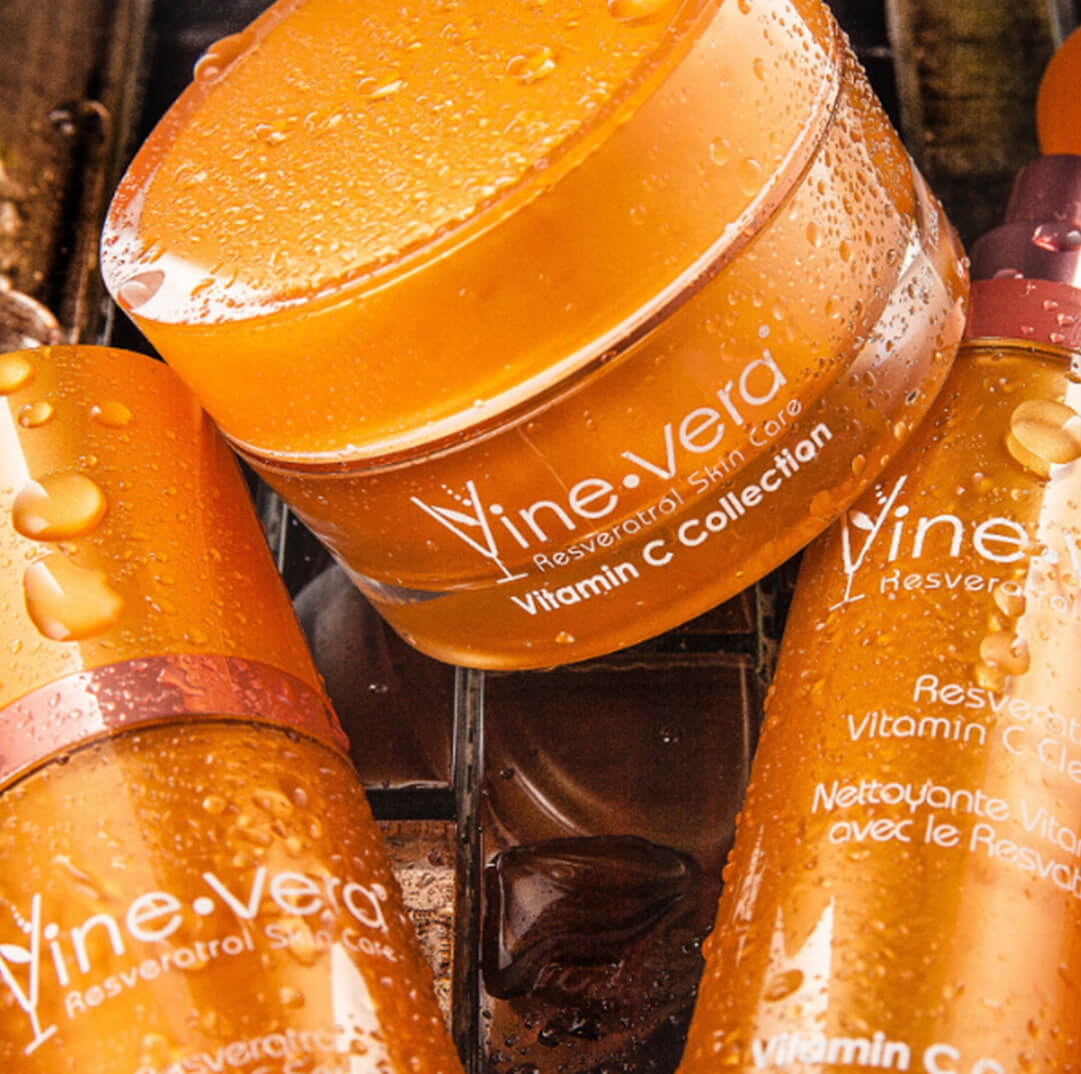 Serums are one of the best ways to add vitamin C to your skincare routine. Thin and lightweight, they're able to access deeper layers of your skin than thicker products, like creams.
However, that's not to say that other aspects of your skincare routine wouldn't benefit from vitamin C too. This ingredient truly is a superstar, making it worth incorporating into your routine as much as possible. 
Here are a couple of other products from Vine Vera's Vitamin C Collection that will help you to do just that:
The Resveratrol Vitamin C Peeling
Some exfoliants are physical, while others are chemical. However, the Resveratrol Vitamin C Peeling brings together the best of both worlds. 
In addition to exfoliating your skin with a blend of mandelic acid and bamboo powder, this formula also treats it to a wide range of beautifying vitamins and antioxidants. Two forms of vitamin C are combined with resveratrol, green tea extract, and vitamin E to ensure that your skin feels extra smooth and pampered post-peel.
The Resveratrol Vitamin C Moisturizer
Serums soak into the skin quickly, whereas moisturizers target the surface layer. So, if you'd like to treat the surface of your skin to the wonders of vitamin C, then you'll need a face cream infused with the antioxidant, just like our Resveratrol Vitamin C Moisturizer. 
With shea butter as its base, this rich cream is brimming with vitamins and botanicals. Not only will it leave your skin feeling soft and deeply hydrated, but it will also smooth the look of your skin's texture while rebalancing the appearance of your skin tone.
Summary
It's easy to see why people all over the world are falling in love with the Vine Vera Vitamin C Serum. This multi-tasking product helps with so many different visible skin concerns while also giving your skin exactly what it needs to look and feel its very best. So, when it comes down to it, the answer is yes – the Vine Vera Vitamin C Serum is definitely worth all of the hype, plus so much more!
Click here to explore more skincare bestsellers from Vine Vera.