8 Vine Vera Skin Care Must-Haves
Posted on July 15, 2022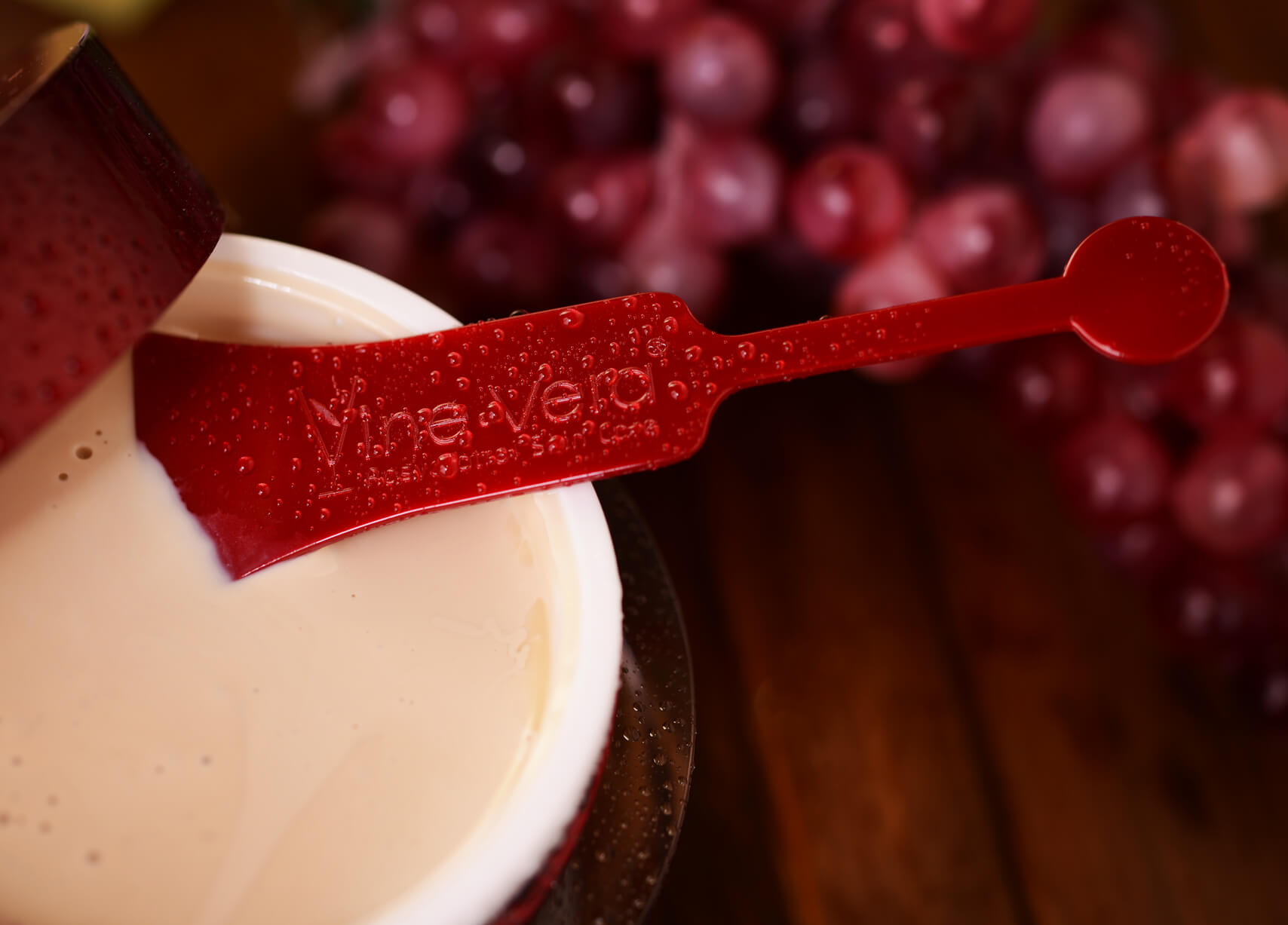 In the mood to treat your skin to something a little extra-special?
Here at Vine Vera, we have several wine-inspired collections that are capable of elevating your skincare routine in many ways. Not only do our products look and feel ultra-luxurious, but those glossy jars are also brimming with high-performance formulas that are capable of visibly transforming your appearance. Each one of our carefully crafted products hinges on the powers of resveratrol. It's a grape-derived compound that does so much for the skin (read more about resveratrol skin care here!).
However, if you're new to Vine Vera, it's easy to feel overwhelmed. Where do you begin? Sure, you may want to hit the "add to bag" button on every Vine Vera skin care product that you see while browsing our bestsellers, but, let's face it, chances are that you'll have to limit your splurging. So, which are the formulas that you really need to try?
Don't worry, we've made things easy for you. Read on for a roundup of eight of Vine Vera's most potent and effective products.
For Year-Round Sun Protection: The Resveratrol Cabernet Replenishing Moisture Cream SPF 30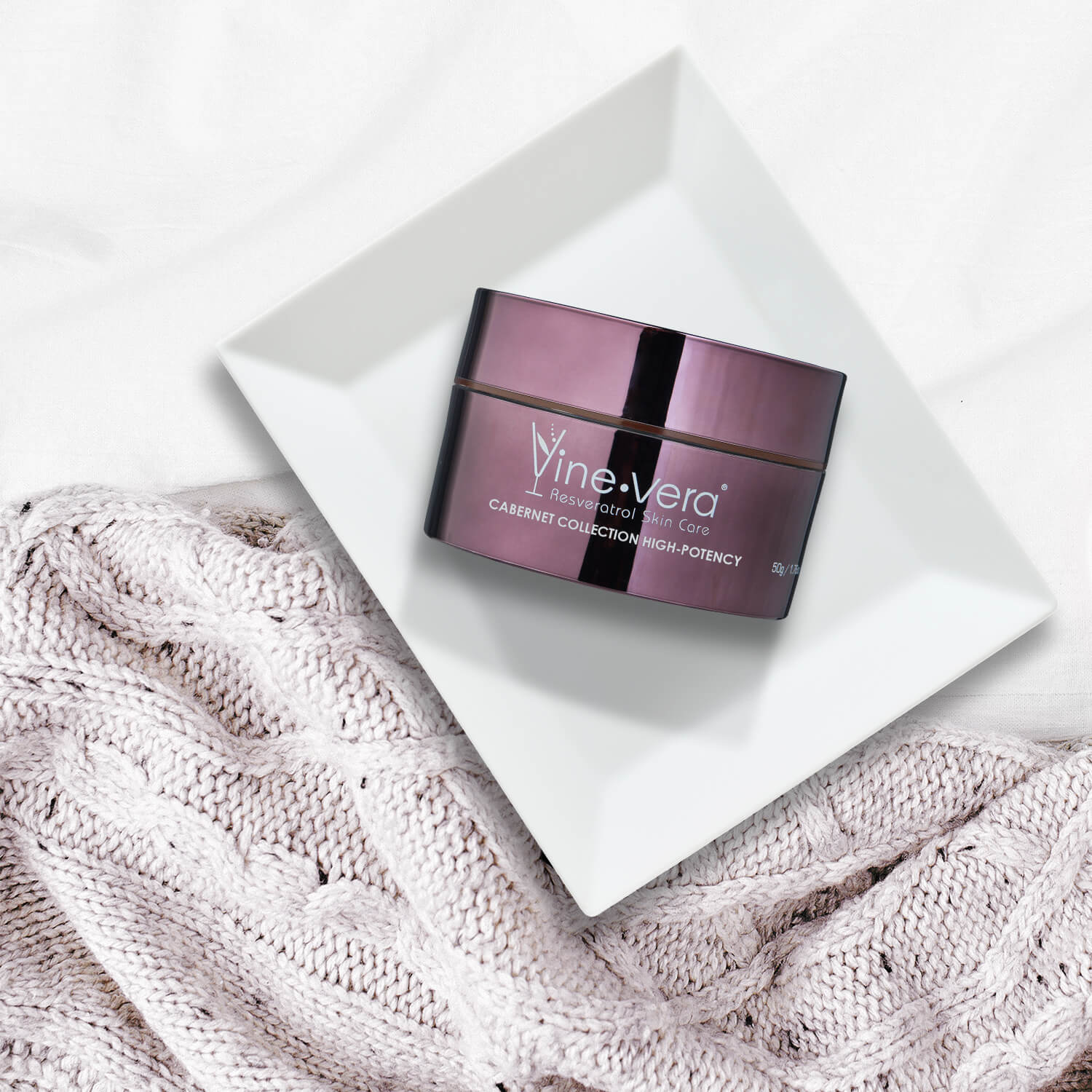 Did you know that 80% of the visible signs of aging on your face, meaning fine lines, wrinkles, and dark spots, have been caused by the sun's UV rays?
Hopefully, if the threat of skin cancer wasn't enough, that figure will shock you into paying more attention to your sun protection methods. Dermatologists agree that, for most people, a broad-spectrum sunscreen with an SPF of 30 is enough to offer adequate protection, so long as this is reapplied every few hours.
However, there's no denying that it can sometimes be a hassle adding an extra step to your skincare routine. This is why we created the Resveratrol Cabernet Replenishing Moisture Cream SPF 30. It's a moisturizer and sunscreen in one. Slather it on in the morning and not only will your skin feel soft, supple, and hydrated, but it'll also be protected from UV damage.
Since this cream contains resveratrol, green tea, vitamin A, and aloe leaf extract, you can also count on it to reduce the visible signs of skin aging while brightening the complexion when used in the long term.
For Instantly Reducing the Appearance of Fine Lines and Wrinkles: The Resveratrol Chianti Age Correcting Syringe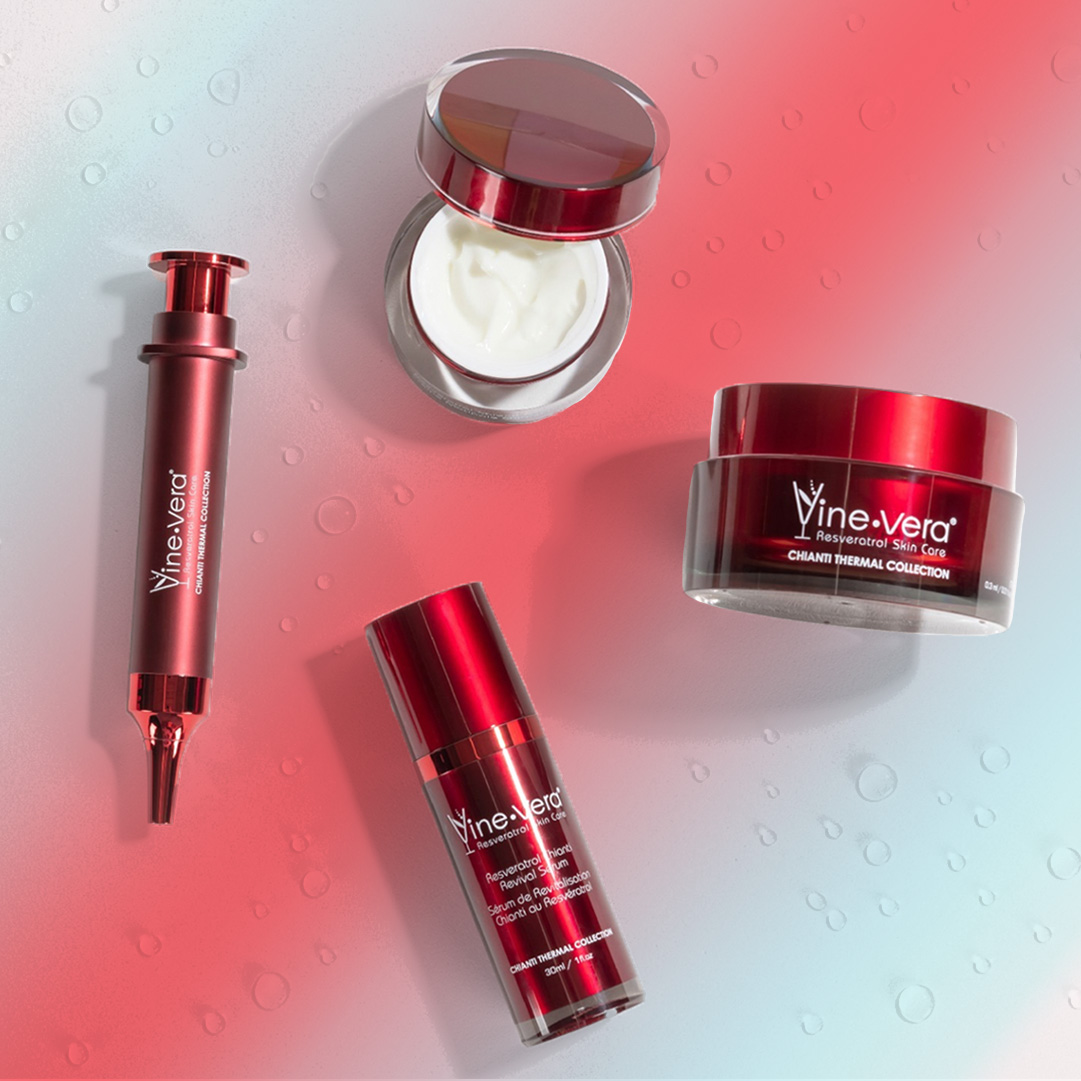 Ever wish that you could wave a magic wand and all of the fine lines and wrinkles on your face would instantly disappear?
While we can't make that wish come exactly true, the Vine Vera Skin Care Resveratrol Chianti Age Correcting Syringe comes a close second to that elusive magic wand.
Although it looks like a syringe, this product is actually a topical serum. Direct the applicator over the wrinkles that you want to target, release a small amount of product, dab it in, and the appearance of those wrinkles will start to immediately diminish.
Sounds too good to be true?
While we would love to lie and tell you that this formula was crafted by magic, its potency hinges on a few specific ingredients. DMAE and acetyl hexapeptide-8 help to instantly smooth away the visibility of fine lines and wrinkles. Meanwhile, sodium hyaluronate and avocado oil lead to a plumper and more radiant appearance.
We also filled this serum with several other ingredients to tackle the visible signs of aging in the long-term. This special blend includes plant stem cell extracts, vitamin A, vitamin E, and resveratrol.
For Skin That Looks Brighter and Tighter: The Vine Vera Skin Care Resveratrol Vitamin C Serum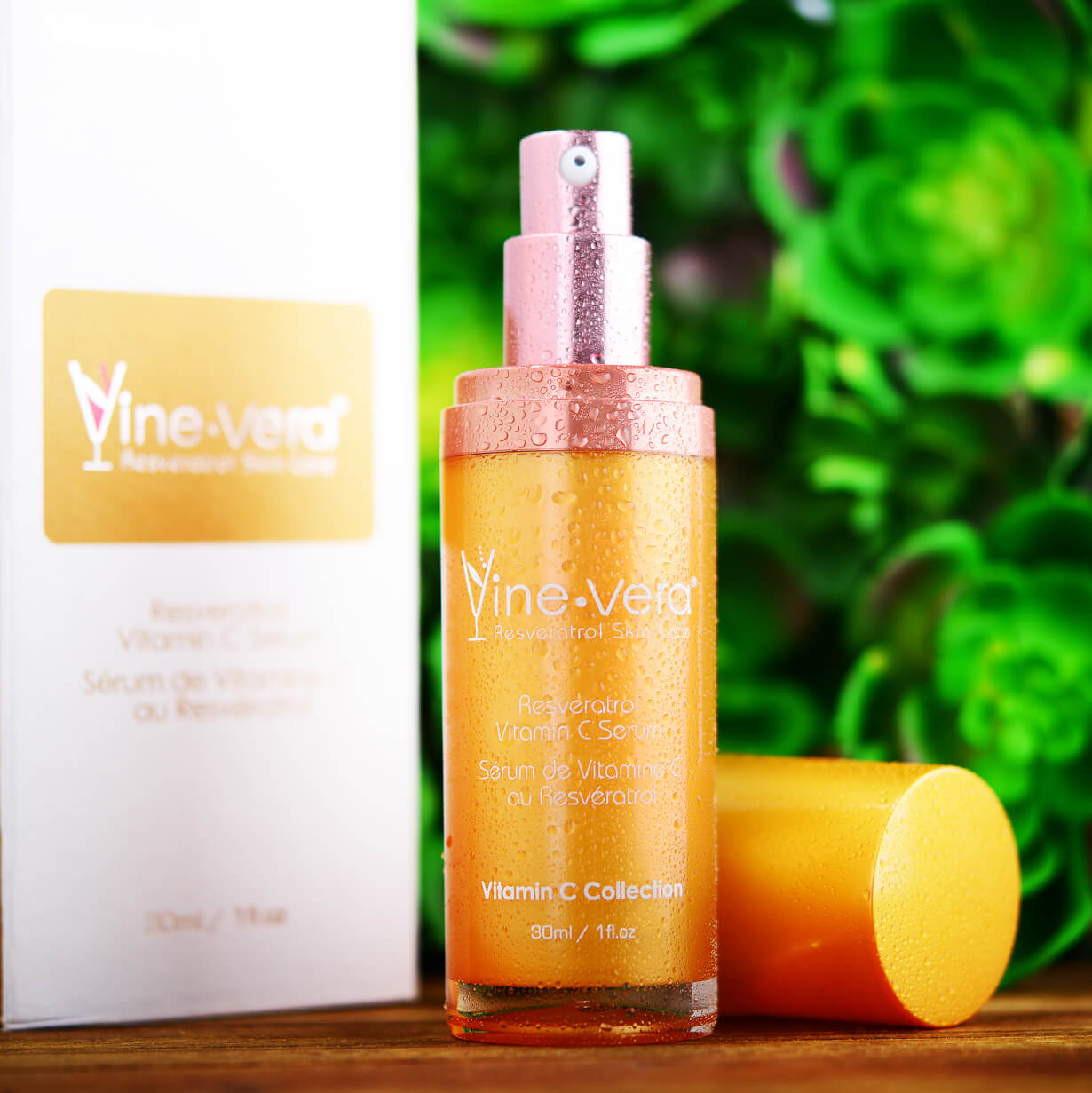 Pretty much every dermatologist would agree that the one product everyone would benefit from, no matter their skin type or concerns, is a vitamin C serum.
Why?
Because vitamin C is truly a powerhouse. This antioxidant is a huge multi-tasker – it brightens, tightens, smooths, firms, and hydrates the appearance. As you can imagine, it's in high demand, especially in serum form. Since serums have such a light and silky texture, they penetrate quickly and deeply into the skin, making it the best way to pamper your skin with vitamin C.
Unfortunately, some forms of vitamin C don't play well in serum formulations. They're very unstable and quickly degrade after coming into contact with air, light, or fluctuating temperatures, rendering that serum useless.
We've gotten around this issue by using tetrahexyldecyl ascorbate in our Resveratrol Vitamin C Serum. This is a highly stable form of vitamin C that offers the same skin-loving results as pure ascorbic acid, yet without the irritation and side effects.
To make things even better, we've also added vitamins A and E into this serum, plus antioxidant-rich wheat germ oil and, of course, resveratrol.
For Rough and Flaky Skin: The Resveratrol Vitamin C Deep Peeling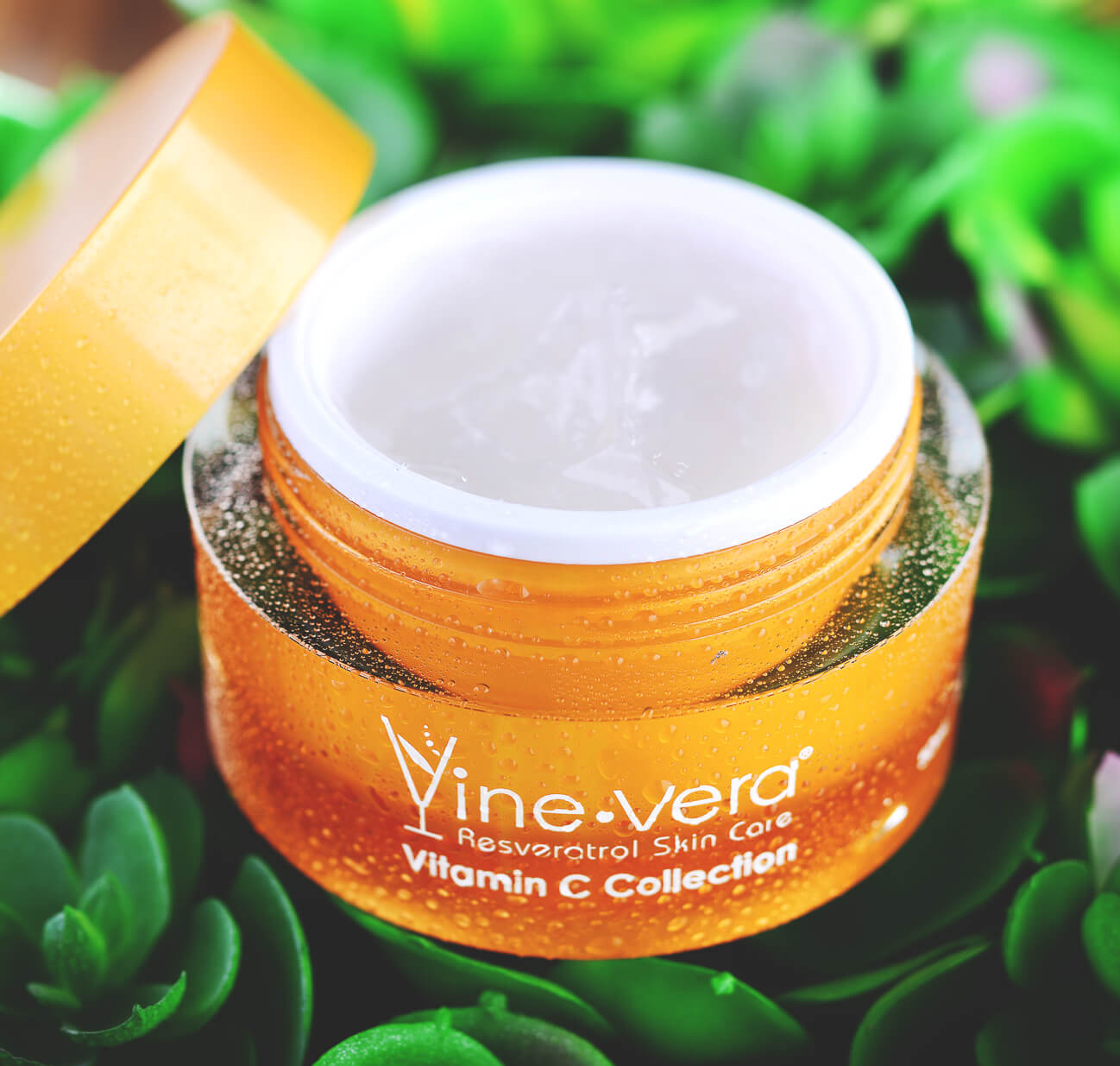 People with rough and flaky skin often find that their appearance improves once they start regularly exfoliating. It's a simple solution – sloughing off those dulling dead skin cells reveals the fresh layer of skin beneath, giving your skin an instant glow.
But exfoliation can be a tricky game. Do it too often or use an overly abrasive exfoliant and you could end up seriously damaging your skin. From acne breakouts to excessive dryness to sensitivities, the symptoms of over-exfoliation are so varied that it can sometimes be difficult to pinpoint the issue. This leaves your skin feeling even worse.
Don't worry, so long as you use the right exfoliant, you won't have to deal with all of that. Our recommendation? The Resveratrol Vitamin C Deep Peeling from Vine Vera Skin Care.
If you've never used a deep peeling gel before, you're in for a treat. This silky solution will gather all of your dead skin cells into tiny clumps, which you then rinse off. Its exfoliating agents are gentle yet effective – bamboo extract powder offers a form of physical exfoliation, while mandelic acid, which comes from almonds, takes care of the chemical side.
How often should you use it?
This all depends on your skin type. If you have oily or combination skin, use it twice a week. Dry skin types should apply it once a week. On the other hand, those with sensitive skin may want to save it for once every 10 days or so. See how your skin reacts and then adjust your usage accordingly.
For Jetsetters & Globetrotters: The Resveratrol Cabernet Travel Kit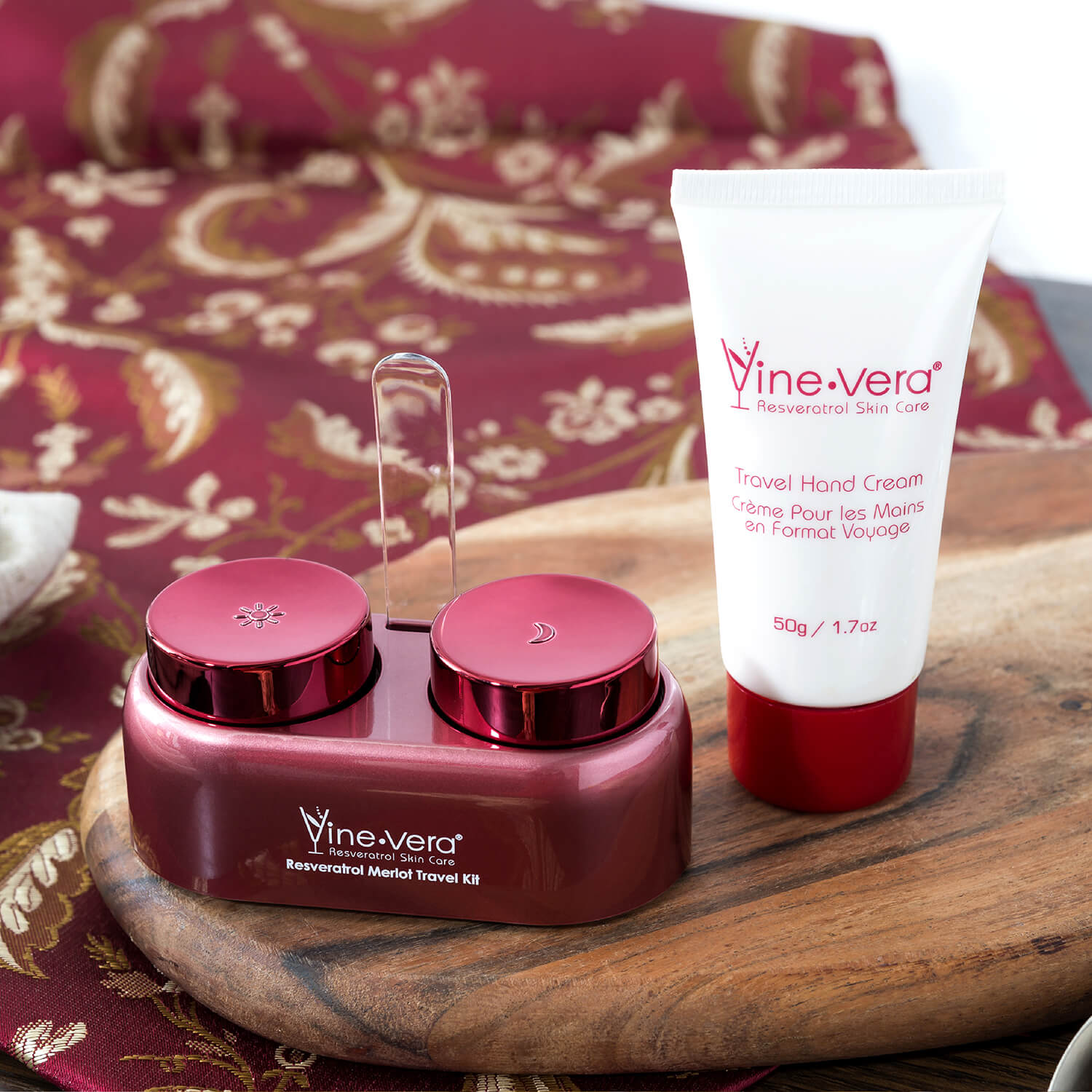 Whether you've been racking up those frequent flyer points for work or for leisure, chances are that all of the packing that you end up doing feels like a chore. Well, Vine Vera skin care products are here to make life a little easier, at least when it comes to your travel beauty bag!
Meet the Resveratrol Cabernet Travel Kit. This Vine Vera skin care innovation contains two separate products in one convenient container. This means one less item to remember when you're packing.
In the first jar, you'll find the Resveratrol Cabernet High Potency Moisture Day Cream. Infused with shea butter, resveratrol, and vitamin E, this lightweight formula will set your skin up beautifully for the day ahead.
The second jar contains the Resveratrol Cabernet High Potency Night Cream, another bestselling Vine Vera Skin Care product. Formulated with retinyl palmitate, green tea extract, and coral seaweed extract, this cream will leave your skin feeling fortified and strengthened while you sleep.
Even if you aren't big on travel, this travel-sized kit is still a great way to introduce yourself to two of our most popular products!
For a Home Spa Session: The Resveratrol Chianti Thermic Mask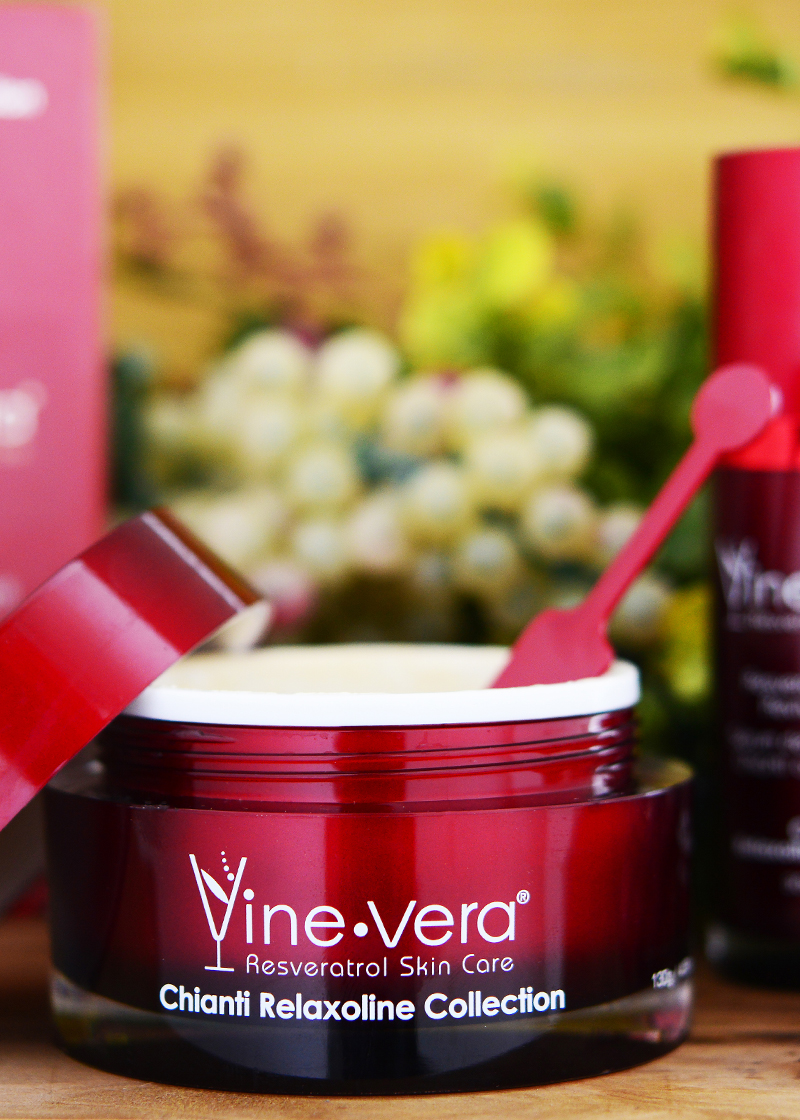 If you're looking for a way to add a touch of luxury and innovation to your next home spa session, then the Resveratrol Chianti Thermic Mask from Vine Vera Skin Care is the way to go.
What makes this mask feel ultra decadent is its heating effect. That's right – it may look like a regular clay mask, but as you massage this creamy formula into your skin, it'll start to heat up. Don't worry, it won't get too hot – instead, it offers a gentle warmth that leaves your pores feeling relaxed and receptive, allowing the rest of the ingredients in the mask to soak their way into your skin.
And trust us, you definitely want these ingredients to soak in! They consist of a blend of vitamins A, C, and E, along with several plant extracts – coffee seed, arnica, sweet almond seed, Angelica root, aloe leaf…the list goes on!
Each of those ingredients comes with its own set of skin-loving properties. They make this mask a great way to pamper yourself.
For Early Mornings After Late Nights: The Resveratrol Eye Collection Dark Circle Eye Cream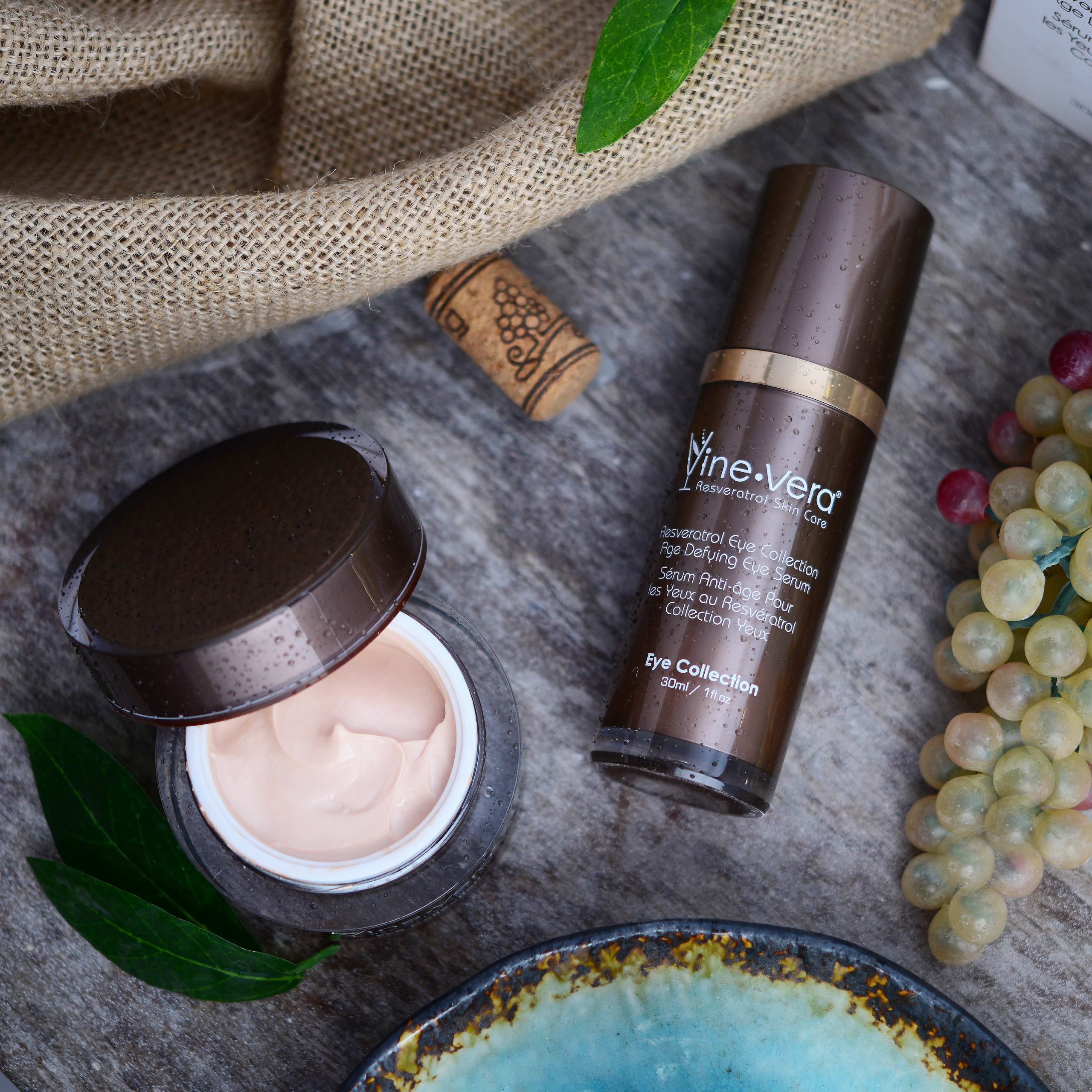 It's common knowledge that beauty sleep is a must if you want to keep your skin looking gorgeous. However, whether due to work deadlines or a late night party, we've all fallen victim to those dreaded dark circles come morning. Sometimes, they're accompanied by puffiness and eye bags too, making you look even more tired and haggard.
This is why the Resveratrol Cabernet High Potency Contour Eye Firming is such a game-changer. Just a few swipes around your eye area will reduce the appearance of dark circles, puffiness, and fine lines, leaving you with an awake and refreshed look. Use it regularly and you'll notice the skin in your eye area will start to feel smoother and firmer in the long run.
What makes this eye cream so effective?
It all comes down to a few key active ingredients. Caffeine is one of them – yes, the same ingredient that wakes you up after a late night does the same for your skin too.
By combining caffeine with humectants, vitamins, and resveratrol, we were able to create a formula that so many people now depend on when they wake up looking bleary-eyed.
For a Refreshing Daily Cleanse: The Resveratrol Cabernet Mousse Cleanser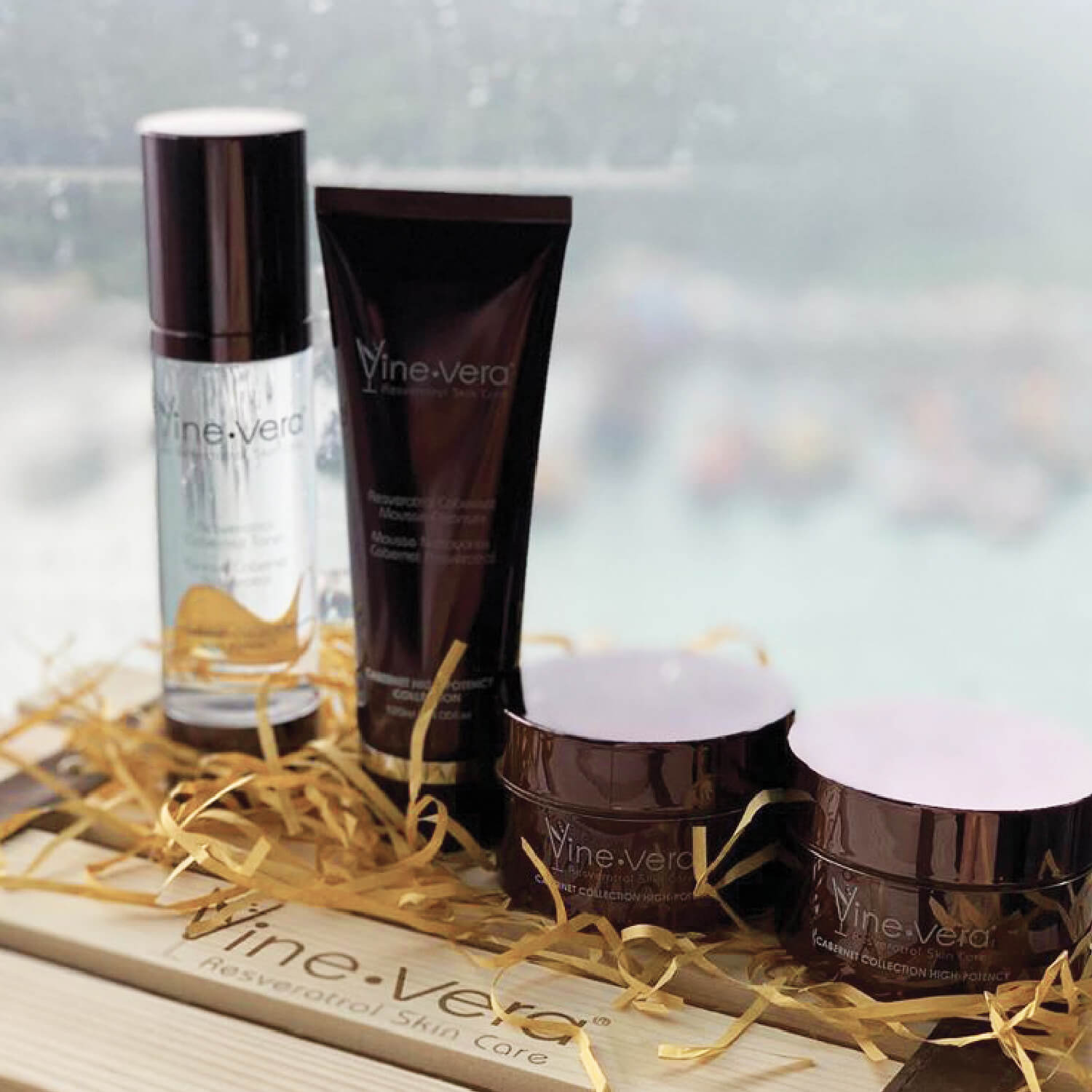 Cleansing should always be the first step of your skincare routine. It rids your skin of the dirt, oil, and other impurities that have settled onto its surface since the last time you cleansed. If you skip out on cleansing, then any other products that you apply won't work to their full effect, simply because all of that dirt, oil, and more is blocking the way, preventing your skin from absorbing other ingredients.
That said, be picky when choosing a new cleanser. Many formulas are way too harsh. They leave the skin feeling dry and tight, and not in a good way.
For a refreshing cleanse that leaves your skin feeling soft and hydrated instead, you need a gentle cleanser, such as the Resveratrol Cabernet Mousse Cleanser.
Unlike many of the other cleansers on the market that depend solely on harsh chemicals to cleanse the skin, this Vine Vera skin care Cleanser relies on coconut-derived cleansing agents. This is what makes the formula feel so gentle and soothing. However, these compounds are just as effective as their chemical counterparts.
We also added amino acids, resveratrol, and niacinamide to this cleanser. Together, they'll leave your skin feeling more resilient after each cleanse.
Ready to Treat Yourself to Some New Vine Vera Skin Care Products?
Hopefully, you now have a better idea of which Vine Vera skin care products you want to try first. From cleansers to serums to face masks, we really do have something to suit every skin type and skin concern.
Click here to check out more resveratrol-infused Vine Vera skin care products.