How to Deal With Dehydrated Skin
Posted on July 30, 2022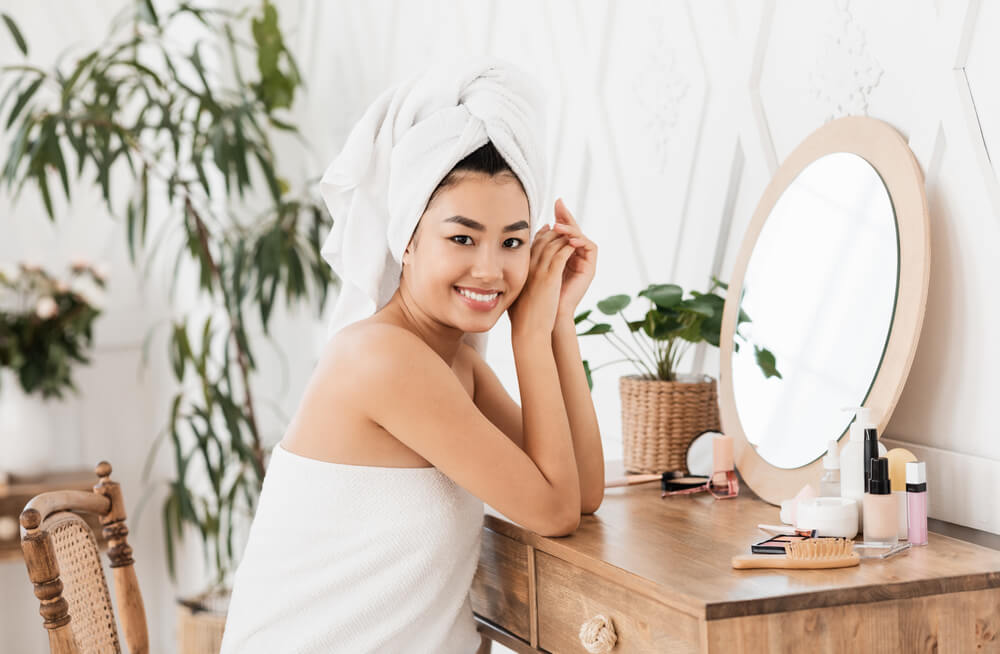 Thirsty skin is hard to miss. When your skin doesn't get enough hydration, it looks dull and flakey while feeling uncomfortably right. It even ruins your makeup, since your foundation will likely be super cakey on flaky skin, and the rest of your face products might settle in your smile lines.
And you may have thought, "any old moisturizer will fix this!", only to slather on the thickest cream you find and have it do nothing for your skin. Sure, moisturizers are great for alleviating that feeling of dryness, but they're not the be-all and end-all solution for skin dehydration.
Skin dehydrated? Don't worry. We know that this can be super frustrating, especially when the factors that leave your skin dehydrated in the first place are out of your control.
But don't stress. Vine Vera has loads of tips to help you overcome this skin dilemma so you can flaunt a dewy, glowy complexion again.
The Difference Between Dry and Dehydrated Skin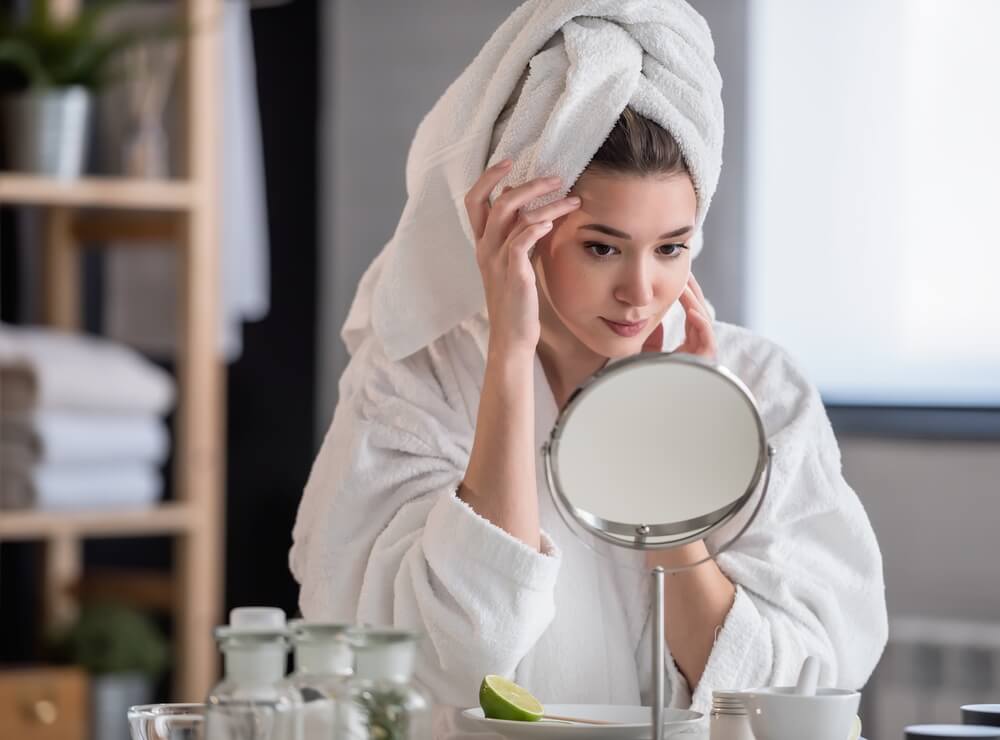 Lots of people think that having dry and dehydrated skin is one and the same. Although they share lots of symptoms, they're actually quite different.
Dry skin is a skin type that you're born with. It means your sebaceous glands don't produce enough oils to keep your skin coated in sebum. But when you say the skin is dehydrated, it means it doesn't have moisture in the deeper levels, leaving your skin thirsty and lacking in water from the inside.
That means that anyone can have dehydrated skin. Dry, combination, and even oily skin types can have skin dehydrated due to multiple reasons (we'll get to those in a bit).
Dehydration happens when the moisture you apply using your skincare products evaporates throughout the day, leaving your skin feeling stripped of moisture and looking dull and lacking in luminosity. What's bad about skin that's dehydrated is that it can also result in dark circles under the eyes and even wrinkles in the long run.
What Causes Dehydrated Skin?
So, what is it exactly that leaves the skin dehydrated? The answer is simple — anything that can make the water content from your skincare products evaporate throughout the day. Things like air conditioning or using a heater all day can strip the complexion of moisture, leaving the skin dehydrated.
Exposing your skin to extreme temperatures can also leave it parched and thirsty. If you rinse your face with warm water after cleansing it or soak in a hot shower for far too long, the moisture in your skin can evaporate, leading to thirsty skin.
You might have also noticed that your skin gets extra dehydrated during the winter months. The chilly weather coupled with dry air is yet another culprit of dehydrating the skin. That's why it's usually so hard to maintain your gorgeous summer glow during the winter season.
It Might be Time to Readjust Your Skincare Routine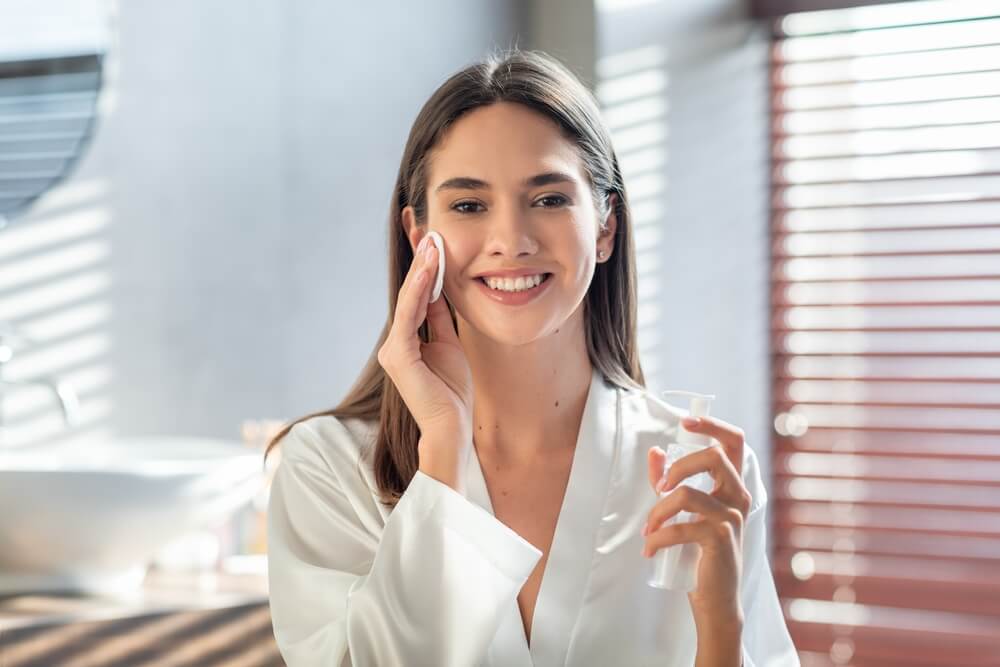 When your body is dehydrated, you need to drink lots of water to replenish your system with it. And it's the same thing with your skin, too. So, the key to hydrating your skin again when it looks and feels dehydrated is to pamper it with skincare products that can help give it some moisture.
You can do that by tweaking your skincare routine and habits a bit. Try to avoid harsh and rough skincare steps that dry out the skin for a while. Exfoliation, for example, is super nice for getting your glow on, but if you have extra dehydrated skin, it might be best to skip exfoliating for a while.
When it comes to your skincare routine, you might want to switch up the kind of ingredients you look for in your products. Search for humectants, like aloe, hyaluronic acid, glycerin, and honey, which are known to leave the skin looking and feeling more hydrated, dewy, and supple.
You might also want to use products with resveratrol, Vine Vera's signature ingredient. Resveratrol helps moisturize the skin, leaving it feeling smooth and bouncy. It even minimizes the appearance of wrinkles and redness as a bonus!
Go for products that are water-based instead of oil-based. Your skin is thirsty, and you need to give it a tall glass of water to nurse it back to health. This is vital if you want your skin dehydrated no more.
Ready to say goodbye to skin dehydrated by windy weather and hot showers? Check out our top skincare tips to rehydrate your skin properly, plus some highly moisturizing Vine Vera must-haves.
1. Don't Use Harsh Cleansers; Stick with Gentle, Hydrating Formulas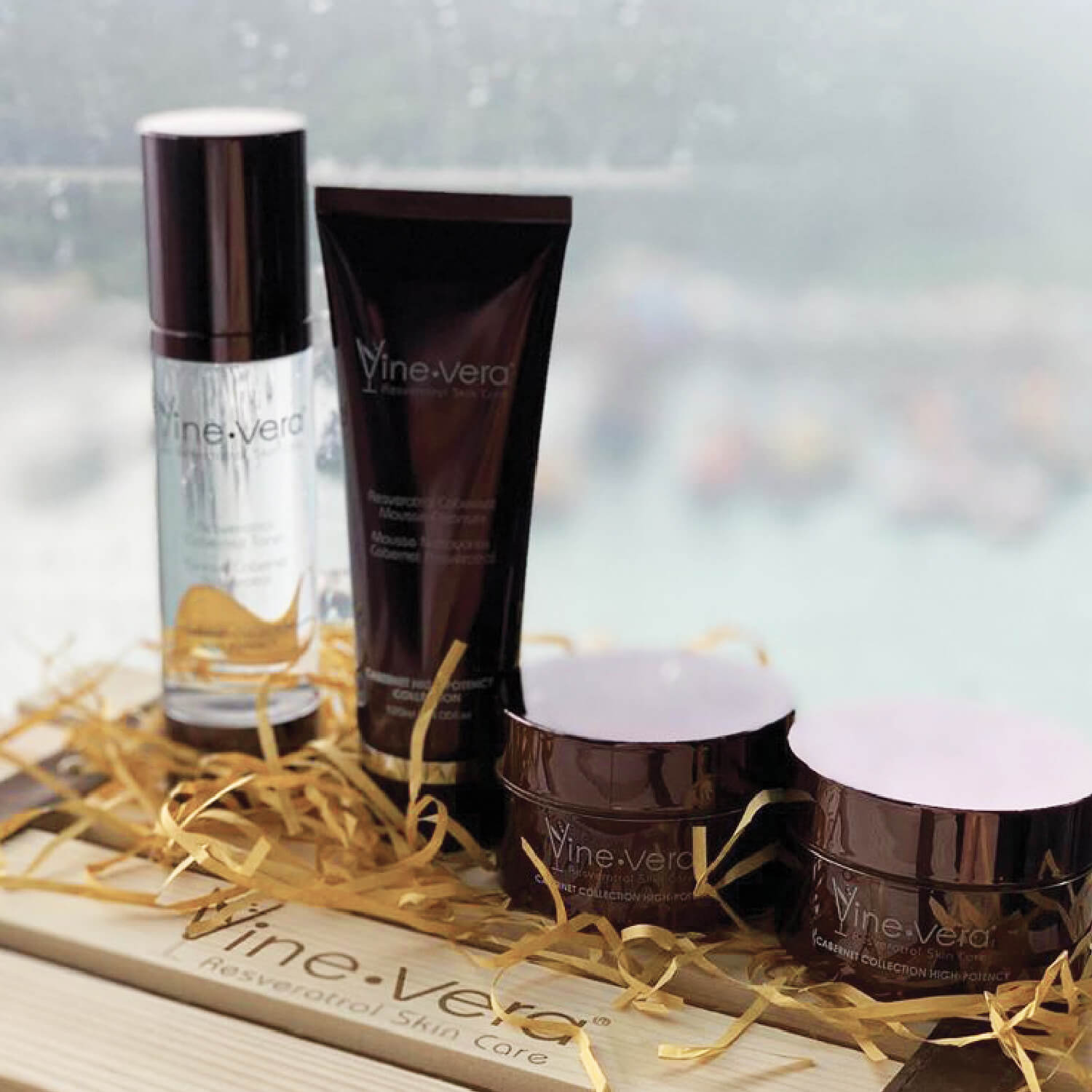 If you have dehydrated skin, kick off your routine with a gentle cleanser. Harsh, overly strong cleansers can strip the skin not just of dirt and debris, but also of the healthy oils that keep your skin soft and hydrated. So, look for one that has a gentle formulation and is infused with hydrating ingredients.
One that we love is the Vine Vera Resveratrol Cabernet Mousse Cleanser. This luxurious, mousse-like facial foam is excellent at washing way makeup, sweat, and oils, leaving your skin feeling refreshed. It's designed specifically for dehydrated skin, so it cleanses without stripping your skin of moisture.
It's formulated with hydrating ingredients such as glycerin and resveratrol ferment extract. It also has amino acids and niacinamide to add an even more noticeable glow to your skin after washing.
As you rinse this cleanser off, make sure to use cool water. If you use hot or warm water, the moisture in your skin might evaporate, leading to dehydrated skin yet again.
2. Add an Extra Layer of Moisture to Alleviate the Feeling of Dryness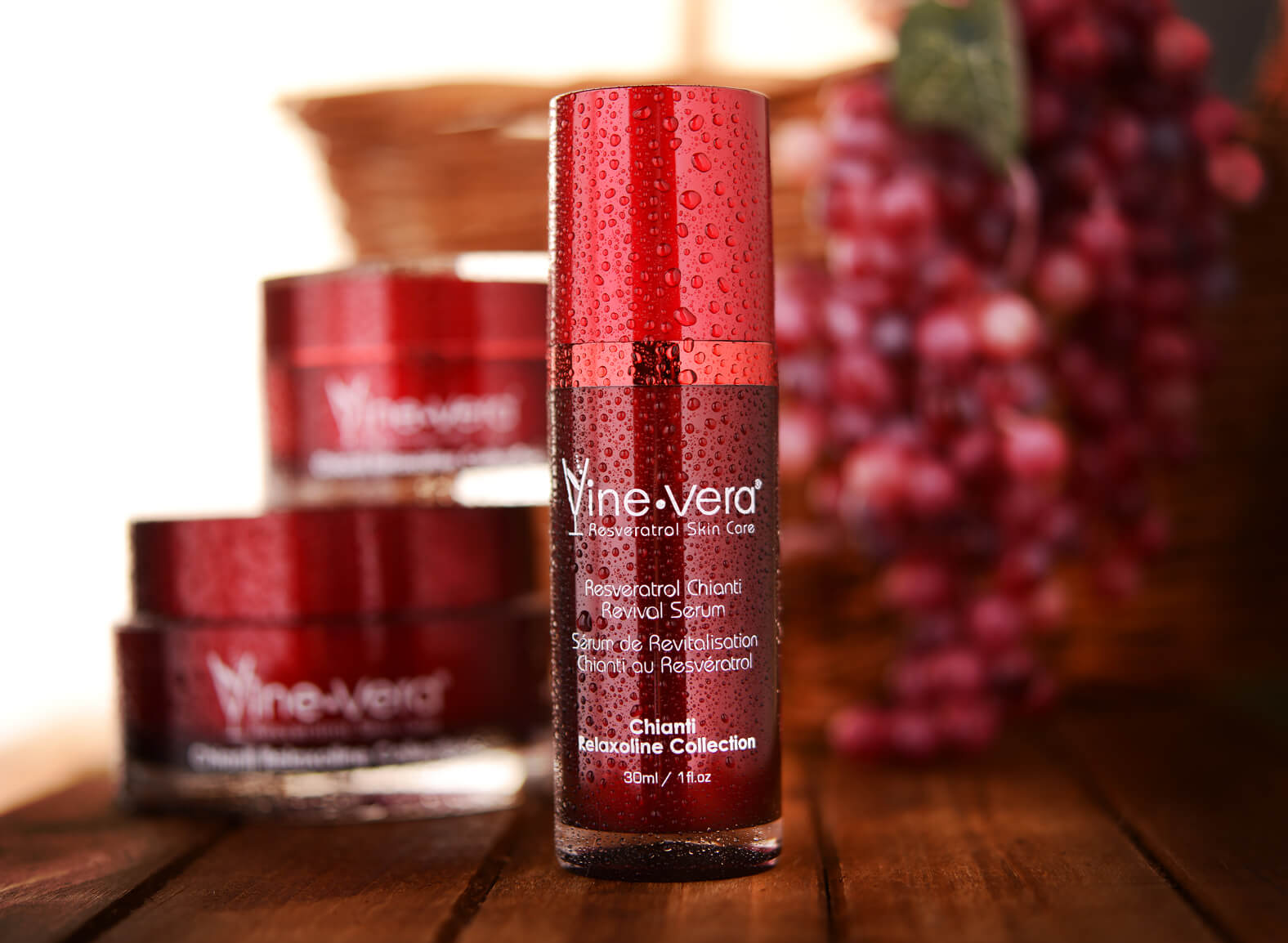 To quench your skin's thirst, treat it to an extra layer of moisture with a hydrating serum. Choose one that is packed with hydrating ingredients that won't leave the skin dehydrated again for a while.
For this, we highly recommend the Vine Vera Resveratrol Chianti Revival Serum. This serum contains resveratrol and hyaluronic acid to make the skin look dewy and feel hydrated again. Hyaluronic acid is awesome for intense moisture, but also minimizes the appearance of wrinkles.
The serum is also infused with vitamin C, green tea extracts, and peptides. Together, they reduce the look of harsh lines and other signs of skin aging, leaving you with a firmer appearance. So, if you want hydrated and youthful-looking skin, this serum will be your go-to.
3. Use a Lightweight but Hardworking Water-Based Day Cream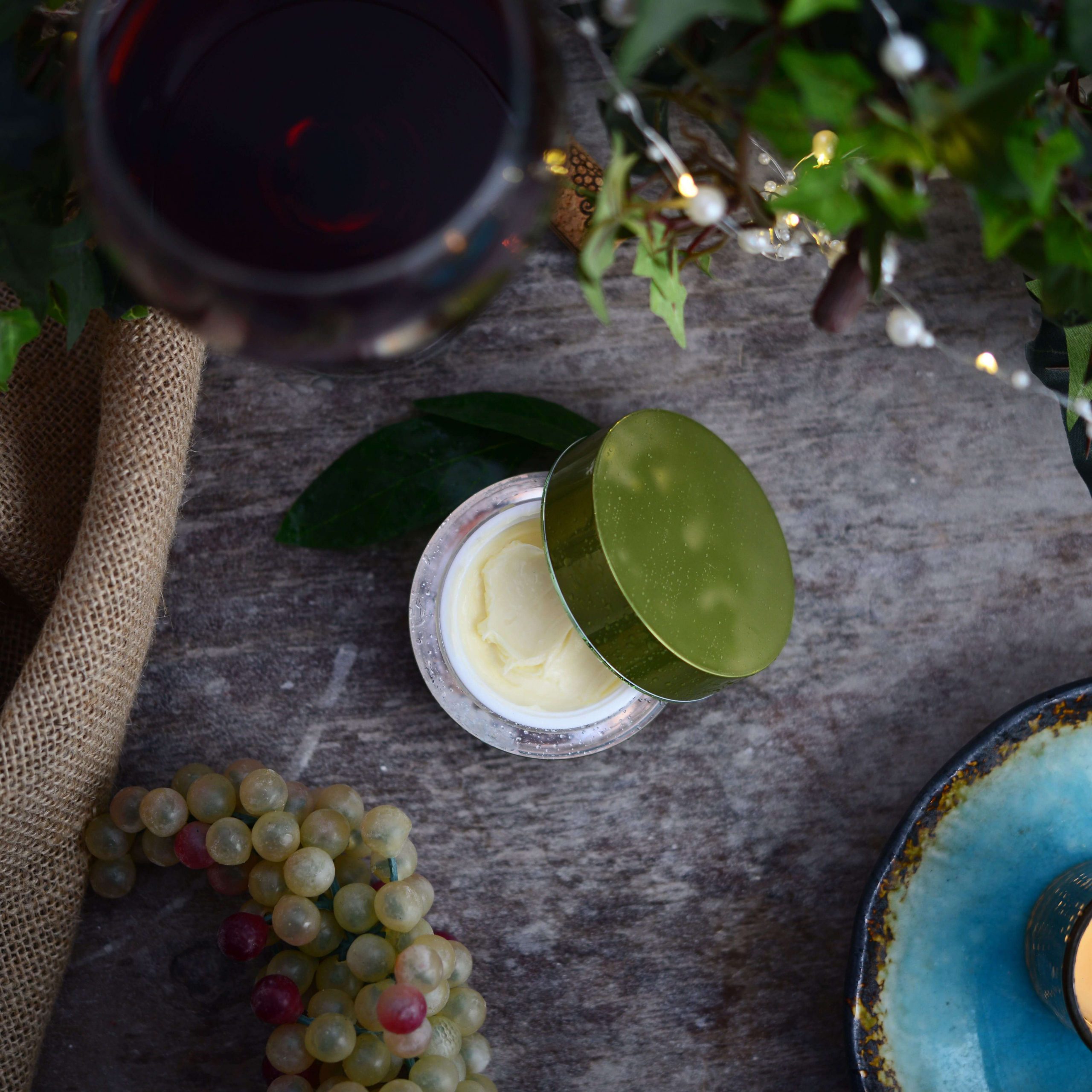 An obvious solution to skin dehydration is to pack on the moisturizer. But you can't just use any moisturizer — you need one filled to the brim with hydrating ingredients, not just heavy oils.
If you want something lightweight that absorbs easily into the skin, you'll enjoy the Resveratrol Cabernet High Potency Day Cream. It hydrates the skin without leaving it feeling greasy. It also locks in the moisture from all your previous skincare steps to ensure you have glowy skin all day.
4. Indulge Your Skin with an Intensely Moisturizing Night Cream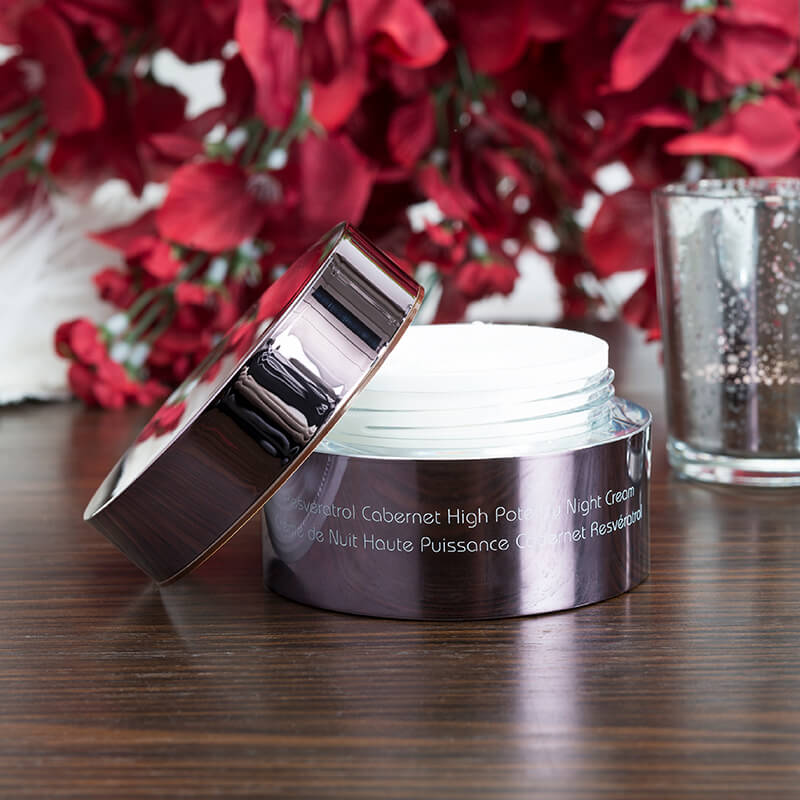 For the nighttime, you need something a little more deeply moisturizing. This is so that you can lock in all the hydration from your serums and toners before you sleep. Plus, a rich, decadent night cream works overtime. It'll replenish your skin with lost moisture as you catch up on those Z's.
The luxurious Vine Vera Resveratrol Cabernet High Potency Night Cream will be amazing if you want to target the feeling of your skin's dehydration and the loss of firmness at the same time.
It has a formula that includes green tea, aloe vera, glycerin, and coral seaweed extracts — perfect for sleeping in while treating your skin like royalty.
It also has vitamin A, which is amazing at decreasing the feeling of skin roughness and the look of wrinkles on more mature skin. It's perfect if you want to wake up with a properly hydrated and smoother-looking complexion.
5. Reduce the Look of Dark Circles and Eyebags with a Hydrating Eye Cream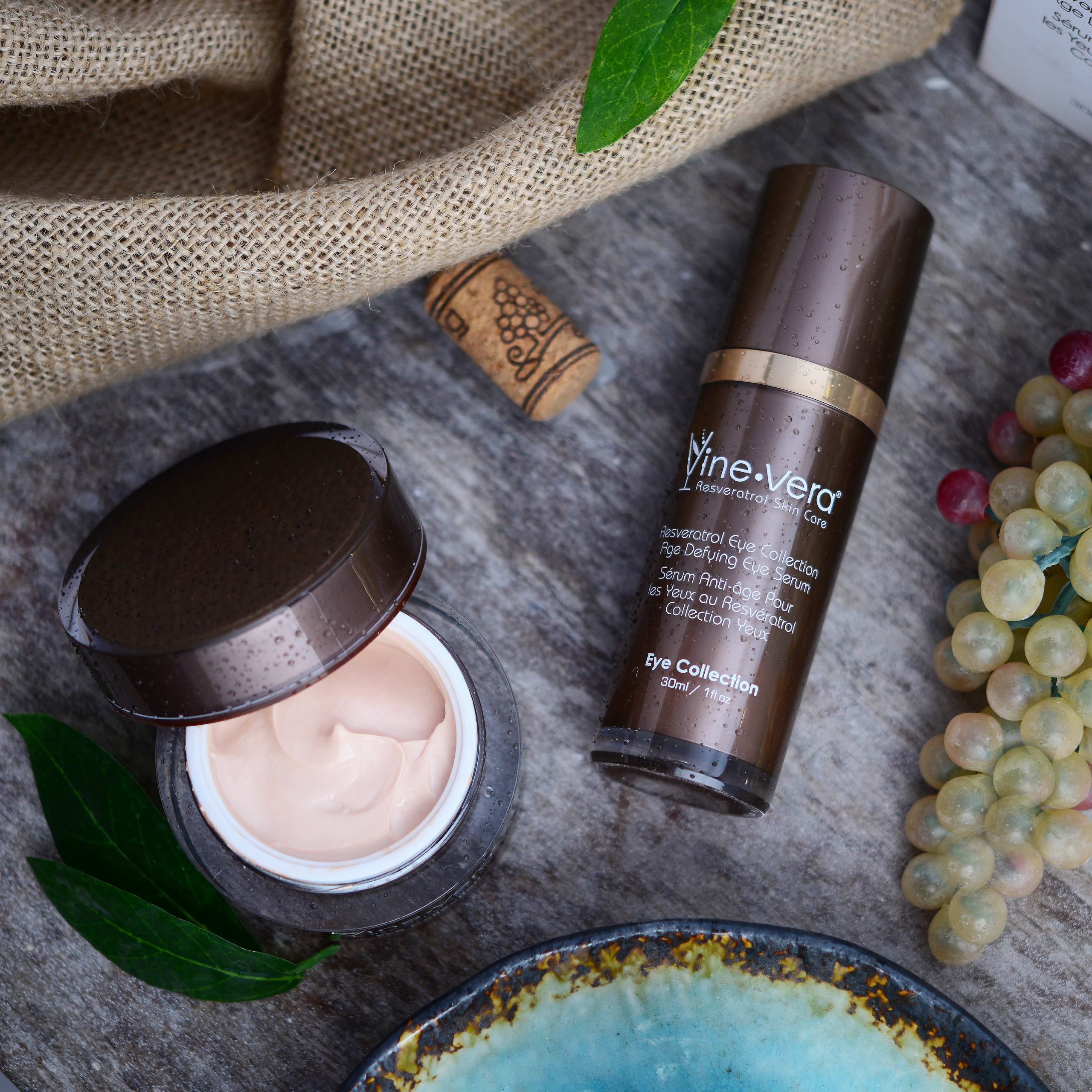 Dehydrated skin doesn't just show up through dullness and flaking. For your eyes specifically, it can translate to dark circles under the eyes. That's because your undereye skin is very thin and requires hydration and oils to stay supple and healthy-looking.
When your undereye skin is dehydrated, it will look more sunken and tired. It might even start to feel scaly or develop dry patches in the area. So, it's important to give your dehydrated skin a little extra eye care too.
After your night moisturizer, pack on some of the Vine Vera Resveratrol Cabernet High-Potency Contour Eye Firming under and around your eyes.
This eye cream contains coconut extracts to hydrate the eye area and caffeine to make your eyes look brighter and more awake in appearance. It also has vitamin A to smoothen the feel of your skin and give you a more youthful-looking glow.
6. Treat Yourself to a Weekly Face Mask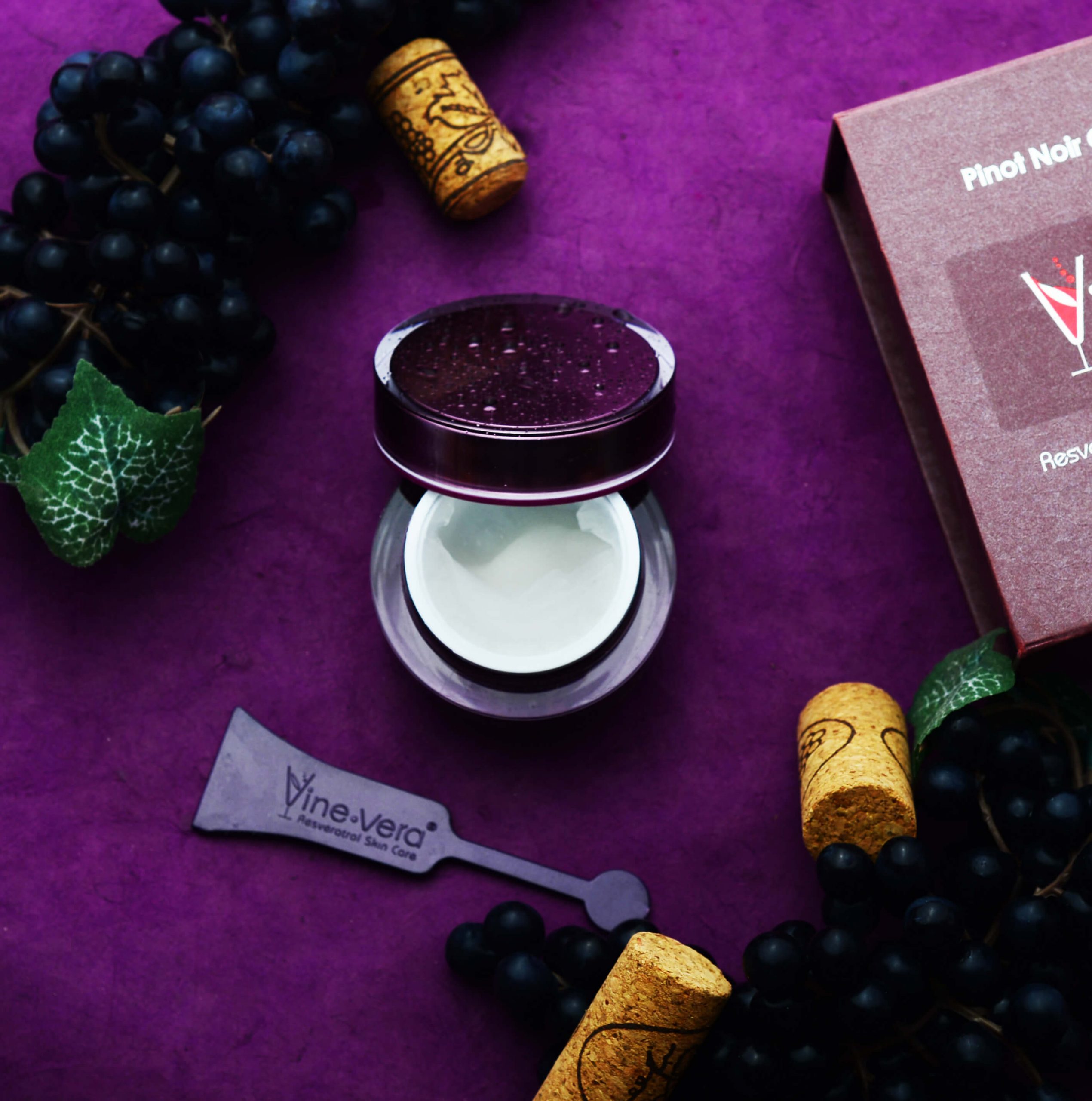 Even if you're diligent about using your hydrating cleansers, serums, and moisturizers, there's still a chance that your skin stays dehydrated for a longer time. To give your skin even more moisture to drink up, pamper yourself at the end of the week with a face mask.
You can always opt for a quick, cheap face mask from the drugstore. But if you want something more luxurious and less fussy and messy, go for a leave-on mask, like the Vine Vera Resveratrol Pinot Noir Phyto-Silk Mask.
This mask is designed to smoothen and firm up the appearance of your skin. It contains peptides and fruit extracts for that youthful radiance. But it's also infused with hydrating ingredients. You'll find aloe leaf extracts, resveratrol, and hyaluronic acid in this blend. It'll give your skin a weekly splash of deep hydration.
Just massage this mask onto your skin until you feel literal droplets of liquid bursting onto it! Don't rinse the mask off until the next morning, so your dehydrated skin really drinks it up.
7. Always Hydrate from the Inside Out!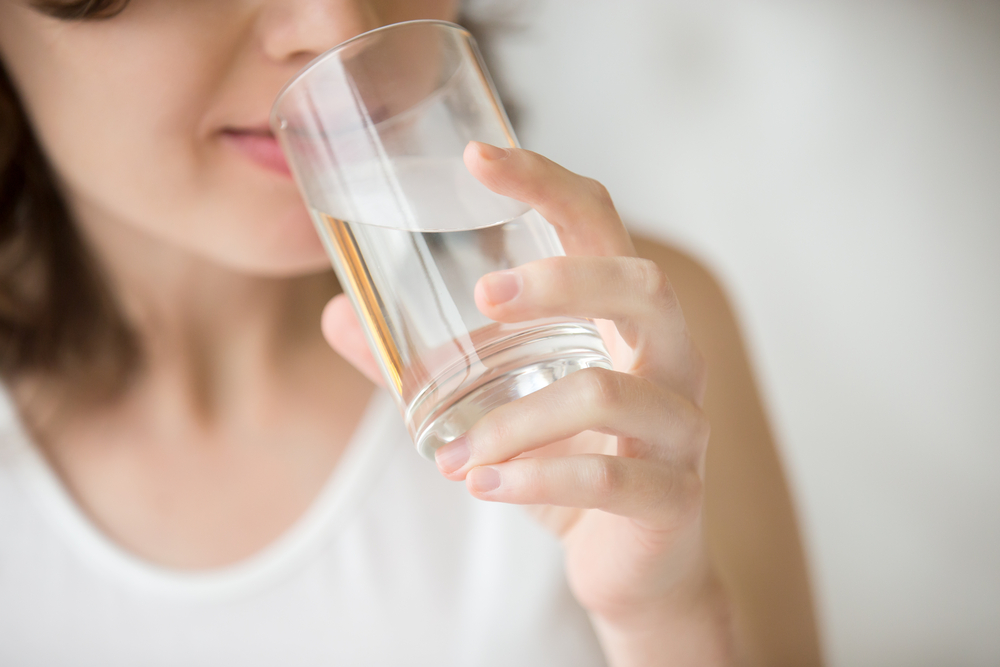 Skincare products are essential when you've left your skin dehydrated for so long. But investing in hydrating skincare products isn't the only favor you owe your skin. To make sure you don't experience intense dehydration in your complexion again, make sure to keep your body hydrated on the inside.
That means you have to be extra conscious of how much water you drink on a daily basis. If you don't drink enough water, not only will you feel a little lightheaded and weak all day, but your skin will dry up and look dull and lifeless. So, make sure you get at least eight glasses of water per day.
In the same vein, try to avoid drinks that can dry out your system, like coffee and alcohol. These can leave your skin even more dehydrated. Limit your intake of these until you're back to a dewy, glowy, ultra-hydrated complexion.
Conclusion
There are many things that can leave your skin dehydrated, from cold weather in the winter to taking showers with the hottest temperature you can take every single night.
Even if symptoms like flaking and dullness make it feel like you're never going to get rid of your overly dehydrated skin, that's never the case. There are lots you can do to alleviate this dehydration, like drinking more water and cutting down on alcohol and coffee.
But the best thing you can do for your skin? Pamper it with luxurious Vine Vera products containing ultra-hydrating ingredients.
Keep your eyes peeled for humectants, like aloe, glycerin, and hyaluronic acid, in every product you buy to help quench your skin's thirst. These hardworking, skin-loving ingredients will leave your complexion velvety-smooth, silky-soft, and happily hydrated once again.