Wine-Inspired Beauty: 8 Skin Care Products You Need to Try
Posted on October 30, 2021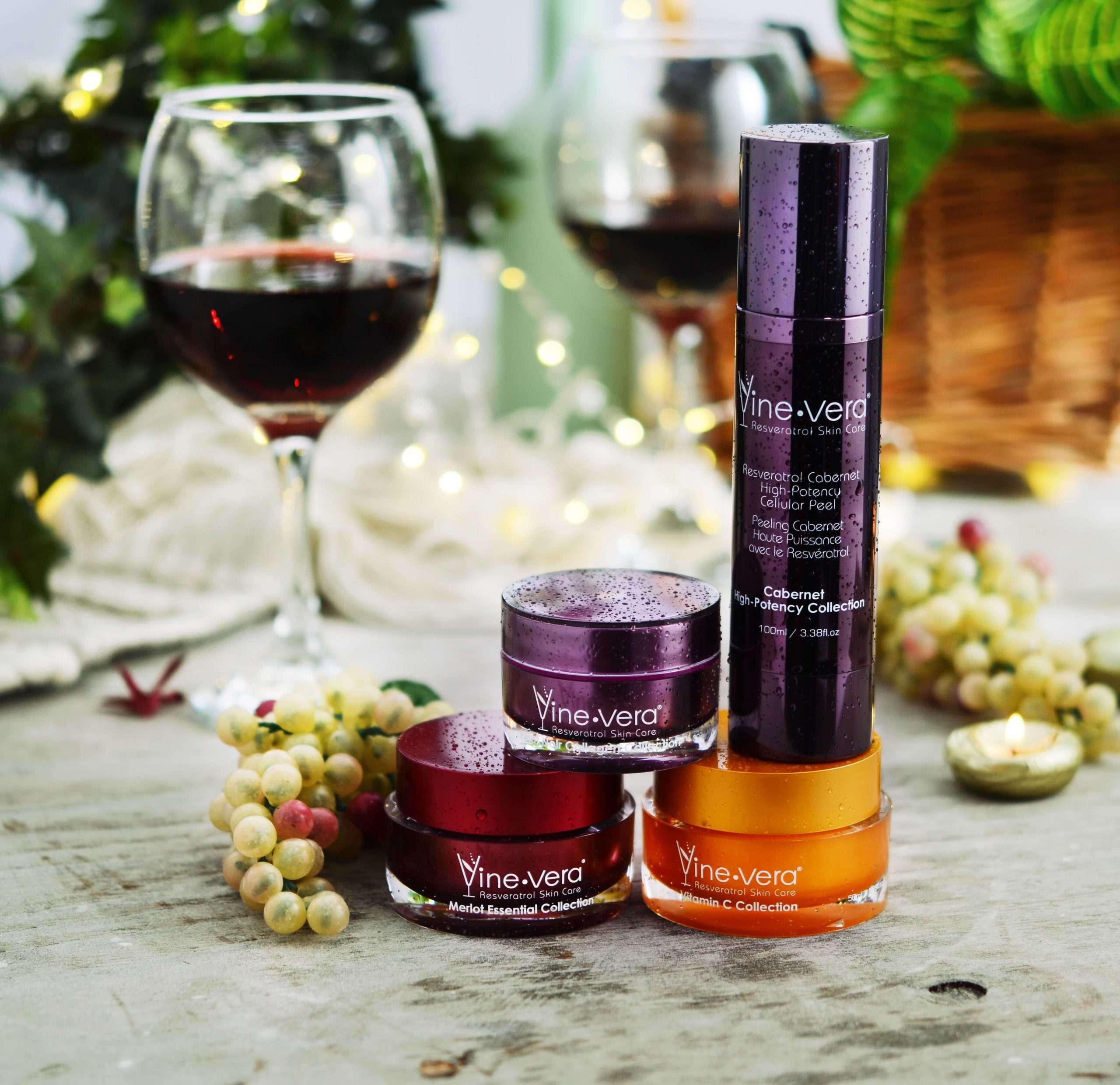 Beauty often takes inspiration from nature and the world around us, which is why natural ingredients are plentiful in cosmetic products. From citrus fruits to green tea, the cosmetic industry has long since been harnessing the benefits provided by plants, fruits, vegetables, and other elements from the natural world.
However, there is one ingredient that Vine Vera believes deserves more attention in the realm of beauty: wine. Ahead, we discuss its benefits and take a look at some of the best skincare from wine.
Why Wine?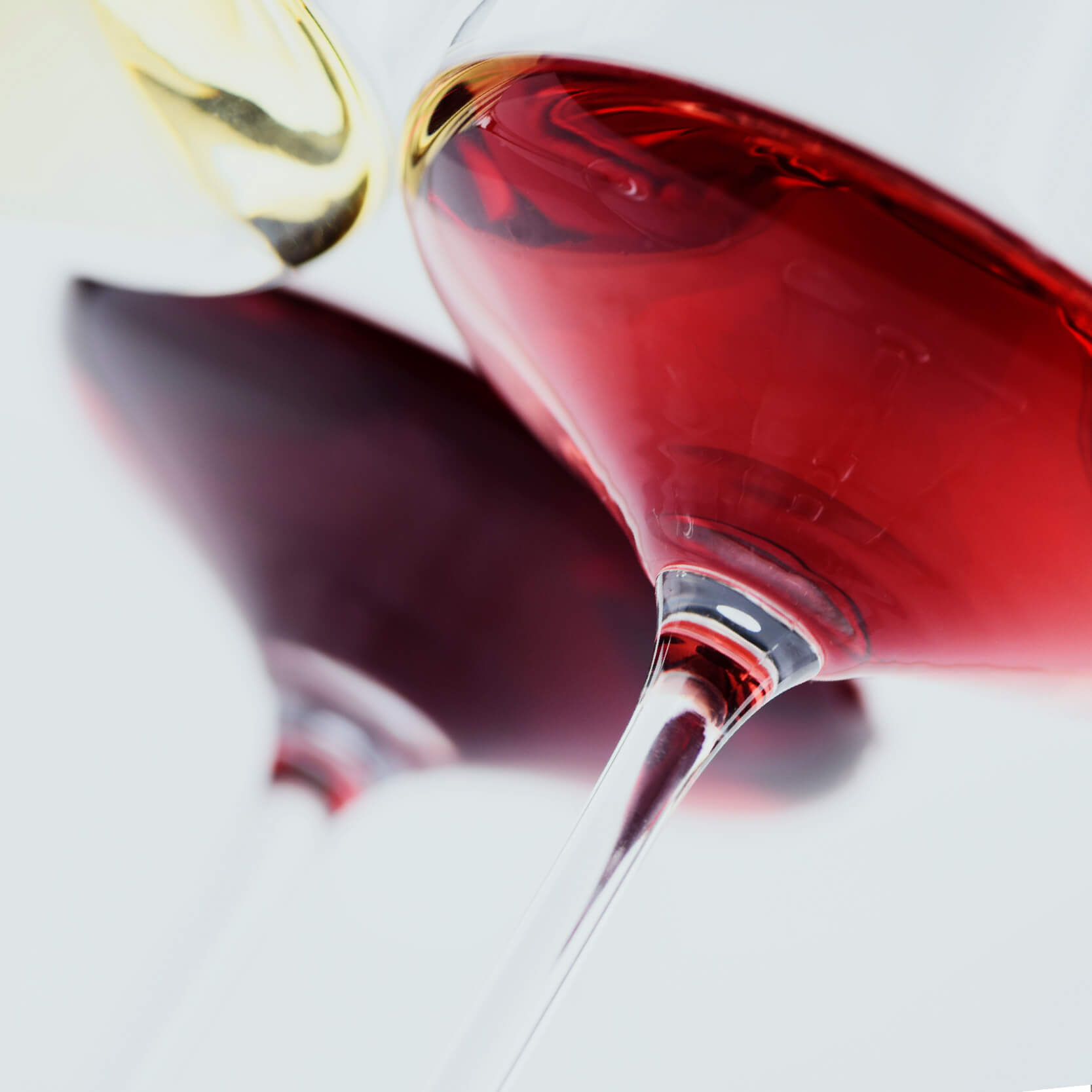 It may seem like an uncanny choice to add wine, an alcoholic beverage, to your skincare routine. However, when you consider the origins of the beverage, the science behind it begins to make more sense. 
Wine is produced from grapes, which, like most fruits, possess several skin-loving benefits. The skin of these grapes is where Resveratrol, the secret behind the best skincare from wine, can be found.
Resveratrol is a polyphenol, which is a group of antioxidants that can:
Minimize the appearance of wrinkles, fine lines, and other signs of aging.

Contribute to the feeling of skin hydration.

Calm the feel of the skin and reduce the look of redness.
While drinking countless glasses of wine regularly is certainly a way to get your fill of Resveratrol, applying specially formulated skincare is a more practical idea. Not to mention, it's hangover-free! Furthermore, Resveratrol performs more efficiently when paired with certain other ingredients — just like those in Vine Vera's wine-inspired skincare products.
Here at Vine Vera, we are dedicated to producing scientifically formulated skin solutions. While wine and Resveratrol are front and center across all of our products, we ensure maximum effectiveness by innovatively adding other proven ingredients, like Aloe Vera, Shea Butter, and Fruit Oil Extracts, into the mix.
Below, we identify some of the best skincare from wine available online at Vine Vera.
Resveratrol Moscato Sensitive Skin Cleanser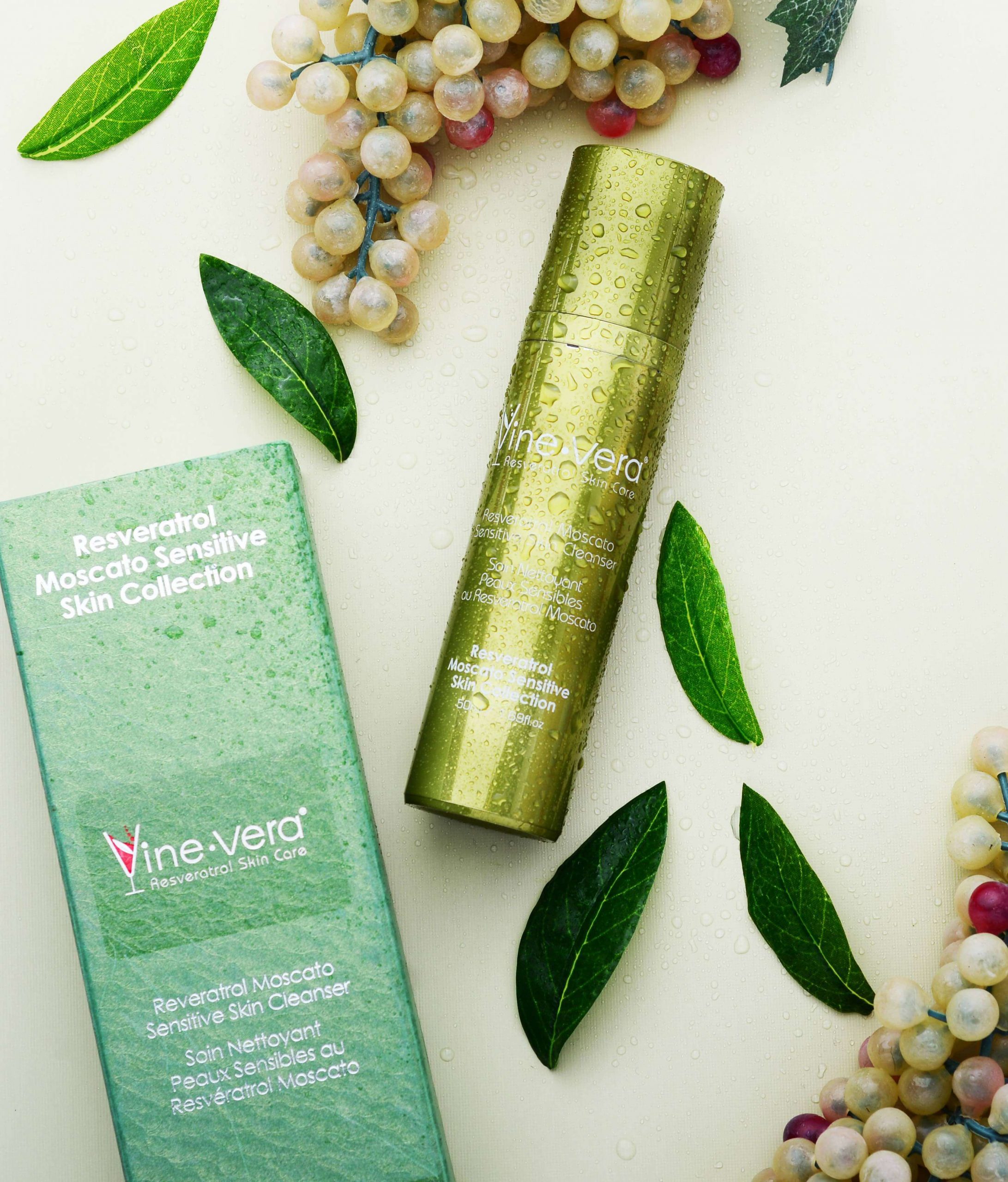 There are several theories behind the origins of the Muscat grapes used to make Moscato wine. Some trace their origins back to the ancient Egyptians and Persians, while others believe that they only date back to 800 BC. Despite multiple theories, one thing is certain: Muscat grapes are among the oldest domesticated grapes in the world. Today, there are over 200 varieties of Muscat grapes. 
These grapes are the inspiration behind Vine Vera's Moscato collection. With two products in the line, the Moscato collection is specifically formulated to work well with sensitive skin.
Among the two products in Vine Vera's Moscato collection is the Resveratrol Moscato Sensitive Skin Cleanser. Powered by grape-extracted Resveratrol, this cleanser gently lifts dirt and bacteria off the skin. The formula comes in a lightweight, gel-like texture, making it a perfect match for oily and acne-prone skin.
How to Use
Use this cleanser daily for the best results. Simply apply a small amount of product to damp skin and massage in circular motions. After a lather has been formed, rinse the product off thoroughly with cool water. Then, follow up with the rest of your skincare routine. 
Resveratrol Merlot Cleansing Kit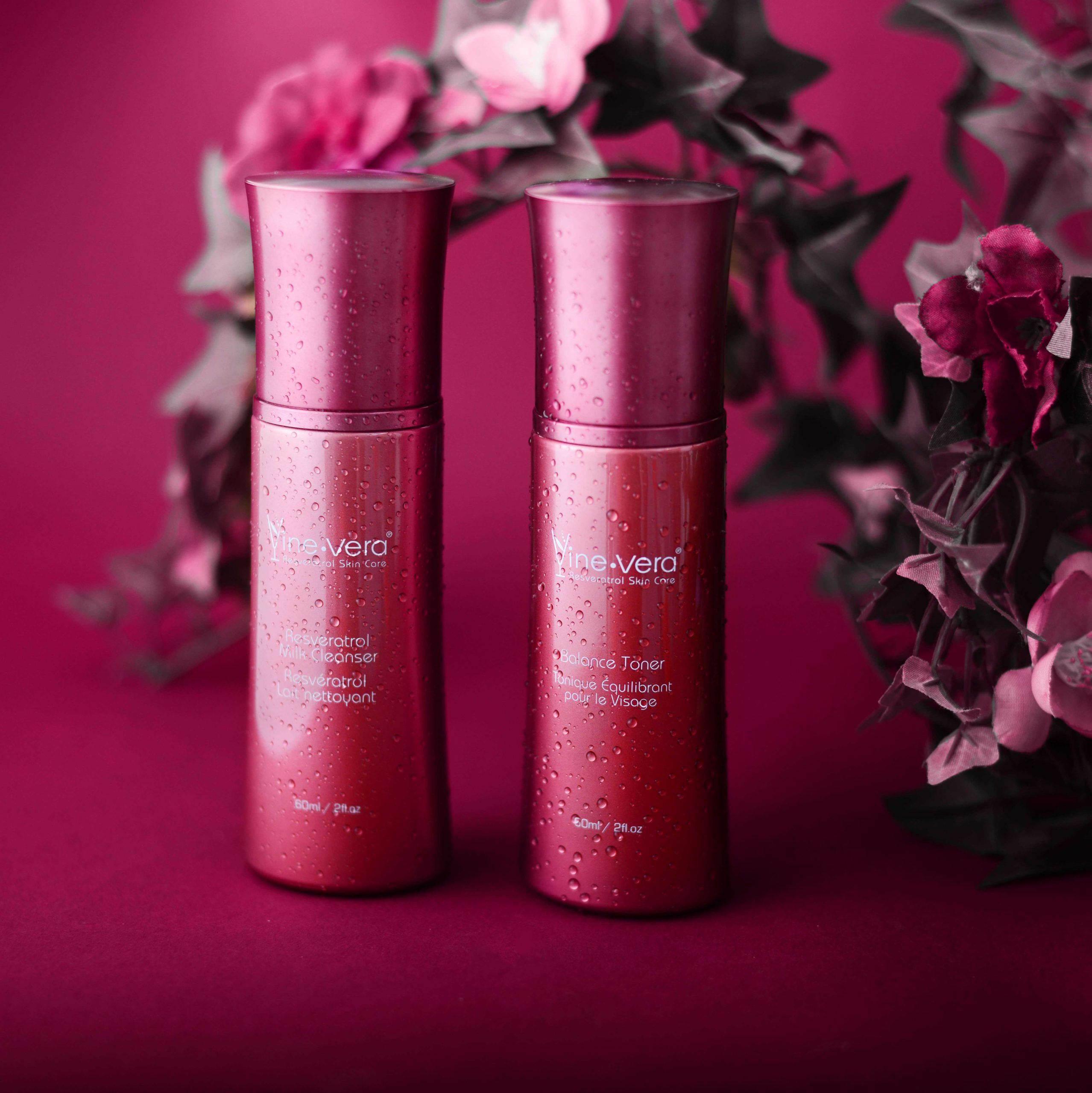 Even if you aren't all that familiar with wine, chances are you've heard of Merlot. A versatile dark blue grape, Merlot is one of the most popular red wine varietals across the globe. Case in point: in 2015, Merlot grapes were planted across 266,000 hectares globally.
Viticulturists trace the parentage of grapes through research and analysis. Merlot's parentage was studied and revealed throughout the late 1990s to the late 2000s. Its parent grapes are Cabernet Franc and a rare variety called Magdeleine Noire de Charentes. Merlot takes the best traits from its parent varieties.
Some of these traits translate to Vine Vera's very own collection of Merlot-inspired skincare. While the Merlot Collection is relatively straightforward, the four products within the line work together the feel of the skin's texture.
The Resveratrol Merlot Cleansing Kit packages two cleansing products together: the Resveratrol Milk Cleanser and Resveratrol Balance Toner. The former picks up the majority of dirt and debris from the skin, while the latter finishes the job. This really is the perfect pair!
If you haven't felt the need to use a toner before, trust us and give this one a try. You'll soon notice the difference in your skin and won't want to go back!
How to Use
To use the Resveratrol Merlot Cleansing Kit, generously dampen a cotton ball or cotton pad with the Resveratrol Milk Cleanser. Apply the product on dry skin until makeup and dirt are lifted from the skin. Rehydrate the skin by dispensing the Resveratrol Balance Toner onto another cotton ball or clean hands. Pat the product into the skin and neck. Then, follow up with your favorite Vine Vera serum and moisturizer!
Resveratrol Zinfandel Illuminating Petal Peel System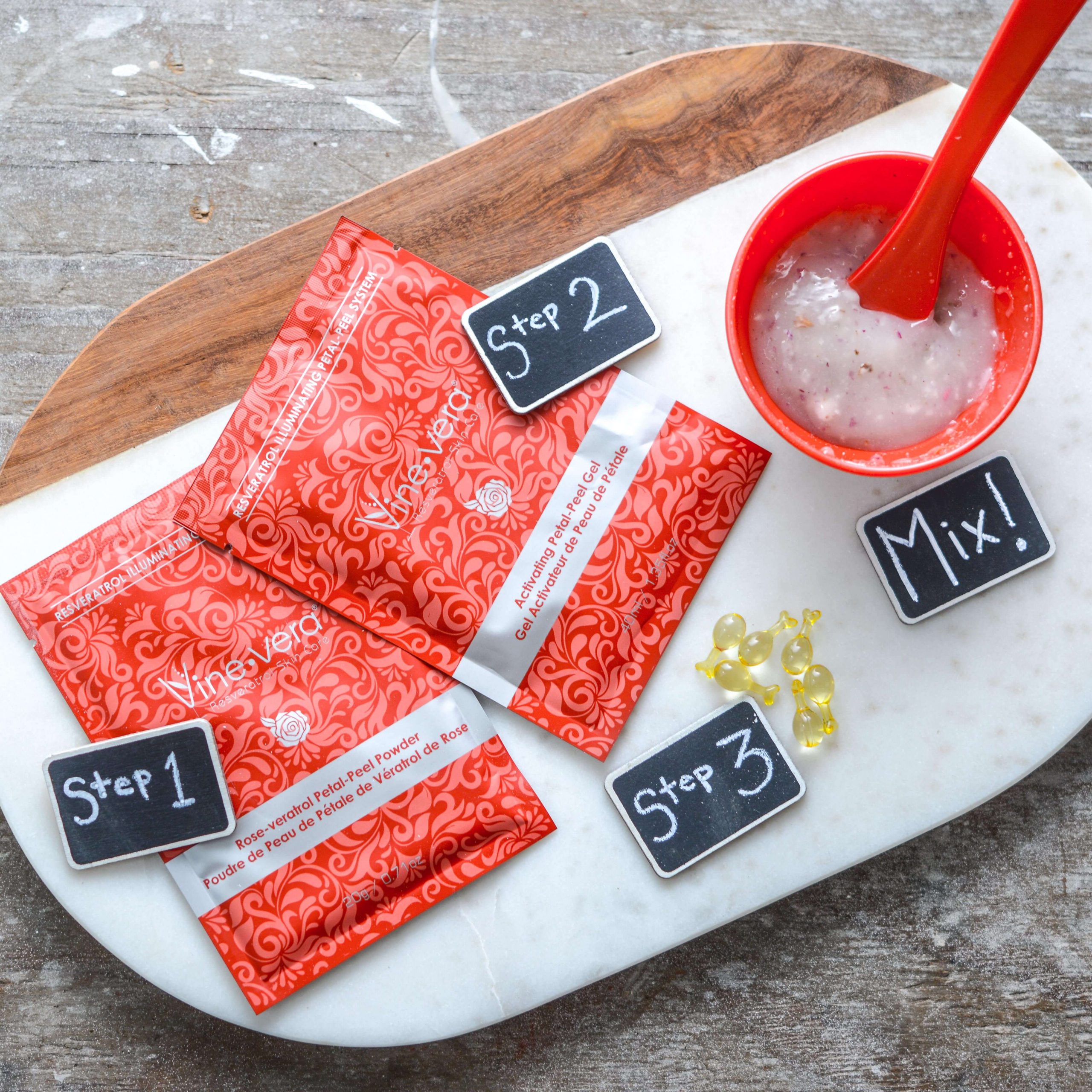 Radiance is one of the most difficult skin qualities to achieve. It denotes a smooth-looking texture, the right level of moisture, and the absence of the appearance of dullness — each of which is difficult to achieve on its own. However, we at Vine Vera have our own express solution to radiant-looking skin: the Resveratrol Zinfandel Illuminating Petal Peel System.
Zinfandel wine's roots can be traced back to Croatia, but it is now primarily grown in California. It is primarily known for its versatile flavor. This makes it a fantastic choice for pairing with a variety of dishes. 
In the same way, our Resveratrol Zinfandel Illuminating Petal Peel System works well with all skin types. A great example of the best skincare from wine, this illuminating skin system is an instant pick-me-up for skin that feels dull and dehydrated. It utilizes three solutions to get the best results in just 20 minutes:
Rose-veratrol Petal-Peel Powder, which is infused with Rose Bud Powder

Activating Petal-Peel Gel, an alcohol-free solution that draws moisture to the skin

Correcting Petal-Peel Capsules, a natural oil full of fatty acids
How to Use
To use the Resveratrol Zinfandel Illuminating Petal Peel System, open one packet each of the powder, gel, and capsules. Pour all the components into the enclosed bowl and mix until they combine to form a creamy paste. Apply the mask onto the skin and neck, taking care to avoid the eye area. Leave the mask on for 20 minutes, then gently pull it off the skin in sections. Follow up with a serum and moisturizer for optimal results!
Resveratrol Malbec DNA Magnetic Mask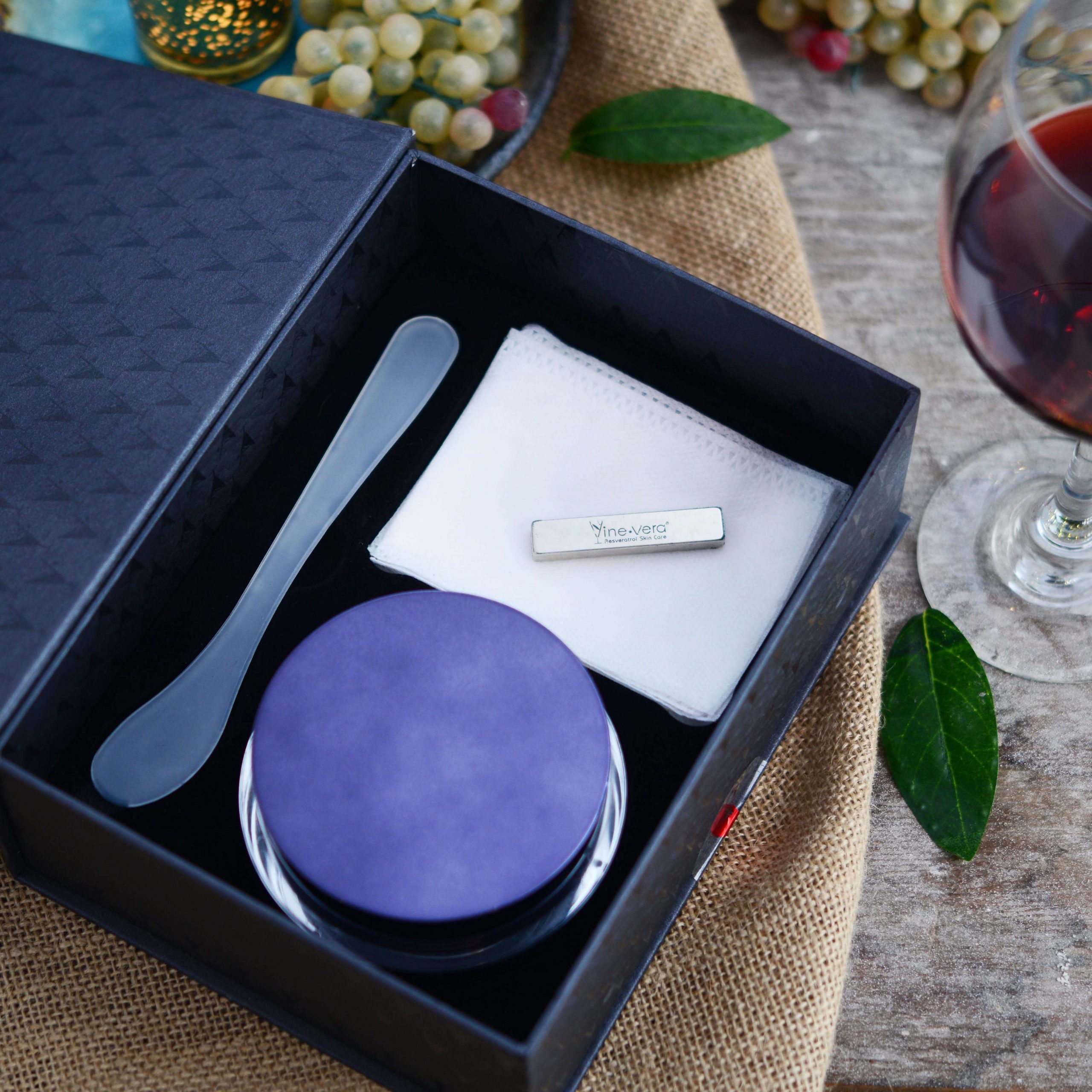 Malbec is a popular red wine produced across seven countries worldwide. With thick skin, deep purple berries, and a full-bodied taste, Malbec is the kind of wine that can please everybody. The same can be said about Vine Vera's Malbec DNA Magnetic Mask.
Rooted in innovation and research, this mask is just one example of the best skincare from wine. Taking skincare to the next level, it utilizes a magnet and diamond powder for mess-free masking. In true Vine Vera fashion, it also makes use of natural ingredients to target the appearance of aging, uneven-looking skin, and a rough skin feel with a blend of unique ingredients. Some of the ingredients you'll find in the Malbec DNA Magnetic Mask's formulation include:
Coconut Oil
Sunflower Seed Oil
Rosemary Leaf Extract
Cannabis Sativa Seed Oil
How to Use
To use, simply apply a thin layer of the product onto the skin using a brush or spatula. Let the product sit on the skin for a few minutes. Insert the enclosed magnet into a sachet and hover it close to the face to lift the mask from the skin. Thereafter, massage the face and neck with the remaining oils. You can then apply your favorite serum and moisturizer to complete your at-home spa experience!
Resveratrol Shiraz Instentic Serum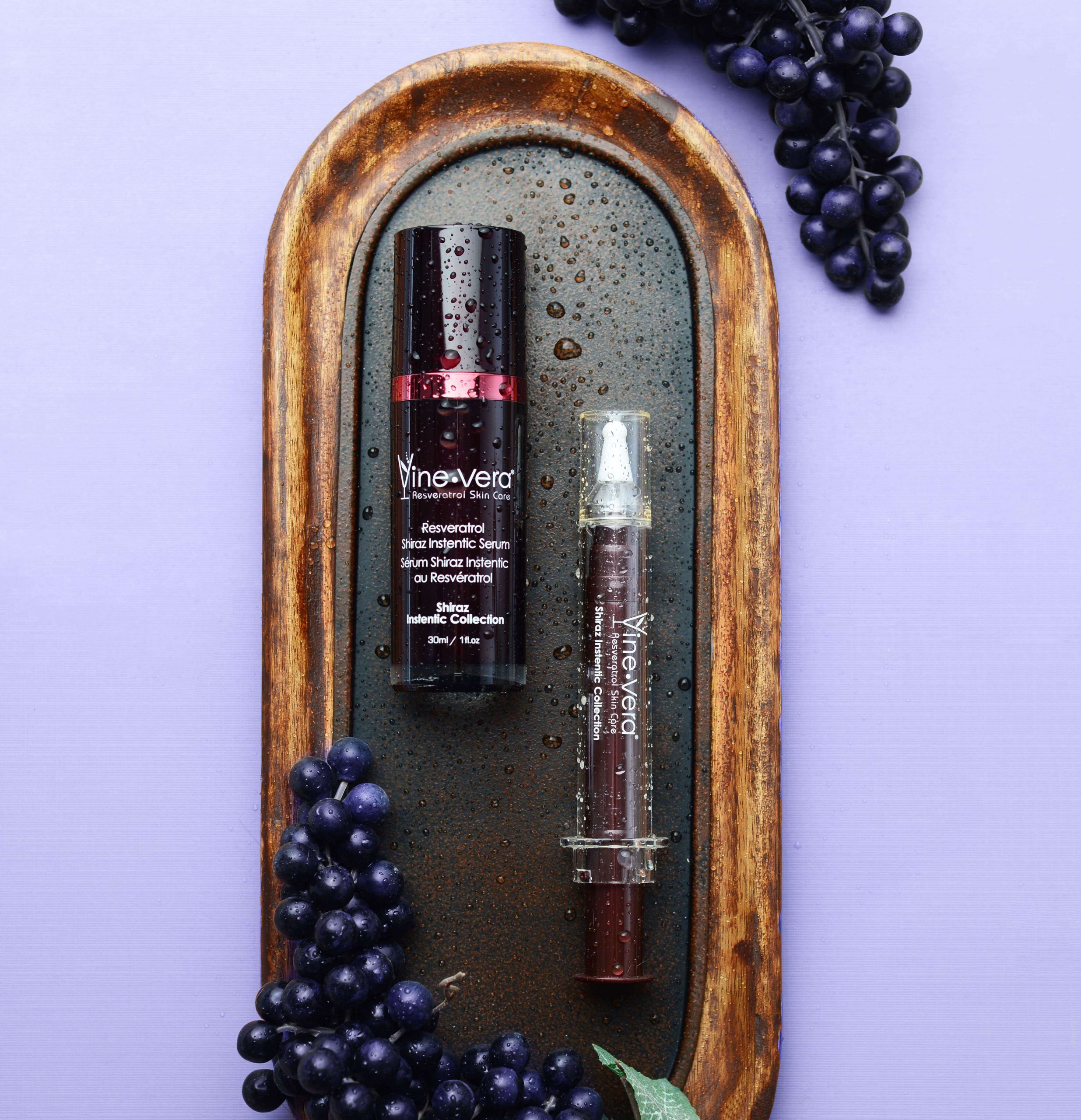 There is no shortage of red wine in the market, but each variety has its own distinct characteristics that set it apart from the rest. Shiraz, for instance, has a fuller-bodied and more robust taste compared to Merlot, another common choice for red wines. Vine Vera takes these characteristics of Shiraz wine and applies them to our collection of skincare that can reduce the look of aging.
The Resveratrol Shiraz Instentic Serum harnesses the power of Sodium Hyaluronate and Vine Vera's signature Resveratrol to crack down on the visible signs of aging. The serum also contains Retinyl Palmitate, a form of Vitamin A.
How to Use
Ready to incorporate the best skincare from wine into your routine? Here's how to introduce the Resveratrol Shiraz Instentic Serum to your regimen.
After cleansing and toning the skin, simply apply a small amount of serum onto the face and neck. Massage it into your skin until fully absorbed. Then, layer your favorite Vine Vera moisturizer over the top.
Resveratrol Chianti Age Correcting Syringe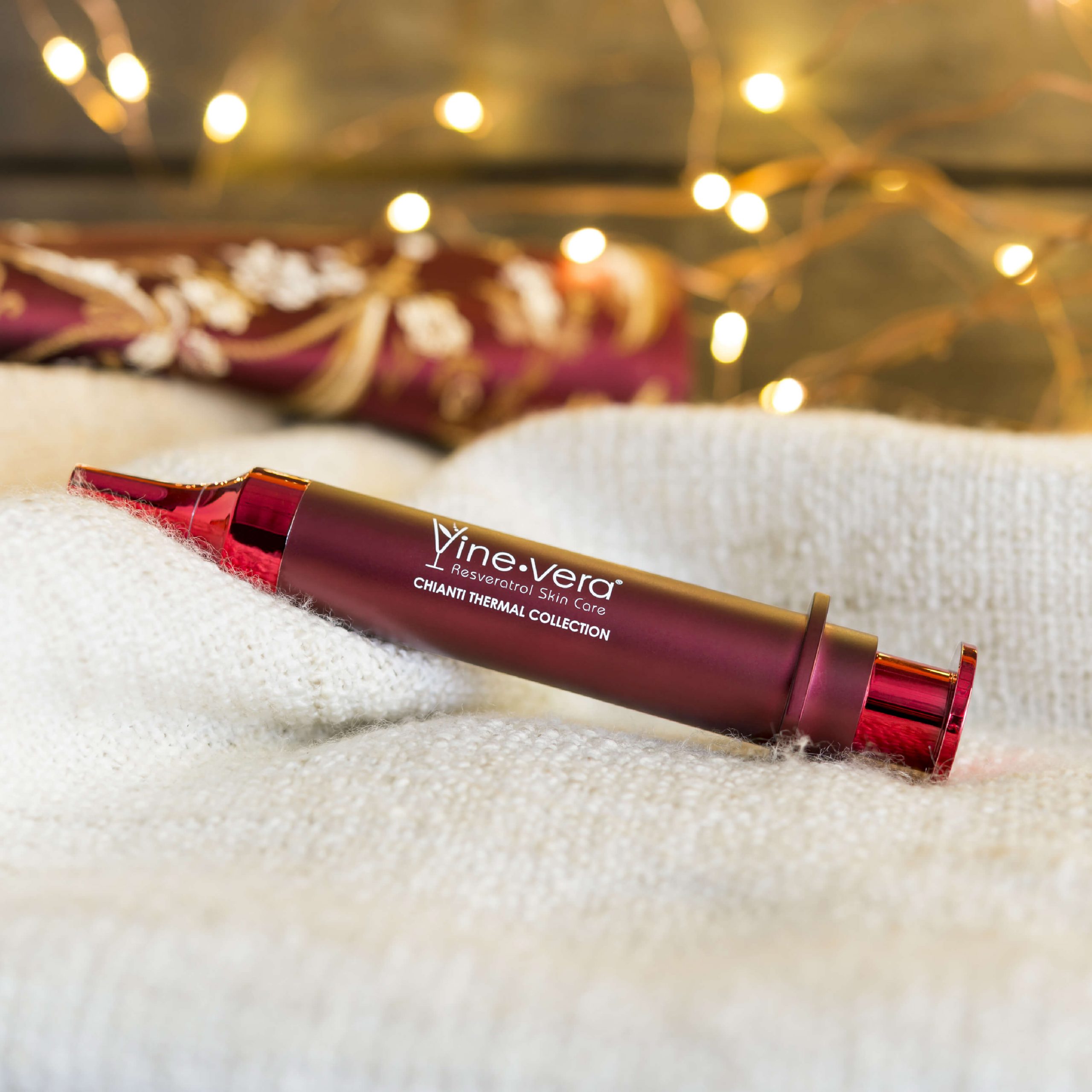 Chianti wine is produced in a region of Tuscany and is often packaged in a wine bottle within a straw basket. Here at Vine Vera, we have our own unique packaging for our very own Chianti-inspired serum.
The Resveratrol Chianti Age Correcting Syringe is a unique solution packaged in a non-invasive, needle-like exterior. With a syringe, targeting specific lines and problem areas becomes a much easier task. 
Just as important as the innovative packaging is what lies inside it. The Resveratrol Chianti Age Correcting Syringe harnesses the following natural ingredients:
Avocado Oil

Cucumber Extract

Malus Domestica Fruit Cell Culture Extract

Sodium Hyaluronate
How to Use
Once a week, use the applicator to directly dispense the product onto specific wrinkles or areas of the face. Pat the product into your skin until fully absorbed. Before storing the syringe, remove any excess product from the applicator using a clean cotton swab. 
Although the instantaneous effects of this syringe are temporary, consistent use is beneficial. The formula is packed with ingredients that'll help to combat the look of skin aging in the long run too.
Resveratrol Cabernet High Potency Creams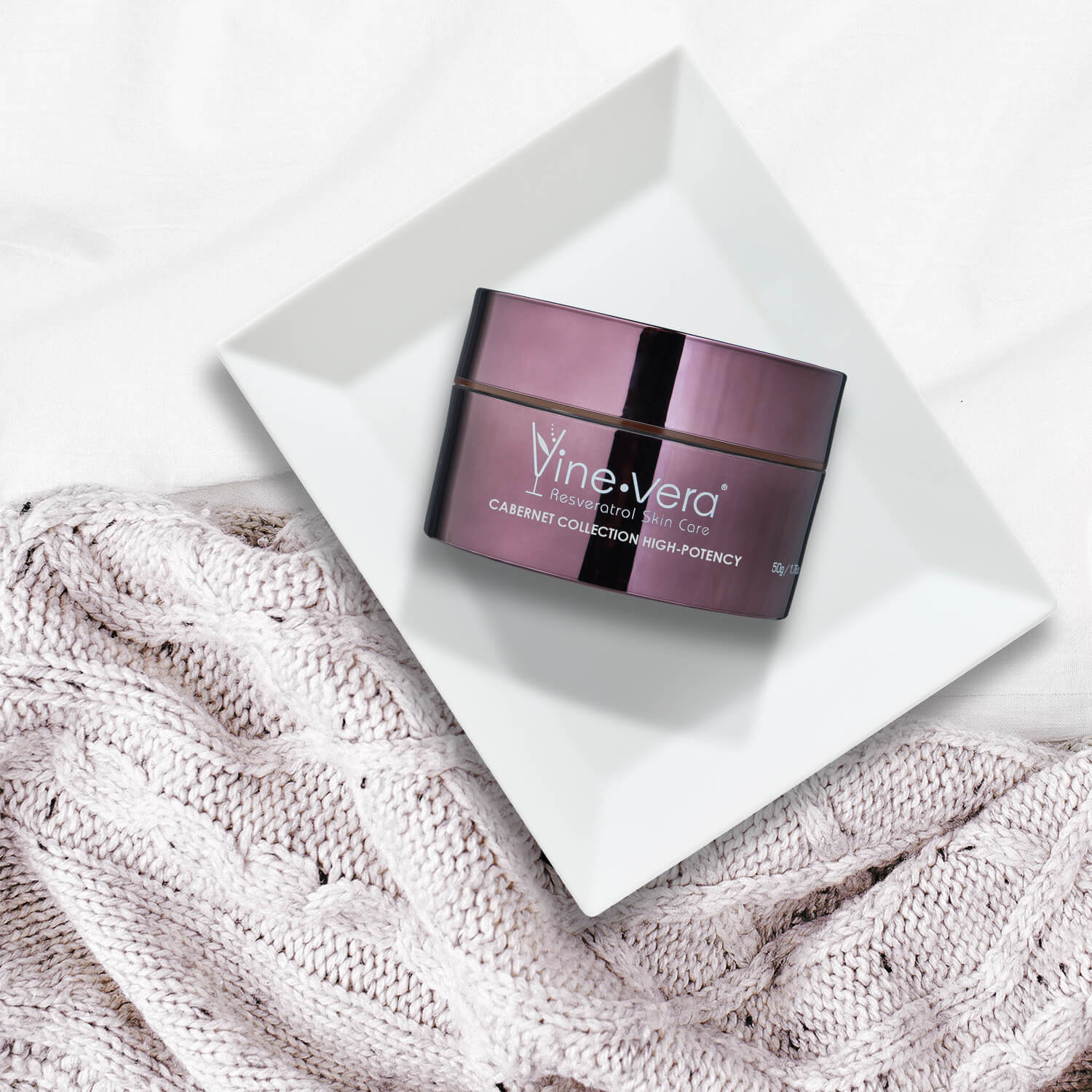 Cabernet Sauvignon is easily one of the most prominent wines all over the world, with almost every wine-producing country producing this specific variety. Here at Vine Vera, Cabernet Sauvignon is also a crowd favorite with several products from the Cabernet line ranking among our list of best-sellers.
Two cult-favorite products from the line include the Resveratrol Cabernet High Potency Creams. Both are formulated to improve the skin's moisture levels through day and night:
The Resveratrol Cabernet High Potency Moisture Day Cream is designed to layer well under sunscreen or makeup — no pilling or excess grease involved. Its lightweight formula features Vitamin E and Shea Butter to ensure long-lasting moisture 'round the clock. 
The Resveratrol Cabernet High Potency Night Cream, on the other hand, features a thicker and richer formula. With Retinyl Palmitate, Green Tea Extract, and Coral Seaweed Extract, this cream leaves the skin feeling soft and smooth all night. This makes it an especially great choice for those with dry skin, rough patches, or sensitivity to colder weather. 
At Vine Vera, wine is not just an inspiration for our products — it's a crucial part of the formulation process. Taking the best qualities from popular wines from across the globe, we use science to harness the skin-loving properties of grapes to bring you the best skincare from wine.
Ready to upgrade your skincare routine? Discover more of the best skincare from wine, only from Vine Vera.