The Best Skin Care from Wine-Inspired Ingredients
Posted on November 15, 2022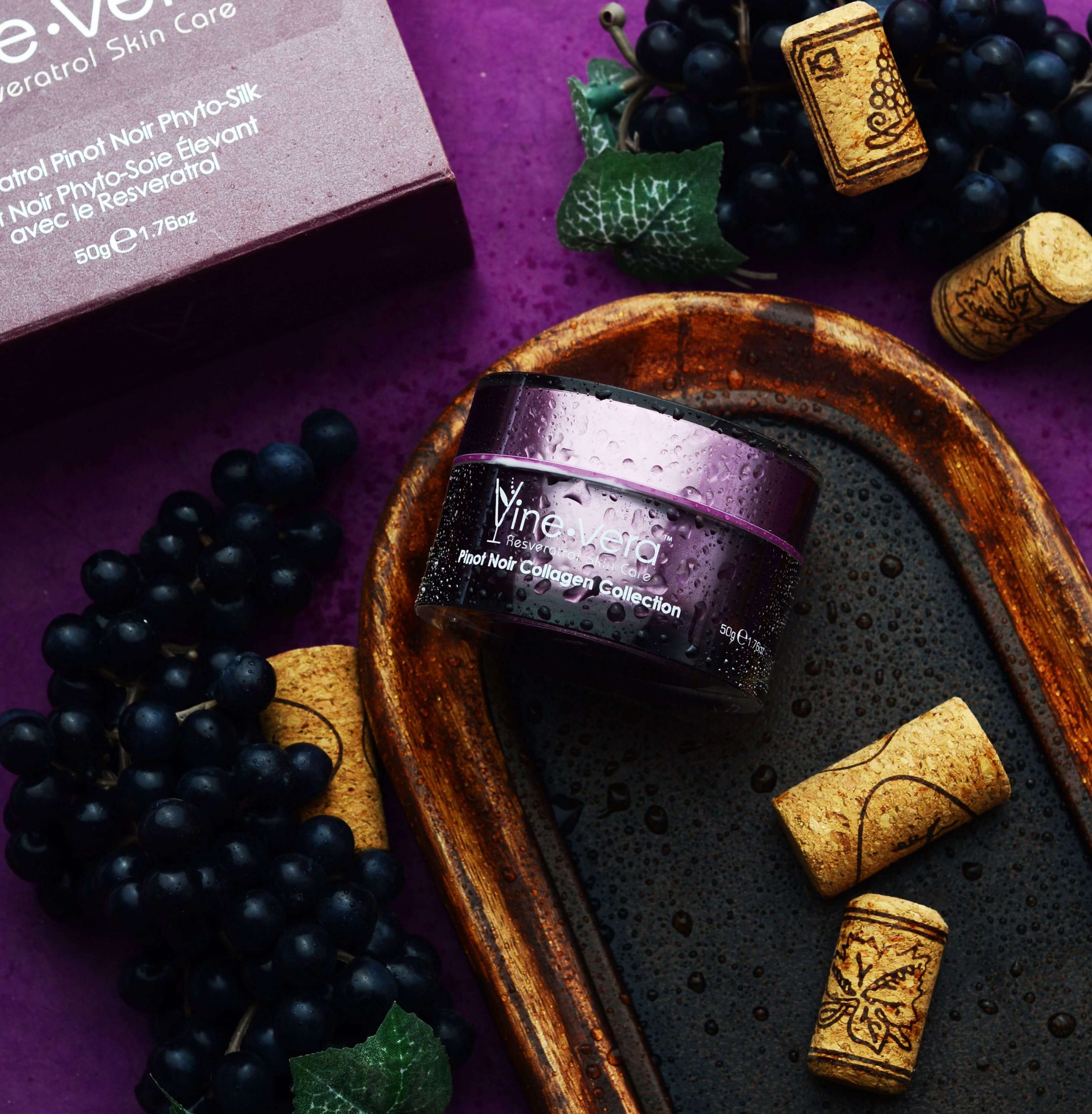 Hardly anyone says no to a nice glass of wine. For some, it's a must at any birthday party, romantic dinner date, or girls' night out. And for others, its sweet, rounded, full flavor hits the spot when you're trying to nurse heartbreak. Some even say that a glass of wine each day helps keep the heart healthy!
But what if we told you that wine can inspire a lot of other benefits for beauty and wellness, specifically in skincare? When you really pick apart what makes wine what it is, you'll find ingredients that help your skin look prettier and more glowy.
That's why Vine Vera takes inspiration from the best, most luscious wines for our collections. We draw from the velvety smooth feel and exquisite tastes of various wines and create inventive, luxurious skincare collections to pay homage to them. Check out our best skin care from wine below, along with info on what you could get out of it.
At Vine Vera, We Love to Draw Inspiration from the Power of Wine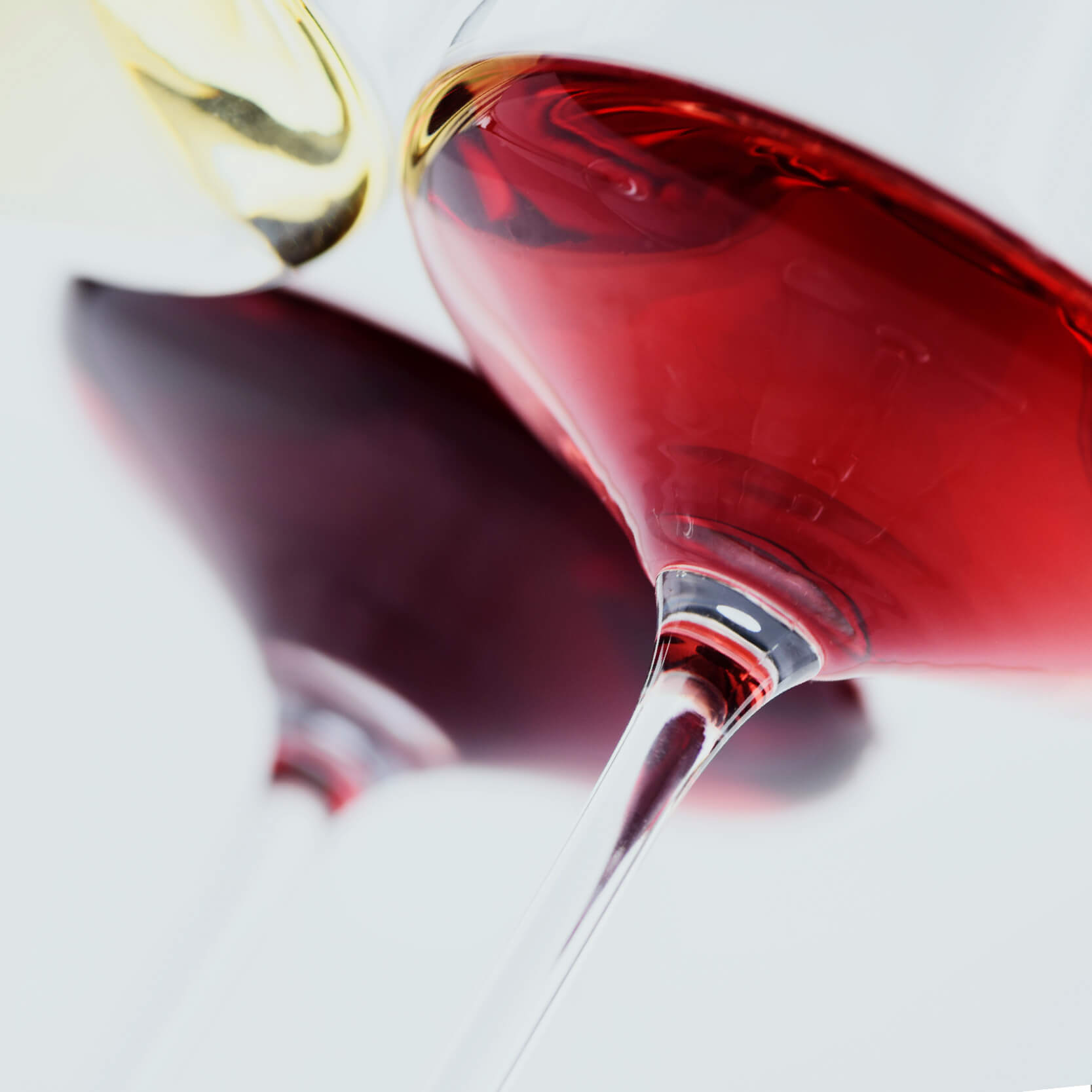 Although we don't exactly have drops of your favorite chardonnay or sauvignon blanc in our moisturizers or serums, our collections are inspired by the luxury and complex flavors of wine. Why? The answer is simple — wine is loaded with resveratrol.
Resveratrol is a compound you can find in grapes, which everyone knows is the main ingredient in wine. It's a powerful and promising new skincare ingredient that has tons of benefits for the complexion, which is why it's Vine Vera's signature ingredient infused in all of our formulations.
Why is Resveratrol Such a Big Deal?
See, there are loads of resveratrol benefits that can help transform your appearance, no matter what your skin concerns or issues are. One of the most popular of those is the fact that topical application of resveratrol has been found to significantly minimize the look of wrinkles and fine lines in aging skin.
Resveratrol is also a terrific product that we infuse into our hydrating products, like moisturizers. This is because the plant compound helps diminish the feeling of roughness on the skin, leaving it looking silky and velvet (just like wine!). It'll enable you to say goodbye to the look of flakiness and a rough-feeling texture.
It's also fantastic for sensitive skin because it helps improve the look of redness on an inflamed, irritated complexion when you have allergies or raging breakouts.
These are just a few of the reasons why you need resveratrol products in your routine. Of course, we also infuse tons of other skin-loving ingredients, like aloe vera, vitamin C, shea butter, and more alongside it in our formulas.
These unique blends make up the roster of collections we hold dear to our heart, each inspired by your favorite wines. Curious to see how each wine influenced our products? Check out Vine Vera's best skin care from wine below.
Cabernet Sauvignon: Potent, Moisturizing Skincare for the Sophisticated Woman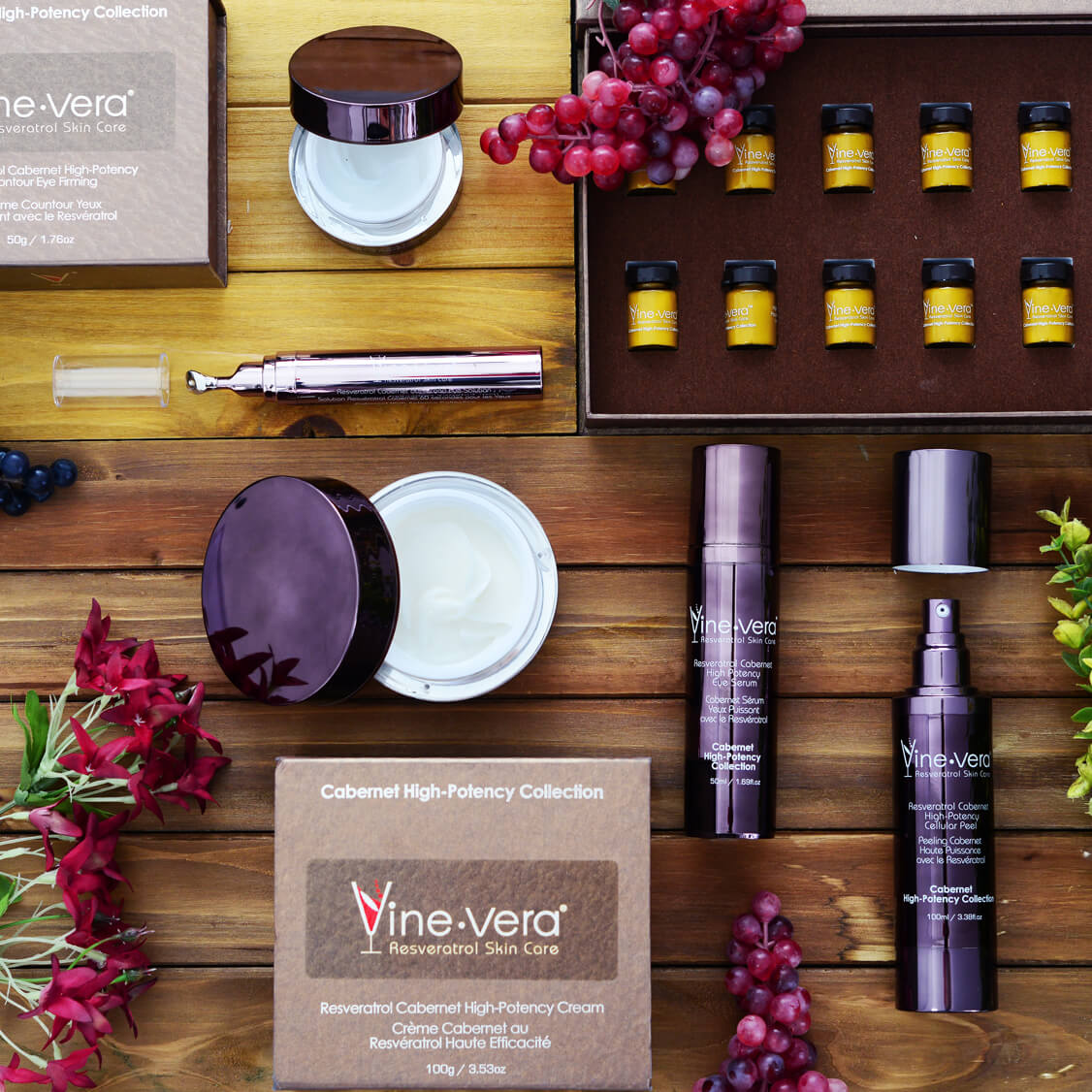 First in our list of the best skin care from wine, we have the Cabernet Collection—arguably our most popular line of products. This collection was inspired by cabernet sauvignon, the strong, bold wine that is often seen as the most popular red wine in the world.
One of the things that makes cabernet sauvignon unique from other wines is that it's very rich and high in acidity. That gives it a dark, maroon color and lots of lush body and texture. Its alcohol content is quite high at 13.5%, making it a crowd-fave when partying. It's a wine so potent that a lot of people only drink it when paired with food to balance out the intense taste.
That's why the Cabernet Collection was created with high potency in mind. The formulas in this line are filled to the brim with the vitamins and extracts your skin needs to look and feel great. And much like the wine that influenced it, the line has an elegant, luxurious feel to it!
Products to Try: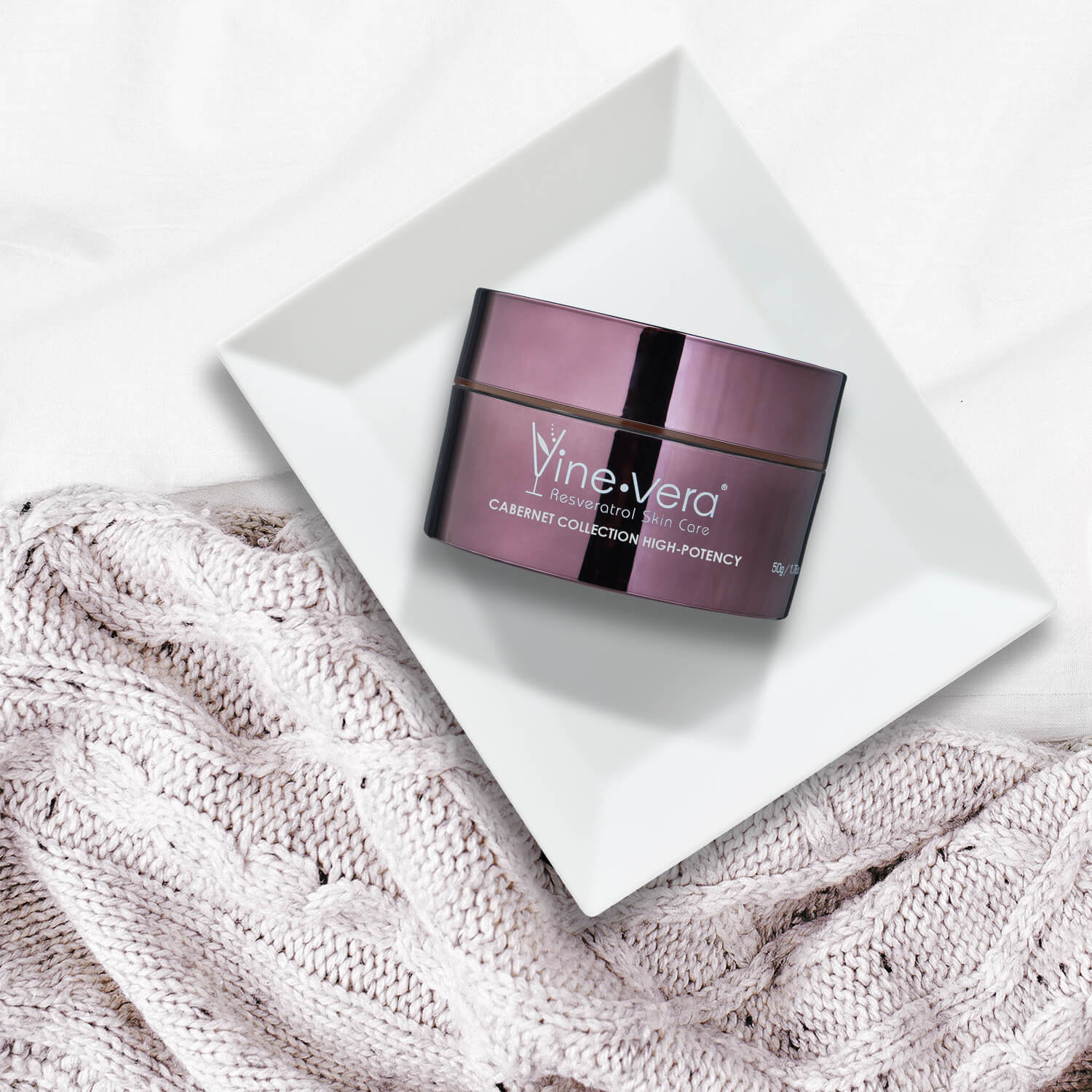 Among the most popular products from the High Potency line are the rich, creamy moisturizers. In this collection, we have one for day and another for night.
The Resveratrol Cabernet High Potency Moisture Day Cream keeps your skin hydrated and dewy during the day, thanks to ingredients like shea butter, vitamin E, and resveratrol. It gives your skin that glow without looking too greasy and oily, thanks to balancing ingredients like niacinamide.
At night, you need something a bit more heavy-duty. That's what the Resveratrol Cabernet High Potency Night Cream is for. The formula contains ultra-hydrating ingredients, such as aloe, glycerin, and resveratrol, to replenish your complexion with moisture as you sleep.
It also has tons of ingredients that can minimize the look of wrinkles and lines, such as vitamin A, green tea extract, and coral seaweed.
Pinot Noir: Collagen Skincare to Keep the Visibility of Wrinkles in Check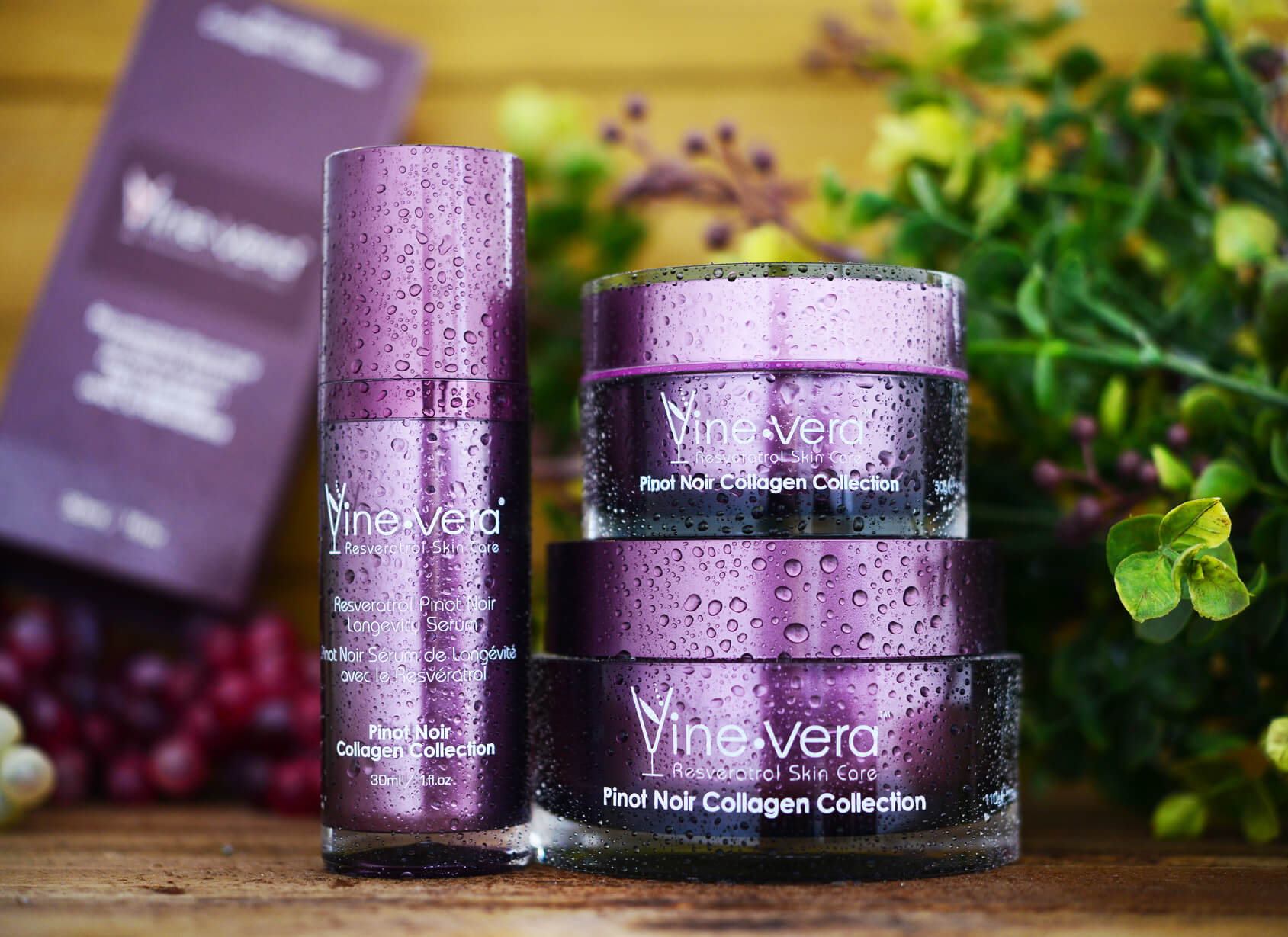 Another popular wine that we've drawn inspiration from is the classic pinot noir. It's one of the most sophisticated and sought-after wines in the world, and for a good reason.
This fruity wine has a divine texture that glides smoothly down the throat. The cool thing is that it tastes even more delicious over time.
Pinot noir is an indulgent wine that gets better as it ages. We want the exact same for your skin. The older you get, the more worried you'll become over wrinkles and sagging. But we came up with the Pinot Noir Collection, a line of products infused with collagen to keep your skin looking firmer and more youthful over time – just like a good pinot noir.
Products to Try: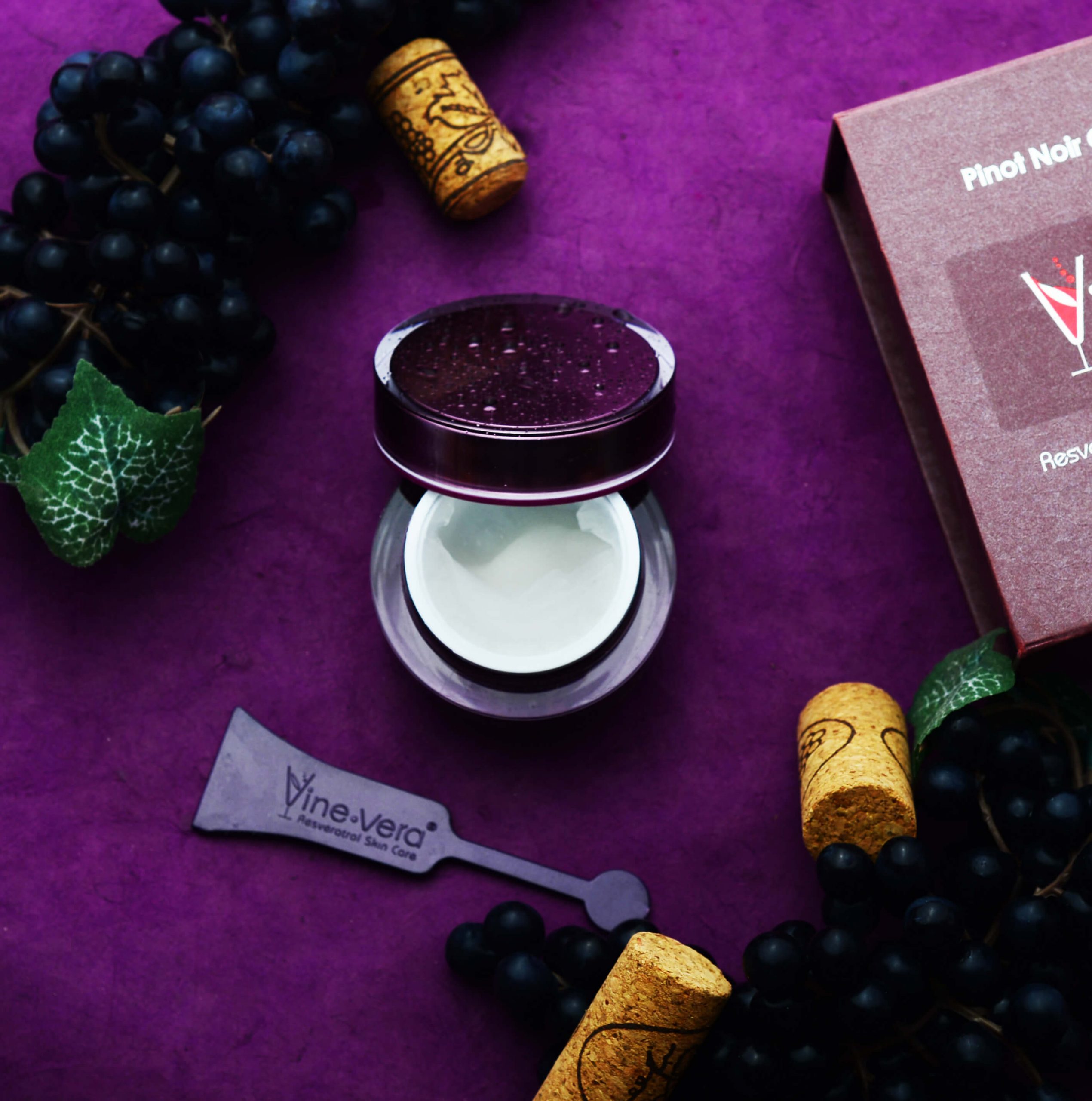 A fan-favorite from this collection is the Resveratrol Pinot Noir Phyto-Silk Mask, a leave-on mask you can use to moisturize and pamper your skin overnight. It's made with vitamin A and exotic fruit extracts from acai, maqui, noni, goji, and pomegranate, as well as aloe for that soothing feeling.
Together, these ingredients smoothen the feel of dehydrated skin, zapping away the appearance of fine lines and wrinkles. The result? A taut, supple complexion that looks years younger!
Get the most out of this mask by exfoliating beforehand. For that, you can try the Resveratrol Pinot Noir Dissolving Pre Mask. This gentle exfoliating formula gets rid of the stubborn impurities on your skin, prepping it for the mask. It also contains green tea and resveratrol, which reduce the look of fine lines.
Looking for the best skin care from wine like pinot noir? Check out the rest of the collection here.
Chianti: Relax and Pamper Your Skin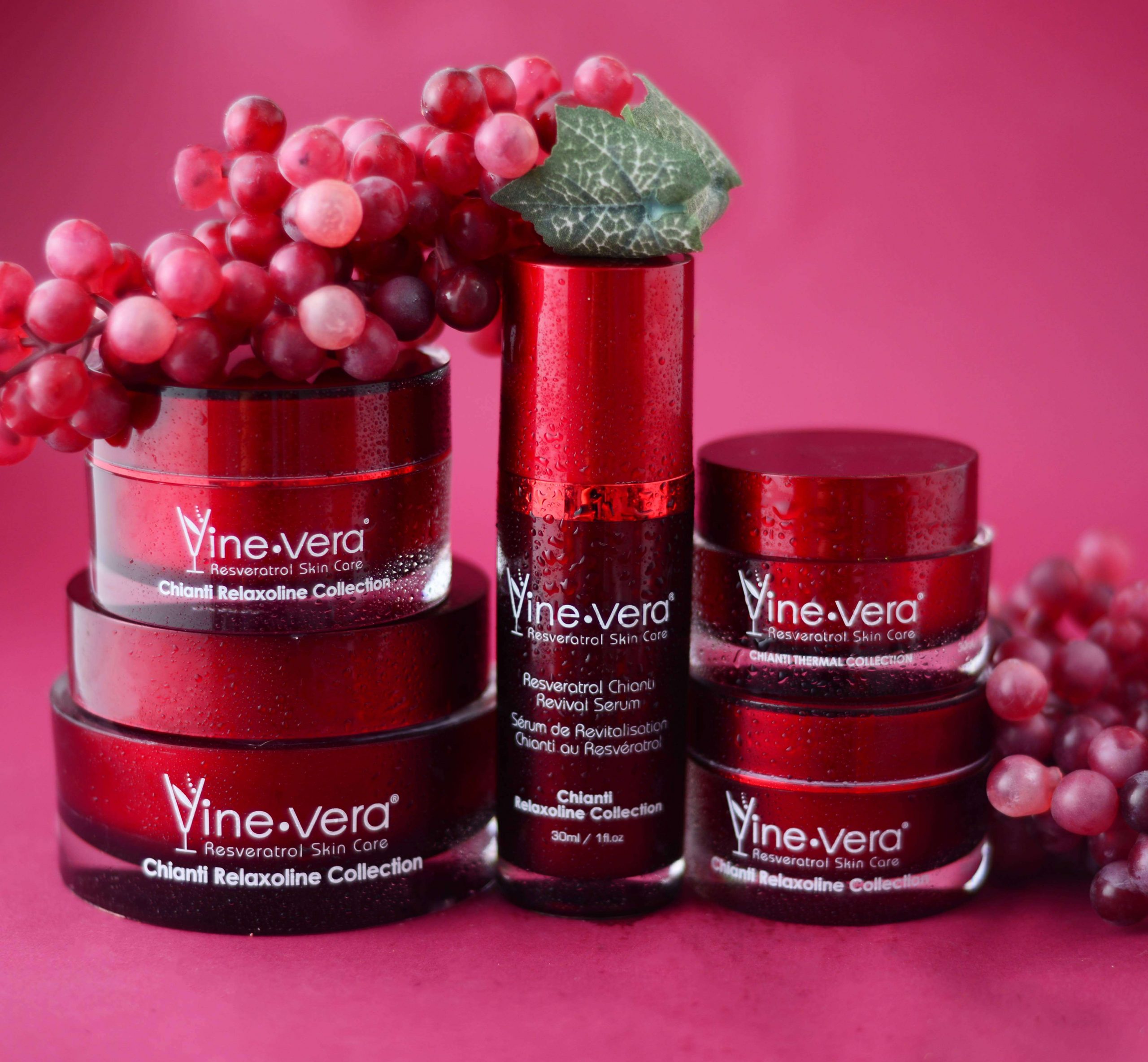 Wine is a great way to unwind and relax. So, it only makes sense that the best skin care from wine also helps you calm down and destress after a long day.
We created the super soothing and relaxing Chianti Collection inspired by — you guessed it — chianti wine. This wine is known as a rustic, homey wine that's usually stored in a squat bottle nestled in a straw basket. Its top notes include fruits, herbs, smoke, and a bit of balsamic vinegar.
Needless to say, this wine feels like home. That's why the Chianti Collection is all about rest, relaxation, and coziness.
Product to Try: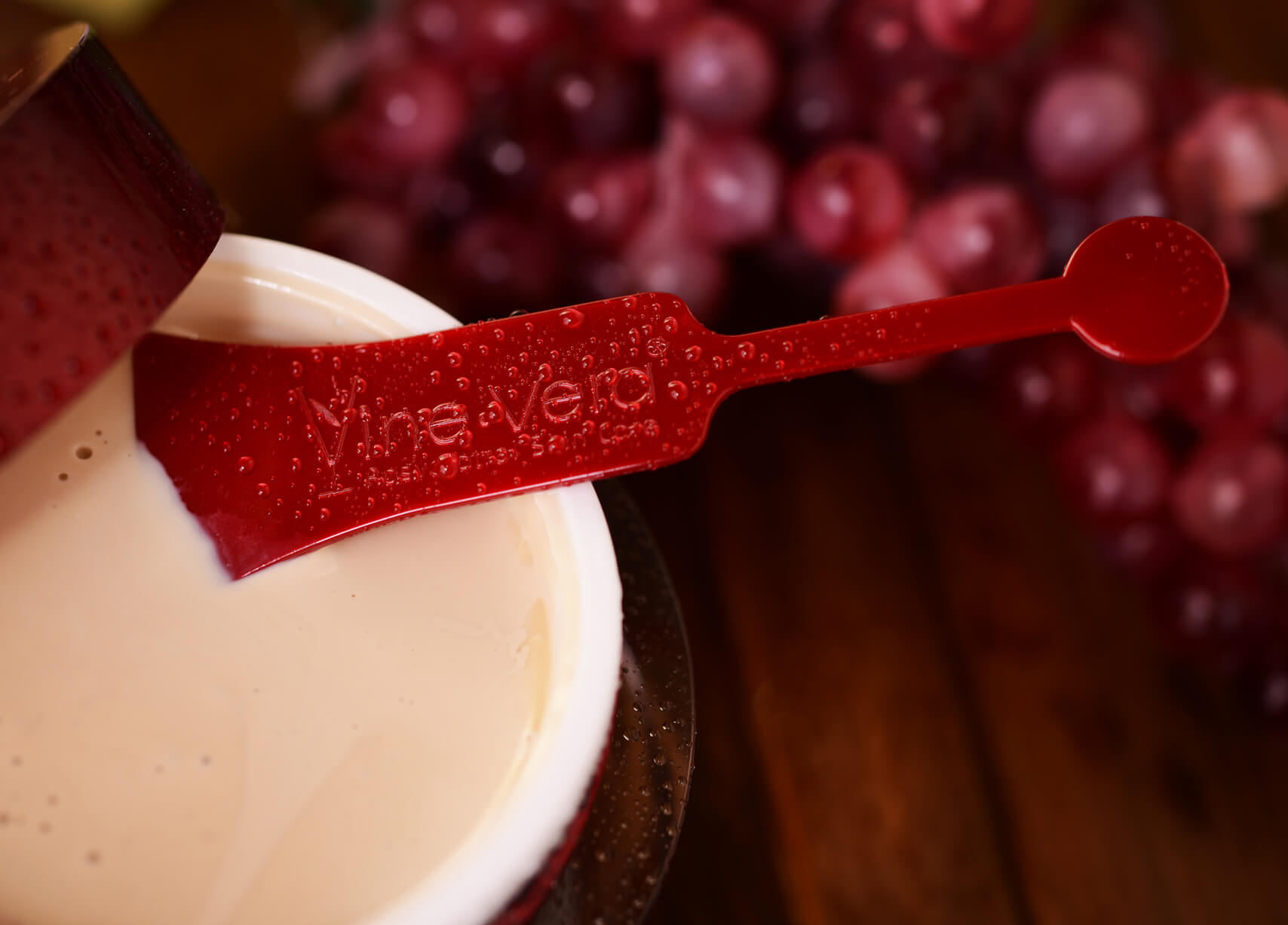 Among the best skin care from wine under the chianti line, the most relaxing product by far is the Resveratrol Chianti Thermic Mask. It's a moisturizing mask that heats up when massaged into the skin, bringing you a calming, spa-like feeling.
The mask contains aloe vera, sweet almond oil, and resveratrol to hydrate the skin. This leaves it feeling smooth, silky, and oh-so-touchable after you wash the mask off.
Shiraz: Intensity That Adds Extra Lift and Suppleness to the Complexion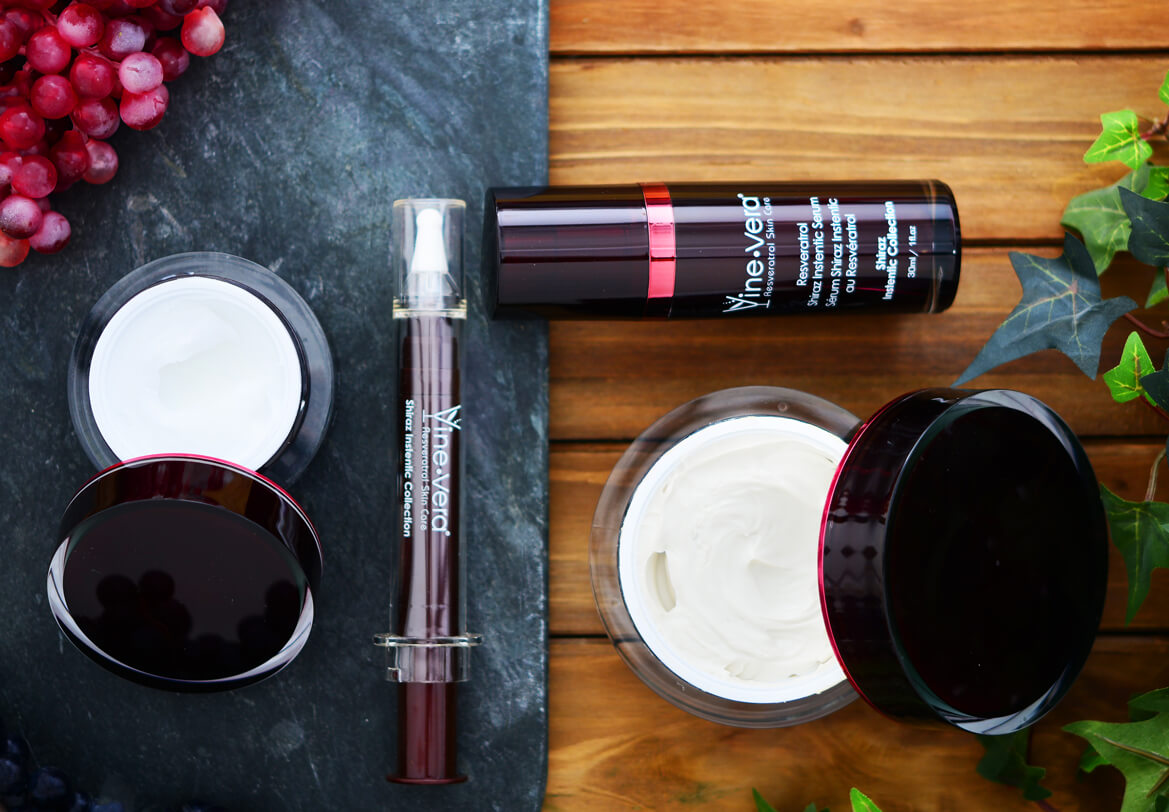 Shiraz wine has a jammy taste and a full body. Its top notes are black and red fruits, licorice, plum, tobacco, and anise. As you can probably deduce, shiraz is quite intense and bold, although it still has a softer texture and mouth feel.
The deep flavor and dark purple hue of this unique wine inspired our Shiraz Instentic Collection. It has intense prowess for caring for your skin so well that it "lifts" the complexion. The dark, sultry packaging of this line also comes from the brooding aura of shiraz wine.
Product to Try: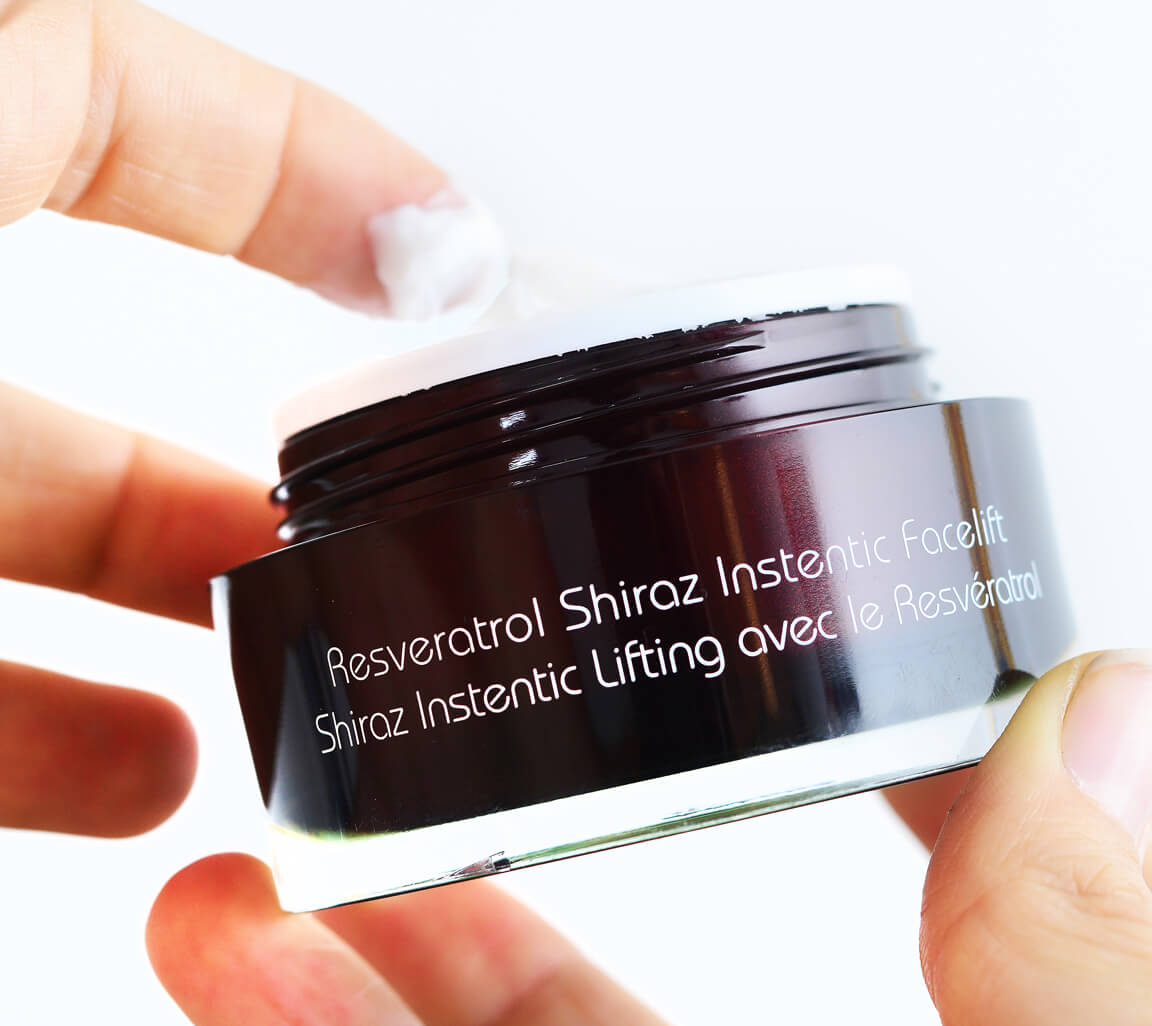 For a smooth, firm appearance, we suggest you use the Resveratrol Shiraz Instentic Facelift. It doesn't literally give you a facelift — don't worry. Instead, it smoothens the complexion to make it look radiant and firm for a younger appearance.
This intense, powerful cream is infused with hard-hitting ingredients known to dissipate the look of wrinkles, like resveratrol, collagen, vitamin A, and DMAE. That's a powerhouse combo of ingredients that can minimize the look of aging!
Zinfandel: A Rosé-Inspired System That Illuminates the Look of Dull Skin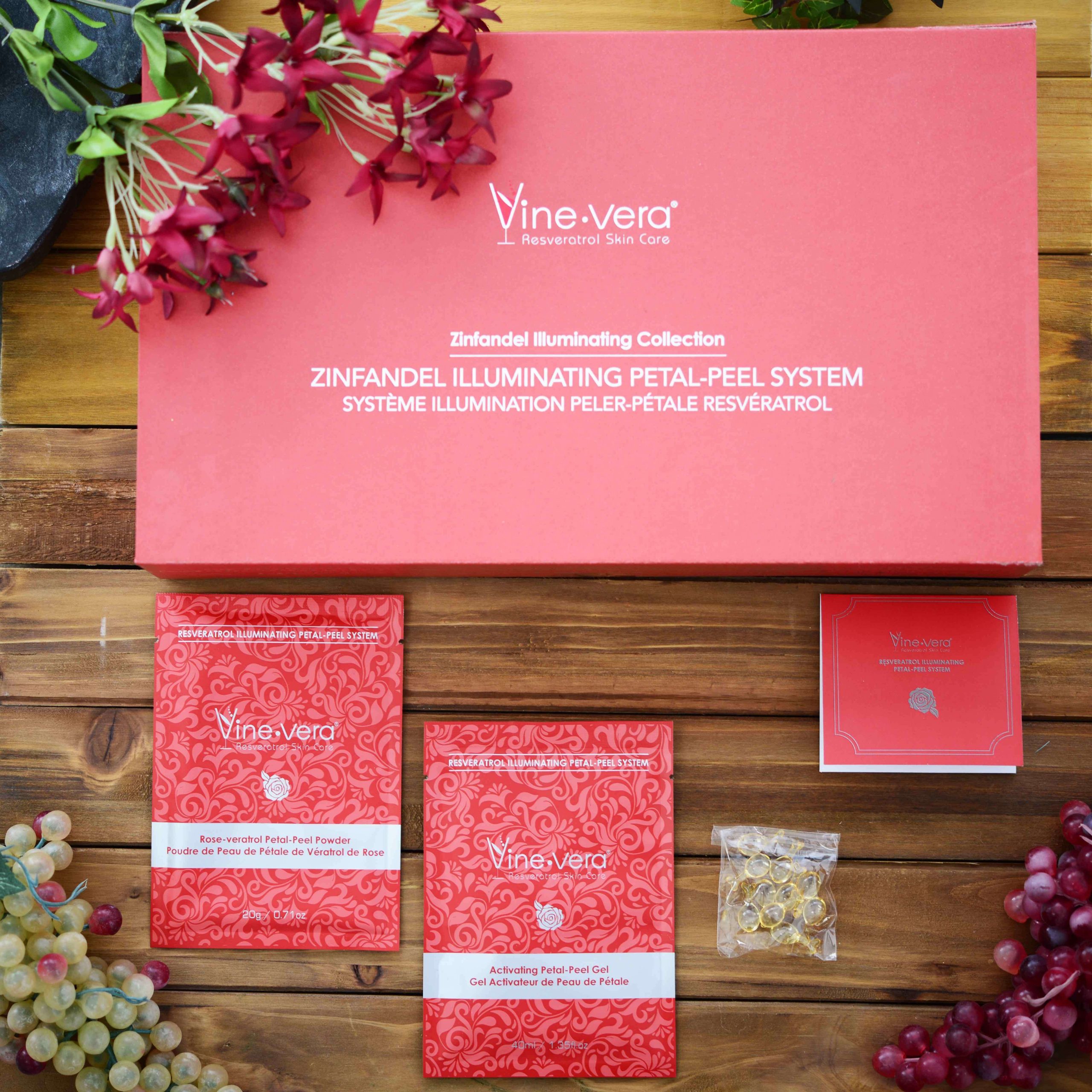 Zinfandel wine — also known as rosé — has gorgeous notes of cherry, cranberry, jam, and fig for that candy-like taste. The grapes used for this wine are grown primarily in California, making it even more accessible to rosé lovers.
It's one of the trendiest, prettiest wines that is the life of the party at any night out. We drew inspiration from this dazzling, tantalizing wine to create a collection that makes sure your skin looks illuminated and glowy. The Zinfandel Collection does that with a little help from rosé-inspired rose extracts.
Product to Try: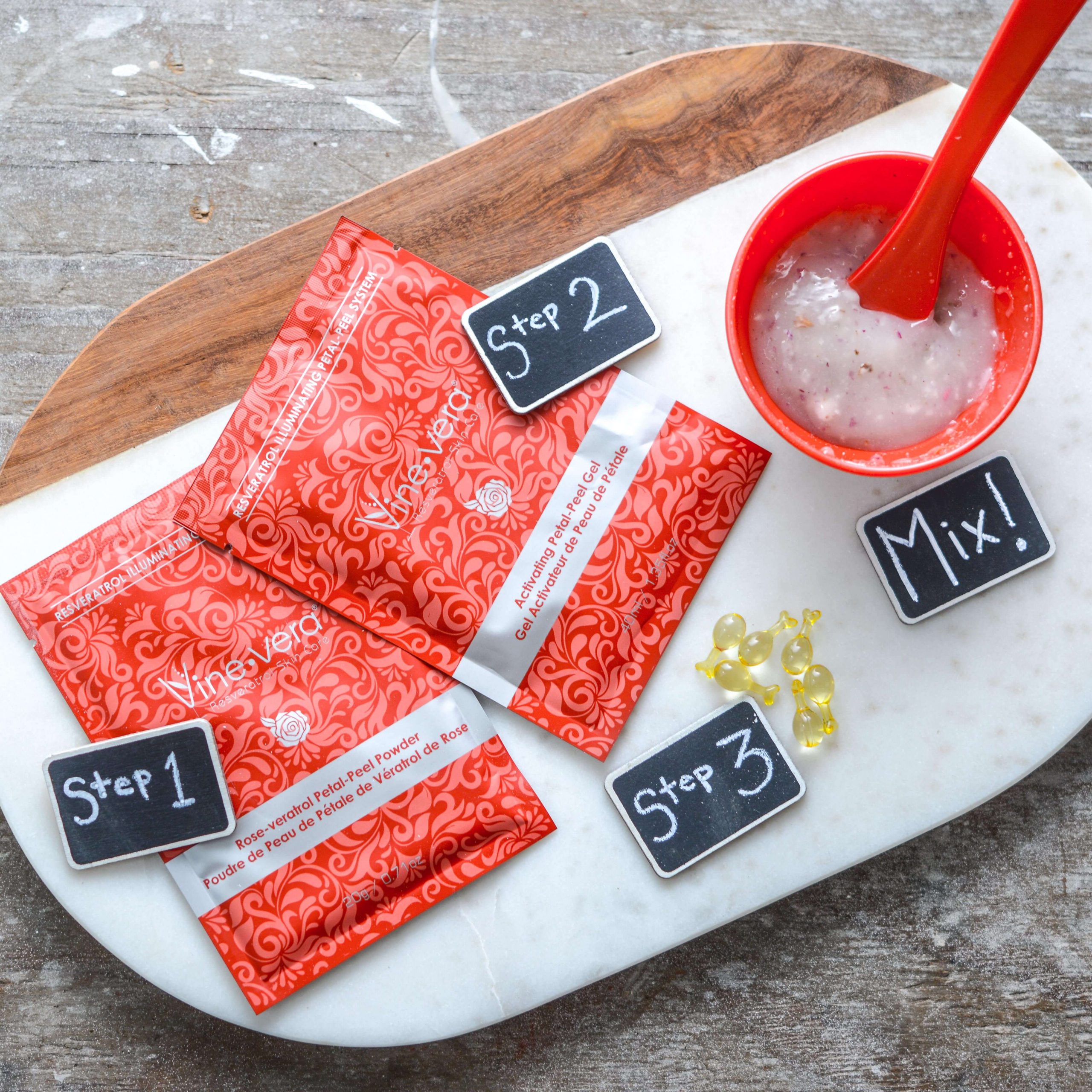 The Resveratrol Zinfandel Illuminating Petal Peel System is fantastic for adding extra radiance and luminosity to your skin when it's looking a little dull and tired. It's made with ingredients like rose bud powder, hyaluronic acid, and collagen to give you that beautiful glass skin look.
To use this system, mix the powder, gel, and capsule in a bowl until they make a creamy paste. Apply it evenly onto your skin and leave on for 20 minutes before peeling it off.
Malbec: An Innovative Way to Reduce the Visibility of Fine Lines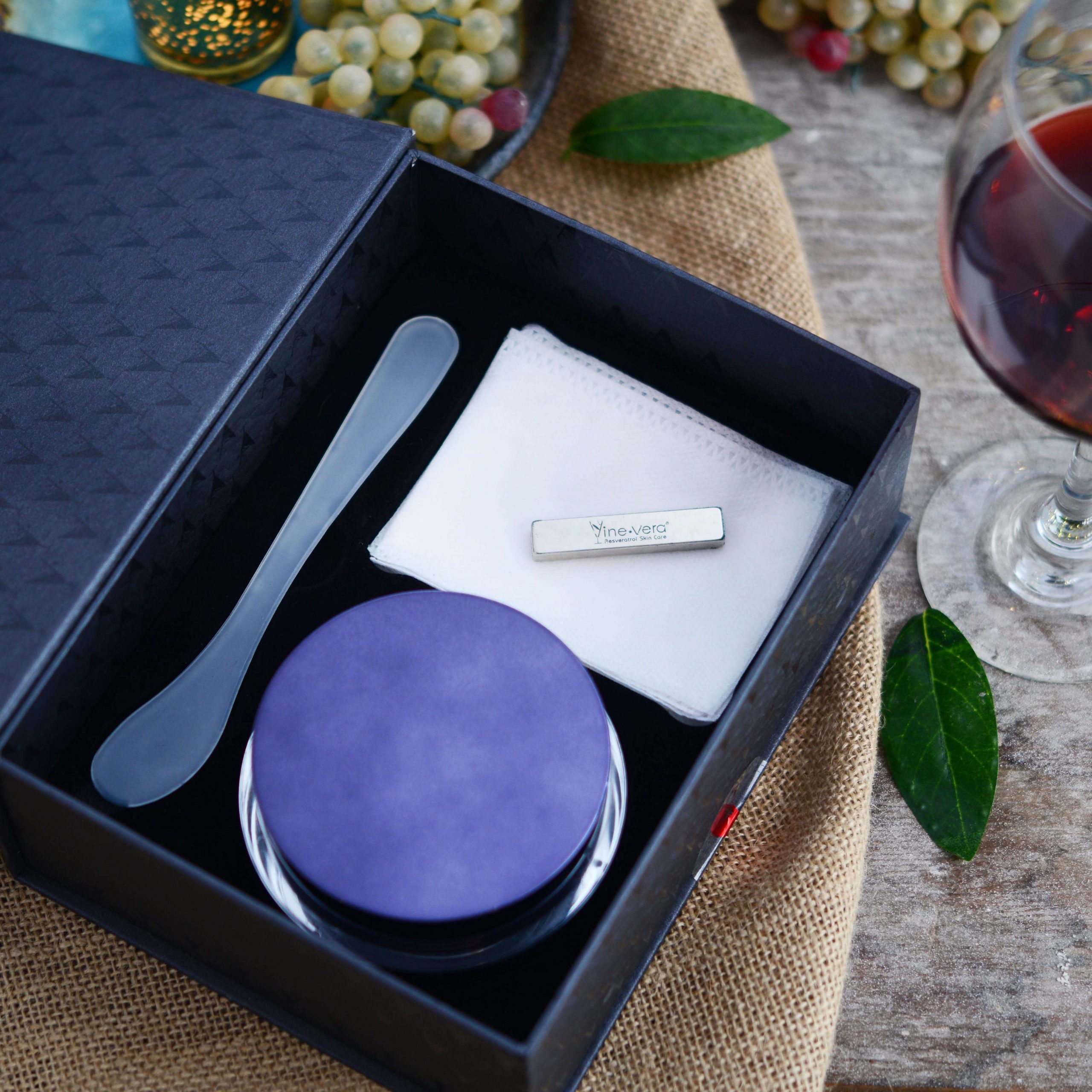 Malbec is a full-bodied wine that not many people consider their fave, but it's really intense. It has a savory taste with notes of cocoa, plum, and leather.
The uniqueness of this wine influenced our goal to create a product that is just as unique — the Resveratrol Malbec DNA Magnetic Mask. The innovative mask boasts coconut oil, cannabis sativa oil, sunflower seed oil, and other moisturizing ingredients to make your skin feel smooth and to reduce the look of fine lines.
To use, slather the mask all over your face and allow it to settle for 15 minutes. Then, use the magnet to lift the mask from your skin, leaving just the botanical oils to moisturize it. It's the best skin care from wine for those getting a little bored of mainstream leave-on masks.
Merlot: Fuss-Free Cleansing Essentials to Show Your Skin Some Love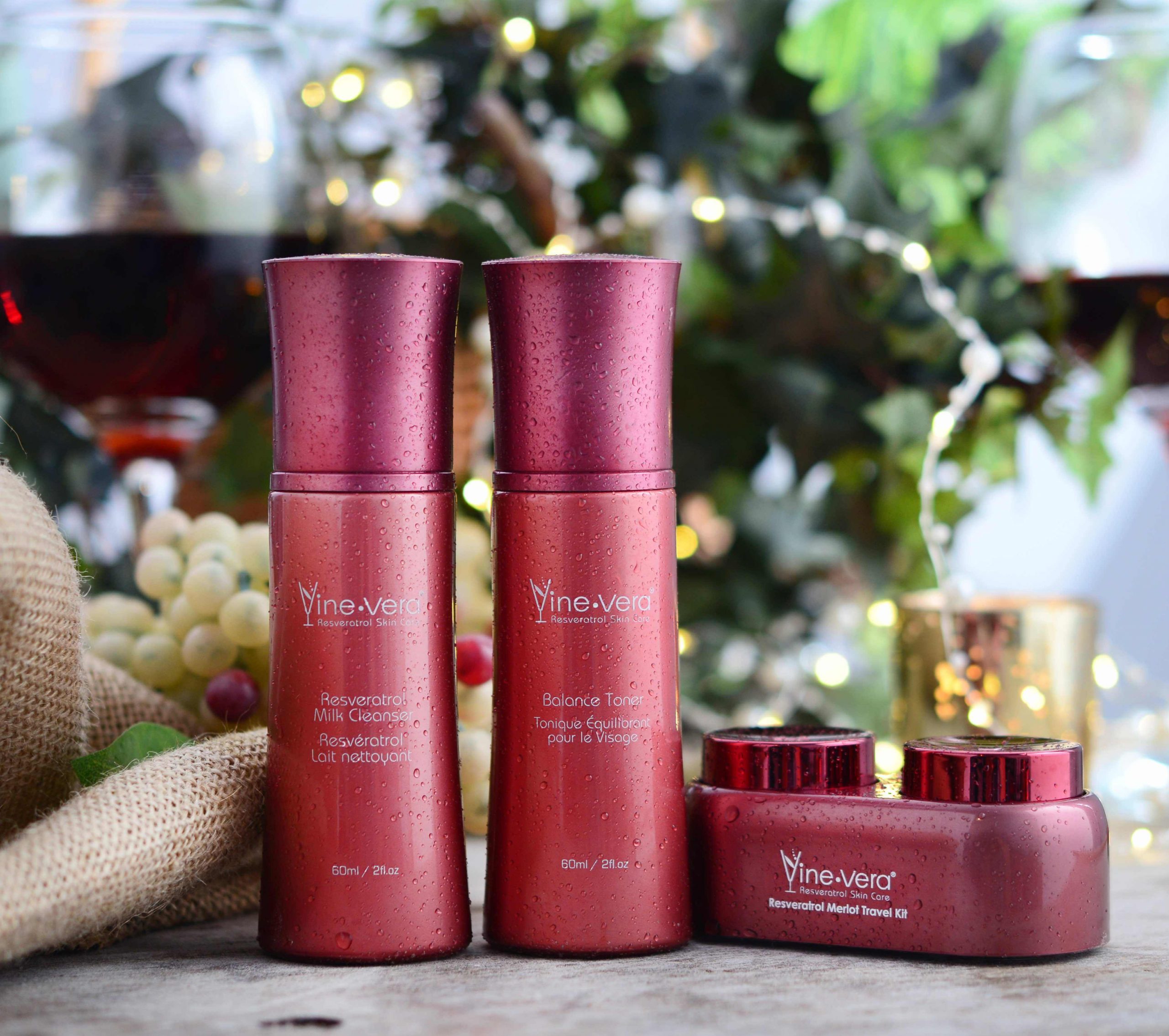 We've featured plenty of the best skin care from wine in the form of masks and moisturizers throughout this article. But you can't talk about proper skincare without mentioning cleansing.
Washing your face is an incredibly important first step in any beauty regimen. It allows you to wash off all the gunk and grime on your skin before using the rest of your products. It's also known to be a great way to deeply cleanse the pores, preventing the appearance of dreaded breakouts.
We wanted to create a line of wine-inspired products dedicated to cleansing and loving your skin in this simple manner.
Merlot wine has a sweeter, more romantic taste because of its fruity flavors with notes of cherry and plum. It also has a soft texture, making it a favorite among women who drink wine for a little bit of self-care. That's exactly what this cleansing collection aims to do — allow you a bit of relaxing pamper time.
So, we launched the Merlot Collection — a line of cleansers and toners that help wash off the makeup and sweat from the day. They'll enable you to start your skincare routine with a smooth and fresh canvas. The collection even has some facial peels, since exfoliating is awesome for adding a beautiful glow to your skin.
Conclusion
Each wine is unique, and we at Vine Vera strive to create the best skin care from wine that gives justice to the classiest drinks on earth. We hope you liked this rundown of wines and the corresponding Vine Vera skincare must-haves we formulated with them in mind.
Wine lover or not, it would be a fantastic idea to start incorporating resveratrol into your skincare routine. It's awesome for solving a bunch of skin concerns, making it a must-try for everyone.
Not sure how to get into the best skin care from wine because of all the different options? Try out the collection that was inspired by your favorite wine to start!
Click here to browse more of Vine Vera's wine-inspired bestsellers.