A Behind-the-Scenes Look at the Cabernet Collection Moisture Day Cream
Posted on May 30, 2022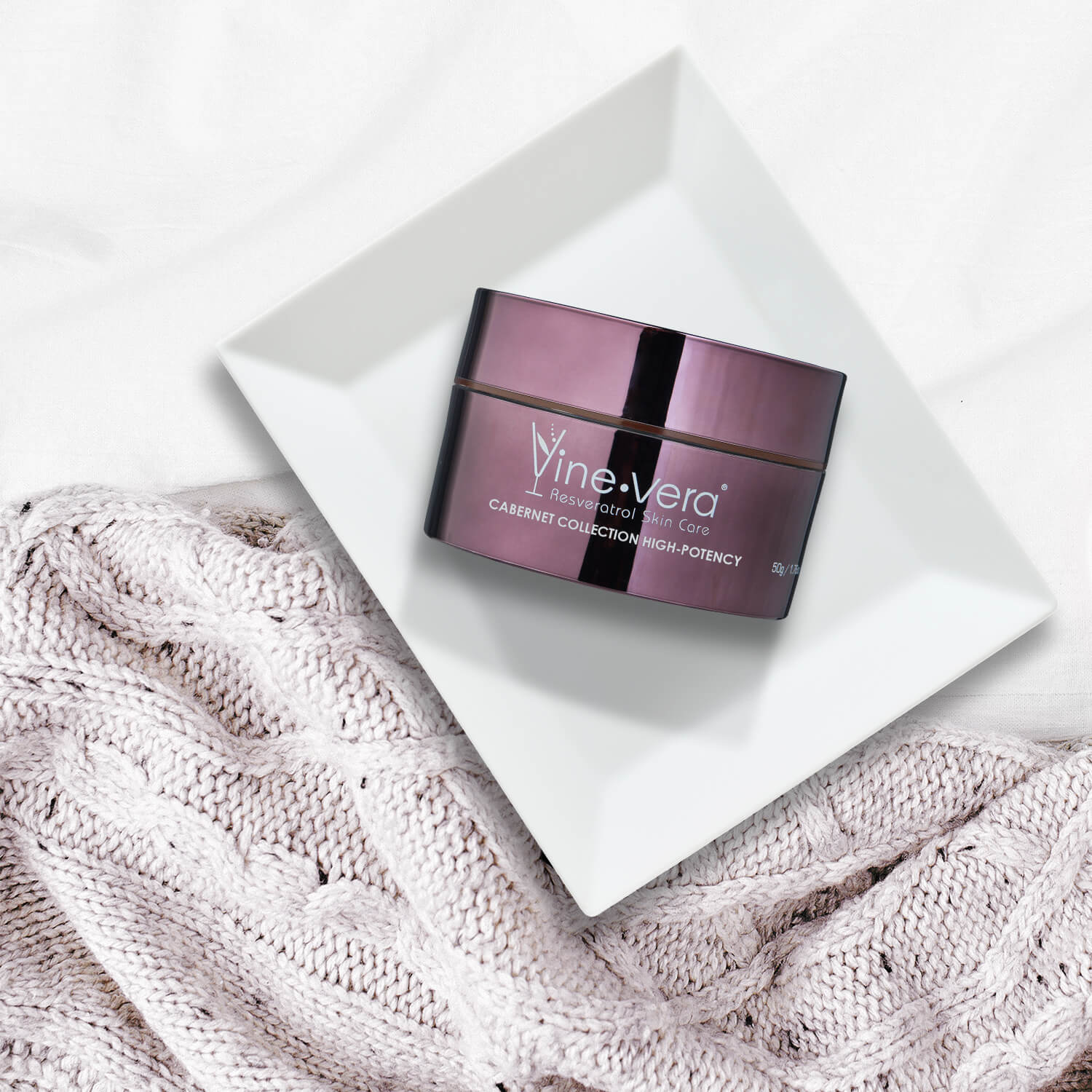 During the day, our skin often gets exposed to a host of things. If you have a job that requires a lot of travel, you know what we're talking about. The pollution, sun exposure, and sudden changes in inside and outside temperatures, all contribute to damaged, unhealthy skin.
Enter: day creams! These are specially designed skincare products to help prevent your skin from feeling damaged during the day.
Vine Vera houses an extensive collection of products to help with every step of your skincare routine. Our Cabernet Collection Moisture Day Cream will leave your skin feeling supple and smooth like never before! But what ingredients does it pack and how does it benefit your skin? Let's dive in!
What is a Moisturizing Day Cream?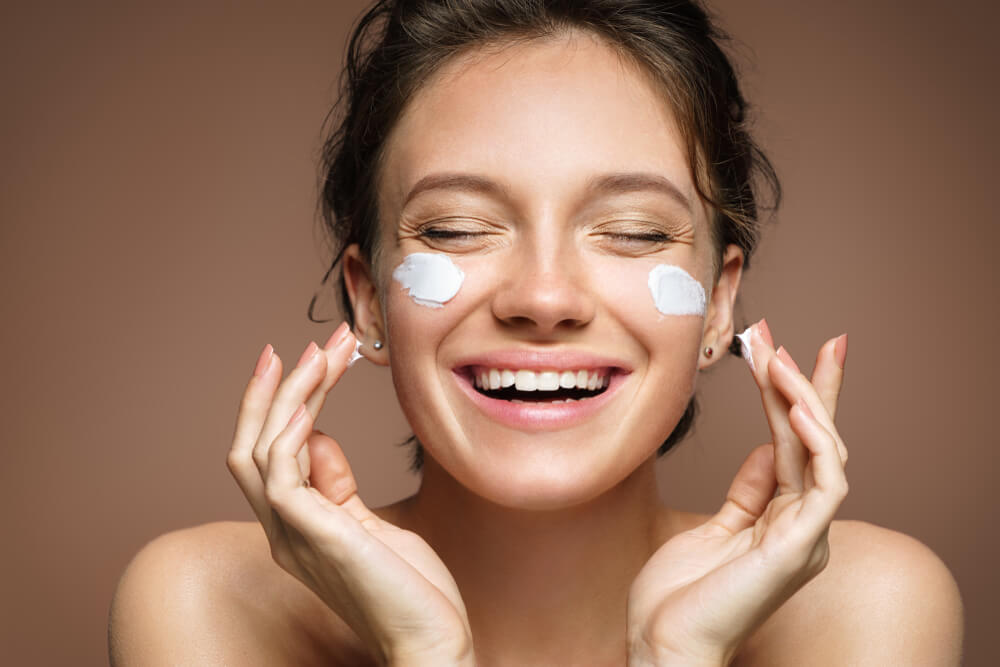 Before discussing our showstopper Cabernet Collection Moisture Day Cream, it's important to address what moisturizing day creams are.
When environmental aggressors come in contact with your skin, they accelerate the aging process and damage the protective barrier. As a result, your skin appears dry and gradually loses its supple form.
So, the primary function of a day cream is to supply your skin with adequate hydration. The precise concoction of ingredients in these creams will help your skin retain water. You'll notice a significantly softer and smoother appearance upon regular use.
Using moisturizing day creams is very important to replenish the feel of your skin and prevent the appearance of irritation that's often associated with dryness. 
Sometimes, moisturizing day creams will also contain SPF.
If you want to enhance your sun protection regimen, don't forget to check out our Resveratrol Cabernet Replenishing Moisture Cream SPF 30. The enhanced formula packs derivatives of Vitamins A and E to help diminish the look of dark spots and balance out the appearance of an uneven skin tone. The rich formula also incorporates Green Tea Extract and Resveratrol to help combat the visible signs of aging. With this sensational sun cream, your skin will be protected from harmful UV rays while maintaining a radiant glow!
What to Look for in Your Day Cream
Don't just go for any moisturizing day cream; choose the one which suits your needs best! It can be tough to land on the right one for your skin as it depends on many factors — personal skin concerns and their severity, tone, and, of course, your type. But it's imperative to do so.
As an example, if your skin often appears tired and weary, you might benefit from a day cream with ingredients that offer a radiant look and minimize the appearance of wrinkles. Such creams would comprise anti-oxidants and ceramides to help reignite your skin's glow.
The Cabernet Collection — Moisture Day Cream & More!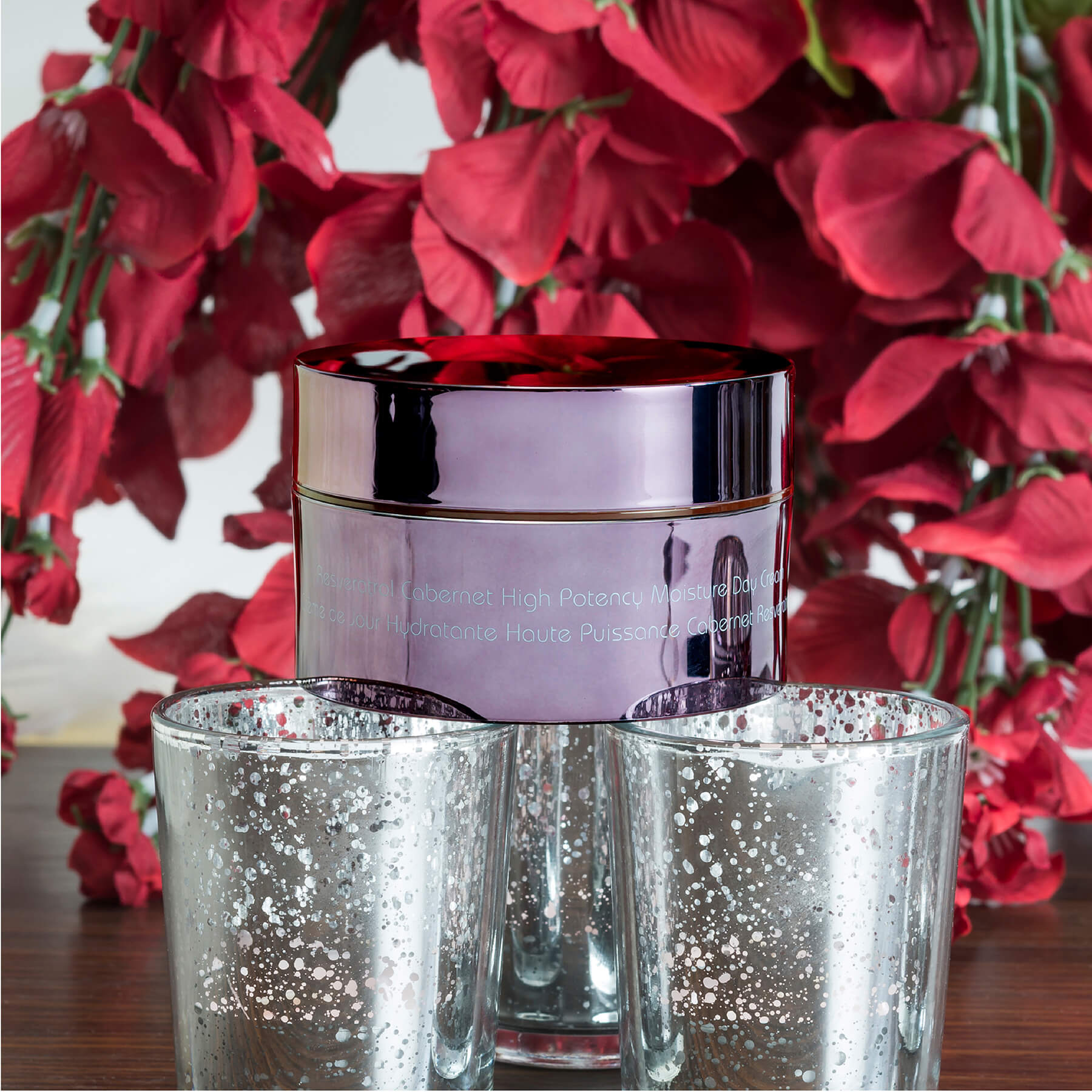 Let's move on to what we're all really here for — the Cabernet Collection Moisture Day Cream! When it comes to Vine Vera's moisturizers, our Resveratrol Cabernet High Potency Moisture Day Cream can't be beaten! It features an antioxidant-rich formula that will leave your skin deeply moisturized, with a soft, supple feel. This exceptional day cream works to improve the look of your skin's tone and texture while combating the visible signs of aging.
But what's in our Cabernet Collection Moisture Day Cream? Let's find out!
Shea Butter
Our Cabernet Collection Moisture Day Cream incorporates Shea Butter, which works to boost your skin's moisture content, relieve dryness, and help combat the appearance of breakouts. Best of all, it reduces the appearance of fine lines and wrinkles.
Vitamin E
Tocopheryl Acetate (Vitamin E) is yet another powerful antioxidant in this sensational day cream. It helps prevent the look of skin blemishes like dark spots, wrinkles, fine lines, and saggy skin. 
Another great source of Vitamin E in the Cabernet Collection Moisture Day Cream is Sunflower Seed Oil. Its antioxidant properties help tackle visible premature signs of aging, helping you maintain fresh, and younger-looking skin. This ingredient also works wonders for moisturizing dry, flaky skin with its linoleic acid content.
Resveratrol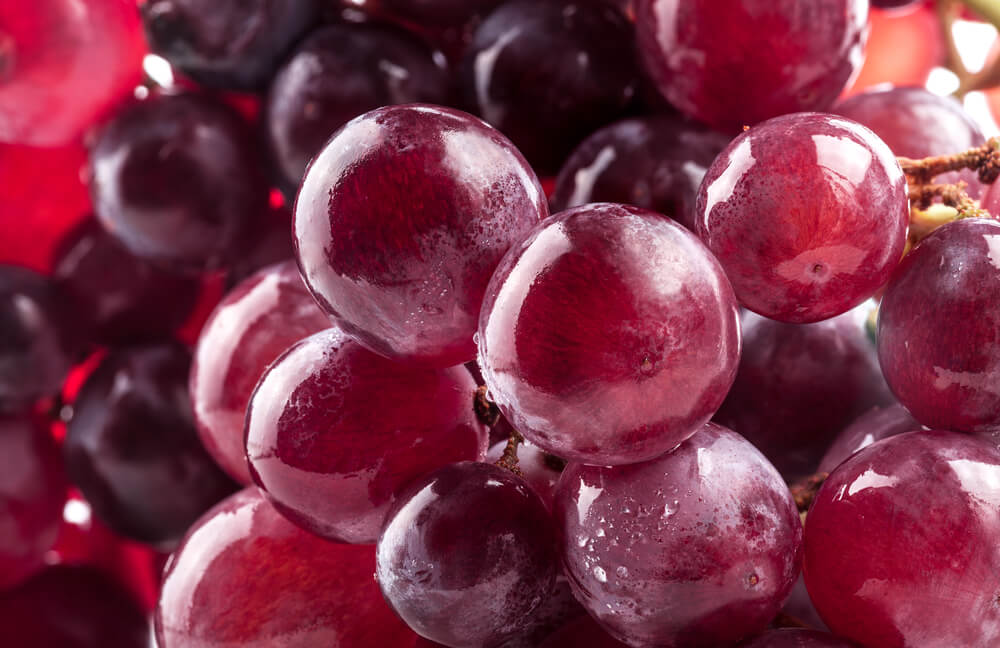 However, the showstopping ingredient in our Cabernet Collection Moisture Day Cream is Resveratrol. Derived from grapes, it's known to provide many benefits to the skin. It works to diminish the appearance of wrinkles and fine lines, making your skin appear much tighter. According to Dr Yadav, a board-certified dermatologist in Toronto, "By regularly applying skincare products formulated with antioxidants like resveratrol, you'll help mitigate the visible signs of photoaging."
The regular use of Resveratrol in skincare can also diminish the appearance of dark spots, helping your skin maintain an even-toned look. Adding this powerful skincare ingredient to your daily routine can help your skin appear firmer. It also works to relieve dryness, delivering a smooth sensation to your skin. So, it's ideal if you have dry, sensitive skin that tends to react very easily upon coming in contact with other products.
Niacinamide
But is that all? Not quite. Our superior day cream also features a super skincare ingredient, niacinamide, which is a form of Vitamin B3. When used topically, this ingredient can help enhance your skin's hydration level by locking moisture in your skin. It's also exceptionally effective when it comes to minimizing the look of enlarged pores on the skin. And if you struggle with an "orange peel" textured skin, niacinamide ought to be your go-to!
But we haven't even gotten to its most promising purpose — niacinamide helps to reduce the appearance of aging on your skin. So, you can bid farewell to the visibility of wrinkles, frown lines, and crow's feet.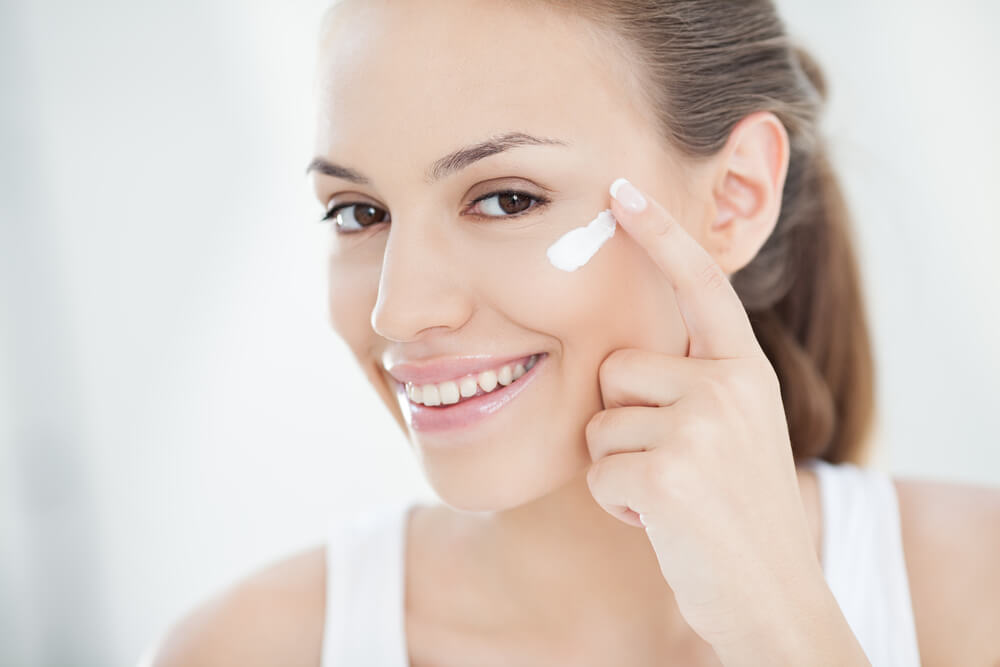 Combining all of these powerful skincare ingredients — and more — The Resveratrol Cabernet High Potency Moisture Day Cream promises sensational effects. This rich moisturizer is designed especially for dry and mature skin types. The powerful combo of active ingredients — Shea Butter, Vitamin E, and Resveratrol Extract — helps keep your skin feeling protected and looking tight! For the best results, use our Cabernet Collection Moisture Day Cream daily to maintain a radiant and supple look.
How to Use it
Apply a liberal amount to freshly-cleansed face and neck and massage it in gently. Be sure to avoid your eye area.
For the best results, we recommend cleansing with the Vine Vera Resveratrol Cabernet Mousse Cleanser. This special Resveratrol and Citric Acid formula is designed to cleanse dry, dehydrated, and mature skin. It dissolves away dirt particles and all other impurities from your face, including makeup. This cleanser's special amino acid blend promises to leave your skin feeling stronger and replenished after each wash.
If you want to take things further, use this cream in conjunction with our Resveratrol Cabernet High Potency Night Cream during your nighttime skincare routine.   
This night cream combines a host of ingredients that are dedicated to making your skin feel replenished and moisturized. It incorporates Retinyl Palmitate, a Vitamin A source that acts as a powerful antioxidant. This rich, soothing formula also includes Green Tea and Coral Seaweed that work together to dimmish the look of fine lines, wrinkles, and discoloration. You'll wake up with your skin feeling refreshed like never before.
If you want the skin around your eyes to enjoy the same benefits, don't forget to check out Vine Vera's extensive Eye Care collection. Our Resveratrol Cabernet 60-Second Eye Solution is a great option to use in combination with the night cream. It packs a powerful, fast-acting formula to diminish the look of fine lines and wrinkles around your eyes.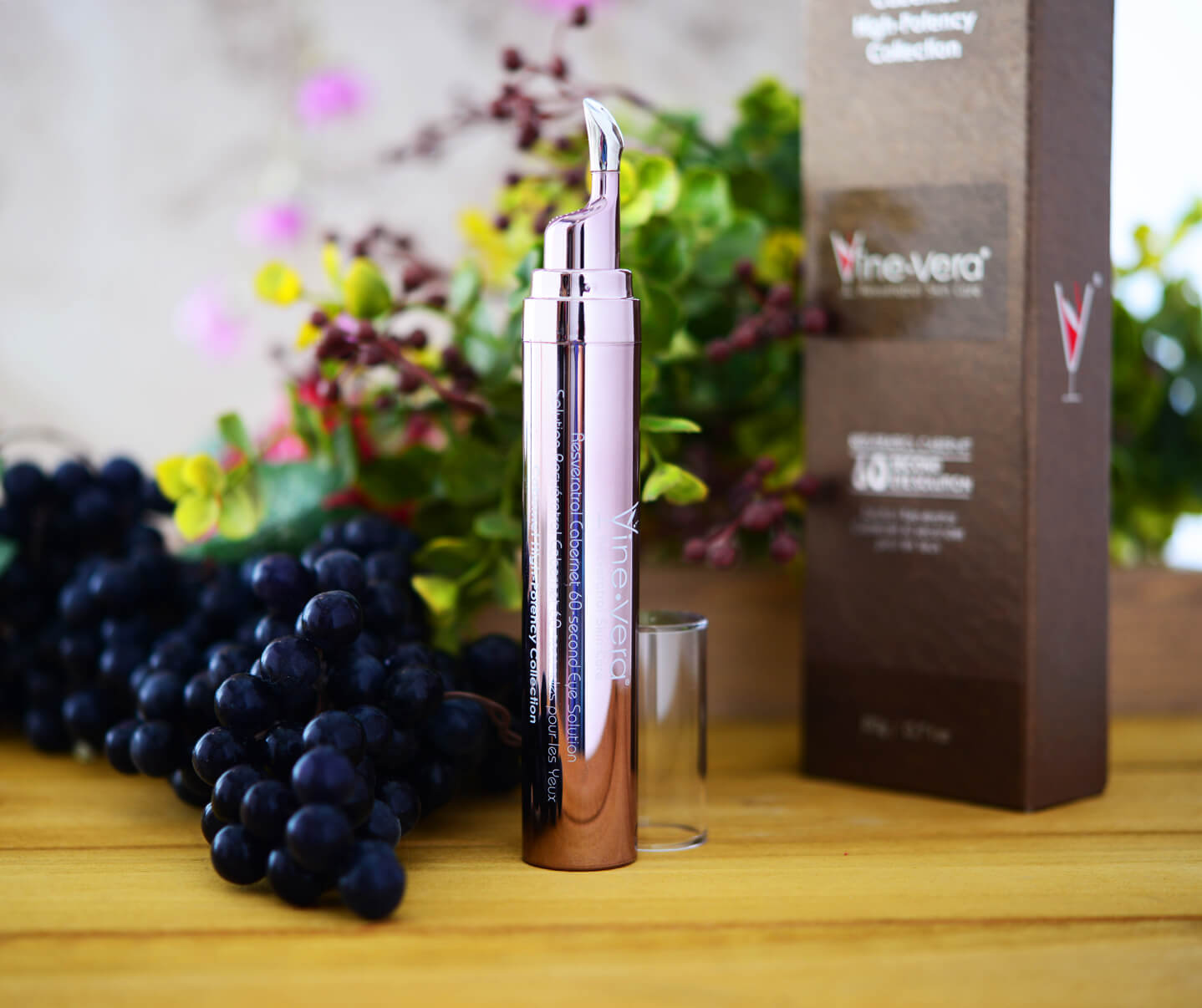 Make the Most out of Our Cabernet Collection Moisture Day Cream
Moisturizing day creams help pamper our skin, making it appear supple and fresh. But can we do more to truly benefit from their full potential? Yes, we can! Here are a few tips to help you make the most of Vine Vera's Cabernet Collection Moisture Day Cream:
Never Apply it on Dirty Skin
You should never opt for moisturizing dirty skin — the damage might be more than you would think. Our moisture day cream formula is thick and designed to seal in hydration. If your face is covered with impurities, it will lock them into your skin, leading to damage.
Moreover, dirt and make-up particles will prevent the active ingredients in our day cream from doing their job. So, properly cleanse your face first, pat it dry, tone, and then apply the day cream. With a clean skin surface, the active ingredients will be readily absorbed.
Remember to Exfoliate
When it's that time of the week, follow your cleansing step with exfoliation. This will remove any dead cells from your face and prepare your skin to better absorb the ingredients of the products to follow. Afterward, be sure to use our day cream to help add moisture and benefit your skin to the fullest!
How many times a week you exfoliate entirely relies on your skin type. 
Improve Blood Flow
Enhance blood flow in your face by massaging it gently with your fingers or a specially-designed tool to "wake your skin up." Massaging, paired with simple facial exercises, will ensure that your skin feels refreshed and regains its vitality. This will also maximize the effects of any products you apply to your skin.
Know Your Skin Type
Being aware of your skin type is very important before choosing any skin care product. If your skin doesn't even require a certain product, you can't expect to gain anything from its use.
The Cabernet Collection Moisture Day Cream is a specially created formula that's suitable for dry and mature skin types. It consists of oil-based ingredients, like Shea Butter and Sunflower Seed Oil that offer deep moisturizing benefits. So, if your skin is oily and acne-prone, this day cream is not recommended.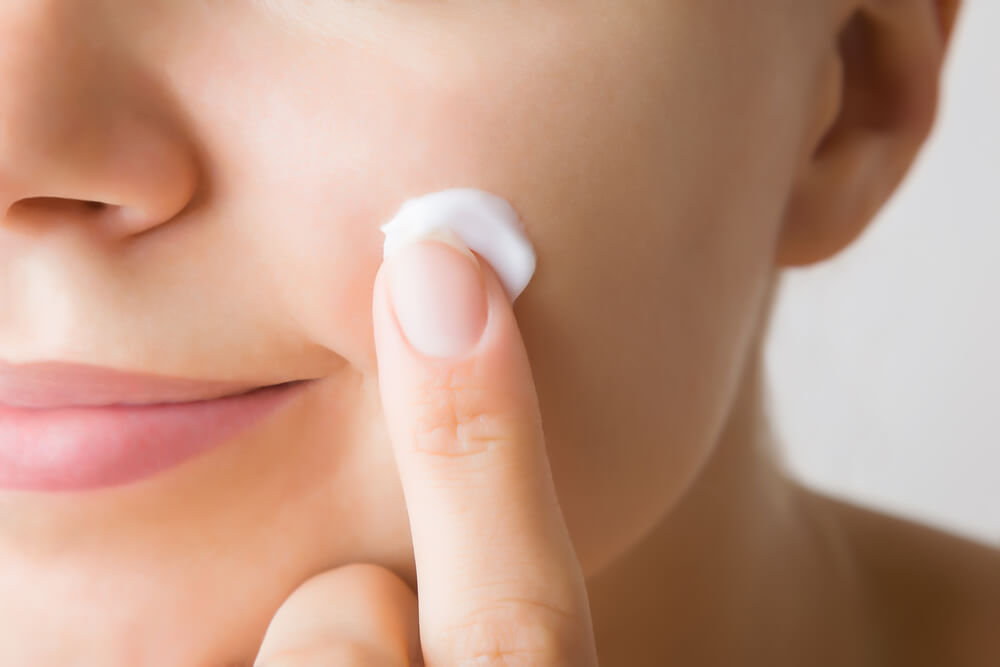 Feel Velvety-Smooth with Our Cabernet Collection Moisture Day Cream
You've now had an up-close and personal look at all that the Cabernet Moisture Day Cream has to offer. Now, it's time to test it out for yourself! You'll find that it works best when used in conjunction with our other products from the Cabernet Collection.
Before you leave, don't forget to take a glimpse of what Vine Vera has to offer. We've got many more collections in-store to suit every skincare concern. Check out our bestsellers here!