6 Must-Know Holiday Party Skin Care Tips
Posted on November 15, 2021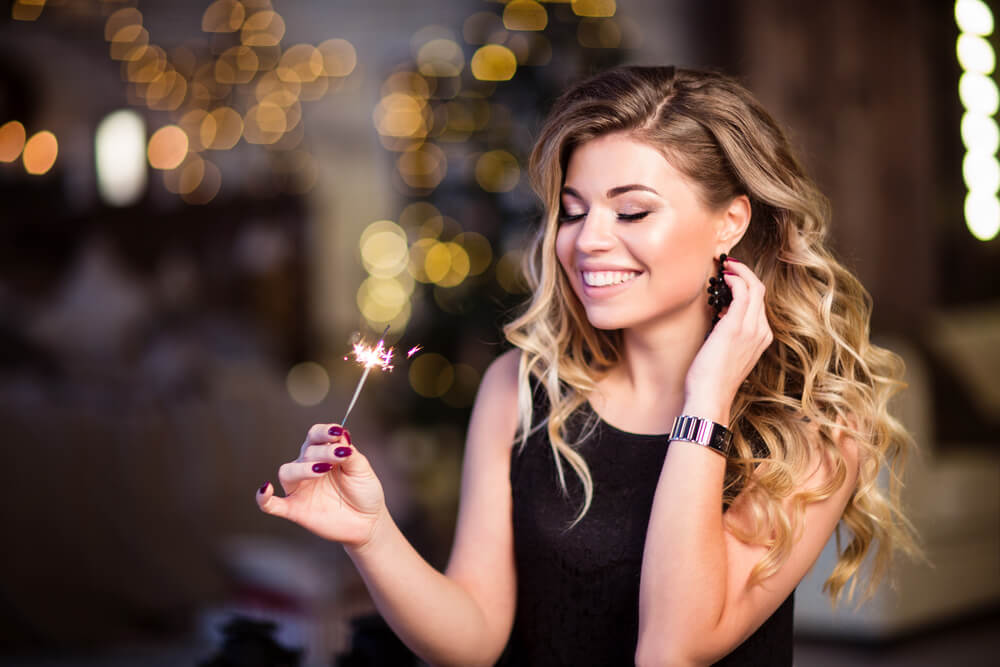 As we approach the end of the year, we inch ever closer to the long-awaited holidays. Depending on where you are in the world, this could mean anything from colder weather to presents piling up under a tree. But one thing is certain: there is bound to be a spike in gatherings and celebrations.
Everybody loves a good holiday party. However, that often involves getting dressed up for the occasion and wearing makeup. This is where the importance of holiday party skincare comes in. 
Here at Vine Vera, we are on a mission to ensure that your skin looks in tip-top shape throughout the holidays and beyond. While this may require a little extra care, there's no need to fret; all you need is a little mindfulness and these six must-know holiday party skincare tips!
Before the Party
If you intend to take any lessons away from this article, let the main one be this: the key to holiday party skincare is ample preparation. Since parties often call for makeup and several hours of socializing, it's important to ensure that your skin is just as ready for the occasion as you are. Here are some preparatory holiday party skincare tips to get you started:
Boost Hydration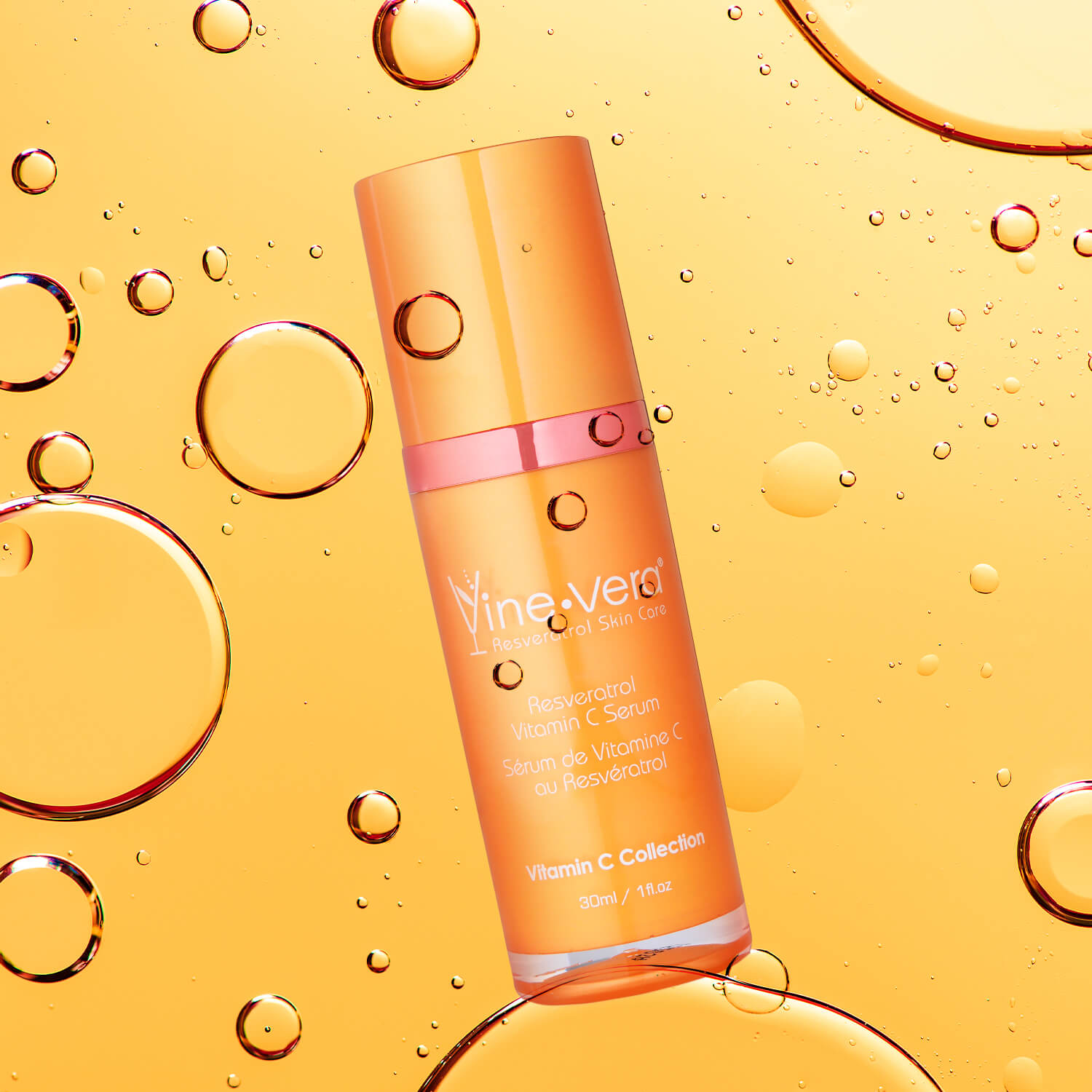 With or without an upcoming party, ample skin hydration is a must. However, it becomes even greater a necessity in the colder months, when the skin is more prone to flaking and cracking. According to the American Academy of Dermatology Association, when the temperature falls, so does the moisture in the air. This makes living in places with cold and dry climates particularly difficult, especially for those with sensitive skin.
One way to combat the usual ills of the colder season is to incorporate hydrating serums into your regimen. As with most skincare products, serums take time to spark lasting change in your skin, so you'll want to start reaching for these as early as possible. 
Best Pre-Party Hydrating Serums
Vine Vera's Resveratrol Vitamin C Serum is a crowd favorite with good reason. This serum contains Wheat Germ Oil, a natural ingredient packed with remarkable amounts of vitamins, minerals, and healthy fats. 
Another reason behind the high demand for this serum is its potent Vitamin C content. Vitamin C is one of the few skincare ingredients that never steps out of the spotlight because of its multiple benefits.
The Resveratrol Pinot Noir Longevity Serum is another serum that can help improve the skin's hydration levels. One of the key ingredients in this product is Sodium Hyaluronate, which has similar benefits to the now-viral Hyaluronic Acid. It also contains Lactic Acid, which is an Alpha Hydroxy Acid (AHA) that can simultaneously exfoliate and moisturize the skin. Like the Resveratrol Vitamin C Serum, this product also contains Vitamin C for a brighter appearance.
Mask Up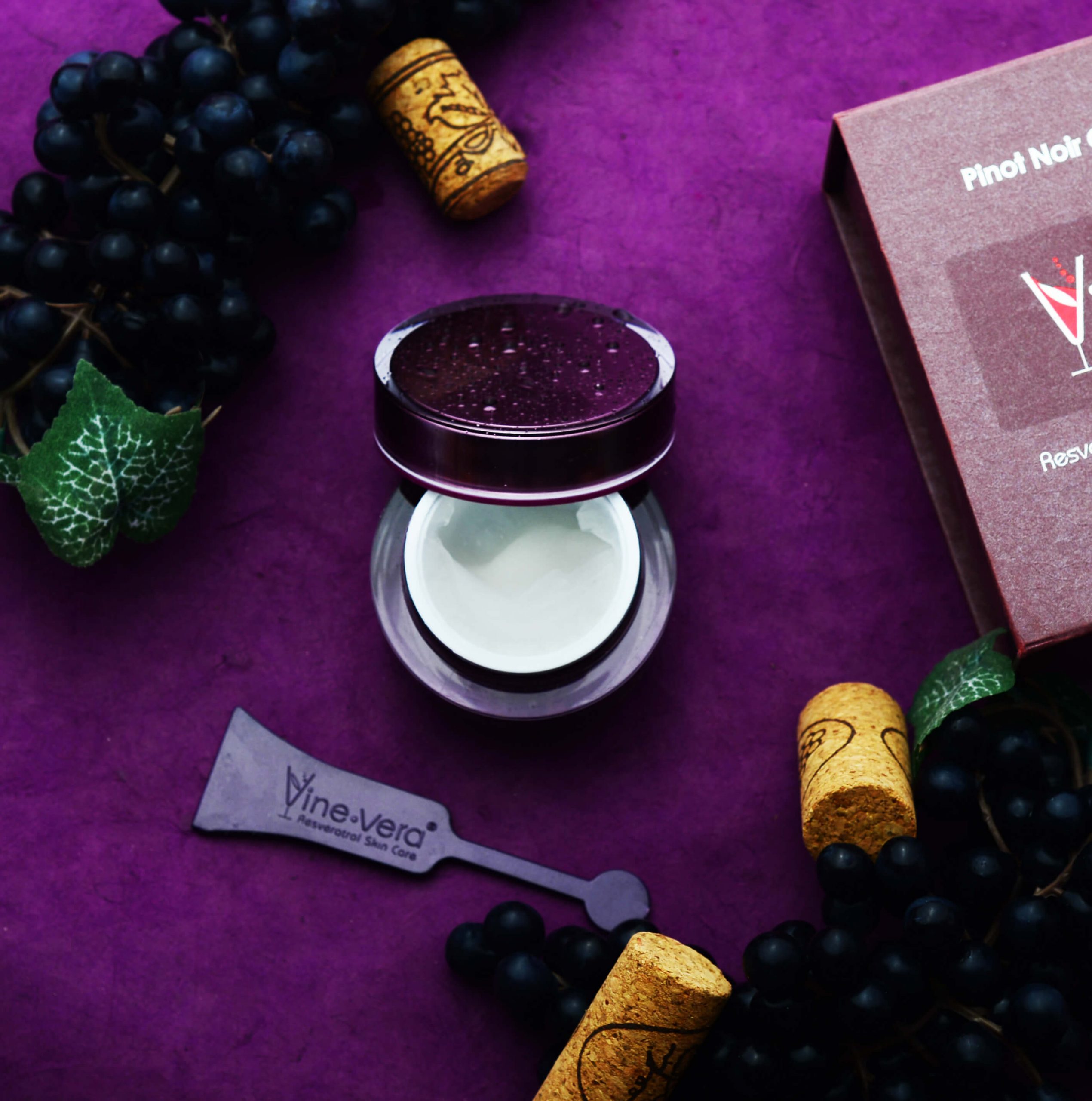 Make the most of your holiday party skincare by taking the time to mask the night before. Not only does this help get the skin to its best state — it can prove to be an extremely relaxing practice, too.
The first step to pre-party masking is ensuring that your skin is prepared to receive the mask of choice. The best way to do this is using a mild exfoliator, like the Resveratrol Pinot Noir Dissolving Pre-Mask. This pre-mask features Retinol's sibling ingredient, Retinyl Palmitate, in its formula. The product also contains a long list of extracts to keep the skin in balance:
Cucumis Sativus (Cucumber) Fruit Extract

Camellia Oleifera (Green Tea) Leaf Extract

Ruscus Aculeatus (Butcher'S Broom) Root Extract

Centella Asiatica (Gotu Kola) Extract

Calendula Officinalis (Marigold) Flower Extract
After preparing the skin with a pre-mask, the next step is narrowing down which mask you like most. Given the popularity of masking in the beauty world, there is now a wide variety of formulas available, from individually packed sheets to wash-off and leave-on iterations. When it comes to locking in moisture before a big event, we recommend opting for rich, leave-on formulations.
Consider the Resveratrol Pinot Noir Phyto-Silk Mask. Developed to work in tandem with the Resveratrol Pinot Noir Dissolving Pre-Mask, this product uses healing Aloe Leaf Extract to leave a cooling sensation on freshly exfoliated skin. Perfect for the night before your holiday party, this mask features a blend of extracts, Collagen, and Glycerin that leave the skin feeling deeply moisturized.
Prep Early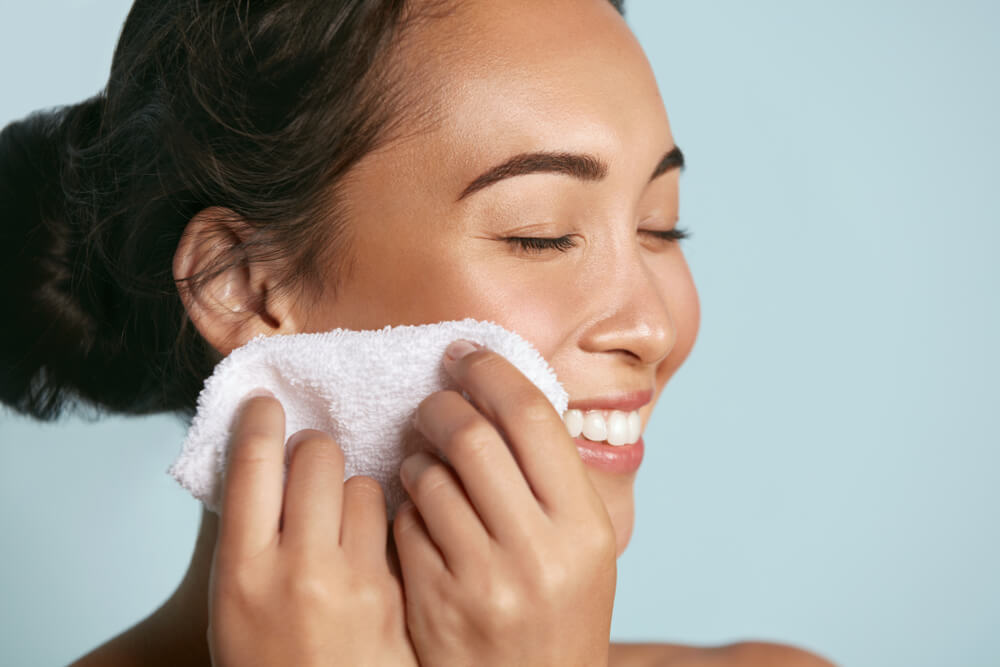 Ask any beauty guru or makeup artist for advice, and chances are you'll hear these wise words: skin preparation is crucial for achieving a great beauty look. Whether you intend to sport a full face of makeup or keep your look simple, taking the time to pamper your skin beforehand will surely pay off.
A few hours before your function, you'll want to set aside time for these three-holiday party skincare steps:
Cleansing 

Toning

Treating the skin with a sheet mask
Here's why:
Cleansing may seem like a no-brainer, but it's surprising how many jump straight into layering their makeup on without ticking this step off the list. A good cleanser will pick up any dirt and bacteria and leave your skin feeling clean but never tight. Toning, on the other hand, finishes the job by removing any remaining debris left behind after cleansing. Depending on the product's formulation, toners can also rebalance the feel of the skin.
Hit two birds with one stone with Vine Vera's Cabernet 2-Step Prep. Sold as a set, this nifty cleansing kit includes the Resveratrol Milk Cleanser to wash off any sweat, grime, and dirt, and the Resveratrol Balance Toner to reset the feel of your skin thereafter.
Before hitting the ground running with your primer, foundation, or base makeup, seal the skincare deal with a sheet mask. While clay masks are great for breakouts and leave-on masks are ideal for an overnight treatment, sheet masks are perfect for giving the skin an instantly plumper look.
The Best Pre-Party Sheet Mask
With Hyaluronic Acid and Collagen, the Cabernet Rejuvenation Facial & Eye Mask from Vine Vera will do just the trick. These masks are made out of cellulose, which soaks up all the goodness from the serum and sends it right into the skin. Even better, it comes with separate face and eye masks! If you're looking to give yourself a little extra pampering, why not throw the Resveratrol Sauvignon Blanc Neck & Chest Mask into the mix as well?
After letting your skin absorb the mask's serums for 15 minutes, you should then give your skin a quick rinse or gently pat the remaining formula into the skin.
After the Party
Is the party over already? As tempting as it might be to surrender and fall into the relaxing embrace of your bed, you can't succumb to sleep without giving your skin the aftercare it deserves! Keep these holiday part skincare tips in mind for when the celebrations wrap up:
First Thing's First: Cleanse!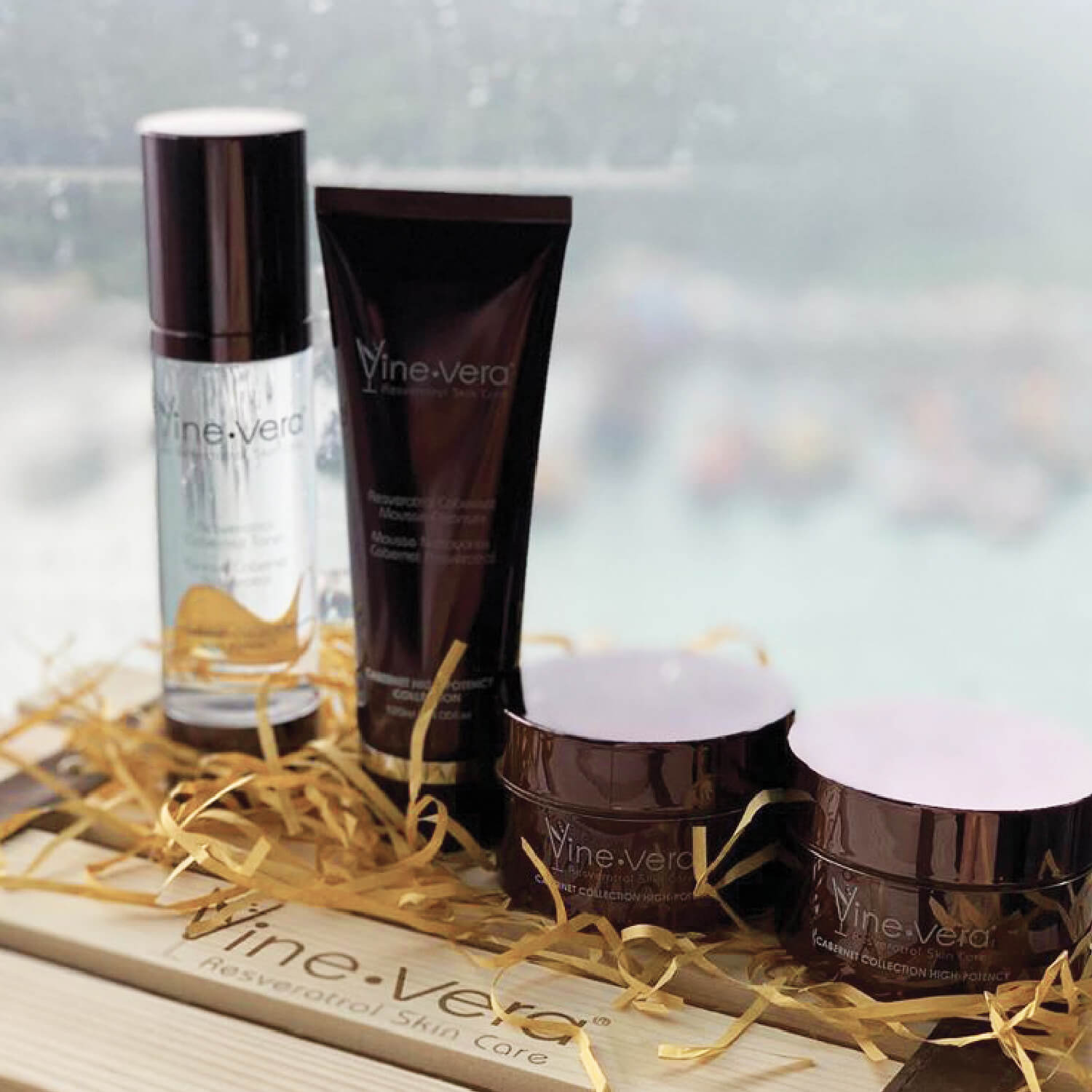 After hours of keeping up appearances and being on its best behavior, your skin deserves a thorough cleanse at the end of the day. Erase all evidence of makeup, sweat, and the outside world with a cleanser like Vine Vera's Resveratrol Cabernet Mousse Cleanser.
Formulated with coconut oil-derived Cocamidopropyl Betaine, this cleanser strikes the perfect balance between effective cleansing and mild formula. Thanks to its rich, mousse-type formulation, this product leaves the skin feeling moisturized and supple, making it perfect for dry, dehydrated, or mature skin.
Bring Back the Moisture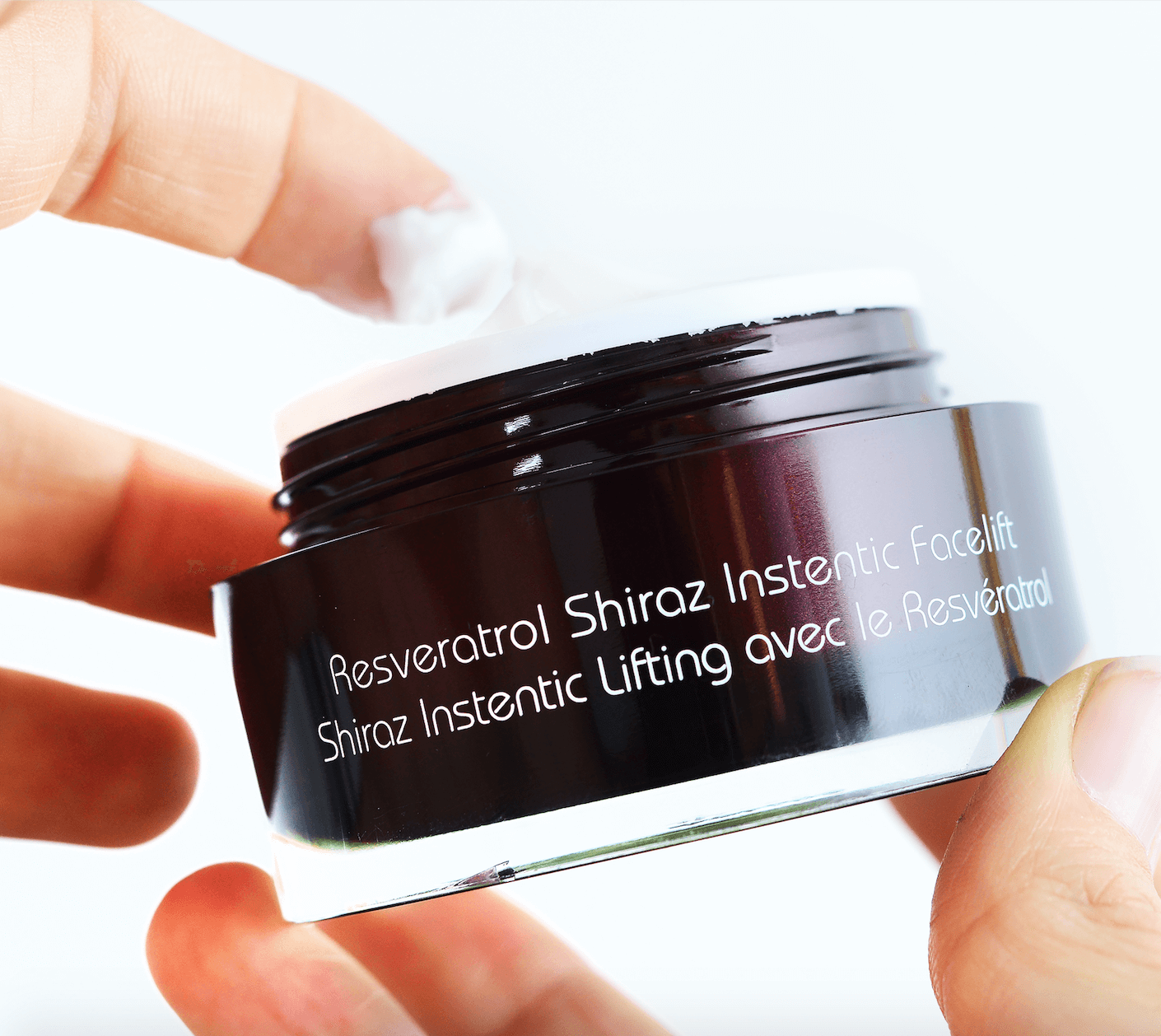 After removing all remaining traces of your holiday festivities, the next step is to moisturize generously. This will help to soothe the feel of your skin. Here at Vine Vera, we have several moisturizing creams that can easily fall into your holiday party skincare routine:
A Post-Party Moisturizing Cream
If you're looking for a moisturizer that can heavily moisturize while preventing visible signs of aging from showing through, consider the Resveratrol Shiraz Instant Facelift. As its name suggests, this product features ingredients that give the skin a lifted and more youthful appearance. 
This product also includes Resveratrol, Vine Vera's signature ingredient. Derived from red grapes, Resveratrol is an antioxidant. Present across all of our product lines, Resveratrol is a multi-tasker that everyone should be using.
A Post-Party Moisturizing Serum
Another strong contender to complete your post-party routine: the Resveratrol Chianti Morning Recovery. This silky, lightweight serum addresses the appearance of aging, dryness, and uneven skin texture with a blend of Resveratrol and Vitamin C. Its formula also includes Palmitoyl Tripeptide-1. 
Palmitoyl Tripeptide-1 is even more effective when paired with Palmitoyl Tetrapeptide-7. This ingredient also happens to be present in the Resveratrol Chianti Morning Recovery formula. Together, these ingredients form something called Matrixyl 3000. A skincare power couple, a Matrixyl 3000 in-vivo study reported a big improvement in the appearance of wrinkles.
Don't Forget Your Eyes!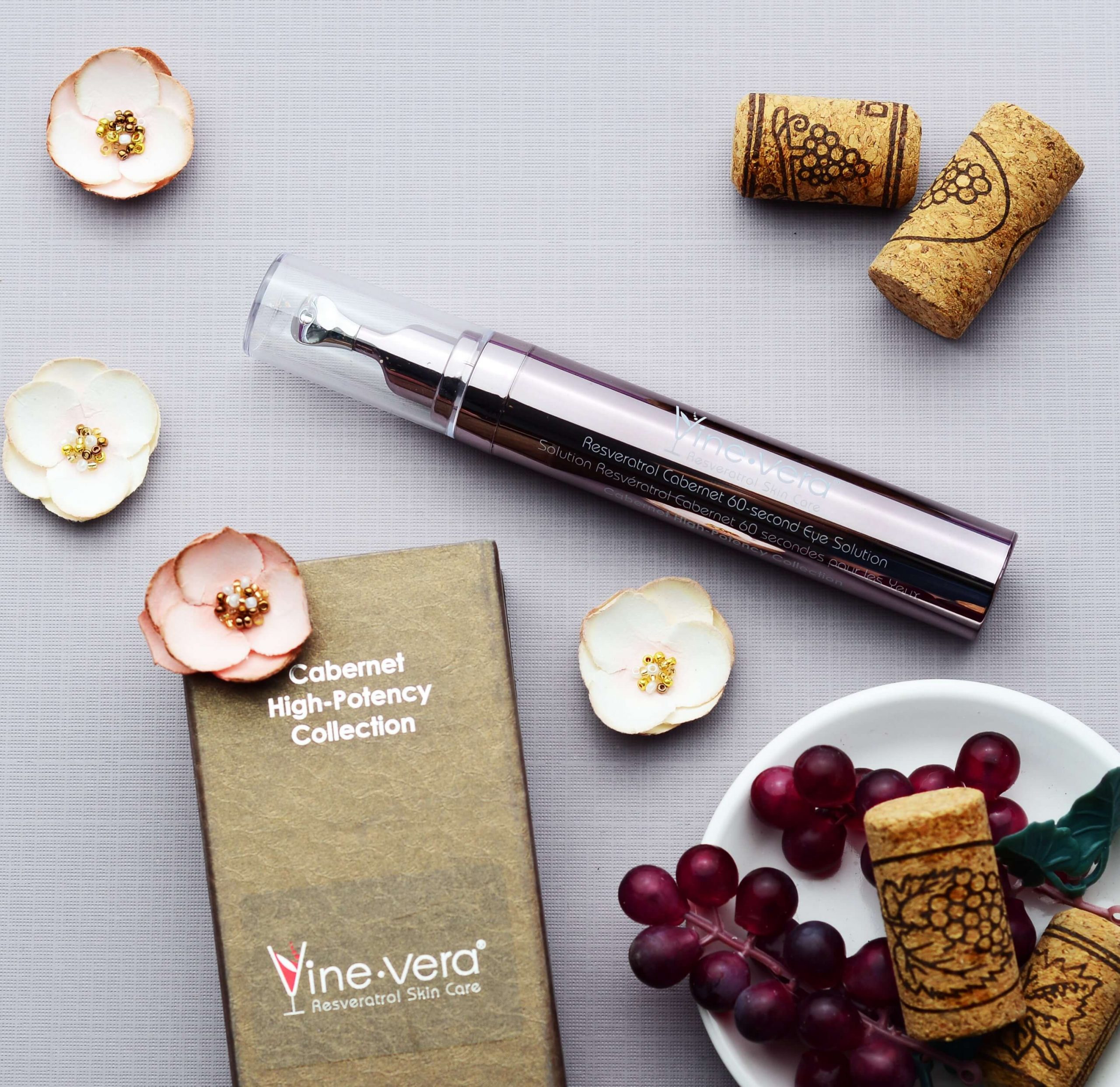 While you're moisturizing away, don't forget to show the eye area some love. Being thinner and more delicate than the rest of the face, the skin around the eyes is especially sensitive. This means that it requires a little extra TLC. Give your eye area just that with Vine Vera's Resveratrol Cabernet 60-Second Eye Solution.
They say the best things take time. While there may be truth in that statement, we declare the Resveratrol Cabernet 60-Second Eye Solution an exception. A magic wand for the eyes, this quick-absorbing eye serum uses Resveratrol and Acetyl Hexapeptide-8 to tighten and smoothen the look of the under-eyes. With a cooling metal applicator, the product is easy to dispense and spread across the small space below the eyes. The best part? All it takes is 60 seconds!
As we put our best outfits, best makeup, and best selves forward this holiday season, let's not forget to give our skin the same importance. Perfect your holiday party skincare regimen with Vine Vera! 
Discover more exquisite solutions to include in your holiday party skincare rotation by browsing through Vine Vera's online store.