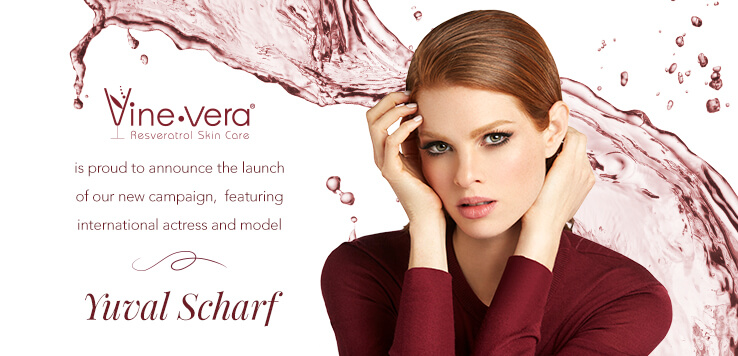 Yuval Scharf, a 30-year-old actress and model, has entered a new role as Vine Vera's newest brand ambassador, expressing her enthusiasm for Vine Vera's range of skincare products that make innovative use of the antioxidant compound resveratrol. Yuval, born in 1980s Tel Aviv, has appeared in numerous Israeli films and TV series. Her versatility as an actress has opened her to a range of roles that highlight, in a variety of ways, the complexity of Israel's evolving relations to the world around it. She has burnished her credentials modeling for high-end fashion and shopping brands. In this interview, Yuval discusses motherhood, her recent onstage work with comic and friend Keren Mor, an upcoming film role, and other projects. Yuval's delicate, distinctive beauty, emotional insight and creative range make her a promising talent, and her attentiveness to comfort as a condition of, rather than a sacrifice to, fashion makes her a natural fit for Vine Vera products.
How do you like to spend your time when you're not working?
Ten months ago I became a mother, so all the free time I have I spend with my little boy and my husband.
What projects are you currently working on?
These days I'm part of an independent theater production. It's a British play by Mike Bartlett , a two-actress play with me and Keren Mor — one of the most interesting and exciting projects of my life. Also, in a month my new movie will be released. I play the main role. It's called Moon in the 12th House, directed by Dorit Hakim. Plus I'm doing a campaign for Caligula, a shoe company, and another for Ofer Malls.
Have you ever tried any hair colors other than red?
I have never dyed my hair!
Why did you choose Vine Vera?
I am very attached to Vine Vera products. I don't compromise on quality, and with Vine Vera I found high-quality products. I'm proud to be chosen to represent them.
What are your top skincare tips?
The most important thing for your face is cleansing. Every night, wash with soap and put on night cream. Every morning, put on day cream and sunblock, and of course drink lots and lots of water.
What do you do for your skin on a daily basis?
Once a month I visit a beautician for a facial cleanse and beauty therapy, and I am very strict with daily cleansing and daily creams.
Why is good skin care important to you?
Our skin care is our business card. Clean and healthy skin is a reflection of a healthy soul.
What's your favorite part of your job?
The most exciting part of being an actress is to get to know a character and analyze them, to find the places the character is coming from, to understand what she wants and what motivates her and how she is going to achieve it. To slowly discover her hidden soul.
What's your favorite part of your beauty routine?
My favorite part of my beauty treatment is a face mask, and a neck massage after a deep, intense treatment.
What is your favorite guilty pleasure?
A nice, big dessert with chocolate and wine. I work out on a regular basis, so I allow myself to be spoiled with sweet little sins.
Do you watch reality TV?
I used to watch reality TV, but decided to quit. I'm trying to stay focused on my life and not on the lives of others — as a mom, I don't have lots of extra time.
What fashion or beauty trends are you loving right now?
I really love fashion, but to me the most important part about it is comfort. There is nothing more important than that. That is the only way to feel comfortable and be fashionable. During the day I'll prefer to wear cool sneakers, a t-shirt, and flattering jeans. At night I can upgrade to nice, comfortable heels or a fun, but comfy, dress.
"Simplicity and comfort" is my motto!