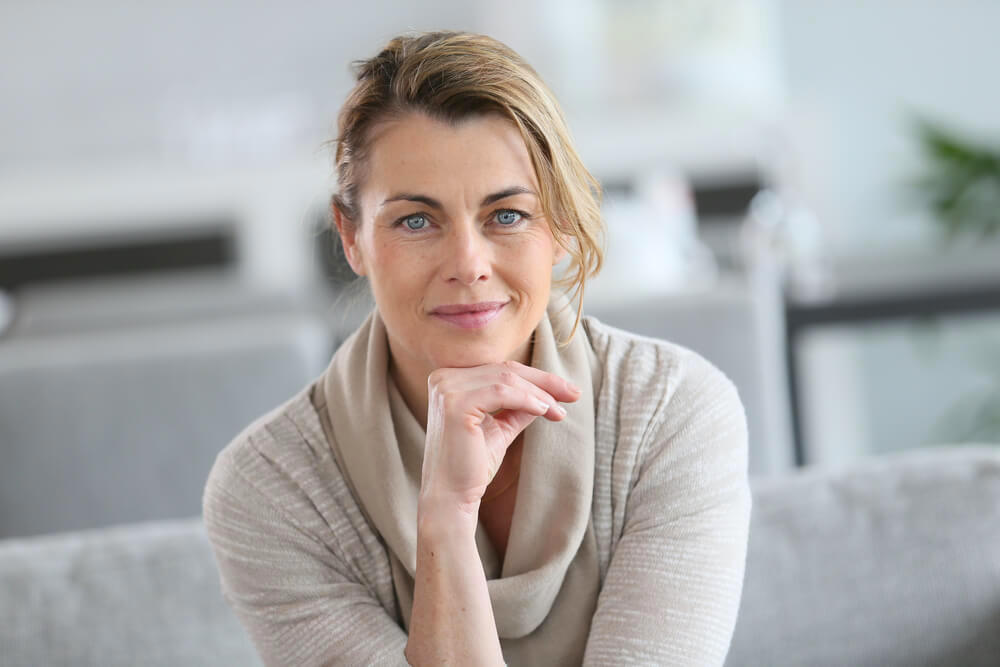 Whether or not your intention is to be able to galavant around the world wearing minimal amounts of clothing or to simply remain looking youthful and beautiful, the maintenance of your skin is very important, more so as you age. Collagen levels naturally deplete and skin starts to sag as a result. Why it never seemed to happen to J-Lo is anybody's guess.
But if J-Lo can do it, so can you. Here are some tips for skin care in your 50″s that may have Jennifer asking what your beauty secrets are.
Women's Skin In Their 50s
In your thirties, estrogen levels dip. By the time you reach your forties, your estrogen levels are at drought stage. By the time you reach your fifties, menopause rears its ugly head (usually around the ages of 51 and 52) and it's estrogen out, testosterone in. You lose one-third of your collagen within the first five years of menopause. Skin won't bounce back the way it used to and it's likely to lose its moisture and radiance. (Collagen is the connective tissue that gives structure to your skin- basically). Inflammation is also at an all-time high, which makes skin more vulnerable to the ravages of the sun, smoke, and pollution.
This can play out in:
Thinning, drying and loosening of the skin

Sagging or hooded eyelids

Hollow eye sockets

Spider veins

Age spots

Small bumps on the skin, patches, and skin tags

Peach Fuzz
Although that may not sound pretty, there are many women in their fifties who manage to maintain their beauty (i.e. Christie Brinkley, 58; Michelle Pfieffer, 53, and Iman, 56, and probably a few hot grandma's out there). The key is in finding the right skin routine, exercising, and maintaining a healthy diet. 
Skincare Products
Women in their fifties have been there and done that. They are fully prepared for whatever life throws at them, wrinkles, sagging, brown spots and fine lines included. And by prepared, we mean they have a fully stocked vanity to fight every single one of them. Here are some of the skin products you can expect to find in the medicine cabinets of the fifty and fabulous:
Barrier-Boosting Ingredients
Not only does skin suffer from collagen depletion when you reach your fifties, but it also loses ceramides, fatty acids, and cholesterol. Take them all away and you've got inflammation, dehydration, and a fully compromise skin barrier.
As estrogen levels get lower, pH levels get higher. According to New York City dermatologist, Robin Gmyrek, "Particularly, as we move into our 60's, the skin's outermost layer, which is normally acidic, becomes more alkaline, further weakening the moisture barrier, and exacerbating dryness and sensitivity."
How can we prevent these pH levels from totally breaking down the walls of our skin? The answer is probiotics. Dr. Gmyrak says," Probiotics have been shown to produce acidic molecules, like fatty acids, which can help restore youthful pH to the skin, so it can better retain for improved suppleness and glow. They also get bonus points for preventing oxidative damage and fighting inflammation to protect elastin and collagen. Dermatologist Whitney Bowe credits probiotics with the ability to hinder trans-epidermal water loss to "hydrate skin from within."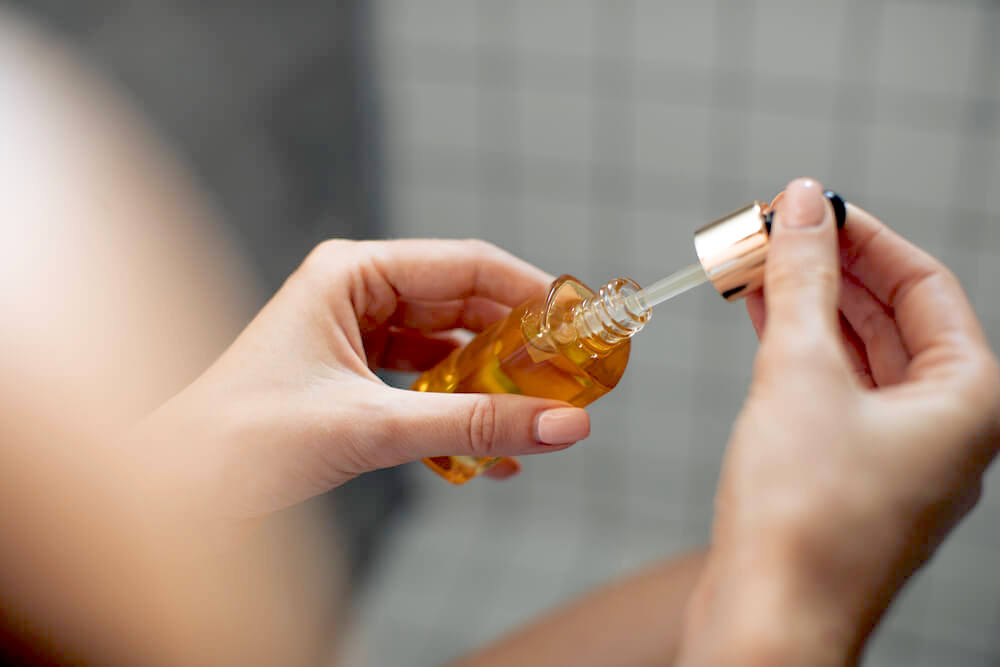 At fifty, skin is going to crave moisture. It's all about oil-based cleansers, serums, creams, and any other skin product you might find with the word oil based on it. Aesthetician Kristin Holey posits that creamy cleansers are best for over fifty clients who are not interested in "removing anything but makeup at this point."
Despite the fact that your estrogen production may have slowed down, you may be happy to know that your skin cells are regenerating. Because of this, you'll want to keep sloughing the dead ones off by exfoliating. When doing so, go for something mild. Many women in their fifties fine enzyme peels work well for them by exfoliating gently without peeling or stripping the skin.
Place your hands on either side of your jawline and pull up and out towards the ears, or don't if you go by the "ignorance is bliss" ideology. We can already tell you that you're going to see sagging skin around your mouth and chin and all the lines and folds that accompany them.
To prevent the complete downfall of your face, use collagen-boosting ingredients like peptides, retinol, stem cells, and growth factors and keep the skin plump with loads of hyaluronic acid. If you already have a wrinkle in time and no time to un-wrinkle it, the Resveratrol Shiraz Instentic Non-Surgical Syringe is packed with exactly all these amazing skin-plumping ingredients, plus Dimethylaminoethanol Tartrate (DMAE), which has the instant ability to reduce the look of fine lines and wrinkles. 
Spotting spots on your skin? As you age you may find unwelcome visitors cropping up along your hairline, on your chest, and on the tops of your hands. Whether you believe the hype or not, (HQ got a bad rap when it was banned in South America), hydroquinone is still considered the best ingredient for skin lightening and the fading of brown spots.
However, you're not on board with hydroquinone, you may want to try the next best thing. Arbutin is a natural ingredient which turns into hydroquinone when it is absorbed by the skin. So are plant extracts such as mulberry, white mulberry, bearberry, and madder and white mulberry.  These are all good options to consider for their skin-brightening properties.
Can talking cause wrinkles? Maybe not specifically, but the constant movement of the mouth, along with its relative inability to hold on to product (think of why your lipstick always comes off) can make it very susceptible to damage. One of the most common complaints among women over fifty is the appearance of fine lines above the upper lip. Target these with a collagen-rich product specifically designed for lines around the mouth.
Going Neck and Neck with Aging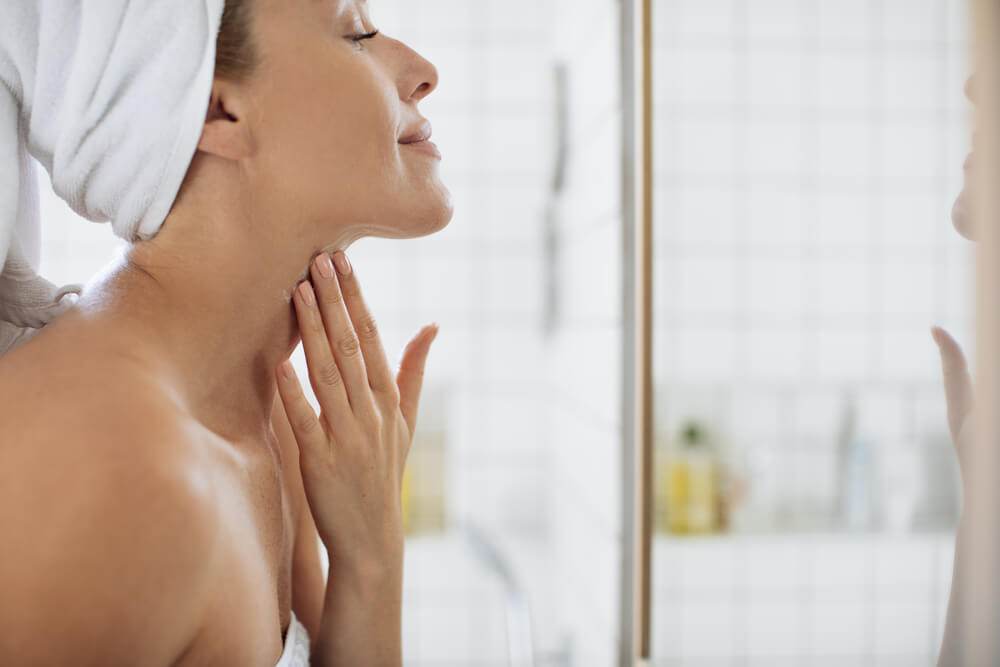 To use a separate neck cream or not to use a separate neck cream? Apparently, that's the skin question to be decided. Experts say "no."  They say it's not what's in the cream you put on your neck, but rather its consistency. The neck has very thin skin and no oil glands, which makes it especially prone to drying, sagging, and wrinkles. Doctor's orders? Grab the thickest cream in your house ( so long as it's not sour cream) and smother your neck with it twice daily. Top it off with a moisturizing retinoid once or twice a week to thicken the skin.
What's Behind the Mask for Women In Their 50's
As we mature, our masks mature with us. No longer are we seeking the acne masks of the naïve adolescent,  nor are we interested in the oil controlling masks of idealistic twenty-somethings.  Our masks cater to our needs and tackle pertinent issues. We need to find masks that will take care of our skin properly.
Ingredients
In order to do that, it is important to find a mask with the right ingredients. Generally, the main concerns for women over 50 are hydration, Inflammation, and wrinkles. Our handy dandy list below will help you find the masking ingredients that target each one:
Hydration
Hyaluronic acid

Ceramides

Glycolic Acid

Aloe

Urea

Oils

Lactic Acid
Inflammation
Aloe

Green Tea Extract

Cucumber

Chamomile

Vitamin E

Niacinamide

Centella Asiatica
Wrinkles
Hyaluronic Acid

Vitamin E

Retinol

Collagen

Vitamin C

Alpha Lipoic Acid

Niacinamide

Dimethylaminoethanol Tartrate (DMAE)
Easy Tips For Women In Their

 

50's
Like we said above, women in their fifties really don't need tips on doing anything.  With that in mind, here is a list of "suggestions" for those looking to achieve timeless beauty.
1) Wear Sunscreen
We know, you're probably at the stage where you're giving this advice to your kids. But, really how can we write about a perfect skin routine for women in their fifties without mentioning sunscreen?
Don't worry, we won't tell you about how nothing damages your skin more than sun exposure, or how it's the leading cause of skin cancer, brown spots and wrinkles and we're not even going to tell you about how you should wear sunscreen with an SPF of at least 50. We know you know all of that stuff. In fact, we're not even going to mention the fact that you should wear it every day, rain or shine, and reapply it throughout the day.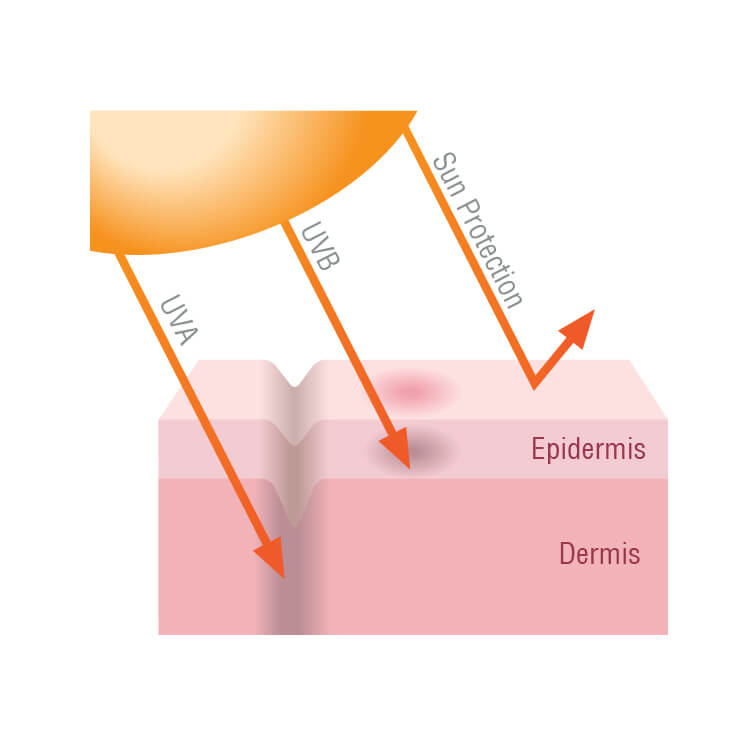 The best sunscreens are the kind that combine both physical and chemical sunscreen ingredients, of course, because these would help prevent damage caused by both UVA and UVB rays.
Remember how we said that it's all about moisture at fifty?
Well, it applies to sunscreen too! You can easily find moisturizers with sun protection benefits. The Resveratrol Zinfandel Radiance Cream is a good example, as it offers an SPF 30 while delivering a potent mixture of all those skin-loving ingredients that help to fight UV damage, such as vitamin A and E, green tea, and resveratrol.
What we will tell you, however, is how good it's making your face look. Keep up the good work!
2) What Works on Crow's Feet?
Nobody's going to fault a woman in her fifties for using Botox, dermabrasion, or getting a little nip and tuck once in a while. On the other hand, no one's going to fault a woman over 50 for saying "Screw it" to plastic surgery and injections altogether. Women in their fifties can do whatever they want-  it just comes with the territory.
The truth is that no matter how many creams you put on, and how expensive they are, they're not likely to rid you of every wrinkle, crow's feet specifically. While some choose to embrace their smile lines their like a badge of honor (see Cameron Diaz rockin' them like their the latest trend), some would rather turn them down a notch.
Botox is not only effective on crow's feet. Injections and fillers can work a plethora of wonders on your face. They can lift your eyes, plump your cheeks and lips and fill in marionette lines around your mouth. In fact, some people are so astonished by what fillers can do, they wear a constant look of surprise. Plus, we all know the horror stories.
The bottom line: When it comes to Botox, you're the one calling the "shots." Do what makes you happy and feel good about yourself.
3) Stay Healthy
Of course, you can do whatever you want when you're in your fifties, but that probably shouldn't include starting to smoke cigarettes or eating boxes of assorted chocolate while lying in bed.
If you're cheating on your diet, skimping on your exercise, or overloading on processed food, your skin is going to be the first tell. The most important part of any skin routine is staying healthy. Eat your veggies, take your vitamins and get at least 30 minutes of aerobic exercise in at least five days a week. Your skin is going to love you for it.