Spring Cleaning Checklists
Posted on
March 16, 2016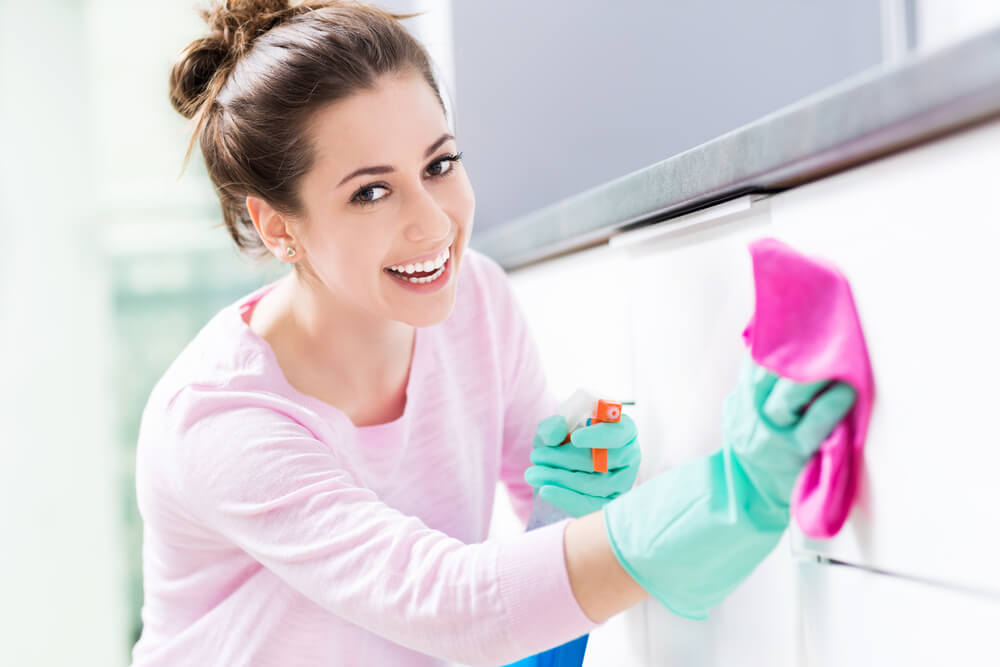 If the thought of spring cleaning your whole house gives you anxiety, don't worry you aren't alone. The idea that you have to scrub, wipe and sanitize every inch of your home can be seriously overwhelming, but it becomes less stressful when you have a plan of attack. The spring cleaning checklists below will help you know what you need to do room by room so that you can get through spring cleaning with less stress.
Entryway/Foyer
This is the first space you see every time you come home, so keeping it clean and clear of clutter is important. When your entryway is clean and clutter-free, you walk into the house calm instead of being instantly stressed at the sight of chaos. Your spring cleaning checklist should include:
Wash/wipe down walls and trim

Wash bench/table/other furnishings

Wash doors/knobs/switch plates

Empty coat closet. Wash walls and floor. Store out of season items or donate if they no longer fit. Replace with appropriate clothing for the season.

Clean/sweep floors.

Clean or replace mat.

Reseal grout lines, if applicable
Living Room
Chances are you and your family spend a lot of time in this room, hence the name living room. Because you spend so much of your time here, you want it to be a welcoming, relaxing place. When doing spring cleaning in your living room, be sure to:
Vacuum/spot clean sofas/chairs/loveseats/ottomans

Launder blankets/throw pillows

Dust shelves/furniture/lamps and lampshades and remove ceiling fan blades to dust, if applicable

Clean television screen and carefully dust other electronics

Organize electrical wires and tuck out of sight

Sort through DVD/music/magazine/book collections and donate or toss items you no longer want/use

Wash plastic children's toys with soap and water. Launder plush toys and donate or toss any toys that are no longer played with.

Wash/wipe down walls and trim

Wash doors/knobs/switch plates

Vacuum or wash floor and dust any vent coverings

Wash windows/windowsill and launder window hangings
Bedrooms
Bedrooms are meant to be calming and soothing, and it's impossible for this to be the case if your bedroom is jam packed with clutter. When spring cleaning:
Dust furniture

Wash/wipe down walls and trim

Wash doors/knobs/switch plates

Clean out, sort and reorganize all dresser drawers and closets. Donate or toss items that no longer fit, have holes or that you don't wear anymore.

Clean or vacuum floor, move bed to clean and vacuum the floor underneath

Flip your mattress and sprinkle it with baking soda mixed with lavender essential oil. Let sit for 15 minutes, then vacuum to freshen your mattress.

Launder bedding/pillows/window coverings

Wash windows/window sill and mirrors
Kitchen
Make your kitchen a joyful, happy place and keep it clean by:
Clean out refrigerator/freezer

Degrease surfaces/kitchen appliances

Wash/sanitize/disinfect cutting boards/refrigerator and freezer shelves/countertops and other surfaces

Clean under fridge and vacuum refrigerator coils

Wash/wipe down walls and trim/backsplash/doors/knobs/switch plates

Clean microwave/stove/sink and shine faucet. Clear crumbs from the toaster and wipe down.

Clean and organize pantry and remove any food items that have expired

Wash window/windowsill

Dust light fixtures/remove ceiling fan blades and dust
Bathrooms
A bathroom is a place full of germs, so you want to be sure that you give it a thorough cleaning. Get it sparkling during spring cleaning by:
Empty all cabinets/vanity/shelves and clean interior. Check all products and medicines for expiration dates and get rid of anything that has expired. Clean exterior of cabinets/vanity.

Scrub the tub and wax if necessary

Clean toilet inside and out. Remove toilet seat and clean thoroughly around the seat bolts

Clean sink/drain and shine faucet

Wash/wipe down walls and trim/doors/knobs/switch plates

Clean floors

Dust light fixtures

Clean mirror/frame and any other decorative items
Without a doubt spring cleaning is a massive undertaking, but you will feel so good once you've finished it. Use these checklists so you know where to start and what you need to do in each room of your home.